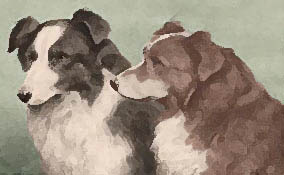 ROBERT ALEXANDER
1840 - 1923
---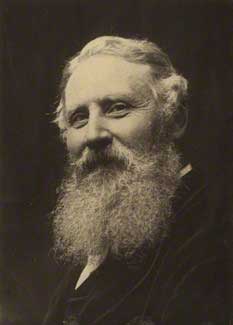 Above, Robert Alexander
photo by Mary Olive Edis, 1904
held by the National Portrait Gallery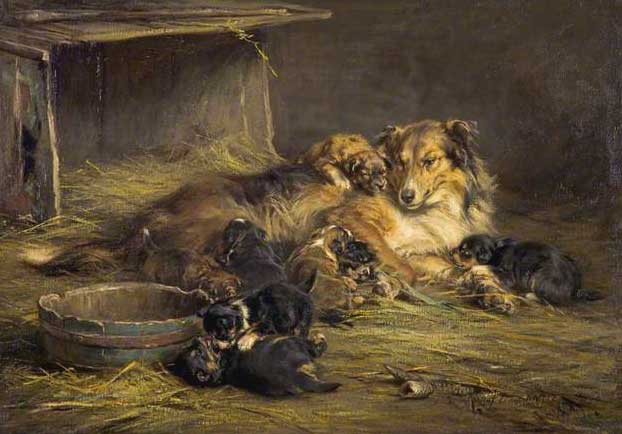 Above, "The Happy Mother" by Robert Alexander
In the gorgeous painting above, called "The Happy Mother", we have an old-fashioned working-type collie and her recent litter of eight pups. Mother appears to be a sable dog. Three of the pups are also sable, the two at the front and the one resting on mom's front legs appear to be tri-colored, and the color of the other pups is difficult to see but they are black-based (black-and-white, black-and-tan, or tri-colored). Nelson says that "when 'The Happy Mother' was exhibited at the Royal Society of Arts in 1887, it was called 'the most masterly of animal paintings yet produced in Scotland'. (Nelson, Anna. "Robert Alexander", in The Shepherd's Dogge, Volume VI, Number 1, Spring 1993.) It is held by the National Gallery of Scotland in Edinburgh.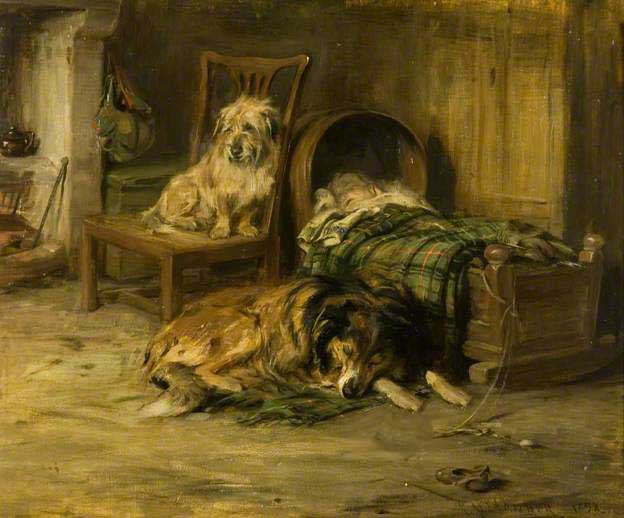 Above, "Drowsy Cronies" by Robert Alexander, 1898.
It shows a baby asleep in a cradle near the hearth, being watched over by a Cairn Terrier,
and a sable collie asleep on the edge of the tartan. The detail is wonderful.
Robert Alexander was born in Kilwinning, Ayrshire, in southwest Scotland. He was apprenticed to a Kilmarnock house painter who also painted landscapes, and was compelled to work as a house-painter in order to make a living. In his spare time, Alexander painted pictures, but was only able to turn to art professionally in his late twenties, when he began painting dogs and horses. He made his dŽbut at the Royal Scottish Academy in 1868 and showed at the Royal Academy from 1878. He is said to have "added a new pictorial direction to Scottish animal painting." ("Robert Alexander", University of Glasgow Faculty of Arts, author unknown.)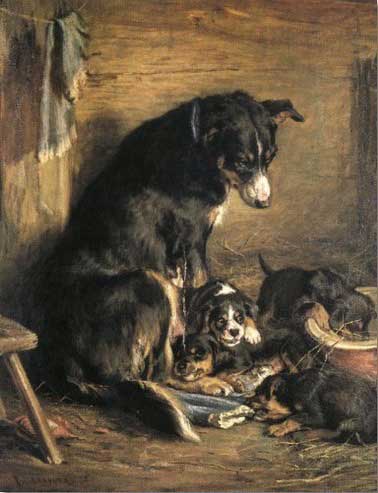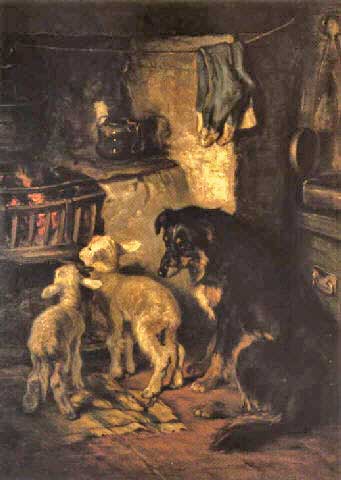 Left, is "Smooth Collie and Puppies" and right, "Orphans".

Anna Nelson, writing in 1993, speculated that: "Perhaps the absence of a luxurious lifestyle and being forced to hold what must have been a tedious job [to] someone so talented, brought out the best in Alexander, as it seemed to do with so many other Scottish artists. To [the] modern eye, his paintings may see like many other Victorian scenes, but for his time, he was quite a realistic artist." (Nelson, Anna. "Robert Alexander", in The Shepherd's Dogge, Volume VI, Number 1, Spring 1993.)
Copyright 2014 by Carole L. Presberg
---
THE OTHER WEB PAGES WE MAINTAIN


---
These web pages are copyright ©2014 and maintained by webmeistress Carole Presberg
with technical help from webwizard David Presberg
ALL RIGHTS RESERVED
If you are interested in using ANY material on this website, you MUST first ask for permission.
You may email us at carole@woolgather.org.
---
Last modified: October 24, 2014 carole@woolgather.org