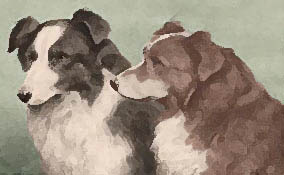 ARTHUR ALLEN
1904-1996
---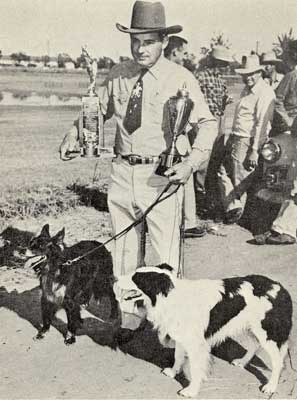 Above, Arthur Allen with his famous dogs, Nicky and Rock
THE GRAND OLD MAN OF SHEEPDOG TRIALING IN THE UNITED STATES
Arthur Allen could indeed be called the "Grand Old Man of Sheepdog Trialing in the United States". One of the founders of the North American Sheep Dog Society, in 1940, he was its president from 1951 until his death in 1996 at 92. A very well-known sheepdog trialist, he imported and bred many Border Collies from outstanding British lines that had a marked effect on the breed in the United States, particularly in the second half of the 20th Century.
Allen's grandfather came to the USA from Scotland, bringing with him his Scottish sheepdogs. Allen said that "these dogs were large and more stern than the Border Collie of today and were used for all kinds of livestock." (A Lifetime With the Working Collie by Arthur Allen, self-published, 1979.) His grandfather died in 1885 leaving Allen's father, an 11-year-old boy, with the dogs and his livestock. His father became a drover at that early age, first of mules and sheep, and then of geese; and after he was grown, a livestock dealer and drover, gathering stock to drive to the railroad heads for shipment to markets. Allen wrote "His method of gathering the herd was to ride a horse and lead the way as he picked up the stock along the road, leaving his dogs to bring them behind him." (Ibid.)
Allen was born in 1904 and he says that his "earliest working experience was as a drover." (Ibid.) Later, his father became a full time farmer, and Allen began showing sheep at state and country fairs. It was at these fairs that he saw Sam Stoddart and others demonstrating with Border Collies, and he became hooked on the more "refined" dogs that were coming over from England and Scotland. In the years that followed, he began breeding, demonstrating at fairs, and entering sheepdog trials. He also started importing dogs himself, many from the breeding of John Gilchrist. His Imported Rock 7222, the 1954 North American Supreme Champion, was a son of Gilchrist's Spot 7320 and grandson of Wilson's Moss 5176.
Arthur Allen also performed with his Border Collies in the Roy Rogers Rodeo and was a member of the Professional Rodeo Cowboys Association. He appeared on television with his dogs, and in several Walt Disney movies. Rock appeared in two movies, "Border Collies in Action" and "Arizona Sheep Dog", the latter also featuring Allen himself and his little black Border Collie, Nickey NA2339. In the film, Nickey, all by himself, shepherded five stray sheep through the Arizona wilderness to rejoin the flock, demonstrating a Border Collie's great skill. One of Allen's lesser-known roles was for a Mickey Mouse Club series, where a boy must train a Border Collie for a sheepdog competition, and Allen plays the "old trainer" who helps him. This exposure helped put the Border Collie on the map for thousands of livestock farmers in this country.


Above, Arthur Allen penning sheep with Rock and Nicky
The following article about Arthur Allen and Imported Rock appeared in Time magazine, Monday, August 31, 1953:
THE HYPNOTIC DOG
At the baseball park of the Ogden (Utah) Reds last week, some 2,000 spectators gazed on a strange sight: the diamond was overrun by flocks of sheep, darting dogs and excited men who whistled and yelled. It was the annual World Series of an unusual sport: the herding championship of the North American Sheep Dog Society. The crowd's favorite was a black & white border collie (not to be confused with the plain collie, much larger and of little value as a working dog) named Rock, owned by Society President Arthur Allen. Rock, so small (32 Ibs.) that he seems lost in the shadow of a ram, was imported from Scotland as a pup four years ago. On Allen's 280-acre Illinois farm, he puts flocks of some 400 sheep through their proper paces year-round.

In last week's contest, Rock was pitted against 14 other border collies. The assignment: to convoy a flock of five sheep around a set course and into a pen in twelve minutes or less. The Utah range sheep used in all the trials had never before seen a dog or a pen. As Rock and Art Allen waited tensely at home plate, the dog's unruly charges were let loose in far center field. Shouted Allen: "Go on wide away!" In a furry blur, Rock shot off on his "outrun," circling wide and closing in slowly for the "lift." As the sheep testily pawed the turf, Rock calmly fixed them with a mesmeric eye. This nearly hypnotic power is the proud sheep dog's most important quality, and sheepmen claim that a dog must be born with it; if he does not have it, i.e., is "loose-eyed," he can never acquire it.

Without barking (one yip would mean disqualification) and guided only rarely by whistles, calls or hand signals from Allen, Rock outstared, outflanked and outsmarted the flock around the course. He drove them through null gates set up in right and left field, losing two points for failing to usher a stray ewe through one gate. Finally, Rock worked them all over to a small pen which Allen had opened. Glaring fiercely, the dog got four sheep to back slowly inside. However, a rebellious old ewe charged at Rock. Without even "popping his jaws" (snapping with feigned ferocity) or guiding her by the ear ("gripping" is illegal), Rock stood fast and caught her eye with his Svengali gaze. The ewe turned and pushed her way into the pen.

By copping 48 points (out of a possible 50) in 5 min. 39 sec., Rock won $200 and his third straight North American championship. Allen, who frowns on overly bossy dog handlers, had some advice for last week's losing owners: "Ranchers should just remember that their dogs know more about herding sheep than they do."
Allen's imported dogs won every North American Supreme (the trial sponsored by NASDS) from 1954 through 1976, including twenty-one consecutive years, indicating his own skill as a trainer of working Border Collies. His lines still appear in many of the dogs being bred today.
Copyrighted 2008 by Carole L. Presberg
---
THE OTHER WEB PAGES WE MAINTAIN


---
These web pages are copyright ©2013 and maintained by webmeistress Carole Presberg
with technical help from webwizard David Presberg
ALL RIGHTS RESERVED
If you are interested in using ANY material on this website, you MUST first ask for permission.
You may email us at carole@woolgather.org.
---
Last modified: July 15, 2013 carole@woolgather.org