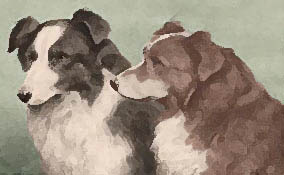 BORDER COLLIE COUSINS
THE AUSTRALIAN CATTLE DOG
---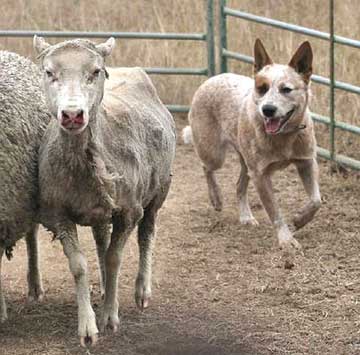 An Australian Cattle Dog
herding merino sheep at Cambden, NSW.
(Photo by Mdk572 from Wikipedia Commons)
The Australian Cattle Dog (ACD) developed in Australia from a number of carefully selected collie types, and possibly other breeds as well. Foremost among desirable traits was the need for stamina and a hard coat to survive the severity of the Australian outback. Numerous crosses were tried, and many failed. Thomas Hall, a cattle man with stations in New South Wales and Queensland, developed the first successful heelers in 1840 by crossing smooth working collies with Dingoes, the wild dogs of Australia. These crossbred dogs worked silently, nipped heels, and clapped to avoid the kick. They were known as Hall's Heelers. More crosses were tried for other traits, most ultimately unsuccessful, until the Bagust brothers crossed Hall's Heelers with Australian Kelpie lines to develop the working Australian Cattle Dog known today. They are a smooth-coated, prick-eared dog, often coming in heavily ticked blue or red coats (and sometimes called Blue Heelers or Red Heelers).
Of the Cattle Dog, Robert Kaleski (1877-1961), an Australian writer, bushman, canine authority, and early breeder of Hall's Heelers, said: "Usually one Cattle-dog is as good as two men; in rough or bad places he is better than a dozen". He characterized it as an excellent cattle and horse dog, a fighter, a hunter, a retriever, and a watchdog. Kaleski describes four types of Cattle Dog: the Blue-speckled Heelers, the Red-speckled Heelers, the Red Bob-tails, and the black Bob-tails. These, as we will see next, developed into two separate breeds.
Scott Lithgow, an Australian cattleman, says the ACD was "developed particularly for their ability to herd and heel reluctant cattle needing to be encouraged or forced to travel. These dogs are probably the best in the world for the work." He goes on the say, "some Australian Cattle Dogs which have been bred for low heeling...are too short in the legs and do not have the speed or inclination to head cattle off quickly...I do not recommend stumpy-legged dogs, bred for show or heeling only." The implication is that the Dog Fancy favors short legs.
The ACD in America has an interesting history. Alan McNiven, a veterinarian from Sydney, Australia, crossed ACDs with Dingos, Kelpies, GSDs, and Kangaroo Hounds, but, although McNiven argued that they were true to conformation, color and temperament, the Royal Agricultural Society Kennel Club in Australia would not register them as Cattle Dogs. A California cattle rancher, Greg Lougher, imported several of McNiven's dogs. California veterinarian, Jack Woolsey, bought some of Lougher's dogs and started breeding them. They were called "Queensland Heelers". Woolsey also imported purebred ACDs to add to his breeding program. The National Stock Dog Registry (NSR) of Butler, Indiana, an organization that registers working dogs regardless of their background, began to register both purebred ACDs and the so-called mixes from Lougher, Woolsey, and other breeders of Queensland Heelers, but when the American Kennel Club (AKC) recognized the ACD, the NSR agreed that any dogs of unknown parentage would be listed as "American Cattle Dogs".
Today, the ACD is recognized by the following kennel clubs: FCI (international), ANKC (Australia), AKC (USA), CKC (Canada), KC (UK), and possibly elsewhere. It is unclear whether the ACD is used on a regular basis for working sheep or cattle in any country but Australia and NZ (see below), except perhaps by hobbyists, which would be a shame.
---
Resources:
Kaleski, Robert. Australian Barkers and Biters, the Endeavor Press, Sydney, 1914, revised edition 1933.
Lithgow, Scott. Training and Working Dogs for Quiet Confident Control of Stock, the University of Queensland Press, 1987.
Wikipedia: "Australian Cattle Dog"
Copyright © 2013 by Carole L. Presberg
---
Return to



BORDER COLLIE COUSINS
---
THE OTHER WEB PAGES WE MAINTAIN


---
These web pages are copyright ©2013 and maintained by webmeistress Carole Presberg
with technical help from webwizard David Presberg
ALL RIGHTS RESERVED
If you are interested in using ANY material on this website, you MUST first ask for permission.
You may email us at carole@woolgather.org.
---
Last modified: August 9, 2013 carole@woolgather.org