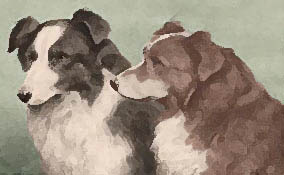 HERDING DOGS OF WESTERN EUROPE
---
THE HERDING DOGS OF PORTUGAL
Northern Portugal is mountainous in the interior, whereas the south is characterized by rolling plains. At one time transhumance was very important here. Today sheep farming is one of the smallest portions of Portugal's agricultural economy. Nevertheless, sheep farming is still very important in the region of Tr0ás-os-Montes (which means "Behind the Mountains") in northern Portugal. This mountainous area is part of the Galician Massif, a system of mountain ranges in the northwestern corner of the Iberian Peninsula, and it is likely that transhumance took place throughout the Galician Massif without reference to borders. This region is still the least populated area of Portugal. The natural conditions make it possible to raise sheep according to a traditional model of itinerant grazing. Cattle is also important, particularly in the Alto Trás-os-Montes in the north, which is the most mountainous area, and goats are found in the region as well.
In Portugal, particularly in the north as mentioned, the concept of fencing is not even a consideration. Sheep "free range" over unfenced land belonging to different landowners. In winter, the flock grazes during the day and is housed at night. In summer, the flock stays housed overnight for shorter periods, and the housing can be merely resting places under trees, in fenced areas, or in rudimentary sheds. After the morning grazing, the flock shelters again during the hottest time of the day in similar shelters along the grazing route.
---
Portuguese Sheepdog or Cão Da Serra de Aires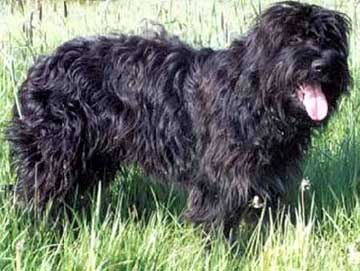 Left, a Cão de Sera de Aires. (Photo from Wikipedia by Jacklab72, reprinted with permission under the GNU Free Documentation License 1.2.)

The Serra de Aires's supporters trace its origin to the Roman Legions. It gets its name from Monte da Serra de Aires farm in Alentejo, Southern Portugal. It is said that it used to resemble the French Pyrenean Sheepdog (see below), but in the early 20th century it was mixed with Briards, another French breed, by the Count of Castro GuimarŠes, owner of the afore-mentioned farm, in order to "improve" the breed. DNA studies show that it is a recent breed. In looks today it is akin to the Bearded Collie and is a medium-sized rough-coated bearded dog.
The Serra de Aires is well adapted to the hot, dry, flat region of Alantejo and Ribatejo in Southern Portugal where it is still used to herd sheep, goats, cattle, horses and pigs. They are intelligent, ready, and loyal workers. Unlike collies, the Serra's coat is not double (it has no undercoat) which can be a disadvantage for working in extreme weather. They come in yellow (tan with black leather), chestnut (red or brown), grey (blue), fawn (red dilute, in this case), wolf (agouti or wild pattern), and black, all with tan markings. Their tails are long, but natural bobtails do occur. Owners are discouraged from breeding dogs without tails.
The Serra de Aires is a regional breed. Other areas of Portugal have their own varieties of shepherd dogs, such as the Cão de Fila de São Miguel (see below), the Cão da Serra da Estrela, the Cão de Castro Laboreiro, and the Rafeiro do Alentejo. These are mostly larger dogs, however, more akin to livestock guardian breeds. The Serra is recognized by the FCI.
---
Terceira Cattle Dog or Barbado da Terceira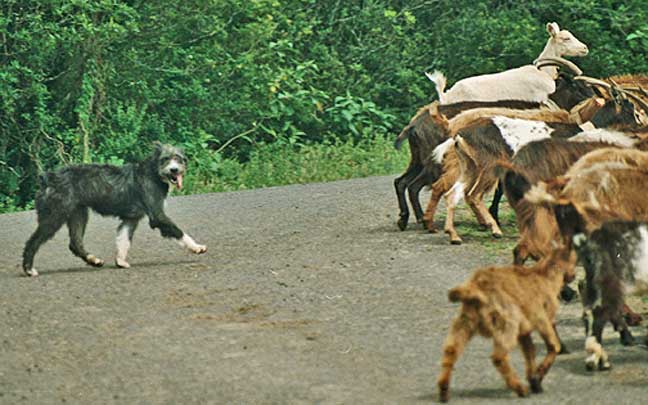 Left, a clipped Terceira Cattle Dog herding goats. (Photo © by and courtesy of Carla Cruz.)

The archipelago of the Azores is an Autonomous Region of Portugal located in the North Atlantic more than 900 miles west of Lisbon. Terceira is the second largest island in the archipelago, located toward the northwest. The Terceira Cattle Dog is a medium-sized, bearded (barbado means bearded) herding dog that may have developed from the Serra de Aires, above, as it is known to have originally come from the Portuguese mainland. It may also be related distantly to other bearded breeds like the Bearded Collie or the Polish Lowland Sheepdog, though this is said of all bearded breeds and should be taken with a grain of salt. It was traditionally used to drive cattle, and was also used as a farmstead watchdog.
The Terceira Cattle Dog comes in white, cream, fawn, gray or black, with or without white and brindle markings. The breed is not yet registered with the FCI, and it is basically unknown outside of the island of Terceira, where cattle raised for bull fighting and meat is still the main occupation and the dogs are still used for herding.
---
São Miguel Cattledog or Cão de Fila de São Miguel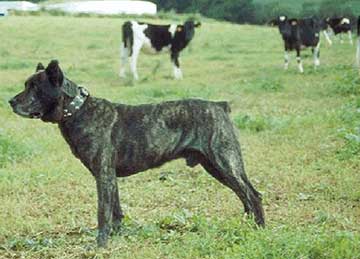 A São Miguel Cattle Dog. (Photo © Carla Cruz, Portugal, courtesy of "Preserving the Sloughi" sloughi.tripod.com/preserving/SloughiAidiPortuguesedogsPires2.html)

São Miguel is the largest island in the Azores located at the eastern end of the archipelago. This breed is considered a molosser[6] and there is really nothing to link it to the collie breeds. According to Carla Cruz however, the Fila is a "true cattle herding dog" that herds dairy cattle, a main industry on São Miguel. If the Fila is left with the flock, Cruz says, it is chained. Unlike most molossers, the Fila is a medium-sized dog, the standard calling for not larger than 23.6 inches. The Cão de Fila, is a deep chested, muscular dog. Traditionally, the tail was docked and the ears cropped short. The smooth coat comes only in brindle. The Fila is recognized by the FCI.
---
Special thanks to Alberto Bertelli and Carla Cruz.

Copyright © 2013 by Carole L. Presberg
---
Resources:
Barbado de Terceira (http://www.chiensducamila.com/).
Barbosa, José Carlos. "Sheep Housing in Trás-os-Montes. Contribution to Design Buildings and Equipment Appropriate for Local Sheep Farms", Escola Superior Agrária de Braganca, ca 2001 (https://bibliotecadigital.ipb.pt/bitstream/10198/3259/1/Sheep%20housing%20JCB.pdf)
Bertelli, Alberto. Department of Zoology, Parma University, Northern Italy, from private correspondence.
Cruz, Carla. Biologist, researcher, and kennel owner, from private correspondence.
The Friendly Sera Club (UK) (www.caodaserradeaires.org.uk).
Wikipedia: "Cão Fila de São Miguel" (en.wikipedia.org/wiki/Cão_Fila_de_São_Miguel).
Wikipedia: Cão da Serra de Aires (en.wikipedia.org/wiki/Cão_da_Serra_de_Aires).
---
Return to



BORDER COLLIE COUSINS
---
THE OTHER WEB PAGES WE MAINTAIN


---
These web pages are copyright ©2013 and maintained by webmeistress Carole Presberg
with technical help from webwizard David Presberg
ALL RIGHTS RESERVED
If you are interested in using ANY material on this website, you MUST first ask for permission.
You may email us at carole@woolgather.org.
---
Last modified: December 30, 2013 carole@woolgather.org