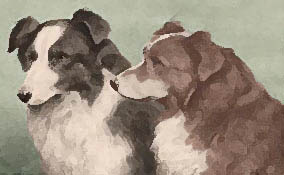 BORDER COLLIE COUSINS
THE AUSTRALIAN KELPIE
---


Windrush Pantalaimon, an Australian Kelpie, facing a Boer goat
Pan belongs to Vern and Susan Thorp of Windrush Farms in Iowa
Of him, Susan says, "Pan is a wide casting dog with strong 'eye'
and excellent balance and cover."
(Photo reprinted with kind permission of Susan Thorp.)
Another breed developed to withstand the harsh conditions of the outback is the Australian Kelpie. According to Stephen and Mary Bilson of Noonbarra Stud in New South Wales, "the original sheepdogs that had been continually imported since the early settlement were not capable of handling...the Australian Merino...or the Australian conditions to the best advantage. A few [lines] were however a big improvement on the previous importations. One of the[se] bloodlines...was the North Country Collies or Rutherford strain. These specialist sheepdogs were bred pure in Scotland since 1760. In the 1800s John Rutherford and his family settled in Australia and of course brought their dogs with them. They also continued to import their Scottish [line] for a number of years as well as breeding [in Australia]."
A black-and-tan smooth collie bitch was bought by J.D. "Jack" Gleeson of Victoria, and named Kelpie. Subsequently bred to an all-black dog named Tully's Moss who was from the Rutherford strain, she produced a line of excellent working dogs. Kelpie was later bred to a dog named Ceasar, a black-and-tan collie belonging to John Rich. From this breeding came a black-and-tan bitch, named Kelpie after her dam, who was given to C.T.W. King, NSW. She performed so well at trials that she gave her name first to the line, and then to the breed, developed by close inbreeding. The Kelpie today is descended from not only that line, but other similar lines that were all called Kelpie because of their resemblance to the original.
The Kelpie is a smooth-coated, prick-eared dog, generally black-and-tan or red-and-tan, and exhibit eye like the Border Collie, but do not clap. They were bred chiefly as a sheep-herding dog, but Scott Lithgow says that some "strains of Kelpie have been selected and bred for working cattle, and these dogs are usually fast and forceful when blocking running animals. They may bite an animal's nose or front foot, and bark...Some Kelpies make good lead dogs and will stay out in front to keep the cattle steadied down."
Robert Kaleski described a dog that would rather work than eat, one that was very sensitive in nature. They knew to keep back from their sheep and stand their ground. Les Tarrant of Rockybar Kelpie Stud in Queensland described the type of environment in which Kelpies worked: "Working conditions for sheep dogs in Australia would rate the hardest in the world. Once you get inland a few hundred miles, it's hard country, where the sun will strike you dead and burn up everything it comes in contact with in summer...burrs lay thick on the ground ...especially in the springtime, and get into the long coats of some breeds of dog, and into the hair between the pads on long-coated dogs like some Border Collies. It makes it impossible for them to walk, and they get so sore they cry in pain. Only really very light running and very short coated dogs survive the work in this inland sheep and cattle country.... The Kelpie suits the country very well, and today we have shortcoated, light running Border Collies that in many places have been crossed with Kelpies to make a very good sheep and cattle dog."[16]
Tarrant described the differences between the two breeds as he saw it: "There is more 'leg-bite' in a Border Collie than the average Kelpie. Kelpies are good nose-biting dogs, but unless taught to leg-bite will not do so with a natural ability like the Border Collie does. A dog must never bite sheep anywhere but on the nose, when it might be wanted. To leg-bite a sheep is about the worst thing that a sheepdog can do. Kelpies don't bite legs if bred correctly, so are naturally better for work with sheep in yards than the Border Collie." However, the Bilsons say that both the Border Collie and the Kelpie are used to herd sheep, often on the same station, and are considered to complement each other.
The Kelpie was named for the kelpie, a supernatural water horse from Celtic folklore (which is perhaps ironic, given the sere working condtions in which the Kelpie works).
In Australia, there is a show variety of the Kelpie which has become very different from the working Kelpie. In the United States the breed organization voted not to seek registration from the American Kennel Club in order to preserve the working abilities of the breed and to prevent a similar split within the breed.
---
Resources:
Bilson, Stephen and Mary. "Origin and History of the Australian Working Kelpie", Noonbarra Kelpie Stud.
Kaleski, Robert. Australian Barkers and Biters, the Endeavor Press, Sydney, 1914, revised edition 1933.
Lithgow, Scott. Training and Working Dogs for Quiet Confident Control of Stock, the University of Queensland Press, 1987.
Tarrant, Les. "Herding Dogs In Australia Part II: The Kelpie", the Shepherd's Dogge, Winter 1992-1993
Windrush Farms
The Working Kelpie Council of Australia Inc.
Copyright © 2013 by Carole L. Presberg
---
Return to



BORDER COLLIE COUSINS
---
THE OTHER WEB PAGES WE MAINTAIN


---
These web pages are copyright ©2013 and maintained by webmeistress Carole Presberg
with technical help from webwizard David Presberg
ALL RIGHTS RESERVED
If you are interested in using ANY material on this website, you MUST first ask for permission.
You may email us at carole@woolgather.org.
---
Last modified: August 10, 2013 carole@woolgather.org