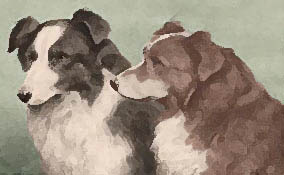 BORDER COLLIE COUSINS
THE WORKING COLLIES OF NEW ZEALAND
---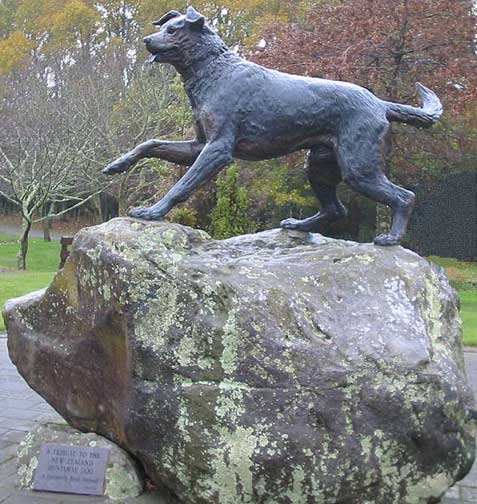 "A Tribute To The New Zealand Huntaway
A Farmer's Best Friend"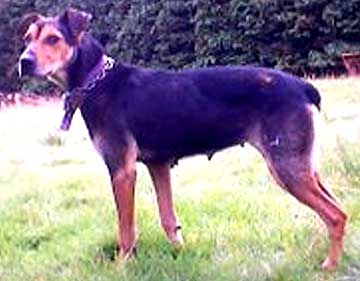 The Smithfield

Left, a New Zealand Smithfield.

Originally, the NZ Smithfield was much like the Tasmanian Smithfield and is thought to have been brought to New Zealand from Australia; but due to out-crossing, likely with the New Zealand Huntaway, most working NZ Smithfields now tend to be predominantly smoothcoated. There are, however, rough-coated Smithfields in NZ, and with a larger variety of coat lengths and looks than in Australia. But where Australian Smithfields have both long and bobbed tails, NZ Smithfield's tails are always bobbed. Both types would fit with what Iris Combe had to say about the Smithfield: that they were originally "both smooth- and shaggy-coated dogs". They are in danger of extinction as working dogs in NZ, and it seems like most are being used for sport, hobby herding, or as pets where they once were used for droving.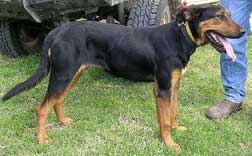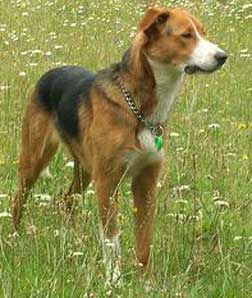 The Huntaway

Left and right, New Zealand Huntaways

The Huntaway is larger than medium-sized, smooth or rough-coated (called grizzled or bearded), and usually black-and-tan or brindle. It is used particularly for driving, which gave it its name. Kelley called it "probably the most specialized of sheep dogs...No greater contrast to the silent and stealthy Australian worker than this noisemaker could be imagined." It works noisily, obviously, a trait that is desirable for driving sheep out of rough country, but its bark has an on-off command, considered important for keeping sheep from being driven over a cliff or from piling up and suffocating in close conditons. Although its origin is not completely known, it probably descends from British collies imported in the 19th century. Most of those were silent workers like the Border Collie today, but some were willing to bark. These were then crossed with other types of dogs that were willing to bark. Its distinctive voice and floppy ears implies some hound crossing.
Kelley described the method of working with a Huntaway: "The function of the huntaway is to run out in a straight line and to bark freely. At a signal the dog leaves the straight line, slewing off as directed. The leases [leased land] are mustered by an organized and combined effort. The method adopted is to work the face of the hillside at different levels with groups of men and dogs. These are detailed to start out at different times, and work downward toward a distant position at the base. Huntaway dogs are also valued for forcing work in yards and similar places."
The Huntaway is a very varied-looking breed, likely because different lines were bred from different breeds of dog. Today, farmers in other countries, particularly Scotland, are importing Huntaways to add to the versitility of their herding operations. A number of kennels in Britain and the USA are breeding them. They are also found today in other countries, including Australia and Japan.


Above, a heading dog mustering sheep at Geordie Hill Stateion in New Zealand.
(Photo from Flyinn New Zealand, an adventure flying company and sheep and cattle station.
The Heading or Eye Dog
Heading or Eye Dogs were bred from Border Collies but they are usually smooth-coated, long-legged, and fast, with enormous stamina. Like the Border Collie, they have an instinct to cast widely and circle round their sheep, heading them. They work silently, and thus they complement the Huntaway, and the two types are often used together. Some have a natural ability to lead a mob of sheep, keeping them in check from the front. A dog with this ability is called a "Leading Dog". Others still are useful for yard work and are termed "Yard Dogs", and often the Huntaway will be used for this purpose. There is also the so-called "Handy Dog". This dog can do both heading and huntaway work and is a general, all around farm worker, possibly the most useful of all the sheepdogs. It is said that the best Handy Dogs are strains of Huntaway, but not Huntaway-Heading Dog crosses. Others seem to prefer crosses of the two and this has produced a great deal of controversy in sheepdog circles in NZ. And finally we have the "Stopping Dog" which is a heading dog that is capable of stopping an entire mob of sheep and holding them quietly for their master.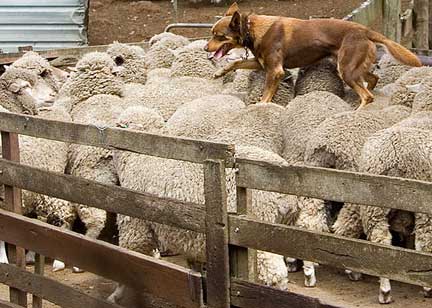 The Backing Dog

Left, a Kelpie backing sheep. This happens to be in the Australian stockyards, but the same photo would be appropriate for New Zealand. (Photo by Martin Pot, released under the GNU Free Documentation License.)

This ability, whether trained or innate, may have been more common in sheepdogs of Britain in the past. Adelaide L.J. Gosset, writing in 1911, described it in her chapter on "The Old English or Sussex Sheep-Dog". She quotes a shepherd's son, William Aylward, speaking about his father's dog: "It was 'sheep-washing' at Lavant. The sheep refused to go over the bridge across the stream which led to the pen. At first both dogs failed to manage them, for they evaded the bridge in every possible way...But [his father] said 'I have not told Nimble to mount up yet.' Nimble had this order given him, and at once jumped on the backs of the flock, running over the compact mass of woollens and snapping at their ears. In five minutes the three hundred sheep were over the bridge and penned ready for their wash."
Neither the Huntaway nor any of the strains of Heading Dog are registered with the New Zealand Kennel Club, as they are considered mixed breeds. We might almost consider them landraces, because, although they were purposely bred, they were bred for the natural and cultural environment in which they work. Working dogs that win official dog trials can be recorded in the studbook of the New Zealand Sheep Dog Trial Association. New Zealanders have imported and use several other herding breeds, including Border Collies, Bearded Collies, and Australian Cattle Dogs and Kelpies.
---
Resources:

Flyinn New Zealand, an adventure flying company and sheep and cattle station.

Combe, Iris. Herding Dogs, Their Origins and Development in Britain, Faber & Faber, 1987.

Dalton, Dr. Clive. "New Zealand Farm Working Dogs", Woolshed 1 Blog, 2010

"Dogs, Working", The Encyclopedia of New Zealand 1966 http://www.teara.govt.nz/en/1966/dogs-working

Gosset, Adelaide L.J. Shepherds of Britain or Scenes from Shepherd Life Past and Present, Constable & Co., 1911.

Kelley, R. B. Sheep Dogs, Their Breeding, Maintenance, and Training, Angus & Robertson, 1947.

New Zealand Smithfield Sheep Dog Home

Te Ara, The Encyclopedia of New Zealand, "Story: Farm Dogs"

Copyright © 2013 by Carole L. Presberg



---
Return to



BORDER COLLIE COUSINS
---
THE OTHER WEB PAGES WE MAINTAIN


---
These web pages are copyright ©2013 and maintained by webmeistress Carole Presberg
with technical help from webwizard David Presberg
ALL RIGHTS RESERVED
If you are interested in using ANY material on this website, you MUST first ask for permission.
You may email us at carole@woolgather.org.
---
Last modified: August 10, 2013 carole@woolgather.org