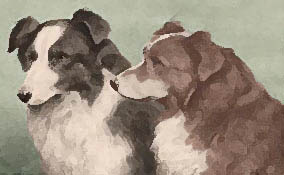 BORDER COLLIE COUSINS
THE OVELHEIRO GAUCHO
---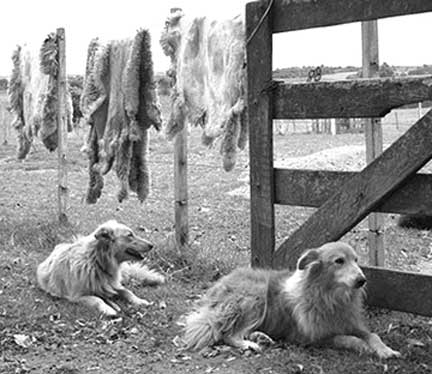 A pair of working Oveheiro Gauchos.
(Photo courtesy of Sergio Silveira de Azevedo from Brazil
via Jeanne Joy Hartnagle-Taylor from the Hartnagle file.)
This breed, from the Southern pampas of Brazil had similar origins to the Patagonian Sheepdog. European immigrants brought their collies to work on the sheep and cattle ranches of the region. They were of several different types, some similar to the Border Collie, others more like the Rough Collie. These dogs interbred with the local dogs, possibly even with the Cao da Serra da Estrela (the Estrela Mountain dog, a Portuguese sheep guardian breed). Although there is also a variation in the type and working styles of this breed, there is more uniformity today than with the Patagonian Sheepdog, and as a breed it is recognized by the Brazilian Kennel Club. It is likely that the most variation occurs in the working varieties, where some sheep farmers prefer a Border Collie-type dog and some cattle ranchers prefer a larger type that resembles the Rough Collie more closely.
As a sheepdog, the Ovelheiro Gaucho works alongside the flock or behind it when moving sheep from pasture to pasture. While the sheep are grazing, the dogs are set to guard them from stray dogs, and wild animals (the cougar and maned wolf are native to the area), and from strangers. A shepherd or herdsman and two or three dogs can handle a flock of sheep or a herd of cattle.
---
Rorem, Linda. "Ovelheiro Gaucho" on Herding On The Web.
Hartnagle-Taylor, Jeannie Joy. "Ovelheiro Gaucho" on Stockdog Savvy.
Wikipedia "Ovelheiro gaucho"
Copyright © 2013 by Carole L. Presberg
---
Return to



BORDER COLLIE COUSINS
---

e

THE OTHER WEB PAGES WE MAINTAIN


---
These web pages are copyright ©2013 and maintained by webmeistress Carole Presberg
with technical help from webwizard David Presberg
ALL RIGHTS RESERVED
If you are interested in using ANY material on this website, you MUST first ask for permission.
You may email us at carole@woolgather.org.
---
Last modified: August 9, 2013 carole@woolgather.org