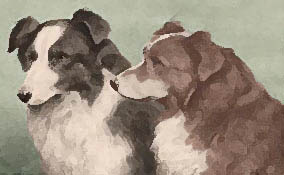 BORDER COLLIE COUSINS
THE MCNAB
---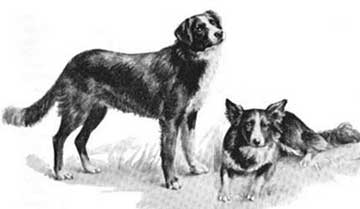 Two of Alexander McNab's McNab dogs.
(Photo courtesy of David Procida.)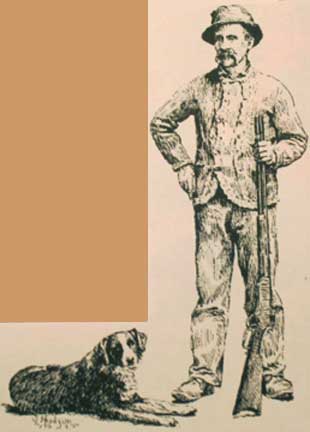 Left, an old drawing of Alexander McNab and Fred, one of the working collies he imported from Scotland. (Photo courtesy of David Procida, and reprinted with permission.)

Alexander McNab, a Scottish sheep farmer, moved with his family to Northern California's Mendocino County. where he established a ranch in 1866. Dissatisfied with the local working dogs, he returned to Scotland in 1885 to find some better herding dogs. He bought two "Scotch collies", Peter and Fred, and brought them back to California. Fred was said to be a natural heading dog, and Peter could head and drive. It's said that they were bred to females of Spanish origin, but that seems unlikely. It is more likely that they were bred to other collies that had been imported from Britain earlier, possibly dogs that were being used by Basque shepherds in the area and so termed "Spanish dogs". In any event, what McNab was looking for were dogs that could both head or heal, and drive.
In time McNab imported several more collies from Scotland, some of which were red-and-white and he called "Fox Collies". He found that smooth-coated or moderate rough-coated dogs were better suited to the warm California climate and also to the weed-infested hills on which they were working. Originally, these dogs just worked on the McNab ranch, but eventually some were sold to neighboring ranchers.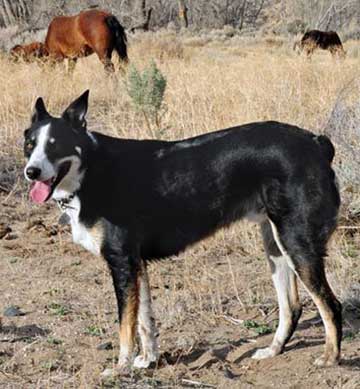 Right, Starbuck, a modern, tricolored McNab with natural bobtail, owner unknown. (Photo courtesy of "McNab Dogs Are The Best Kind Of Dogs" group on Facebook)

Today, McNabs are still working in Northern California. They are bred for working and there isn't a standard nor a registry of their own. Most are black-and-white or red-and-white. Occasionally a tricolored or tan (recessive yellow) one is born. They may have ticking in their white areas. Other colors, particularly merle, simply do not occur. They are mostly smooth-coated, though some are moderate roughs. Most have pricked ears, though infrequently there are semi-erect ears. Many have long tails, but some old lines throw a natural bobtail. In size they seem to have a wider range than the Border Collie. They can work cattle or sheep, are able to head, heal, and drive. They also bark when conditions warrant it. They are registered with the National Stock Dog Registry, an all-breed herding dog organization that registers Australian Shepherds, Australian Cattle Dogs, English Shepherds, Stumpy Tail Cattle Dogs, and Australian Kelpies as well as the McNab. These are all breeds that have their own registries as well, except the McNab.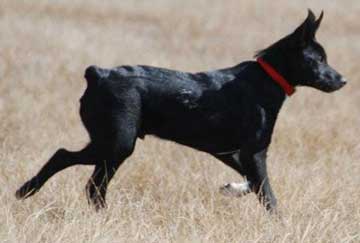 Left, a modern, nearly all black McNab with natural bobtail, belonging to Gill Cummings of Needham, Alabama. (Photo courtesy of "McNab Dogs Are The Best Kind Of Dogs" group on Facebook)

There are some that say the McNab does not really exist as a breed, and in my research into the breed I have to say that it is difficult to find one that doesn't look like a smooth-coated Border Collie. Those with bobtails are perhaps the exception. Adherents find many traits that set their breed apart: longer legs, shorter toes, calmer temperament, less dependence on eye, and so on; but the diversity of McNabs and that of Border Collies allows for much more in common than not. In working style the McNab has been described as "generally...more direct and forceful stockdog than his cousin the Border Collie, not as excitable as the Kelpie, and not as strong minded as an Australian Cattledog."[*]
---
Resources:
[*] McNab Cattledogs
"McNab Dogs Are The Best Kind Of Dogs" on Facebook
Procida, David. "History of the McNab"
Copyright © 2013 by Carole L. Presberg
---
Return to



BORDER COLLIE COUSINS
---
THE OTHER WEB PAGES WE MAINTAIN


---
These web pages are copyright ©2013 and maintained by webmeistress Carole Presberg
with technical help from webwizard David Presberg
ALL RIGHTS RESERVED
If you are interested in using ANY material on this website, you MUST first ask for permission.
You may email us at carole@woolgather.org.
---
Last modified: August 8, 2013 carole@woolgather.org