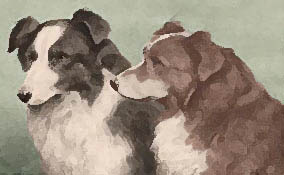 BEATRIX POTTER
1866-1943
---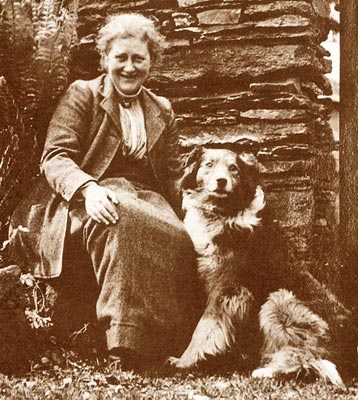 Above, Beatrix Potter with "Kep" in 1915
possibly photographed by Rupert Potter, her father.
(Photo courtesy of the British National Trust for Places of Historic Interest or Natural Beauty, Cumbria, UK.)
[This article first appeared in the Volume III, Number 2 issue of The Shepherd's Dogge magazine, Summer 1990.]
[Most know Beatrix Potter as creator of Peter Rabbit; fewer know that for more than three decades she was, as Mrs. Heelis, a sheep farmer in the beautiful Lake District of England. This article is more from the point of veiw as the latter, and hopefully will give a more pastoral view of the artist and her portrayal of the shepherd's dog.]
Beatrix Potter was born in London on July 28, 1866. Her parents were well-to-do, upper middle class people. Her father, Rupert Potter, came from a wealthy Lancashire textile industry family. Although a barrister, he seldom practiced, allowing others to look after his law practice, while he visited art galleries and exhibitions, and pursued a hobby of photography.
Helen Leech, Beatrix's mother, came from a cotton merchant family. In later years she was described by Beatrix as having "never exerted herself to work in her life". The family always had servents, and Beatrix was brought up by a succession of nurses and governesses. She led a rather secluded life, but was exposed to books and art from an early age, and was encouraged to draw and paint. Both she and her brother (even after they were grown) kept a continuous menagerie, and Beatrix spent hours observing and drawing the small animals. Peter Rabbit was one of her pets, and the model for her storybook character.
During the winter, the Potters were involved in the social life of London, but for two weeks in April and three months in late summer, they left London. In April, the family went to the south coast of England, and in summer the entire household, servants and all, retired to Scotland. The countryside had an enormous impact on Beatrix. From age five until she was 15, the family rented a house near Dunkeld, but in 1882 it became no longer available, and they began to take holidays in the Lake District. For Beatrix, the association was to last a lifetime.
Although there had always been dogs in Beatrix's life, her early association with sheepdogs was not entirely positive. During her first holiday in the Lakes, just after her 16th birthday, she records in her journal that she "went to Hawkshead...lost continually, alarmed by collies at every farm..." Ten years later she went so far as to say, "I do not on the average care for dogs--especially other people's". However, with exposure to working collies each summer, she began to appreciate them and eventually mentions them positively in her journal:
We met three great flocks...bleating and pressing to the side of the road, where they snatch a mouthful as they pass. They are coming down from the hills...towards the great Sheep-fair at Perth...where they will sell at the ruinous price of five [shillings] and three pence apiece.

Behind these walks the shepherd in his best clothes, or the farmer himself, slow work...the sagacity of the collies in sorting out their property is marvelously reliable. I saw a large flock turned into the same field with the butcher's sheep for the night...
In 1896, when Beatrix was 30, the family stayed in the village of Sawrey, near Ambleside. Beatrix liked this place more than any other in the Lakes and records in her journal "It is as nearly perfect a little place as I ever lived in...." When they left to go home to London in October, she expressed regret and wrote:
Perhaps my most sentimental leave-taking was with Don, the great farm collie. He came up and muddied me as I was packing...I accompanied him to the stable-gate, where he turned...and gravely shook hands. Afterwards, putting his paws solemnly on my shoulder, he licked my face and then went away into the farm.
The Potters were often joined by friends while on Holiday. One of them was Hardwicke Rawlnsey, the vicar of the village of Wray, who was a poet, prolific writer, and a founder of the National Trust for Places of Historic Interest or Natural Beauty. He had a great effect on Beatrix, encouraging her interests in art, geology, and archeology, and impressing upon her the importance of conservation, a concept that was to shape her later life.
In 1892, Beatrix had written a picture letter to Noel Moore, the son of Beatrix's last governess. The letter contained the story of Peter Rabbit, and in 1900, when she decided to write and illustrate a book for children, she borrowed back the letter and used it as the basis for her book. Because Canon Rawlnsey had published a collection of verses for children, Beatrix turned to him for advice. The first edition of Peter Rabbit was printed privately by Beatrix; but with Rawlnsey's help Beatrix began an association with the publishers, Frederick Warne, who published the second edition, and remained her publishers for the rest of her life.
Beatrix's dealings with Warne were through Norman Warne, youngest of the three brothers in the firm. In 1905, he proposed marriage to her. Beatrix was almost 39, but her parents, class conscious and dependent on their daughter, disapproved. Torn between parental loyalty and fondness for Norman, Beatrix accepted Norman's ring but postponed the wedding. It was never to take place, for in August that year, Norman fell ill and died.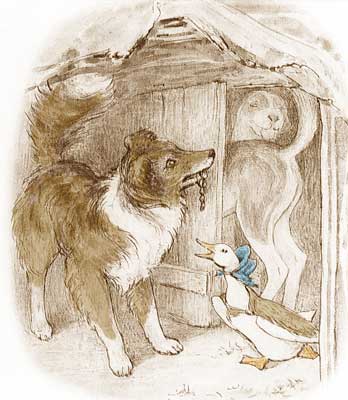 Left, "Presently Kep opened the door of the shed, and let out Jemima Puddle-duck," an illustration from the Tale of Jemima Puddle-Duck by Beatrix Potter, F. Warne & Co., London, 1908:

By that time, Beatrix was receiving royalties from five books, and had purchased a working farm, Hill Top, in the village of Near Sawrey. After Norman's death, she began to spend more and more time in the Lake District. Her farm manager was John Canon, and with him, she made the decision to breed Herdwick sheep, a hardy breed, native to the Lakes. Her choice was influenced by Canon Rawlnsey, who was a founder of the Herdwick Sheepbreeders Association. Along with "her growing involvement in sheep breeding," says Judy Taylor, one of her biographers, came the beginning of "her deep attachment to collies. The dogs on the farm were working dogs, living outside and totaly dedicated to their work, but Beatrix always had one dog which was especially hers. Kep was the first of a long line of collies, as devoted to his mistress as she was to him."
The next few years were prolific for Beatrix, and she produced several more books, all reflecting involvement with the farm. One of these, written in 1908, was the Tale of Jemima Puddle-Duck, about a duck at Hill Top Farm. Kep, the farm sheepdog, played a major role in the story (and was the real hero of the story, rescuing Jemima from her own naivity and the clutches of Mr. Todd, the fox). By 1917, "Old Kep" was dead, but not before Beatrix had done numerous sketches and watercolors of him.
Beatrix began to buy more land around Sawrey, including Castle Farm, and her property dealings were done through a local solicitor, William Heelis. In 1912, Heelis asked Beatrix to marry him. Once again her parents objected, but this time Beatrix overcame their presistance. In October 1913, she and Heelis were married and settled permanently at Castle Farm.
Beatrix was successful and happy as a sheep farmer. Most of her letter of the period are punctuated with anecdotes or comments on the farm or market. How much of the work she actually did herself is unclear, as she continued to have hired hands. We don't know if she worked her sheepdogs herself, either. But she kept intimately involved with the workings of the farm, and her involvement included traipsing the hills and keeping in evidence. In a letter to a fan in 1917, Beatrix wrote, "I have a big farm and a very great deal to do, since the war, for my [hired] man left me...I have a black/white dog, she is called 'Fleet'..." Fleet was a bobtail, and she had, in Judy Taylor's words, "replaced Kep in Beatrix's affections."
During the First World War (1918), when rations were short, Beatrix remarked to her publisher, "Four of us have got through very nicely on 3 1/2 lbs meat...But it does make some work, as the only chance is to do all the cooking oneself, including the hen's and the sheep dog's!" And again in applogizing for the delay of a book, Beatrix tell Warne, "I have seemed so rushed lately...I have just come in after a rough two hours search for some sheep & lambs...."
In 1924, Beatrix acquired another farm, Troutbeck Park, and now owned considerable land in the Lake District. She began to make provisions for donating land to the National Trust. To manage the Herdwick flock, which by the following spring amounted to a thousand ewes, she hired another shepherd, Tom Storey. In 1926, Beatirx hired Joseph Moscrop, an experienced shepherd from the Borders, to come each spring to help with the lambing. Moscrop always brought a sheepdog with him, and each winter he and Beatrix corresponded. Her letters to him always mentioned collies, and are perhaps the most interesting of her writing from a sheepdog enthusiast's point of view.
In 1927 she wrote to Moscrop, "I suppose it is same terms as last year, 4 weeks and bring your own quiet dog." And later, "We will be glad to see you again, and Queenie's dog." The next year she told him, "The new dog is not very promising at present; Martin says it will make a useful dog for hard work on the fell, but at present very noisy and barks while running, which does not sound like settling for a lambing dog, so please let me know if you hear of one to sell or hire...."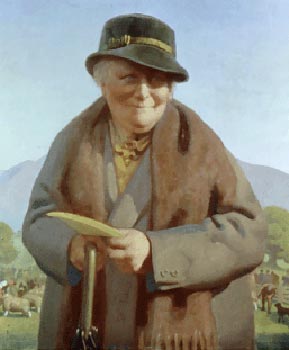 Left, a portrait of Beatrix Potter in her early 70s, judging Herdwick sheep (in background) at an agricultural event, by Delmar Banner (1938, copyright National Portrait Gallery, London, UK)

In 1927, she and Storey began to breed Herdwicks for show, regularly winning. Eventually, Beatrix became a judge at local agricultural shows, and in 1930, the first woman president of the Herdwick Sheepbreeders Association. Except for letters, of which there were an enormous number, many to Americans, Beatrix was writing and drawing much less, her attention on farming. To an American fan she wrote in 1928, "Nip, my favourite colley, has a promising puppy, a blue gray coloured dog. I have not started to break it in yet for sheep work." The implication is that, perhaps she was taking a much more active role in the workings of the farm and the working of the dogs as she got older. Of another of Nip's pups, Beatrix wrote:
"I wish Fly to learn to work sheep. She must learn with hens. this is not as naughty as it looks, she never bites! When she has turned them, she lies down. She sometimes puts them in the hen hut. considering she is quite a baby--she is very promising. But she is frightened of sheep at present."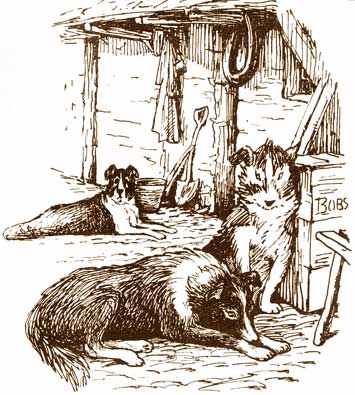 Right, "Roy, Bobs, and Matt were lying lazily in the sun" from The Fairy Caravan by Beatrix Potter, F. Warne & Co. , London, 1929.
One of her finest pen and ink sketches of a sheepdog is of Nip in 1929, and Beatrix described Nip as "a black and white bitch, a very good one. She was bred at Brothers' Water." Shortly thereafter, to satisfy her American public, she put some early, unpublished stories and sketches into a book called The Fairy Caravan and gave it to an American publisher. It contains drawings of sheepdogs, and Nip appears in one of the chapers.
By 1936, Beatrix was no longer writing or drawing for publication, as her eyesight had failed for close work. The farm was still her priority, but she was slowing down at 70. Three years later (1939), the Second World War broke out and the sheep business went from bad to worse. That year, two serious operations (a hysterectomy and appendectomy) reminded Beatrix of her own mortality, and she began to prepare for her eventual death, though she continued to manage her farm. In 1941 she wrote to Joe Moscrop "I wonder if there would be a chance of getting a puppy of Lassie's breed--poor old thing, I would have liked another litter but Tom Story says she is too old now for pups."
But by 1943, Beatrix was further weakened by bronchitis, and her heart, damaged by rheumatic fever in her youth, began to give out. She must have realized her death was impending, for in her last letter to Joseph Moscrop, written nine days before her death, she neigher mentions his coming for lambing the next spring, nor the sheepdogs. She simply tells him she has enjoyed their friendship. Beatrix died at the age of 77 on December 22, 1943.
For more information on Beatrix Potter, visit The Beatrix Potter Society.
The following is a brief bibliography of books used to write this article:
1. The Tale of Jemima Puddle-Duck by Beatrix Potter, F. Warne & Co., 1908
2. The Fairy Caravan by Beatrix Potter, F. Warne & Co., 1929.
3. Beatrix Potter, Artist, Storyteller and Countrywoman by Judy Taylor, F. Warne & Co. (Penguin), 1986.
4. Beatrix Potter's Letters--A Selection by Judy Taylor, F. Warne & Co. (Penguin), 1989.
5. The Journal of Beatrix Potter transcribed by Leslie Linder, Frederick Warne & Co. (Penguin), 1066, 1989.
The author wishes to thank Nancy Whitmire of Stevens Point Wisconsin, The Beatrix Potter Society, and the ladies at the Rose Medallion in Newburyport, Massachusetts, for their invaluable help.
Copyright 2008 by Carole L. Presberg
---
THE OTHER WEB PAGES WE MAINTAIN


---
These web pages are copyright ©2013 and maintained by webmeistress Carole Presberg
with technical help from webwizard David Presberg
ALL RIGHTS RESERVED
If you are interested in using ANY material on this website, you MUST first ask for permission.
You may email us at carole@woolgather.org.
---
Last modified: July 11, 2013 carole@woolgather.org