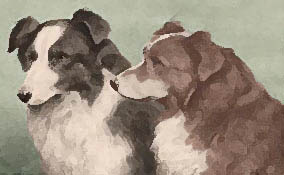 EDWIN JAMES DOUGLAS
1848 - 1914
---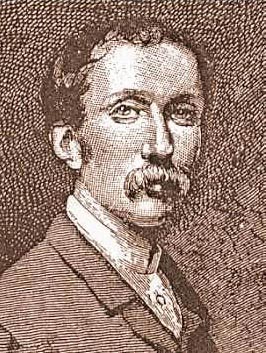 Above, a portrait of Edwin Douglas
by James Douglas, his father.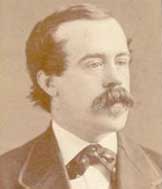 Left, a photograph of Edwin Douglas, date unknown.

Thanks to Valerie Martin and her website, "This Is Findon Village" for much of the information and most of the pictures in this article. Her website is all about the history of and life in the village of Findon, in West Sussex, UK, with a great deal more information about artist Edwin Douglas, who lived in Findon, than this article can cover. Since we are mostly interested in an artist in relation to sheepdogs, we extracted that portion of the information from Ms Martin's very extensive site. If you want to know more about Douglas, or are interested in the life of a rural English village, we encourage you to visit that excellent website, which is illustrated with many antique pictures.
Recently I was contacted by Sally Douglas of Melbourne, Australia. Edwin Douglas' father, James Douglas, was a first cousin to Sally's great-grandfather, Gabriel Douglas (b. 1822 in Muirkirk, Scotland, and d. 1902 in Melbourne, Australia) and Sally has been researching the history of her family. I have updated this web page with information kindly supplied by Sally, including changing Edwin Douglas' date of birth from 1849 to 1848. Sally has also directed me to the Douglas History website, which, if you are interested, has much fascinating information on the Douglas family, including Edwin James.
---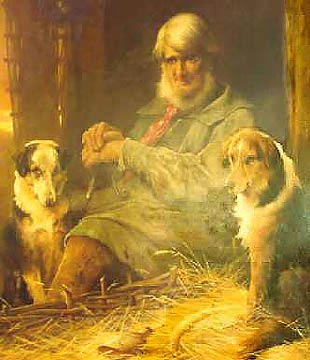 Above, "When Shepherds Watch Their Flocks by Night", by Edwin Douglas. Exhibited at the Royal Academy in 1894. The portrait is of the shepherd at Fox Down in Findon, Mr. McMillan with his dogs. The one on the left is a nice tricolored dog, the one on the right appears to be either a sable or a saddle-patterned dog (most likely the latter). Please note how droopy their ears are. Ears like this are very rare today, but used to be more common. Also note that Mr. MacMillan is wearing a smock, has his facial hair growing as was very popular in the day, and is leaning on a crook, which, if you look closely, you can see is a leg crook rather than the neck crook we are more used to seeing.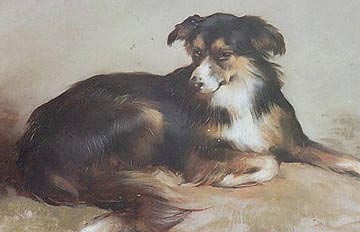 Left, "Collie" by Edwin Douglas. This is perhaps my favorite of all Douglas' paintings. It shows a lovely tricolored collie.

Right, "Highland Hearth" by Edwin Douglas. This painting shows a lovely sable collie seated on the stone floor of a shepherd's cottage. A bannock bakes on a "girdle" (griddle) above the small open stone hearth. Besides the bannocks and girdle, there are some other interesting items in the painting, for example, the latch and latch string, the knitting, and the ceramic crock, all of which add interest to the picture and sets the scene.
Edwin James Douglas was born in Edinburgh, Scotland in 1849. He was the youngest child and only son of James Douglas (1810-1888), also an artist, all of his older siblings being girls. He grew up in Edinburgh, and began to draw and sketch at a young age. At 12 years old, Edwin was sent home from school, because, according to Martin, he was:
...considered too delicate to pursue the necessary curriculum. As events turned out, it proved to be a blessing in disguise.

The family physician, Doctor Matthews Duncan, surprisingly prescribed not a potion, but a pony. His father purchased as prescribed and under the doctor's supervision, young Edwin was set the task of grooming and caring for his four-legged friend.
Martin goes on to say:
A tutor was substituted in lieu of attending school. In comparison to formal education, Edwin found this congenial arrangement a surprising pleasure. He continued to diligently care for his equine friend for the next three years and as a consequence his health blossomed.

One day Edwin was taken by his mother to the Edinburgh Agricultural Show and it was here that he fell head over heels in love with a small Brittany cow; it was not much larger than a Newfoundland dog. This animal determined his future destiny and his ambition from then on was to be an animal painter.

The stumbling block was his father, who was strongly adverse to the boy's idea of being an artist, as he knew from his own experience that embarking on such a career was very risky. He was unsure at this time if his son had the makings of an artist and considered that a career in law would be more rewarding.
A serious accident at age 16, however, prevented Edwin from taking a position as a solicitor, and during his long recovery period his determination to become an artist grew, and eventually his father relented and presented him with some prints of Sir Edwin Landseer's animal paintings. Landseer became Edwin's inspiration.

At 17, Edwin sent three of his canvases to the Exhibition of the Royal Society of Arts at Edinburgh and all three were accepted. It was after that, that Edwin began to attract the attention of some of the established artists in Scotland, and at 21 he exhibited a painting at the Royal Scottish Academy, a great accomplishment for a young artist.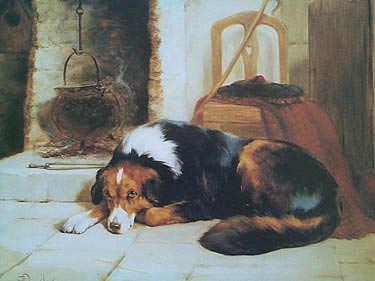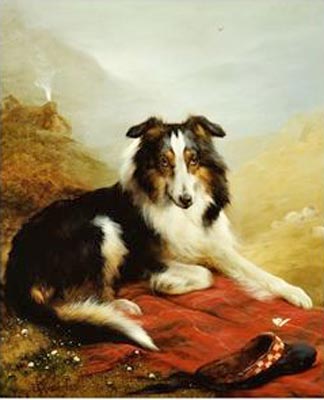 Left, this painting of a tricolored collie is similar to "The Highland Hearth", above. The hearth in this one is open (no fireplace), but appears to have a chimney or hearth-back.

Right, "The Guardian of the Flock" shows a very different type of collie than Douglas' others. This one is more the "Scotch Collie" variety, those that were already changed by breeding for show. It's ironic that it is this type that Douglas chose for a painting depicting herding. Could it be that he actually saw this type of collie guarding a flock of sheep?
Ironically it was Landseer's illustrations of English rural life, and not his paintings of Scottish animals, that influenced Douglas so much as to give him the incentive to move to England. His father, James, was suffering with depression, so in 1872, Edwin move his entire family to Westcott, near Dorking in Surrey. There, his father regained his strength, and resumed painting. In 1874, Edwin married Christiana Feake-Martin. During their time in Surry, Edwin became very involved with the Surry Union Hunt, and many of his paintings from those days featured hounds, fox terriers, and setters, and he began exhibiting at the Royal Academy in London. He also found Jersey cattle fascinating, and painted many of these beautiful animals. He was made an honorary member of the English Jersey Cattle Society, and owned and bred Jersey cows himself.
In 1886, the Douglases and their 8 children moved to Worthing on the Sussex coast, ostensibly because of Christiana health. In 1890, they bought a piece of land in Findon, in West Sussex, and there built a house of their own, moving into it in 1892. Douglas named it Fox Down. His wife died there of tuberculosis in 1901, and Douglas lived on at Fox Down until his death in 1914, when the house was sold and demolished.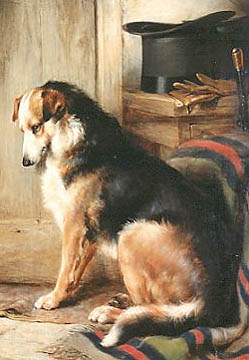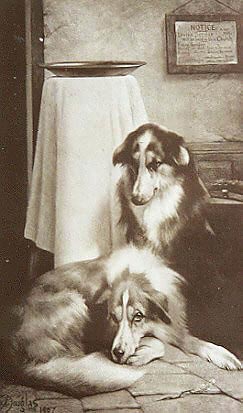 Left, "The Consultation", 1968 by Edwin Douglas, shows a saddle-patterned collie waiting outside his master's sick room. The implication, given the title, and the top hat, cane and gloves that are on the table, is that the doctor is with the patient.

Right, "Elders of the Kirk" painted by Edwin Douglas in Findon in 1907. The dogs were probably left at the back of the church, where they patiently wait by the collection plate for their master.

Edwin James Douglas had become a reputable painter in his lifetime. Among his patrons were Queen Victoria and Edward, Prince of Wales, for whom he painted favorite hores and dogs (R. E. Wilson, 19th & 20th Century Paintings, Cheshire, UK). He is considered by some to have been the heir apparent to Landseer, and because of this, one can't help but make comparisons. Certainly in style and subject matter there is a great resemblance. While Douglas' work lacks the depth and detail of Landseer's, there is perhaps a greater intimacy in his paintings. With Landseer, one always feels as if you are standing back and viewing a scene, with Douglas, you feel as though you are invited in. Perhaps this is because Landseer often expressed great emotion in his paintings, which tends to isolate the subject from the viewer. One is afraid to enter and break the mood. Douglas' paintings are not so emotive, and so the viewer feels comfortable entering the scene; in fact, the collies look as if they are bored with waiting and wish you would come in and pay them some attention. Something else which characterizes Douglas' paintings are how the items in the environment are carefully arranged and seem as important as the dogs, almost as if Douglas was painting "Still Life with Dogs" as another artist might paint "Still Life with Fruit". The paintings above, left and right, are indicative, as is the one below, left.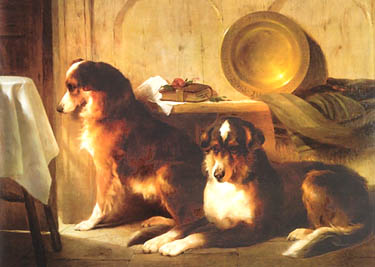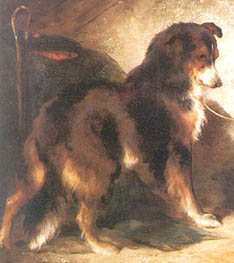 Left, "Shepherd's Collie, 1877" and far left "Two Scottish Collies".
While Douglas is purported to have favored setters, he painted many different breeds of dog, including numerous collies. Presented here are just a few of them.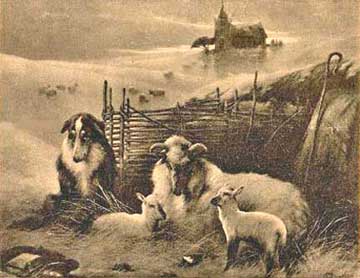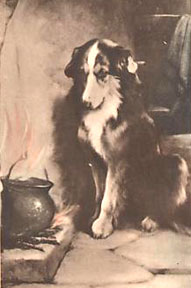 Recently, I was asked if the painting on the left, called "The Church and the Fold", was painted by Edwin Douglas. I enquired around, and also searched online, but could not find any references to this painting. However, I do believe it to be an Edwin Douglas. If you compare it to the painting on the right, which is known to be a Douglas, you will see that the collie in "The Church and the Fold" is very much in the style of Edwin Douglas, as is the composition of the painting in general. Although it is an outside scene, Douglas uses the fog, the hurdle and the side of the hill to effectively contain his subjects, and they (the dog and the sheep) are posed at the front of the painting. The subjects, along with other objects, seem to be organized in a "still life" arrangement. Even the church is held together with the rest by the fog.
Below, "A Highland Post Office -- Should Shepherds' Dogs Be Taxed?" painted by Edwin Douglas in 1878.
The notice in window behind the dog, Valerie Martin tells us, reads
"Inland Revenue Dog Licence. Exemptions: Shepherd for one or two dogs used solely in his calling."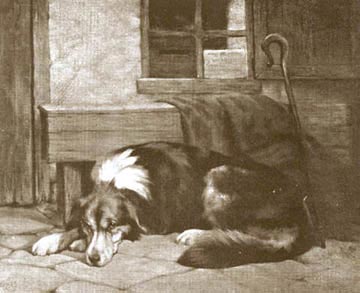 ---
THE OTHER WEB PAGES WE MAINTAIN


---
These web pages are copyright ©2013 and maintained by webmeistress Carole Presberg
with technical help from webwizard David Presberg
ALL RIGHTS RESERVED
If you are interested in using ANY material on this website, you MUST first ask for permission.
You may email us at carole@woolgather.org.
---
Last modified: July 12, 2013 carole@woolgather.org