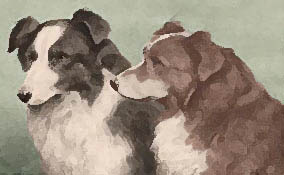 ERIC HALSALL
1920-1996
---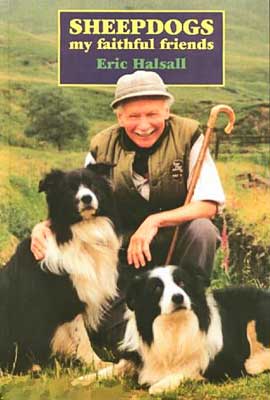 Above, the photograph of Eric Halsall by Richard Hinton
from the cover of the second edition of Sheepdogs--My Faithful Friends
[Parts of this article appeared in The Shepherd's Dogge, Spring 1997]
The second edition of Eric Halsall's Sheepdogs--My Faithful Friends came out in October 1996, and with it came the sad demise of the author. Few names and faces were so well known in the sheepdog world on both sides of the Atlantic, than Eric Halsall's. The North of England native was a journalist, an author, a wildlife broadcaster, a farm manager, a naturalist, a sheepdog trial judge and course director, and an active member of numerous farm, conservation, sheep, and sheepdog organizations. But he will perhaps best be remembered, particularly in Britain, for the fourteen years he spent as commentator for the BBC production of the One Man and His Dog television series.
Born in Burnley, Lancashire, Eric Halsall started his career in agriculture as an agricultural surveyor in an estate office. Subsequently, he became a writer for a local newspaper, the Burnley Express. His column, called "Country Notes", ultimately ran for thirty years. An avid follower of sheepdog trials, Halsall gained his countryside experience as a farm manager for the National Coal Board until his career as a television personality took off. Before One Man and His Dog, he gave radio talks on the countryside and native wildlife of Lancashire.
An obituary in The London Independent (Joy Corbett, October 25, 1996), details the part Halsall played in the television series:
One Man and His Dog...would not have been possible without the guidance, support and enthusiasm that [Halsall] brought to the project. Halsall did more than almost anyone to raise awareness of the sheepdog and its role not only amongst the general public but also within the farming community. He brought to One Man and His Dog a wealth of knowledge and a personal enthusiasm that was infectious, commentating on over one hundred programmes and providing insight and guidance both to the programme's presenter Phil Drabble and to the entire BBC production team...

In addition to his commentary duties, Eric Halsall was the course director for the series and was to be seen helping to lay out the trial field with a small group of local enthusiasts as the programme moved through England, Scotland and Wales over many years. Eric was a warm and gentle man who through his personality and obvious pleasure from everything to do with sheep-dogs, won the affection and admiration not only of all the members of the BBC team with whom he worked but also of many sheepdog men and their families up and down the hills and valleys of the United Kingdom.
Eric Halsall was awarded the Wilkinson Sword Trophy in 1986 by the International Sheep Dog Society for his outstanding contribution to the breed. Another honor bestowed upon him, albeit posthumously, was the opening of The Eric Halsall Library at the Natural History Centre in Burnley, the town in which he was born and lived all his life. According to the Lancashire Evening Telegraph:
Many of the books on display belonged to him and were donated shortly after his death...by his wife, Rita. The library has been supplemented by volumes from Towneley Museum's own collections to create a natural history library of about 1800 books. The library will be available for research by visitors to the museum. [A portion of the] financial support [for the library] has been provided by...the BBC One Man and his Dog programme...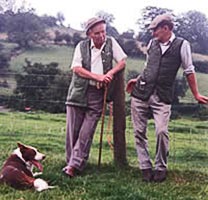 Right, Eric Halsall with H. Glyn Jones from Jones' training video, Come Bye! and Away!
Halsall provided the commentary for all three of Jones' popular training videos (Farming Press),
Come Bye! and Away!(1991), That'll Do! (1992), and Take Time! (1995).
In the United States, Halsall is probably best known for his books on sheepdogs, which include the first edition of Sheepdogs--My Faithful Friends (1980), and Sheepdog Trials (1982), both of which added enormously to our knowledge and understanding of working Border Collies, their handlers, and of sheepdog trials, both published by Patrick Stephens, Cambridge. He also wrote Gael: Sheepdog of the Hills (1985 Patrick Stephens), more a naturalists book about Halsall's Shetland Sheepdog and the British countryside he explored with her; and Meg of Lonktop (1968 H. Gerrard), a children's book.
In his preface to Sheepdogs--My Faithful Friends, Halsall sets out his objectives:
After a lifetime in the Pennine hills I have come to know collie dogs so well and have spent so many happy hours in their company that it is as a tribute to them that this book has been written.

The book has a twofold purpose: to record the skills and the illustrious heritage of these collie dogs and to so interest my readers that they too will wish to know them. Not all are fortunate enough to be able to meet these dogs in their work-a-day lives, as I have done, but all are able to see them in sheepdog trials--there are over 400 trials annually in the UK -- and so, while telling you of their home characteristics, I have written in detail of the background, purpose and aims of trials so that a knowledgeable and consequently greater pleasure can be derived from watching trials.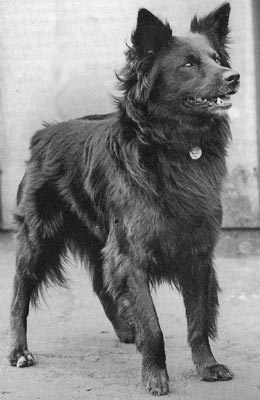 Leftt, a photo of Eric Halsall's Border Collie Rhaq, from Sheepdogs--My Faithful Friends.

Later, he tells of his collie, Rhaq (whom Halsall described as "the best pal I ever had"), and the job he did. It is obvious when reading these lines, that Halsall was justifiably proud of his dog and his dog's ancestry, and he wrote of him as eloquently as James Hogg did of his own dogs almost 200 years before:
Rhaq knew the hours of lung-bursting toil before us. He had the courage and stamina to run all day but the wisdom to conserve his energy. He was a specialist, like all his breed of Border Collie, doing a job in farming which no machine could ever do, for man with all his genius has never been able to invent a mechanical replacement for the shepherd's dog. No machine could ever fetch those 1,000 sheep down from that hill, and man alone would be utterly incapable of gathering them together from the vastness of the moor. The crop of these inhospitable Pennine hills is mutton and lamb for the table, and wool for clothing, and it can only be harvested with the aid of clever dogs.

. . .


Rhaq was blackcoated, long haired and handsome. He was about 18 inches to the shoulder, his ears were pricked and his tail was carried low in balance. Compactly boned and light on his feet, he was lithesome and fast as the wind. His eye was strong but flexible, and hill vogour and courage, coupled with his experience and knowledge of the ways of sheep, had given him power in his work. Supremely intelligent, he was the ideal shepherding dog. His line was the most illustrious of canine aistocracy, going back to Old Hemp, born at the turn of the century and the foundation sire of the modern working dog.
For the second edition of Sheepdogs--My Faithful Friends (1996 Farming Press, Ipswitch), Halsall updated his book, and added information from the 16 years since the first edition, two more chapters, and more and clearer photographs. It was a classic when it first came out, and will remain required reading for Border Collie devotees for many years to come, a fitting legacy to a man whose enthusiasm for sheepdogs and sheepdog trials came through in everything he did.
[Both editions of Sheepdogs--My Faithful Friends, and a copy of Gael: Sheepdog of the Hills are available from The Shepherd's Dog online bookstore.]
Copyright 2008 by Carole L. Presberg
---
THE OTHER WEB PAGES WE MAINTAIN


---
These web pages are copyright ©2013 and maintained by webmeistress Carole Presberg
with technical help from webwizard David Presberg
ALL RIGHTS RESERVED
If you are interested in using ANY material on this website, you MUST first ask for permission.
You may email us at carole@woolgather.org.
---
Last modified: July 15, 2013 carole@woolgather.org