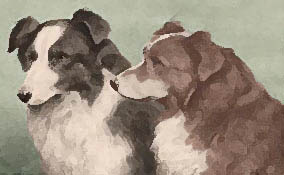 HARRISON WEIR
1824-1906
---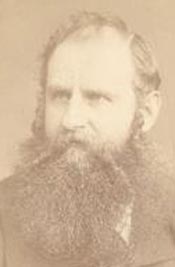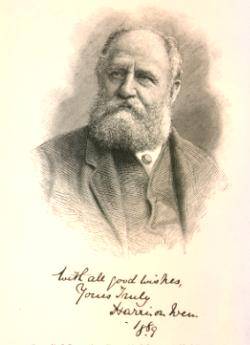 Above, two photographs of Harrison Weir,
one as a young man, and the other as an older man.

(Some of this biography, written by Carole L. Presberg,
appeared in the International Sheepdog Newsletter, September/October 2003)
Harrison William Weir was born in Lewes, Sussex, England. An obituary that appeared in The New York Times, January 5, 1906 said of him:
He was apprenticed to an engraver when he was 13 years old, and though he tried to break his articles, it is probable that the seven years he spent in learning the engraver's art were not as much wasted as he thought.
Harrison Weir went on to study at Camberwell College of Arts in London. The obituary goes on to say:
Success came to him early in life, and when he was 24 years old a picture exhibited by him at the British Institution attracted a great deal of attention. Before long he was a regular exhibitor at the shows of the Royal Academy.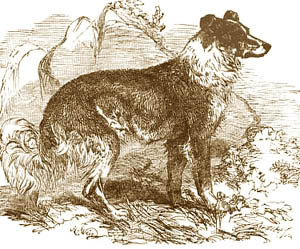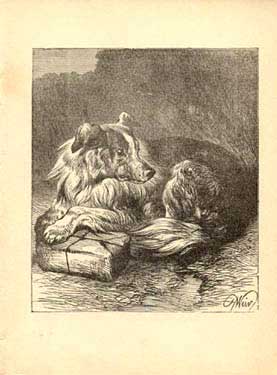 He was well-known in his day as an animal painter, illustrator, designer, engraver, and also as an author in his own right. Weir was a very prolific artist and his illustrations appeared in periodicals, children's books, natural history books, and books on domestic animals and poultry. He knew a great deal about poultry breeds, bred carrier pigeons, and authored a book on Call Ducks. But he was most noted for his work with the domestic cat, and in fact is known as the Father of the Cat Fancy.
It is thought that ancestors of British shorthair cats were brought to Britain by Roman soldiers who appreciated their ability to keep rodents out of the stores. In London, they mostly lived wild and multiplied without control. Harrison Weir, appreciating the sturdiness and intelligence of feral cats, began breeding the most outstanding specimens. He produced the first Cat Show at the Crystal Palace in London in 1871 and also drew the poster to advertise this show. He founded the National Cat Club in 1887, and was its first President and show judge until his resignation in 1890. Weir also authored a book, Our Cats and All About Them in 1889, that contained skillfully rendered drawings of the different breeds as well as a Standard that is remarkably like those still in use today by many of the cat breed societies.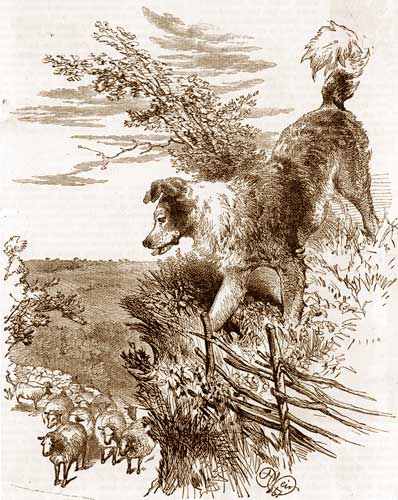 In style, Harrison Weir could be considered a "second generation Pre-Raphaelite". The Pre-Raphaelite Brotherhood was started in 1848 by a group of young artists in Britain, including giants such as Dante Gabriel Rossetti, John Everett Millais, and William Holman Hunt. They believed that painting and poetry were merely two different ways of expressing the same ideas and wished to change what they saw as "false principles" on which the arts had been backed since the time of Raphael. They thought that beauty had supplanted truth in art, and wished to return (hence, "pre") to principles rooted in realism and truth to nature.
The Pre-Raphaelite Brotherhood was a very important influence on book illustration from the middle of the 19th Century by raising the craft to an art; and it became an inspiration to later illustrators, among whom were Walter Crane, William Morris, Aubrey Beardsley, and to a lesser extent, Harrison Weir.
The obituary in The New York Times praised Weir for keen "observation of natural objects" and that "his love for nature [was] profound and his technical skill was [even] greater" and sums up:
It is probable, however, that he will be best remembered by his black and white work. It is said that Harrison Weir illustrated over a hundred volumes...Works by him on...country life have delighted many thousands of readers.
Well said, because as sheepdog aficionados, that is exactly how we know him. Harrison Weir produced a number of drawings of sheepdogs, most notably as illustrations for children's books. The image, top left, is entitled "Shepherd's Dog - Canis familliaris" and was likely included in a book on breeds of dog. The one, top right, is of a sheepdog guarding a package. It may also be from a book.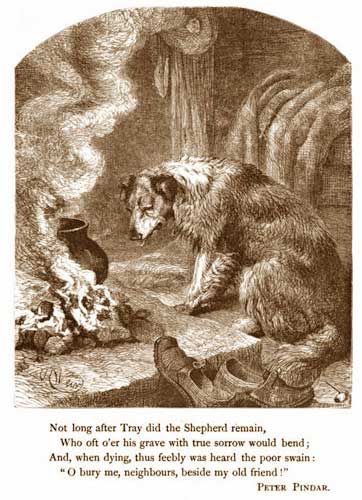 The illustration, above, comes from a British children's magazine. Many antique dealers who come into possession of these magazines, some of which are in deplorable condition, often cut them up and sell the illustrations separately, thereby making much more money than they would if they sold an old damaged magazine whole. It was unusual for the artists to receive any credit for their work in these magazines, but sometimes the artist signed their name, as Harrison Weir did for this picture. The text on the back reads:
...drive their sheep from one place to another; rushing here and there, sometimes to prevent them from going down some lane where they want to go but must not, and sometimes to bark at a stray sheep or lamb, just to remind it that if it doesn't make haste it will be left behind, and its companions will have the first opportunity of choosing the best spot for grazing in the new pasture. Our engraving shows us a flock of sheep, some of them trying to make up their minds which way to go. The leaders have evidently started in the wrong direction, for above them stands a splendid collie just ready to spring down in front of them, and make them return to the field they are leaving.
The picture at right is from a book called Poetry of Nature selected and illustrated by Harrison Weir, 1868 (perhaps for children, but it seems rather grim). The illustration is labeled "The Old Shepherd's Dog". Another book with illustrations by Harrison Weir, Favourite Fables, has several stories related to shepherds, sheep, and sheepdogs, and presumably illustrations to go along with them. All of these stories have morals.
---
THE OTHER WEB PAGES WE MAINTAIN


---
These web pages are copyright ©2013 and maintained by webmeistress Carole Presberg
with technical help from webwizard David Presberg
ALL RIGHTS RESERVED
If you are interested in using ANY material on this website, you MUST first ask for permission.
You may email us at carole@woolgather.org.
---
Last modified: July 11, 2013 carole@woolgather.org