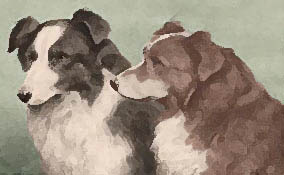 HEYWOOD HARDY
1842-1933
---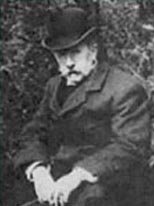 Above, a photograph of Heywood Hardy.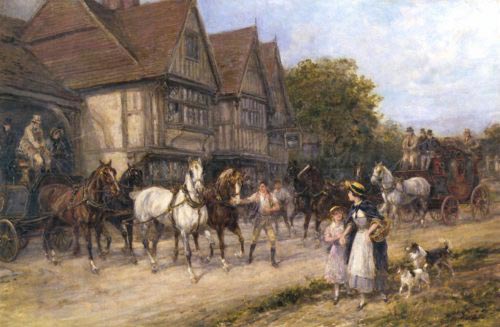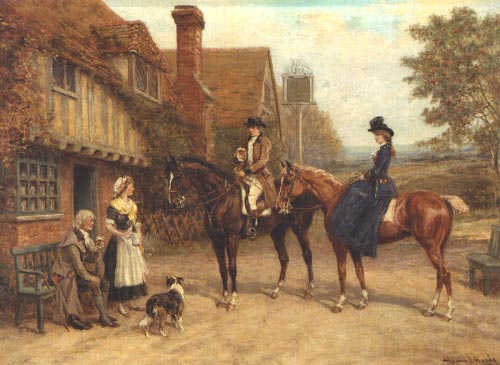 Above, left, "A Busy Day By the Swan" shows a Border Collie-type dog and a Jack Russell Terrier.
And above, right "Outside the Inn" showing a Border Collie-type dog.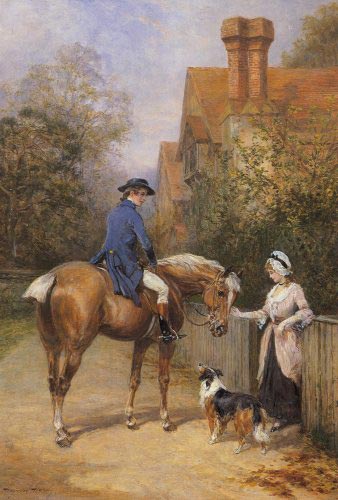 Left, "In the Morning"

Born in Chichester, Heywood Hardy, like so many artists in his day, belonged to a family of artists. His father, James Hardy (1801-1879), was a respected landscape painter. His older brother, James Hardy II (1832-1889), was a sensitive painter of horses and dogs, often in English and Scottish Highland hunting scenes. Heywood Hardy studied art at the Beaux Arts in Paris from 1864, and upon his return to England in 1868, found his services as an artist were in great demand. He was frequently commissioned to paint portraits, sporting scenes, and animal studies. He was elected to the Royal Society of Painters and Etchers, The Royal Institute of Oil Painters, The Royal Society of Portrait Painters, and he exhibited at the Royal Academy, the British Institute, and the Grosvenor and New Galleries.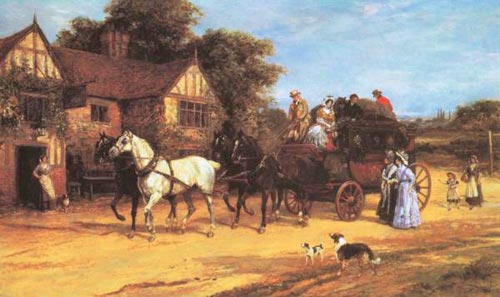 Right, "The London Mail" shows the same Border Collie-type dog and Jack Russell as in "A Busy Day at the Swan", above.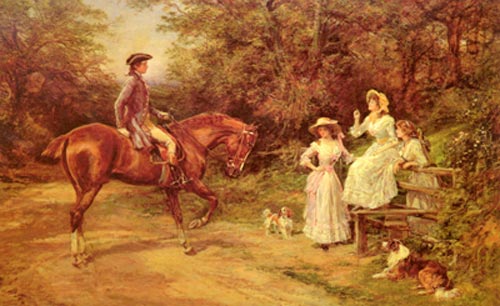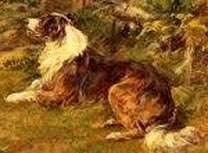 Left, "A Meeting by the Stile" and detail showing the Border Collie-type dog.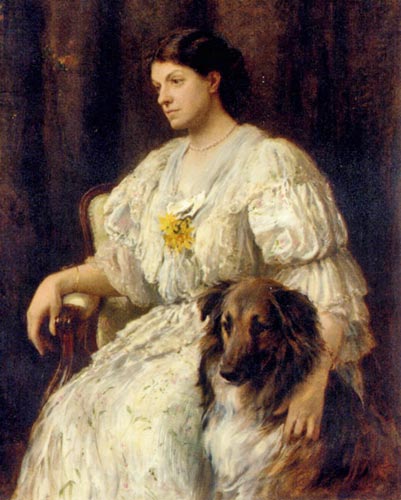 Right, "Portrait of a Lady with her Collie"
Although considered mainly a painter of hunting and sporting scenes, Hardy's talents were much more broad than that, and many of his paintings are genre (paintings that depict scenes or events from everyday life). When compared to other British artists of his day (the late Victorian era), Hardy's style appears closer to the Impressionists. This, perhaps, is not surprising, since he studied in Paris during the height of the Impressionist Movement and is bound to have been influenced by them, though he doesn't completely abandon the British School.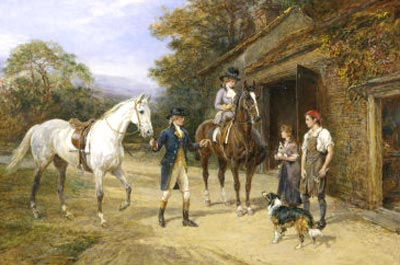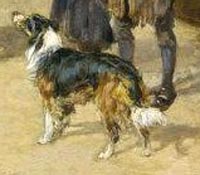 Left, "Casting a Shoe at the Blacksmith's" and detail showing the Border Collie-type dog.
The British School arose in the 17th century with the paintings of William Hogarth, considered by some as the first great English painter (those prior to him depending heavily on Dutch, Flemish, German, Italian, and French schools for their style). Artist of the British School have been described (in an article in The New York Times, September 8, 1878, author unknown) as aiming at
...being truthful. They reject what is generally known among artists as treatment, and confine themselves wholly to the subject. With [most] artists, generally, the subject is conceived in its treatment, the two being one and indivisible, but the English [sic] school separate them...An artist...conceives a picture of a sudden storm of rain descending just as people are coming out of church...the main thought will always be in the variety of gray tones of the slippery pavement, and the dark, opaque tones of the falling rain...An English artist will work quite differently. He will study the faces of the people looking disconsolately at the falling rain...he will draw [them] with minuteness and with what he would call patient strivings after truth...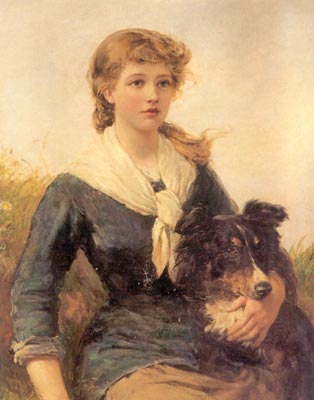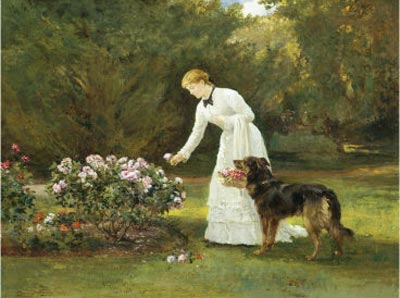 Left, "The Good Companion" and right, "In the Rose Garden", showing a black-and-tan collie-type dog.

The article was a review and meant as a criticism of the artists of the British School, however, it is rather a good description, though rather shallow in its view. No one looking at Turner or Gainsborough, or Landseer, for that matter, can really say they negleted "treatment". They were able to express emotion through the subject, whereas treatment only sets the scene. George H. Shepherd (A Short History of the British School of Painting), writing in 1881, admits that "Although until recently our British School of Painting was far inferior to the French in technical method...and often in intellectual grasp of a subject, it is probably surperior in individuality, variety of treatment, and purity of motive." It was in landscape and genre painting that artists of the British School really excelled, and where they sought for truth and succeeded.
Shepherd (ibid.) considered Heywood Hardy a "painter of incident" of the British School. Hardy was also an accomplished illustrator for the magazines of the day. A surprising number of his works depict collies. With one exception, "The Handsome Drover", below, which shows a drovers dog keeping the cows from straying from the path, most of them do not appear to be working dogs, but companions.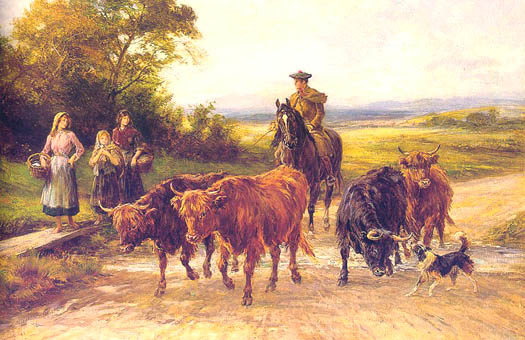 [There are a number of other of Hardy's paintings that depict collies,
but in the interest of space constraints or because I could not find good copies,
I have chosen to omit them.]
Copyright 2008 by Carole L. Presberg
---
THE OTHER WEB PAGES WE MAINTAIN


---
These web pages are copyright ©2013 and maintained by webmeistress Carole Presberg
with technical help from webwizard David Presberg
ALL RIGHTS RESERVED
If you are interested in using ANY material on this website, you MUST first ask for permission.
You may email us at carole@woolgather.org.
---
Last modified: July 12, 2013 carole@woolgather.org