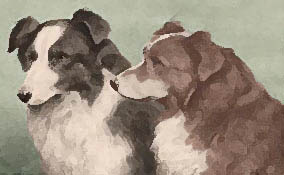 JAMES HOGG, THE ETTRICK SHEPHERD
PART III: A TRIBUTE TO HOGG A CENTURY AFTER HIS DEATH
by J. C. Dalgliesh
---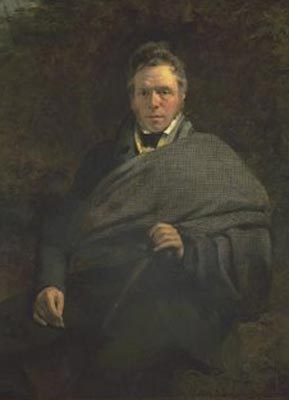 Portrait of James Hogg by Sir John Watson Gordon,
in the collection of William Blackwood & Son Ltd.,
from a photograph by Tom Scott on the cover of the book
James Hogg: The Private Memoirs and Confessions of a Justified Sinner,
edited by John Wain, 1983/1986 Penguin Books Ltd., Harmondsworth, Middlesex, England (ISBN 0-14-043198-5)
[If you wish to learn more about Hogg and expose yourself to some of his prose,
this book is highly recommended and more accessible than many others on the subject,
with an excellent introduction by Mr. Wain, the editor. --ed.]
---
Without the shepherd's dog, the whole of the open mountainous land in Scotland would not be worth a sixpence. It would require more hands to manage a stock of sheep, gather them from the hills, force them into houses and folds, and drive them to markets, than the profits of the whole stock were capable of maintaining.

--James Hogg, 1824, from The Shepherd's Calendar
[From a Scottish newspaper, name unknown, ca. 1935., text edited by Carole L. Presberg]
On the last Sunday of November, the writer attended the centenary service in Ettrick Kirk in memory of James Hogg, the Ettrick Shepherd. It was a never to be forgotten day; lovers of the bard travelled long distances, while shepherds from the hills were present to pay tribute....
I often wonder what James Hogg would have said had it been his privilege to witness the wonderful exhibitions by descendants of Sirrah and Hector on the trial fields today. He tells of the wonderful individual tests in stormy weather carried out by his dogs on the hills of Yarrow, but how it would have gladdened the shepherd's heart to see the team work by Mr. Jas. Wilson's Border Collies, trained on the hills in the Leithen Water Valley, a district well known and often frequented by the Ettrick Shepherd. Hogg would, in my opinion, have been one of the leaders in the trial field had such exhibitions been in vogue in his day, because he could read character in the Collie, and doubtless he saw something outstanding in the expression of that wonderful worker, Sirrah, when he induced his owner to part with him. It is interesting to relate the story of how this dog came into his possession, because the shepherd says he was the most interesting dog he ever saw. He was of a surly, unsociable temper--disdained all flattery, and refused to be caressed; but his attention to his master's commands and interests never will again be equalled by any of the canine race. Hogg says:
The first time I saw him, a drover was leading him on a rope; he was hungry and lean, and far from being a beautiful cur, for he was all black, and had a grim face striped with dark brown. The drover had bought him from a boy for three shillings somewhere on the border, and doubtless had used him ill on the journey. I thought I discovered a sort of sullen intelligence in his face, notwithstanding his dejected and forlorn appearance; so I gave the drover a guinea for him, and I believe and am satisfied that I never laid one out to so good purpose. He was scarcely then a year old, and knew so little of herding that he had never turned a sheep in his life; but as soon as he discovered it was his duty to do so I can never forget with what anxiety and eagerness he learned his different evolutions. He would try everywhere deliberately till he found out what I wanted him to do, and when once I made him understand a direction he never forgot or mistook it again. Well as I knew him, he often astonished me, for, when hard pressed in accomplishing the task he was put to, he had expedience at the moment that bespoke a great share of reasoning faculty.
Later in life Hogg had another wonderful dog in Hector, which [sic] is lying at his feet on the statue erected to his memory in 1860 at St. Mary's Loch, Yarrow... The, inscription on [it] reads:
Instead of arms or golden crest,
His harp with mimic flowers was drest;
Around, in graceful streamers, fell
The briar rose and the heather bell.
At evening fall, in lonesome dale,
He kept strange converse with the gale;
Held worldly pomp in high derision,
And wandered in a world of vision.
---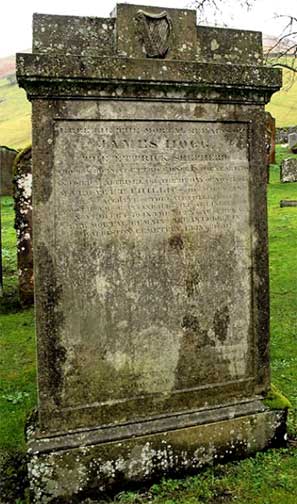 The mighty Minstrel breathes no longer,
'Mid mouldering ruins low he lies;
And death upon the braes of Yarrow,
Has closed the Shepherd-poet's eyes.
—from William Wordsworth's "Extempore Effusion upon the Death of James Hogg".

Photo, left, of James Hogg's gravestone taken by Gloria Erin Atwater, March 6, 2011 and reprinted here with kind permission.
Below from a painting by John Noble, thanks to Beth Maxwell Boyle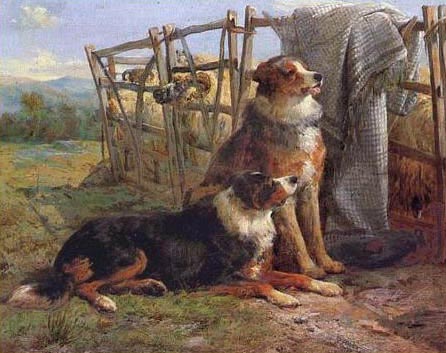 Addendum: James Hogg's Family in America
James Hogg was one of four brothers born to Robert and Margaret Laidlaw Hogg. James and his brother William remained in Scotland all their lives. Two of his brothers, Robert and David, both emigrated to America with their families. Robert and his wife, Elizabeth, left Scotland in 1833 with five of their nine children, to join their three older sons in America. Robert died of pneumonia following a measles epidemic on the transport ship, and was buried at sea. Elizabeth and the children continued on to America. A ninth child, daughter Isabelle and her husband William Paisley, joined the rest of the family in 1845. David Hogg, who worked as a shepherd for Sir Walter Scott for many years, emigrated to America with his family after Scott died, and eventually they all settled in Broome County, New York (near Binghamton), on a hill they named Mount Ettrick. Mount Ettrick is now the Binghamton Regional Airport. Hogg descendants still live in the area, but many dispersed throughout the United States and Canada, and still others, descendants of James and William, remain in Scotland.
The Hogg family appears to have been a big one, even prior to the birth of the Ettrick Shepherd and his brothers. There are Hoggs living throughout the world that are not directly related to "our" James Hogg, and one, also named James, was even governer of Texas, 1891 through 1895.
To find out more about the Hogg Family in general, go to: The Hogg Surname Center.
To find out more about James Hogg's family, go to: The Hogg Scrapbook.
[Thanks to information very kindly provided by Nancy Armstrong of Endwell, New York
the great-great-great-granddaughter of Robert Hogg and the great-great-great-grand niece of James Hogg, the Ettrick Shepherd
and to the Hogg Surname Center, which is an invaluable Hogg resource.]
---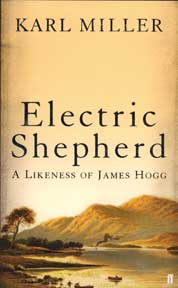 If you are interested in more about Hogg, you may wish to visit the following sites:

The James Hogg Society

The James Hogg Research Project at Stirling University (Scotland)

I also recommend the book, left: Electric Shepherd: A Likeness of James Hogg by Karl Miller, Faber & Faber Ltd., 2003.
It's a biography of Hogg, but a modern one, that doesn't whitewash its subject.
---
---
THE OTHER WEB PAGES WE MAINTAIN


---
These web pages are copyright ©2013 and maintained by webmeistress Carole Presberg
with technical help from webwizard David Presberg
ALL RIGHTS RESERVED
If you are interested in using ANY material on this website, you MUST first ask for permission.
You may email us at carole@woolgather.org.
---
Last modified: November 22, 2013 carole@woolgather.org