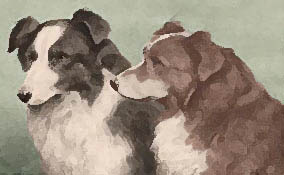 JOHN HERRIES McCULLOCH
---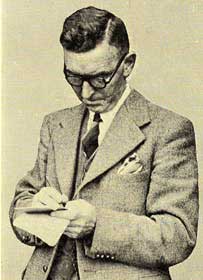 Above, a photo of John Herries McCulloch
(courtesy of Robert Dinwiddie & Co. Ltd.)
John Herries McCulloch was born in Galloway [1], Scotland and emigrated to Canada soon after leaving school. There, for some years, he worked on farms. Graduating from Toronto University with the degree of Bachelor of Science of Agriculture, he entered the field of journalism, becoming Editor-in-Chief of the Farmer's Advocate, one of the leading farm magazines of the Dominion.

He returned to Scotland, where he has become well-known as a writer of force and distinction. He was honoured by being appointed Editor of The Gallovidian[2] the magazine which reflected the historical background of his native Galloway for nearly half a century.

--a biographical note on the author from
Sheepdogs and Their Masters by John Herries McCulloch [3]
(courtesy of Robert Dinwiddie & Co. Ltd.)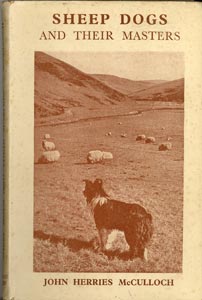 We don't know a lot about John Herries McCulloch the man, but we know a great deal about him as a journalist and author. He wrote many books, several of them about his beloved Scotland. The books we are most interested in are the three he wrote about the Border Collie: Sheep Dogs and Their Masters [3]; Border Collie Studies[4]; and Midget, The Tale of a Border Collie[5] .
McCulloch was a sheepdog handler himself when he wrote Sheepdogs and Their Masters. He was an excellent historian, and as a journalist he understood the need for research. He read a great deal of source material, looking for references to sheepdogs, including the Bible. He did not find a great deal. About the Bible he said:
It is a curious fact that the historians who produced the Bible overlooked the dogs used by the shepherds who kept vigil on the hills of the Holy Land. There is no reference to dogs in the New Testament and very few in the Old Testament. In the first verse of the thirtieth chapter of the Book of Job we read of the young men who held Job in derision and the old farmer of Uz, whose substance was seven thousand sheep and other live stock, [who] declared acidly that he would have disdained to have set the fathers of these cynical upstarts with the dogs of his flock...
McCulloch believed that the Border Collie, or at least the collie-type shepherd's dog was a much older breed than most people thought. He quotes Caius, and goes on to say "It must not be assumed, however, as a result of Doctor Caius's remarks, that the Collie originated in England. The breed had existed in Scotland long before the Elizabethan physician wrote his little treatise."
McCulloch interviewed a number of Scottish sheepdog handlers for material for his book. James Scott of Overhall, Hawick (who we know as "James Scott of Troneyhill") was an old man when McCulloch interviewd him. McCulloch devoted a chapter to Scott (Chapter Three: "A Hill Herd Looks Back") and the wonderful stories that Scott told him, and mentions him other times througout the book. He also visited J. M. Wilson of Innerleithen, and of him and his famous dog, Roy, McCulloch said "Roy, for instance, is one of the most hard-working dogs in Great Britain, and I believe that Mr. Wilson is prouder of his hill work than he is of his amazing displays at trials."
McCulloch's own character shows through in the many quotable lines of the book. "Indeed," he says, again about Wilson, "I know of nothing that reflects greater credit on shepherds generally than their ability to train their dogs without resorting to the use of the stick or the whip." And later, "The expert shepherd to-day works through gentleness, patience, and firmness. I do not know one who handles his dogs with harsh severity; I would not care to know such a man."
His insights about the breed and its history are shrewd, though some would be considered controversial today. In his second chapter, "The Eye of Control", McCulloch said:
I am inclined to believe...that Border Collies which possessed "The Eye" to a remarkable degree were not widely distributed throughout the Border country in Hogg's day or for a long time afterwards. Like as not they came from a select strain, and many isolated working shepherds would not know about them, or, if they did, would not be able to acquire representatives of the strain."
In his chapter on sheepdog trials (Chapter Four: "Carnivals of Champions"), he said of the sheepdogs in Wales:
[O]ne might conclude, from reading the history of Sheep-dog Trials, that clever dogs of the Border Collie type had existed in Wales for centuries. That, however, was not the case. The first Collies were introduced into the Principality about 1830, and they came from Scotland. Prior to that the Welsh shepherds used dogs that were little better than curs.
This is a Border Collie-centric attitude that may be prevalent among some trialists even today, but is certainly not accepted in the Wales of the Welsh Sheep Dog Society today, where enthusiasts insist that their breed is also descended from an ancient and venerable breed and can produce as much history to back it up as we can.
McCulloch believed that certain strains of Border Collie had traits that were passed down from generation to generation, and he quoted Hogg to prove it. He read Hogg assiduously to find the proof he needed, and in his chapter on Hogg (Chapter Six: "Hogg and His Dogs") he says:
[There is] convincing proof to dispel the idea that the most striking characteristics of the modern Border Collie--"The Eye" and the "Creeping" approach to sheep--were developed in Northumberland. William Wallace of Otterburn was the first shepherd to bring out of Northumberland a dog which possessed these qualities to a marked degree, but he was a Scotsman, and it is more than likely that he optained his foundation breeding stock in Scotland...I have no desire to minimise the part played by Northumbrian shepherds in developing the modern Border Collie, but I have not been able to find any evidence which would entitle them to the exclusive credit, even after making exhaustive inquiries in Northumberland. On the other hand, I have been able to collect...a large amount of evidence which proves that the qualities referred to were taken for granted in Scotland almost two centuries ago.
That proof McCulloch found in Hogg.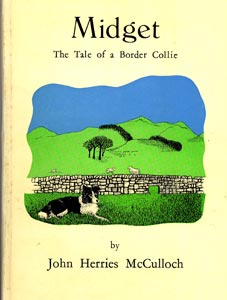 McCulloch loved the stories that demonstrated the "sagacity" of the Border Collie, and such stories are sprinkled liberally throughout Sheep Dogs and Their Masters. He also took some of those stories and adapted them for his book, Midget, The Tale of a Border Collie. Midget is a "Lassie Come-Home" story, and her character combines the traits of several Border Collies that McCulloch knew or heard about and admired, including that of "Tibbie", a dog he writes about in Sheep Dogs and Their Masters. Tibbie's story is a real tear jerker, but McCulloch really wasn't overly sentimental about the breed of dog he loved, for at one point he said, "[W]e are discussing a dog, not a human being, and to speculate outside the limits of the canine brain is to wander off the track of common sense. Within the limits the Border Collie displays a combination of virtues amounting to genius."
McCulloch studied the pedigrees of the International Sheep Dog Trials winners and prepared a Geneological Chart or "family tree". From it he drew three interesting conclusions:
1. All of the Champions of the International Sheep Dog Trials belonged to one family.

2. They all descended from Telfer's Old Hemp (1893-1901), considered the progenitor of the breed.

3. Despite 1 and 2, there was little evidence of deliberate inbreeding.
It would be interesting (though perhaps impossible) to do the same today, and see if the outcome would be similar.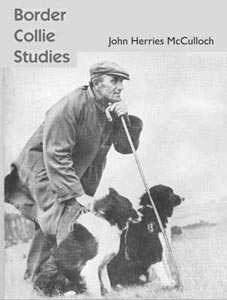 In 1951, McCulloch was planning to produce a third edition of Sheepdogs and Their Masters when the International Sheep Dog Society published the first two volumes of its stud book. The two volumes covered 40 years of the ISDS's history and sheepdog enthusiasts were being encouraged to understand and appreciate pedigrees. McCulloch decided to put his ideas about breeding and genetics into a totally new book, entitled Border Collie Studies[4]. In it McCulloch explains pedigrees and genetics, and includes an in-depth study of J. M. Wilson's Cap 3036. Cap was often called "The Wartime Cap" because he came at a time when trials were cancelled during the war years of 1939-1945, so he was unable to demonsrate his skill on the trial field. But he was such a good-tempered dog and had great skill and power, that he was widely sought after as a stud dog, and literally fathered hundreds of pups, thereby having great influence on the breed.
It isn't clear if John Herries McCulloch planned to write Sheep Dogs and Their Masters when he set out to interview the old time shepherds and sheepdog handlers or if he just knew many of the "greats" from sheepdog trialing and interviewed them because that's who he was and he couldn't help being a journalist. Whatever the case, the material he retrieved for us is remarkable, and we owe him a great debt of gratitude.
---
NOTES:
[1] The county of Dumfries and Galloway is in the southwest corner of Scotland.

[2] The Gallovidian was published between the years of 1899 and 1949 bringing together the very best of Galloway's writers, historians, photographers, artists and poets.

[3] Published in 1938 by Robert Dinwiddie & Co, Dumfries; in 1946 by The Moray Press, Edinburgh & London; and in 1994 by Toft East Publishing, Lunenburg, Massachusetts. (You may purchase a copy of either the 1946 edition or the 1994 edition from The Shepherd's Dog online bookstore.)

[4] Originally published in 1951; a new edition published in 2006 by WSN (You may purchase a copy from the ISDS Shop.)

[5] Published1976 by Robert Dinwiddie & Co.
Copyright 2008 by Carole L. Presberg
---
THE OTHER WEB PAGES WE MAINTAIN


---
These web pages are copyright ©2013 and maintained by webmeistress Carole Presberg
with technical help from webwizard David Presberg
ALL RIGHTS RESERVED
If you are interested in using ANY material on this website, you MUST first ask for permission.
You may email us at carole@woolgather.org.
---
Last modified: July 15, 2013
carole@woolgather.org