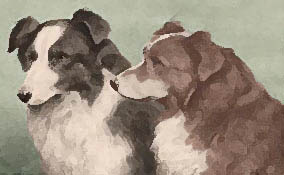 JOSEPH FARQUHARSON
1846 - 1935
---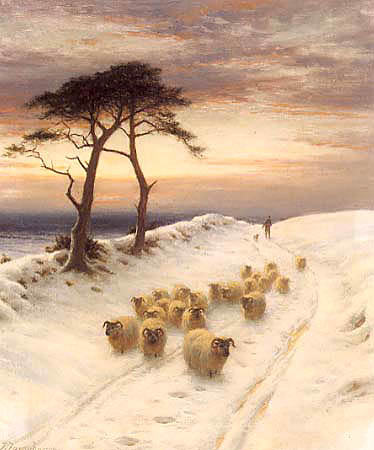 Above, "Sheep in the Snow" by Joseph Farquharson
Even if you don't know Joseph Farquharson, you are probably familiar with his paintings. Many of them portray sheep, often with a shepherd, and sometimes with sheepdogs, as in the above painting (if you look very closely). His winter scenes are very popular for Christmas cards.
Beth Maxwell Boyle is an artist from New York State, who, with her husband, Jim, runs Rams Horn Studio in Mayville, New York. Jim is a metalsmith, and they raise Scottish Blackface sheep at Thistledown Croft. Beth is an avid collector of artwork depicting sheep, and she maintains an extensive website.
Visit Beth Maxwell Boyle's web page:
A Shepherd Looks at Joseph Farquharson
where she has many of his paintings and a biography of the artist.
---
THE OTHER WEB PAGES WE MAINTAIN


---
These web pages are copyright ©2013 and maintained by webmeistress Carole Presberg
with technical help from webwizard David Presberg
ALL RIGHTS RESERVED
If you are interested in using ANY material on this website, you MUST first ask for permission.
You may email us at carole@woolgather.org.
---
Last modified: July 11, 2013 carole@woolgather.org