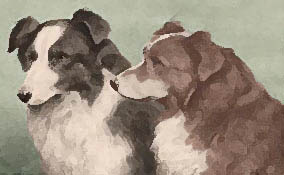 ANTON MAUVE
1838-1888
---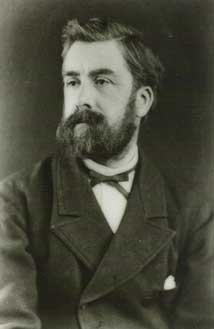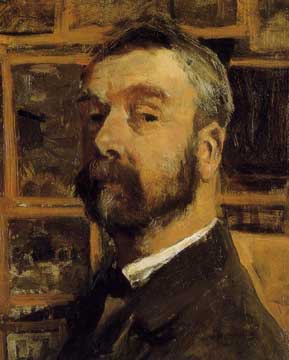 Above left, a photograph of Anton Mauve as a young man.
Above right, a self portrait of him as an somewhat older man.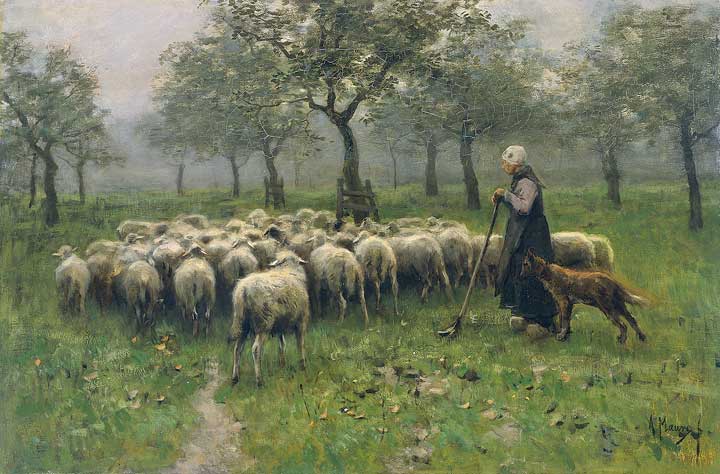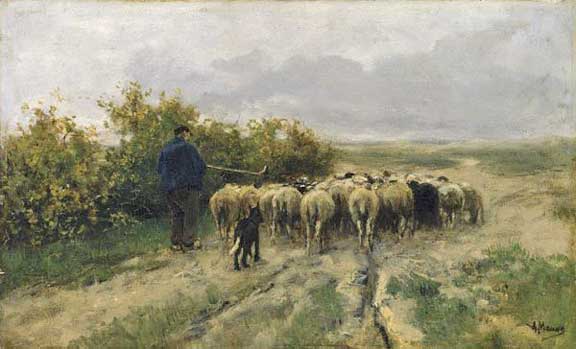 Anton Mauve, was born Anthonij Rudolf Mauve in the city of Zaandam, the Netherlands. At the age of sixteen, he was apprenticed in Haarlem to Pieter Frederick Van Os (1808-1892), a painter of animals and an engraver. He then studied with Wouterus Vershuur (1812-1874), an animal and landscape painter,from whom he inherited his love for animals. From 1858 he lived periodicaly at Oosterbeek, sometimes known as the Dutch Barbizon (the original Barbizon was a school of French landscape painters who reacted against classical conventions and emphasized direct study of nature), where he mainly painted animals, but also landscapes. He became friends with the Dutch painters Paul Gabriel (1828-1903), Jozef Israels (1824-1911) and Willem Maris (1844-1910), all artists of the Hague School.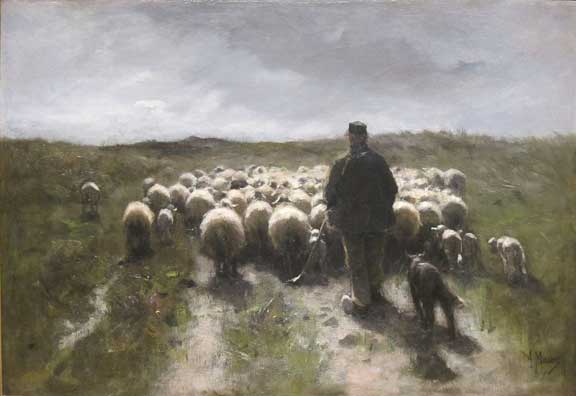 In 1870, Mauve settled in the Hague, becoming associated with a group of artists known as the Hague school, painting scenes of rural life in the Netherlands. In 1876 Mauve became one of the founders of the Hollandsche Teekenmaatschappij (which Google irrationally translates into "Dutch Sign Company"), and played a leading role in the Pulchri Studio, the Hague's leading art society of the time.
Married to Ariette Sophia Jeannette Carbentus, a cousin of Vincent van Gogh (1853-1890), Mauve became a major influence on van Gogh, fifteen years his junior, who was said to revere him. In 1881 van Gogh spent three weeks at Mauve's studio, and it was during this visit that he made his first excursion into painting, having previously concentrated on drawing.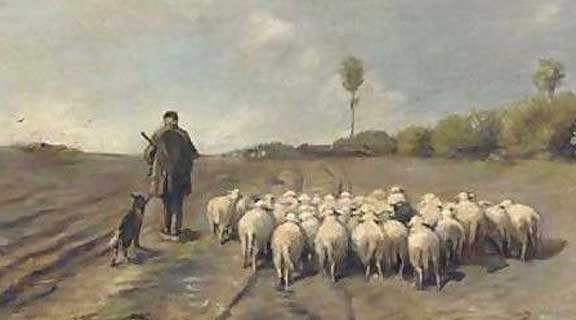 Mauve painted mostly landscapes, often including sheep, and shepherds (some of them young women) and their sheepdogs. Although some of these sheepdogs are black-and-white, do not mistake them for Border Collies, or even earlier British working collies. They all appear to be of the Dutch Shepherd-type, mostly smooth-coated or with a moderate rough coat, and many of them brindle. Unfortunately, we only have room for a few here. Mauve used subdued colors, in oil or watercolor, and he was also an etcher.
In 1885 Mauve settled in the village of Laren where he and several other artists founded a school of painting known as the Larense School. He died suddenly at the age of forty-nine.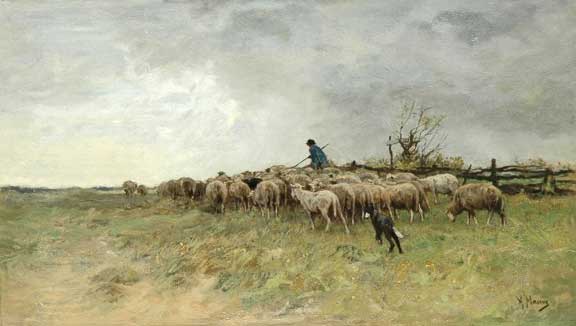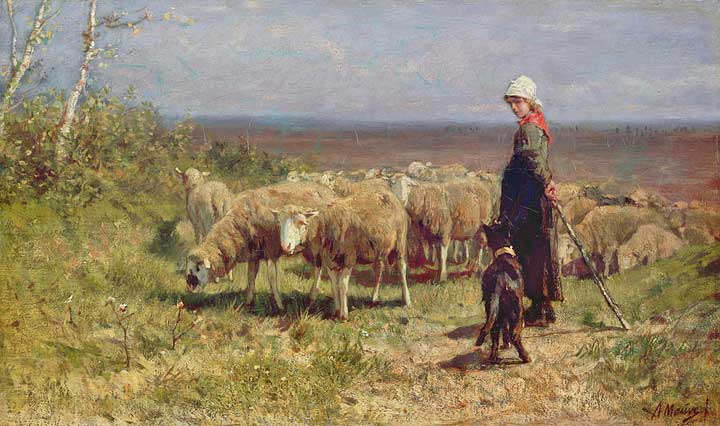 ---
THE OTHER WEB PAGES WE MAINTAIN


---
These web pages are copyright ©2014 and maintained by webmeistress Carole Presberg
with technical help from webwizard David Presberg
ALL RIGHTS RESERVED
If you are interested in using ANY material on this website, you MUST first ask for permission.

You may email us at carole@woolgather.org.
---
Last modified: October 27, 2014 carole@woolgather.org