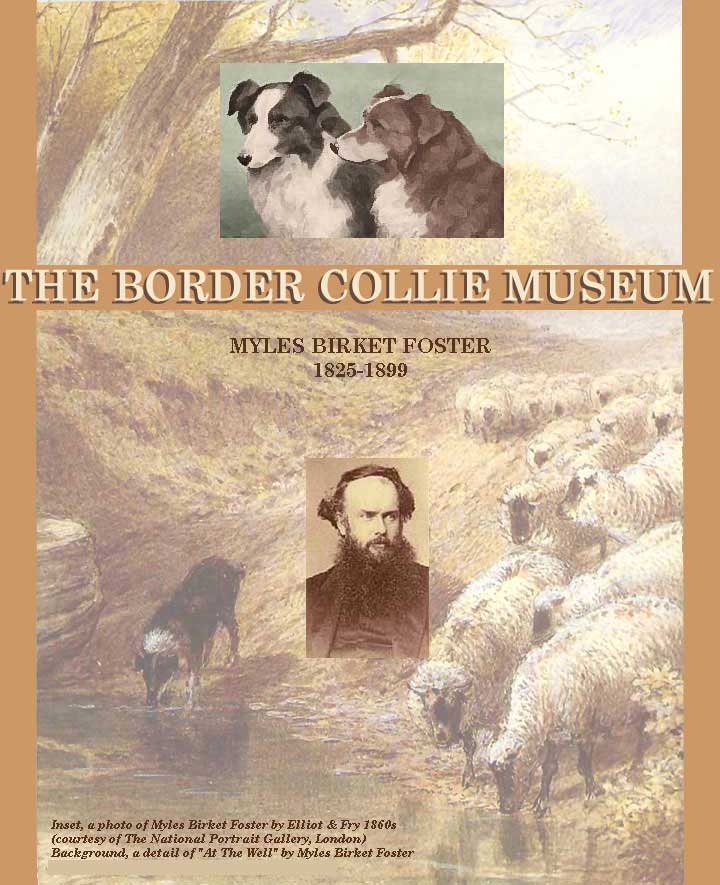 ---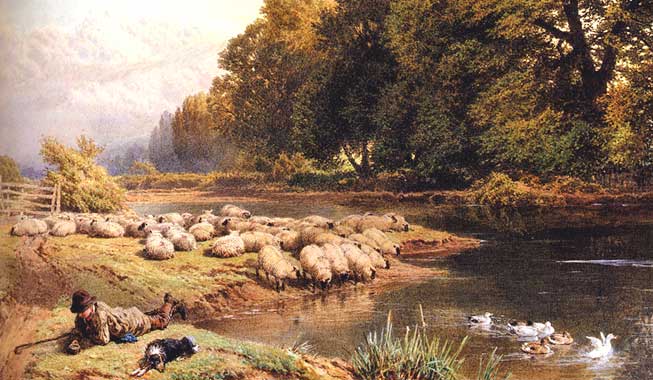 Above, "The Shepherd's Rest" by Myles Birket Foster. This is one of Birket Foster's most beautiful paintings and shows his skill.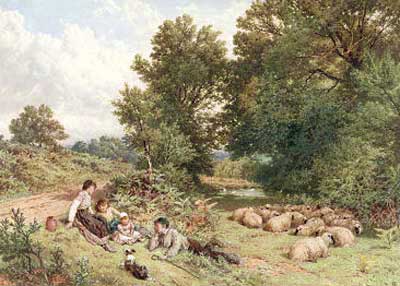 Left, "The Shepherd's Family" It's hard to tell what Foster had in mind for color, because every reproduction of a painting changes the color slightly..

Myles Birket Foster was born in North Shields in the Northeast of England. His family moved to London when he was a small child. Apprenticed to a wood engraver in his early teens, Foster assisted in the production of woodblocks for The Illustrated London News, Punch, and other magazines of the day. When his apprenticeship was over, Foster became a draftsman and book illustrator. During the 1850s he taught himself to paint in watercolors, becoming very successful in the medium. He became an Associate of the Old Watercolor Society and the Royal Watercolor Society, and exhibited at the Royal Academy for many years. As a watercolor painter, but also as an illustrator, Foster became very popular and wealthy. He built a fashionable home at Witley in Surrey which became a meeting place for celebrated artists of the day and Foster was able to hang many of their works on his walls.
Although he painted many landscapes from Scotland and Europe, Myles Birket Foster is best known for his genre paintings of the English countryside, and for idealizing English rural life. To get some idea of just how ubiquitous the collie was in the English countryside one needs only to see how prevalent it was in the paintings of the prolific Foster. Yes, he painted many pastoral scenes, but many of his paintings have their settings in everyday town and country life, and a large number of these include collies as well. Unfortunately, we have room for only a few here.
According to Anthony Oxley, of Laurence Oxley Ltd., a book shop in Alresford, Hampshire, England, that specializes in Birket Foster prints, Foster was self taught. He says that Foster's family kept two collies and one or two of them appear in some of Foster's earliest work. Foster, Mr. Oxley says, "was one of the most forged artists ever because of the high prices paid for originals and the chromolithographic prints after his work, that were published (and copied/immitated by forgers) from about 1864 onwards."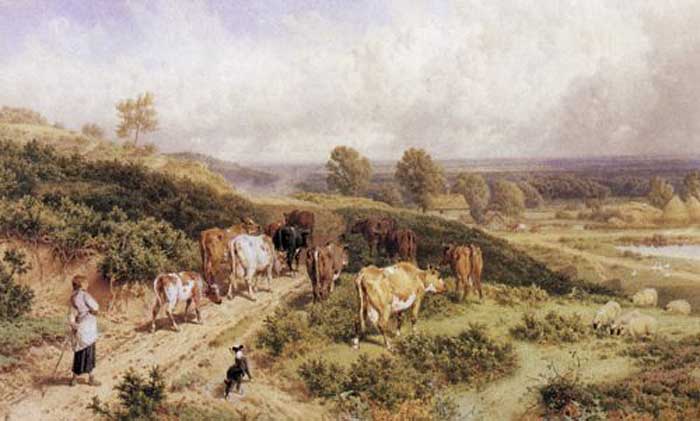 Right, "The Young Drover". W. H. Hudson indicated that it was unusual to see a girl or a woman herding sheep, and undoubtedly it was even more unusual to see a female drover. The word "drover" implies a long distance journey, but we think here it is being used to indicate someone who takes the household cattle from one grazing area to another, and brings them home at night. The word "transhumance" would be more appropriate than "droving" in this case.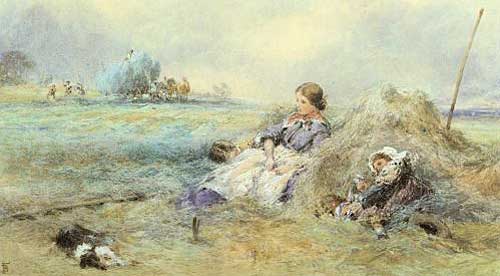 This painting, left, "A Moments Respite", shows a female field hand resting during haying, with one (or two) children asleep in the hay, and a collie asleep nearby.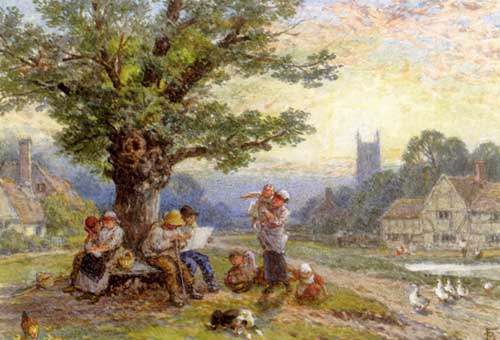 Above, "Figures Underneath a Tree in a Village" also contains a sleeping collie.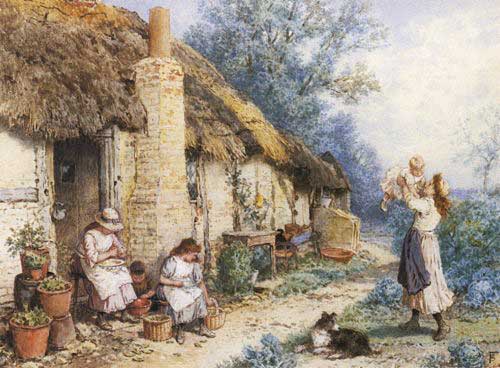 Left, a family "Shelling Peas" outside a thatched cottege includes a collie.
There are so many of Myles Birket Foster's paintings and illustrations that depict Border Collie-type dogs that I may have to put up a second page for him in the future. Right now, we'll end with one of his Scottish paintings, below, "A Highland Scene Near Dalmally, Argyle" and detail. It shows a woman, dressed in typical peasant skirt, apron, and white bonnet, with two collie dogs, one a sable, the other black and white. One wonders if Foster saw sable collies for the first time in Scotland, because all the dogs he painted in England were black and white. Note in this scene that next to the dogs on the ground is a man's bonnet, and the woman, who is leaning casually on the side of the hill, is carrying something in her left arm and has a pail at her right on the ground. This may indicate that the shepherd, though not in the picture, is somewhere nearby, and that she has brought him his lunch and is waiting for him to return. Artists often used devices such as the bonnet, or a shepherd's crook or plaid, something that is associated with a shepherd, to point out that the shepherd means to return.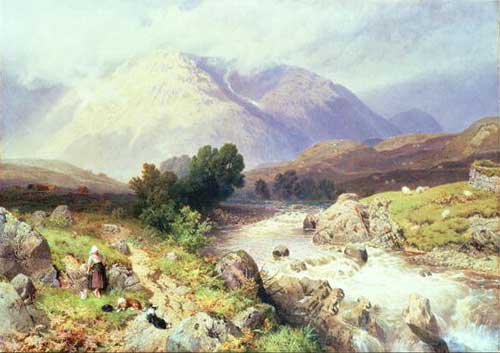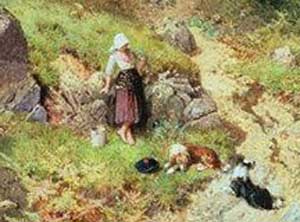 Copyright 2008 by Carole L. Presberg
---
THE OTHER WEB PAGES WE MAINTAIN


---
These web pages are copyright ©2013 and maintained by webmeistress Carole Presberg
with technical help from webwizard David Presberg
ALL RIGHTS RESERVED
If you are interested in using ANY material on this website, you MUST first ask for permission.

You may email us at carole@woolgather.org.
---
Last modified: July 13, 2013 carole@woolgather.org