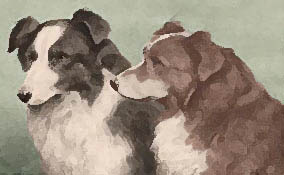 QUEEN VICTORIA
1819 - 1901
(Reigned 1837 - 1901)
---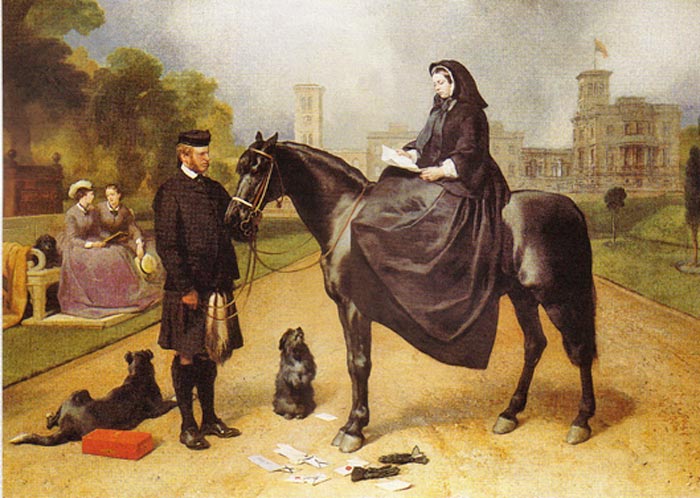 "Queen Victoria at Osborne" painted by Sir Edwin Landseer
shows Queen Victoria, seated on a horse held by John Brown, a Highland gillie
who provided companionship to the queen after the death of her husband, Prince Albert.
On the bench at left are two of the queen's daughters, Princess Helena and Princess Louise.
There are three dogs in the painting, and the one behind Brown is a collie.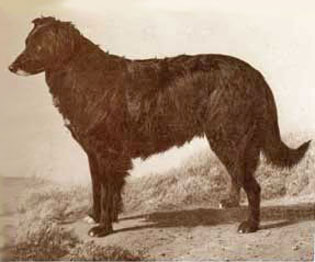 Right, one of Queen Victoria's collies, Gypsy, painted by Friedrich Wilheim Keyl. Keyl, who "studied under Eugene Verboeckhoven,...completed many commissions for Queen Victoria and Prince Albert, including this one of Gypsy, probably a Border Collie" (William Secord, Dog Painting 1840-1940: A Social History of the Dog in Art, Antique Collectors Club, 1992.)
Queen Victoria, who reigned for 64 years, the longest of any British monarch, is often blamed for having "spoiled" the collie breed by her patronage. But is this a true assumption?
In his book (Ibid.), William Secord writes:
Perhaps because the Collie was once considered a plain working dog, few authors have written in any depth about it. Of Scottish ancestry, it was originally introduced to England by shepherds bringing their flocks over the borders. Once taken up by the Victorian show fancy, it a became fashionable breed and by 1895 there were seven separate breed clubs, many of which sponsored all-Collie shows. As a result the conformation of the Collie changed substantially in a matter of fifty years. What once had been a rough and ready working dog was, by 1896, an elegant, refined show dog.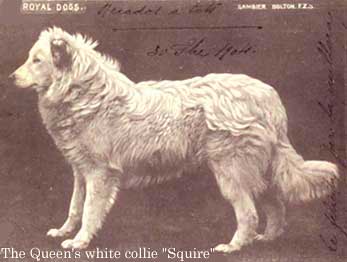 Left, "The Queen's white collie 'Squire'.

Hilda Kean, in her book Animal Rights: Political and Social Change in Britain Since 1800 (Reaktion Books, 1998), says:
Queen Victoria...took as pets collie dogs, which had previously been considered shepherd's dogs, quite unpretentious animals.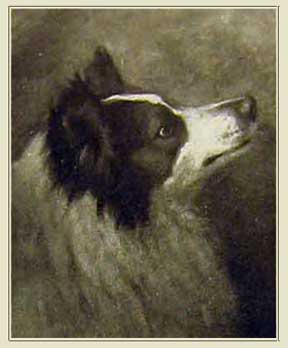 Right, one of Queen Victoria's rough collies, Oscar, from a magazine, The Sketch , June 9, 1897, "painted by Miss Frances Fairman, and exhibited at Clifford's Gallery, Haymarket." (Thanks to Cindy Dorsten.)
This seems to imply that once in the hands of show breeders, the "unpretentious" collie became artificial or ornate. However, in Queen Victoria's day, show collies were only beginning to be developed from the old working collie types. Victoria, who had a genuine fondness for all animals, and particularly for collies, admired the working type. It makes sense that she would have seen these dogs working while at Balmoral in Scotland, and indeed, in her diary she mentions working dogs, and the fact that she had a sheep farm on her estate at Balmoral worked by two of John Brown's brothers. While Victoria's collies were pets and not working dogs, they were not by any stretch of the imagination the show collies of today, to which the photographs attest. Victoria herself only briefly showed her collies. Her involvement with collies and other breeds of dog, however, encouraged other women to exhibit, and, Kean points out, this subsequently lead to the forming of "the Ladies' Kennel Club, which had the specific remit of preventing cruelty in exhibiting practice...which included the cropping of ears and the docking of tails." (Ibid.) Queen Victoria also supported the Royal Society for Prevention of Cruelty to Animals (RSPCA) and other humane organizations.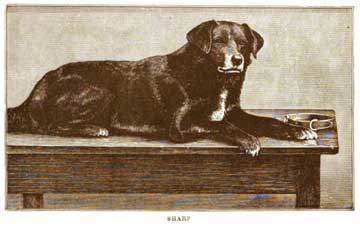 Left, Queen Victoria's collie Sharp, from a painting.

Sharp, one of Victoria's favorite collies, looks more like a lab than a collie in the painting (above); but in the photos he definitely looks like a smooth-coated Border Collie-type, nothing like today's show Smooth Collies. Nor did her rough collies (like the one, above right) look anything like today's show Rough Collies. If we judge Queen Victoria on her choice in collies, then we have to admit that her patronage should have promoted the working collie type and that she is not to blame for the collie's transformation into the show variety. However, as Harriet Ritvo points out in her book, The Animal Estate: The English and Other Creatures in the Victorian Age (Harvard University Press, 1987):
When very high rank was at issue, some fanciers were willing to sacrifice even the meritocratic competition that structured their activities. The participation of royalty was especially coveted. Charles Lane ([a] self-styled "breeder, exhibitor, judge") reported several occasions on which he was approached by members of show committies, who wished to ensure that the Queen's entries ended up in the prize list. But the stalwart judge stood for principle rather than excessive deference. He protested that...the royal dogs had to be judged "on their merits," like all others. The resulting impartial awards, according to Lane, "caused general satisfaction," and he remained certain that they would "have been approved by Her Majesty...if the circumstances came to be known at the palace."

Elite patronage could boost the stock of a breed, as fanciers strove to identify their own tastes with those of their social superiors. Collies, Queen Victoria's favorite breed, were the most conspicuous beneficiaries of such preference....
It follows, therefore, that the Queen's patronage alone was enough to catapult the collie into prominence in the show ring; and even though she herself may not have been a major exhibitor, once in the ring the collie was subject to the whim of fashion. Still, her patronage may have also drawn attention to the working variety, and encouraged those who valued the collie as a working dog to preserve, protect, and promote the collie as a working breed.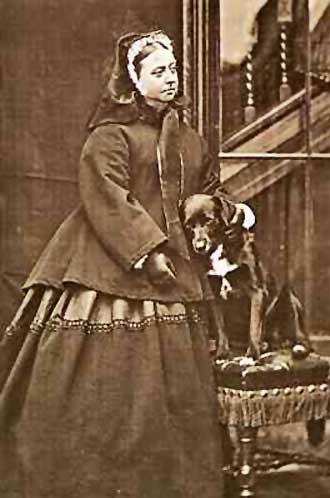 Right, another photo of Queen Victoria and Sharp.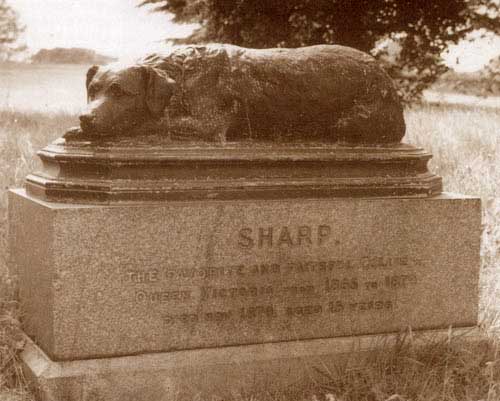 Above, a memorial to "Sharp, the favorite and faithful Collie of Queen Victoria from 1866 to 1879. died now 1879 aged 15 years" at Windsor.
In a short article in the Fall 1995 issue of The Shepherd's Dogge, a magazine published by the editor of these pages from March 1988 through December 2002, David Probert, from Barrow-In-Furness, Cumbria, wrote: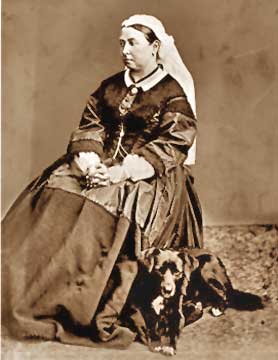 Another photo of Queen Victoria and Sharp.
Queen Victoria owned many dogs in her lifetime, but her favorite and constant companion was Sharp, a smooth-coated collie of the type we call Border Collie today.

Sharp, born in 1854, was named after a government minister who was in favour with Victoria at the time. When the Queen visited her holiday home, Osborne House on the Isle of Wight, Sharp, devoted to his mistress was a familiar sight at her side.

In old age, the Queen derived great consolation from the presence about her of all manner of mementoes of the past, including pictures and sculptures of her favourite animals. A statuette of Sharp in silver gilt dominated her dining table.

Sharp lived for 15 years. A statue of him stands over his grave in Windsor Home Park, Berkshire, England.
Helen Rappaport, in her book Queen Victoria, A Biographical Companion (ABC-CLIO, 2003), said:
Sharp...had the reputation for being bad tempered and was always spoiling for a fight with other dogs. He frightened most of the royal entourage, except the redoubtable John Brown.
(Sharp wasn't the only dog belonging to Queen Victoria that was ill tempered. In August 1891, the Pall Mall Gazette, a London newspaper, mentioned "'Shep' the Queen's collie, is very ill-tempered to everyone but the Queen, whose exact position he knows, and recognizes as fully as you and I would do.")
Queen Victoria took Sharp with her when she went to stay at Balmoral, and she often mentioned him in her Journal:
Friday, September 27. Dear good Sharp (a favourite collie of mine) was with us and out each day, and so affectionate.

Wednesday, September 1, 1869. We got up at half-past seven...and at half-past eight left Balmoral...for Ballater...with Sharp (my faithful collie dog)...

Monday, September 6. At five minutes to eleven rode off with Beatrice, good Sharp going with us and having occasional 'collie-shangies' (a Scotch word for quarrels or 'rows', but taken from fights between 'collies') with collies when we came near cottages.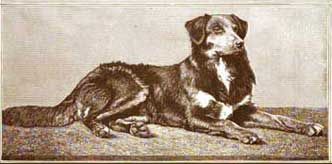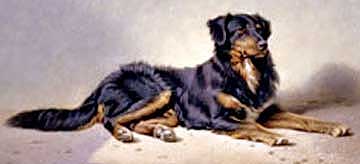 Above left, another of Queen Victoria's collies, Noble. This lithograph by engravers Hills and Saunders, was struck from the painting (above right) by Carl Schmidt of Bamberg. The painting shows a lanky, black-and-tan collie. You can see how, from one rendition to another, information gets lost and a whole new idea develops of what a dog actually looks like. The painting of Noble, below, is by Charles Burton Barber (1845-1894). Barber was a popular English painter of children and pets, and he was commissioned a number of times by Queen Victoria. The work below is rather strange. Noble is obviously meant to be shown outside, but a painting of a chair inside, has been included in the portrait, possibly to give a more "domesticated" feel to the scene. In this painting, Noble doesn't look much like a collie.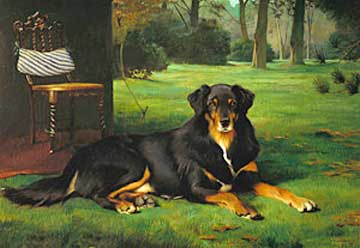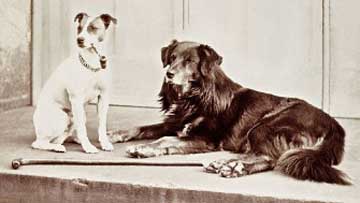 In a photograph of Noble, right, with Spot (said to be a fox terrier), you can see what Noble actually looked like: definitely a collie, a rough-coat with a long-haired ruff, most unlike the way he is shown in the paintings. He does have "old-fashioned" tag ears, which are not much seen today.
Noble was among Queen Victoria's favorite collies, who also traveled with the Queen and was mentioned often in her diary:
Tuesday, September 9, 1873. Got up at ten minutes to seven...The morning was splendid... [and] I left Balmoral with Beatrice...for Ballater...We had our own comfortable train...and Francie with dear Noble (another favourite and splendid collie), with Brown next to me.

Sunday, September 14. ...Dinner as usual. My favourite collie Noble is always downstairs when we take our meals, and was so good, Brown making him lie on a chair or couch, and he never attempted to come down without permission, and even held a piece of cake in his mouth without eating it, till told he might. He is the most 'biddable' dog I ever saw, and so affectionate and kind; if he thinks you are not pleased with him, he puts out his paws, and begs in such an affectionate way.

Tuesday, September 18...At a little before half-past eleven we reached Achnasheen...Here we got into the train, and went on without stopping to Dingwall; Strathpeffer, and Castle Leod...We had our luncheon at one o'clock, before coming to Keith, and tea after Dyce Junction. Dear Noble was so good on the railway, and also at Loch Maree, where he came to our meals; but he was lost without his companions.
Of Noble, Helen Rappaport says:
Noble was far more sweet natured [than Sharp] and had the special role of guarding the queen's gloves...The queen was heartbroken when he grew sick at the age of sixteen. She called in her own personal physician, Sir James Reid, to administer medicine to the animal, and when the dog died the queen was so distraught that Reid had to sedate her.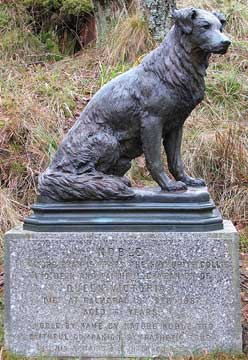 Left, the memorial statue of Queen Victoria's Noble. (This photo is copyrighted by Deeside Images and reprinted here with kind permission. For those of you who are interested in Scotland, you will want to visit the Deeside Images website. There are many gorgeous photographs of Deeside, Scotland, including a magnificent one of Queen Victoria's (now Queen Elizabeth's) Balmoral.)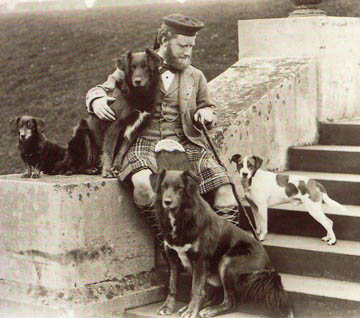 Right, a photograph of John Brown with four of Queen Victoria's dogs, a Daschund, a terrier, and two collies. At first glance, it may be hard to see these two dogs as collies. The ears are the old fashioned tag ears that we don't see much today, and the very small amount of white on them, none on the face and no collar, would also be quite unusual for today. We think the dog seated at Brown's feet may be Noble. Compare him to the photo of Noble above this one. (Photo courtesy of the National Portrait Gallery, London, via Prince and Other Dogs II by Libby Hall, Bloomsbury, 2002.)
A royal mystery is: who is it really with the four dogs? I always assumed it was John Brown, but the Royal Collection identifies him as Francis Clark. Clark was a close cousin of Brown and, as close cousins often do, looked the spitting image of him (if you compare this photo with the one at the top of the page which is identified as Brown, you will see the resemblance). In one of her diary entries, Queen Victoria mentions Clark:
Wednesday, September 12, 1877...Francie Clark (with darling Noble), and Heir went with us...At one o'clock we had our luncheon, and dear Noble came in and was so good and quiet...
Like Sharp, Noble was also was commemorated by a statue after he died, and the statue is closer to what he really looked like than the paintings. Helen Rappaport says, "Noble too received a ceremonial burial at Balmoral, for the queen fervently believed that the higher animals had souls and when they died would go to a future life; they should therefore, in her view, be mourned just like humans."
Victoria took notice of collies whenever she met them and also mentioned them in her diary:
Monday, August 26....From here we walked again along the burnside to the sea, the Duchess's pretty and very amiable collie (smaller than Noble, but with a very handsome head), Rex, going with us.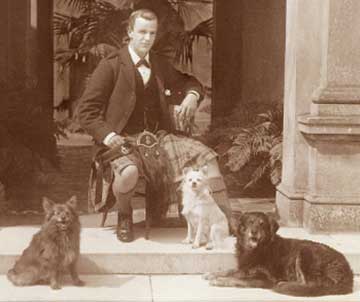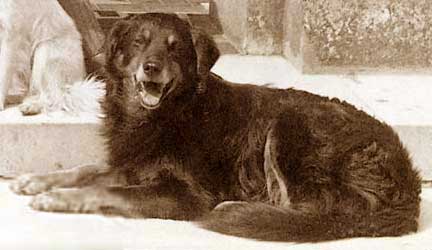 Left, a photo of William Brown, a personal servant to Queen Victoria at Balmoral and a brother of John Brown, with three of the Queen's dogs, Marco, Turi, and the collie, Roy, a successor to Sharp and Noble, taken in 1898. Right, is a detail from the photo at left, of Roy.
The following four photos are stills taken from old movie footage that appeared on YouTube. They are of the start of an outing by Queen Victoria from Balmoral in 1896. The Queen is accompanied by numerous members of her household, John Brown (in the kilt) who can be seen leading the pony, and two collies, a black-and-tan and a tri-colored. The black-and-tan is thought to be Roy. It is unclear who the tri-colored dog is.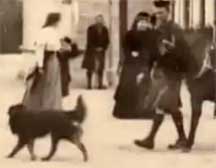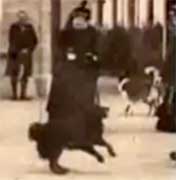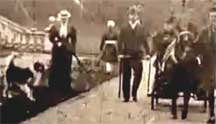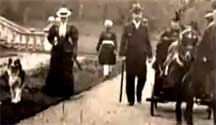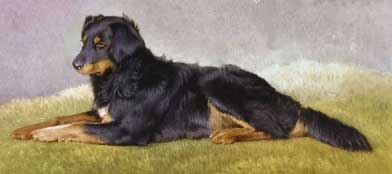 It's unclear if this beautiful black-and-tan collie, called Fern,
belonged to Queen Victoria, but we think she must have,
because this painting by Carl Schmidt is in the Royal Collection.
It should be noted, by the way, that Queen Victoria, like many dog owners, reused names. It is confusing when perusing the Royal Collection to note that Sharp or Noble is referred to when it was reasonable to assume that those famous dogs were already dead.
Other members of the Royal Family also favored the collie, most notably Princess Alexandra, shown below in a newspaper clipping aboard the Royal Yacht, Osborne. Alexandra, Queen Victoria's daughter-in-law, was married to Edward, Prince of Wales. Edward became king upon Queen Victoria's death, and Princess Alexandra became Queen Alexandra. The caption reads "Queen Alexandra certainly had a way with dogs'. She is pictured here with three of her dogs." Two of them, the one behind her and the one beside her on her left, appear to be collies of the Border Collie-type. The other is a small dog that looks like a pug.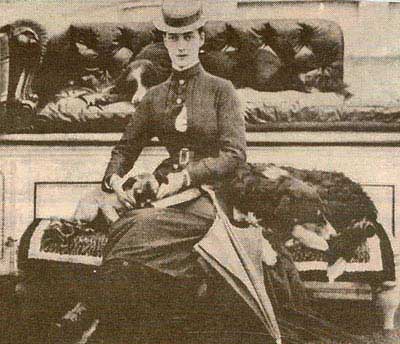 Most of the pictures on this page are from the Royal Collection www.royalcollection.org.uk
(all rights reserved © 2009 Her Majesty Queen Elizabeth II).
In addition, thanks go to Linda Rorem, Cindy Dorsten, and Christopher Landauer.
This page copyright © 2010 by Carole L. Presberg
---
THE OTHER WEB PAGES WE MAINTAIN


---
These web pages are copyright ©2013 and maintained by webmeistress Carole Presberg
with technical help from webwizard David Presberg
ALL RIGHTS RESERVED
If you are interested in using ANY material on this website, you MUST first ask for permission.
You may email us at carole@woolgather.org.
---
Last modified: July 13, 2013 carole@woolgather.org