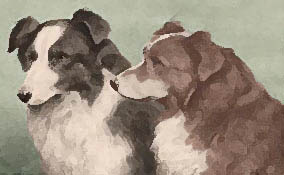 SIR DAVID WILKIE
1785-1841
---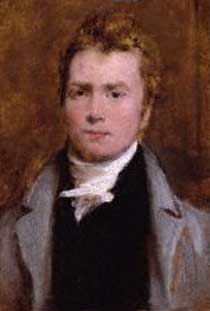 A self-portrait of Sir David Wilkie
at the National Portrait Gallery, London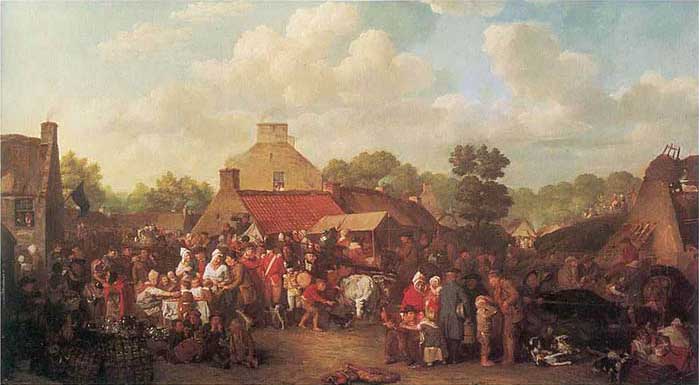 Above, "Pitlessie Fair" by David Wilkie
If you look closely toward the bottom right, you can see three collies, two of them playing at wrestling.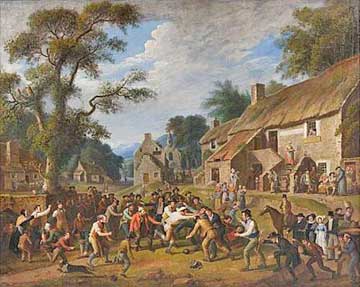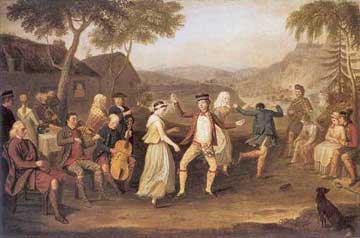 David Wilkie was the son of the parish minister of Cults in Fife. He developed a love for art at an early age. In 1799, after he had attended school at Pitlessie, Kettle and Cupar, his father reluctantly agreed to his becoming a painter. Through the influence of the Earl of Leven Wilkie was admitted to the Trustees' Academy in Edinburgh, and began the study of art under John Graham. He had a habit of haunting fairs and marketplaces, and sketching all that he saw. He admired Alexander Carse (1770-1843) and David Allan (1744-1796), two Scottish painters of scenes from humble life.
Above, left, "The Foot-ba' Game" by Alexander Carse; and above, right, "The Highland Wedding" by David Allan.
There are collies in both these paintings, but you have to look closely.
At 19, Wilkie returned to Cults, established himself in the manse, and began his first important subject-picture, "Pitlessie Fair," which includes about 140 figures, and in which he introduced portraits of his neighbours and of several members of his family. Wilkie was also employed painting portraits, both at home and in Kinghorn, St Andrews and Aberdeen. In 1805 he left Scotland for London, and began to study in the schools of the Royal Academy, supporting himself by painting portraits and selling paintings to wealthy patrons.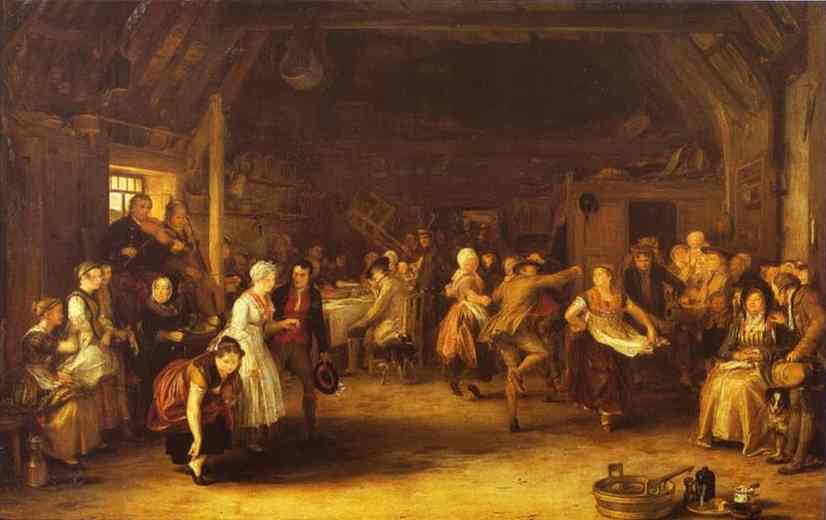 Left, "The Penny Wedding" by Sir David Wilkie has a collie in the center of the picture near the man sitting at the table, and one sitting between the two seated people on the far right.

Wilkie's success in art gained him professional honors. In November 1809 he was elected an associate of the Royal Academy, a young age for that honor, and in February 1811 he became a full Academician.
In 1814 Wilkie made his first visit to the continent, and in 1816 he made a tour through Holland and Belgium in the company of Abraham Raimbach (1776-1843), the engraver of many of his paintings. The painting of Sir Walter Scott and his Family, a cabinet-sized picture with small full-length figures in the dress of Scottish peasants, was the result of a visit to Scotland and Abbotsford in 1818.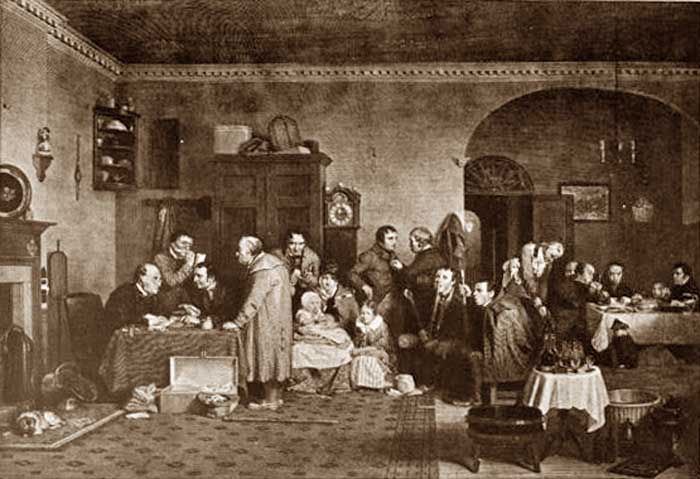 Right, "The Rent Day" (Abraham Raimbach after Sir David Wilkie*, 1817), has a little black and white collie begging for food at the table on the far right.

In his biography, Sir David Wilkie (1902 George Bell & Sons, London), Lord Ronald Sutherland-Gower (who was a Trustee of the National Portrait Gallery), tells of Wilkie's visit to Abbotsford and his subsequent meeting with James Hogg:
A period of travel again diversified his professional engagements. This time he revisited Scotland. As in his [previous] tour...he combined excursions throughout the country with appreciative visits to picture galleris...and to spots of historic interest...At Edinburgh he received a much-valued invitation from [Sir Walter] Scott to visit Abbotsford..He reached Abbotsford in October, and was at once greatly struck with the beauty of the surroundings. Here he met [James Hogg,] the Ettrick Shepherd...He had a congenial interview with Hogg, a poet for whom it may be claimed that, like Burns and Wilkie, he interpreted with real and lasting charm the joys and sorrows of the common people of Scotland.

The account of this meeting, recorded by [William] Laidlaw [1780-1845, also a poet, and] Scott's amanuensis, well bears recital. The scene was Hogg's farm at Altrive:

Below, "The Gentle Shepherd" by Sir David Wilkie, shows a shepherd with his pipe,
his stick, and his dog, playing for a pair of serving maids or field workers.


"The kettle was hanging over a cheerful peat-fire, and soon began to simmer; and James, then a bachelor, despatched a shepherdess to borrow some loaf-bread, to which she added some kneaded cake. I felt pleased at the comfort the poet, as he was commonly called, had around him; and having several times accompanied Wilkie...I began to point out what might amuse him while Hogg busied himself preparing breakfast. The poet on this began to look and listen; I had not introduced Wilkie as an artist; and it is probable he had taken him, as he did a great poet, for a horse-couper: he, however, turned suddenly to me, exclaiming, 'Laidlaw! this is no' the great Mr. Wilkie?'

"'It's just the great Mr. Wilkie, Hogg,' I replied.

"'Mr. Wilkie,' exclaimed the shepherd, seizing him by the hand, 'I cannot tell how proud I am to see you in my house, and how glad I am to see you are so young a man.'

"After breakfast we visited together the tower of Dryhope, had a beautiful view of St. Mary's Loch and 'those hills whence classic Yarrow flows,' and returned to Abbotsford. When I told Scott of Hogg's reception of Wilkie...said he 'it was the finest compliment ever paid to man.'"
In 1822 Wilkie painted a portrait of King George IV on his visit to Scotland and the following year, upon the death of Sir Henry Raeburn (1756-1823), he was appointed Royal Limner for Scotland, but his health suffered from the stress to which he was subjected, and his condition was aggravated by domestic responsibilities. In 1825 he began to travel again, and was able to return to England in 1828 to paint again and resume his obligations.
Wilkie's three years abroad were a big influence on him, and he came home with a complete change of style and subject matter. No longer a genre-painter, he once again took up painting from history. This change was not very popular and he lost much of his public support. However, he continued to produce many successful portraits and historic scenes. In 1830, on the death of Sir Thomas Lawrence (1769-1830), Wilkie was appointed "painter in ordinary to the king" and in 1836 he was knighted.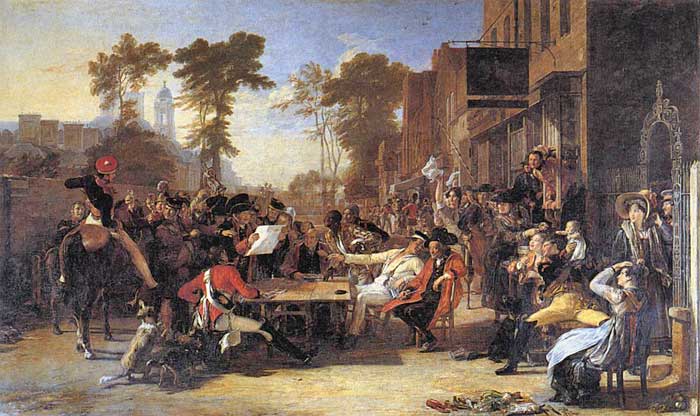 Left, "The Chelsea Pensioners Reading the Gazette of the Battle of Waterloo" (ca. 1822) There is a sable collie near the horse on the left.

In 1840, Wilkie embarked on another voyage, this time to the East, visiting and painting in Syria, Smyrna, Alexandria, and Jerusalem. On his return trip in 1841 he fell ill at Malta, died and was buried at sea off Gilbraltar.
In 2001, the Scottish Arts Council gave their Creative Scotland Award to Tom McGrath for Drama for "Pitlessie Fair", a multi-media study of Sir David Wilkie, particularly his early years in Fife. McGrath, a playwright and poet living in Kingskettle, Fife, combined Wilkie's life with present-day Fifers, their language, occupations and the Fife landscape. The play included elements of film and live performance, and seems a fitting tribute to the artist.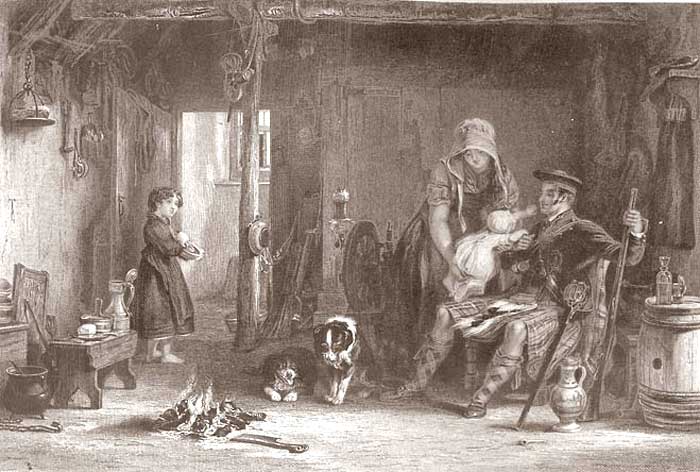 Above, "The Highlander's Return" (William Finden after Sir David Wilkie*, 1845)
*NOTE: This phrase indicates "the engraver after the artist".

[This article incorporates text in the public domain from the Encyclopedia Britannica Eleventh Edition; Wikipedia, the online encyclopedia; and other resources.]
Copyright 2008 by Carole L. Presberg
---
THE OTHER WEB PAGES WE MAINTAIN


---
These web pages are copyright ©2013 and maintained by webmeistress Carole Presberg
with technical help from webwizard David Presberg
ALL RIGHTS RESERVED
If you are interested in using ANY material on this website, you MUST first ask for permission.
You may email us at carole@woolgather.org.
---
Last modified: July 11, 2013 carole@woolgather.org