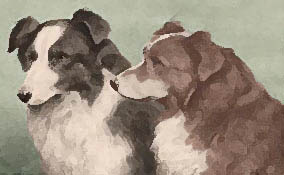 THE BORDER COLLIE IN STAMPS
---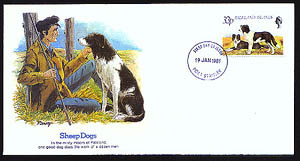 Above, a souvenir sheet of a stamp from the Falkland Islands.
---
Numerous countries issue stamps on a variety of themes, and dogs are among the most popular stamp themes. Therefore, it isn't surprising to find Border Collie stamps from many countries, particulary countries that have been members of the British Commonwealth. But, while such countries as Australia, New Zealand, the Isle of Man and the Falklands seem like logical places to issue Border Collie stamps, others, like Eritrea and Kyrgyzstan do not. Nevertheless, many unlikely places also have stamps on this subject.
We recently bought a Border Collie stamp from the Republica Saharaui (an Arabic-speaking nation in the Northern Sahara) and asked Lois Cooper, the person selling the stamp, why such a country, where there is little likelihood that there would even be a Border Collie, would issue a Border Collie stamp. The answer came back:
Most...countries put out what are called 'topical' stamps ([stamps on] certain topics) because there are so many people all over the world who collect things. People will buy these stamps and not use them, so that is 100% profit for the government [issuing the stamps]. There are topicals for just about every interest you can possibly think of, not only every kind of animal, bird, fish, bats, reptiles, etc., but flowers, bugs, minerals, books, quilting, laces, movies, space, etc. You name it, some country has printed a stamp with it.
Here are photos of some Border Collie "topicals" from a variety of countries:





Above, stamps from Eritrea, Kyrgyzstan, Kalmakia, Saharaui and "the Jewish Republic"
(this is not Israel, but one of the small Russian republics looking to generate revenue by issuing stamps)
(the second and third from right may possibly be of Australian Shepherds rather than Border Collies).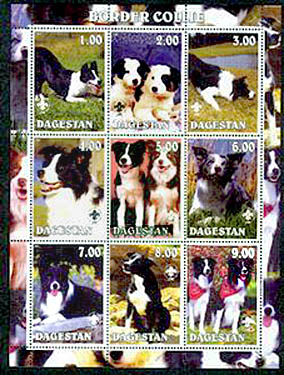 Above, this lovely page of stamps from Dagestan
was sent by Stephen Sharro of Gettysburg, Pennsylvania.
Believe it or not, Steve's own Border Collies, Kate and Glen,
appear in this group, on the stamp in the bottom righthand corner.







Two more stamps from the Falklands (far left), one from Australia and two from New Zealand, and two beautiful ones from the Faroe Islands.
These latter may not be of purebred Border Collies, but probably some cross between imported Border Collies
and the smaller Shetland Sheepdog-like collie that had been used in the Faroes
for herding the small, quick, almost wild sheep that were grown there.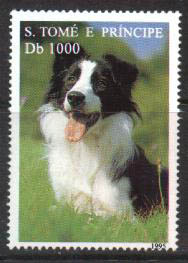 Left to right, stamps from the islands of Antigua, one from St. Thomas,
one from Tristan Da Cunha, two from Turks & Caicos, and one from Grenada.



Stamps from the Isle of Man.
Mrs. Marjorie West, who lives on the Isle of Man, gives this account of the stamp in the middle, above:
Although geographically part of the British Isles, the Isle of Man (in the middle of the Irish Sea) is self-governing, with its own postal service and it's own distinct stamps...Manx artist, Colleen Corlett, has designed the stamp set...which depicts six breeds of working dogs...using local dogs as models.

[This] 24 pence stamp depicts the local Border Collie named 'Mist', one of the many to be found on farms around the Isle of Man where sheep are the mainstay of Manx agriculture. 'Mist' was one of many Border Collies who competed regularly in Manx Sheepdog Trials. He was the first dog from the island to gain the title of Obedience Champion at many shows in Great Britain which gained him entry to the famous Cruft's Obedience Championships for four years, where he gained eighth place at his final show before retirement.
If collecting stamps interests you, there are numerous resources for purchasing them.
Online, a good place to start is eBay, the "online trading community"
(http://www.ebay.com).
---
THE OTHER WEB PAGES WE MAINTAIN


---
These web pages are copyright ©2013 and maintained by webmeistress Carole Presberg
with technical help from webwizard David Presberg
ALL RIGHTS RESERVED
If you are interested in using ANY material on this website, you MUST first ask for permission.
You may email us at carole@woolgather.org.
---
Last modified: July 14, 2013 carole@woolgather.org