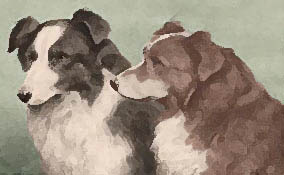 WILLIE SCOTT
1897-1989
---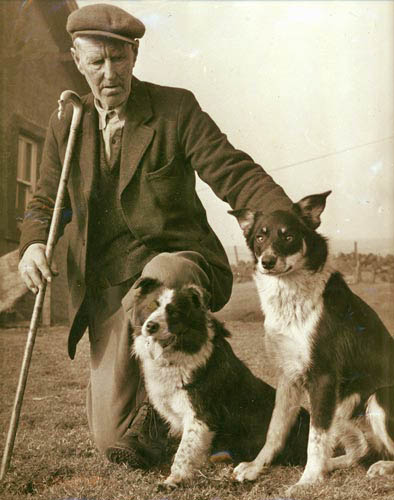 Above, Willie Scott and two of his Border Collies.
(Please note: this photo was given to the author of this article
by Jimmy Scott of Hawick and reprinted with permission;
it was not taken from the book[1] mentioned below.)
SHEPHERD OF THE BORDERS
[This article first appeared in the Volume III, Number 4 issue of The Shepherd's Dogge magazine, Winter 1990/1991]
I first met Jimmy Scott in 1976 at a traditional Scottish folk music festival, and he introduced me to his father, Willie, known in folk music circles as "the Border Shepherd". Willie was just past his 79th birthday then, a very tall, straight, imposing old man, with a thick Border accent. Over the years I got to know Jimmy well, but really only knew Willie through his folk singing and through my conversations with Jimmy. Jimmy was very approachable, kind, and outgoing. His father was reticent, and almost stern in his demeaner, and I never really spoke to him at length.
While I saw Willie again in 1978, and visited him in Hawick in 1983 and 1986 while I was visiting Jimmy, it did not occur to me to speak with him about his life as a shepherd until I began publishing my magazine, the Shepherd's Dogge in 1988. That year, however, I did not go to Scotland. By then, Willie was 91-years-old, and by the following year, when I did return to Scotland, he was already gone, having died in April 1989, just a month before his 92nd birthday.
And so, it was from a book[1] of his folk songs with a biography about him as a traditional Scottish folk singer, published just before his death, and from further conversations with his son, Jimmy Scott, that I finally put together a picture of Willie Scott as a Shepherd of the Borders.
William James Scott, scion of a long line of Border shepherds, was born at Andrew's Knowes in the Dumfriesshire parish of Canonbie on 7th May 1897...Canonbie is just about as near the Border as you can get in that area, so Willie was born a Scotsman by [a narrow] margin.[1]
Willie was one of seven children born to James Scott, a shepherd himself and a gamekeeper, and his wife, Helen. His early schooling was in Cumberland, across the Border in England where his father had a job, and was continued in the Border parish of Teviothead when his father returned to Scotland. Willie left school at eleven years old to start work on a farm near Hawick.
It was not unusual to begin farm work that young in those days, nor even in later years when Willie's own son, Jimmy, was eleven years old. Jimmy Scott tells the story of having to be a shepherd in his father's stead when Willie was called away to a wedding. Jimmy took his sheepdog and went up to check the hill, but there was a snowstorm and he couldn't see far enough ahead to find his way home. He ordered the dog to go home in order to follow him, but the dog would not leave his side. Finally, he was forced to throw sticks at the dog to make him run away, and in that way got the dog to lead him home.
Willie worked long hours in his first job, from 6:00 in the morning until 6:00 at night ("or later, if you could still see"[2]), for which he received about 65 pence a week. He worked in this job until he was sixteen and then in another similar job for another two years. In 1917, when he was almost 20-years-old, he married Frances Thomson, a daughter of a ploughman in Canonbie.
Willie's life as a shepherd began in ernest soon after marrying, though he says that "A didnae want tae be a shepherd at first...A was gaen to be a gamekeeper." He took a herding job at Dryhope, two miles up St. Mary's Lock, southwest of Selkirk, in the Ettrick Forest (James Hogg country). After a year he moved to Braidlie near Hermitage Castle (a medieval Border castle and Douglas stronghold that once housed Bothwell and was visited by Mary Queen of Scots). Willie stayed at Braidlie for nine years and then became herd at Nine Stane Rig (where there is a stone circle) where he stayed for 16 years. He then became shepherd at Hartwoodmyres, a high lying sheep farm southwest of Selkirk in the heart of the old Ettrick Forest. He was "oot-bye" (outside) shepherd there nine years.
In 1952, Willie and his family moved out of the Borders for the first time, Willie taking a herding job at Kingseat of Outh in the Cleish Hills north of Kelty in Fife. He stayed there eleven years, during which time his wife of forty-three years died, in 1960. They had six children: five sons and a daughter.
Willie changed jobs once more, this time to a position on the East Lothian/Berwickshire border, where he stayed until his retirement in 1968 at the age of 71.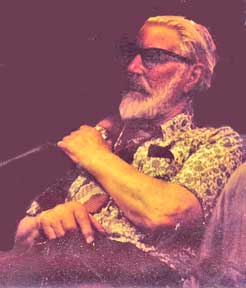 Right, Willie Scott, in his 80s, singing at an informal "jam session" at a folk festival in Scotland, ca. 1978.


Willie Scott is known best, perhaps, not as a shepherd, but as a folk singer. He came from a singing family (as many families in Scotland were). His father and his mother sang, as did all his siblings, and Willie performed at herd suppers in the Borders, as well as sang and heard songs sung during the work of lambing, shearing and dipping. In the early 1950's, Willie was "discovered" by the School of Scottish Studies and from that time on he recorded many of the songs he knew for them, and appeared at folk clubs and festivals in Scotland and elsewhere in Britain, as well as in the United States and Australia. Many of the songs he sang were about the shepherding life as he knew it. Though the songs Willie sang often tell of sheep and the ways of a shepherd, few mention sheepdogs.
One that does mention sheepdogs, a long song that gives a lively account of shepherding life on the hills and in the markets, is "The Canny Shepherd Laddie O' The Hills", written by a shepherd's wife:
Ch. Oh the shepherds o' the Coquet, the Alwin, and the Rede,
The Bowmont and the Breamish, they're all the same breed [3],
Wi' their collie dogs beside them and a stick wi' horn heid,
It's the canny shepherd laddie o' the hills.

They send the collie aroon the sheep wi' a yell o' "Gan oot wide!"
Then whistle wi' the notes so shrill, the dog drops in his stride,
"Come by, Moss! Doon! In a bit I'll tak' my stick oot ower yer hide!"
It's the canny shepherd laddie o' the hills.
It describes a hard life for shepherd, dog, and sheep alike, and hard life it was. In an interview[4], Willie told the journalist that in one of his herding jobs, he was the only herd looking after 4,000 acres and 700 blackface sheep. "We didn't have motorbikes to travel around on," he said. "It was all walking." Though more famous for his songs, Willie said in an interview "Herding was the most important thing, and singing just a by-product." Of his dogs, Willie said "Sheepdogs saved me in all sorts of ways when I was a herd. I had one which could mark sheep stuck in the snow." He remembered a particularly harsh winter when there were 173 sheep buried in the snow. Willie, with his dogs, found them the next day. He trained all of his dogs himself.
As well as a shepherd and folk singer, Willie Scott was an expert stick dresser, and made many shepherds' crooks to show and sell at agricultural fairs. He began carving at the age of 16 and once received a commission from the Duke of Edinburgh (Prince Phillip) to make a crook.
Two of Willie's sons, Sandy and Jimmy, carried on their father's singing tradition. While none of Willie's sons followed in their father's "takkity buits" as a shepherd, Jimmy did briefly as a boy, but chose instead the somewhat more lucrative profession of joiner. He also inherited his father's stick dressing abilities and made some beautiful crooks after Willie died that his father would have been proud of.
[On 8/24/11 I heard from Frances Luckhart of Catoosa, Oklahoma. She is a granddaughter of Willie's, the daughter of Willie's oldest child and only daughter, Isabella. Frances was born in Scotland at Fiddleton-Bankend in the Borders south of Hawick. She told me that besides Jimmy, who was Willie's oldest son, there were four other sons, Robert, Thomas, Alexander (Sandy, mentioned above), and Douglas. She says they are all gone now and that she is in touch with one of her cousins, Norman Scott, Robert's son. I am grateful to her for updating my information, and I love to hear from friends and relatives of those people for whom I have put up web pages.]
In a song he wrote himself, "Herd Laddie o' the Glen", Willie Scott summed up his own prophetic farewell:
"Yon auld herd and his plaidie you will n'er see again."
---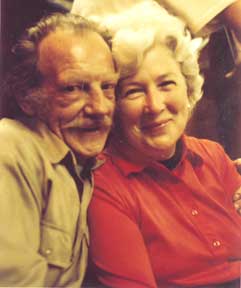 Left, Jimmy Scott and his long-time companion, Betty Hall, at a folk festival in Scotland ca. 1978.

NOTES:

[1] Herd Laddie o' The Glen: Songs of a Border Shepherd, Willie Scott, Liddesdale Shepherd and Singer, compiled by Alison McMorland, Edinburgh, 1988, new expanded edition 2006.

[2] Thanks to my friend, Jimmy Scott, for much of the information contained in this article. When my husband and I were setting up our tent at the campground in Keith, Moray, Scotland, for the 1976 Traditional Music Festival there, Jimmy befriended us and took us "green yanks" under his wing. Thereafter, we visited him on every occasion that we were in Scotland or met up with him at other folk festivals, until his untimely death. Jimmy died only a few years after his father.

[3] These are all rivers that flow on both sides of the Scottish Borders.

[4] "Willie Scott--From Border Shepherd to Folk Hero" by Jill Douglas, The Southern Reporter, a Scottish Borders newspaper.
Copyright 2008 by Carole L. Presberg
---
THE OTHER WEB PAGES WE MAINTAIN


---
These web pages are copyright ©2013 and maintained by webmeistress Carole Presberg
with technical help from webwizard David Presberg
ALL RIGHTS RESERVED
If you are interested in using ANY material on this website, you MUST first ask for permission.
You may email us at carole@woolgather.org.
---
Last modified: July 15, 2013
carole@woolgather.org