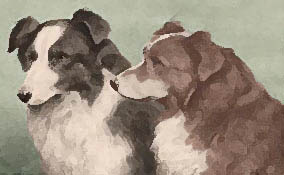 MORE ON RICHARD ANSDELL, R.A.

---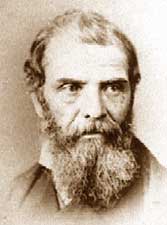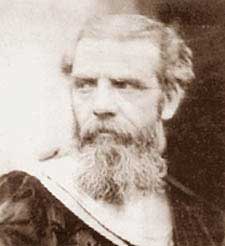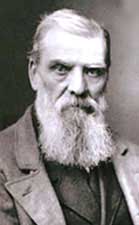 Above, three photos of Richard Ansdell at different times in his life (kindly provided by Don Kurtz and the Art Renewal Center)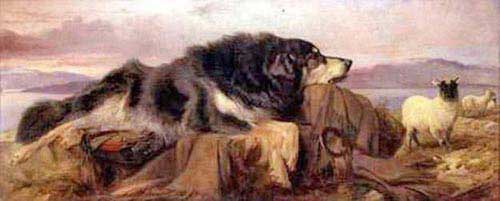 "The Shepherd's Dog" above, shows a handsome black-and-tan collie, lying on his master. Unlike the story told in the last painting on the previous page, this story is not so apparant. The shepherd could be dead or just sleeping with his dog keeping him warm.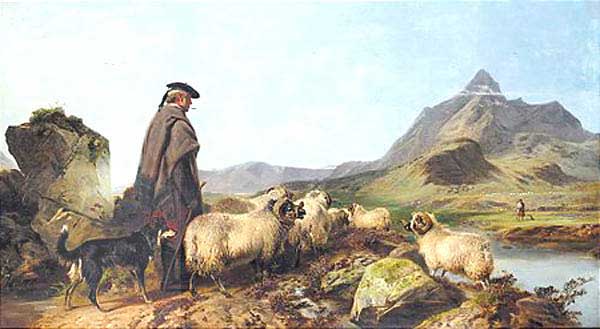 Above, "Stack Polly" by Richard Ansdell. Stac Pollaidh (in Gaelic) means "peak of the peat moss", and, according to Undiscovered Scotland, an online guide to Scotland, it "has a character out of all proportion to its mere 613m or 2009ft height." This is because it rises up out of sea level in a treeless highland area riddled by sea lochs. Ansdell certainly captures the feeling of being in a wilderness. The implication here is that the sheep are being swum across the loch. On the other side is another shepherd with dog waiting for the one on this side to drive them into the water.
---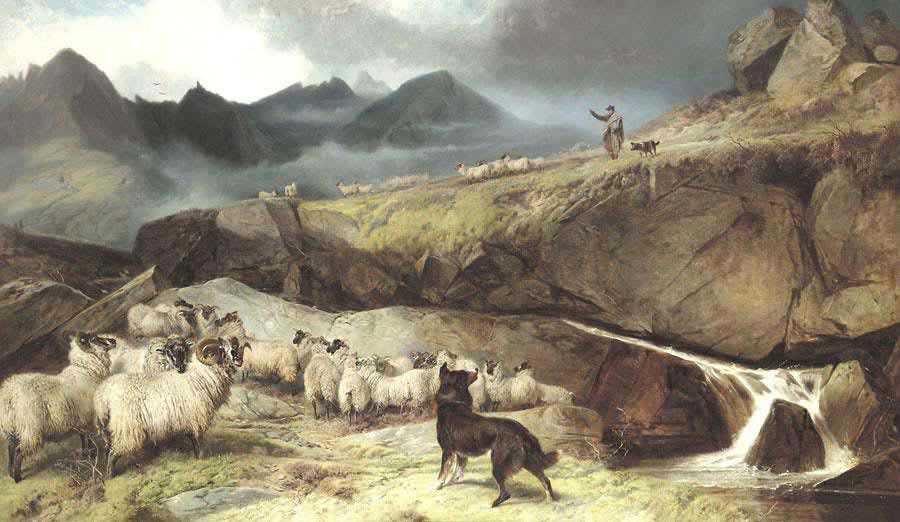 This magnificent painting is called "Gleneagles". For anyone who has been to the famous golf course and hotel at Gleneagles, Scotland, it is hard to believe that the area was once so wild. Here we see a shepherd and his dogs gathering the flock on the hill above the glen. The dog in the foreground is black-and-tan and is receiving commands from the shepherd. The detail in this painting is incredable, so that we can see that the shepherd is kilted and has a plaid over his left shoulder in black and white "shepherd's check", and that the dog that stands near him, poised to move at a moment's notice, is patterned white.
---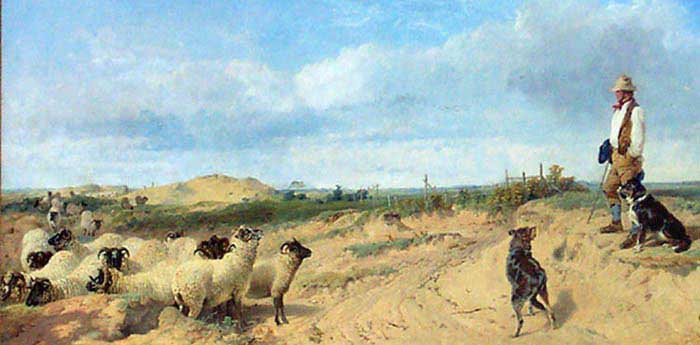 "The Lytham Sandhills"
Lytham St. Ann is in Lancashire, England. It is first thought to have been settled by the Anglo Saxons in 600AD. In 900AD, Irish-Norse Vikings that had been expelled from Dublin crossed the Irish Sea and formed a fishing, farming, and trading community at Lytham and the surrounging area. When the Normans conquered England, Lytham's Vikings adapted to Norman rule, their leaders becoming Norman Thanes and acquiring Norman names. The last of these Norse descendents had no heirs and bequeathed all his lands at Lytham to the Benedictine Monks of Durham.
After the Dissolution of the Monasteries, Lythan had several successive landowners, and eventually, from the 1790s onwards, there was a transition of Lytham from a farming and fishing community to a health resort and residential town. In the 1870s, a new town of St. Anne's-on-the-Sea was built in the dunes and Lytham became a fashionable watering place.
Ansdell's Scottish paintings are invariably connected with sheep or shepherds. It has been said that he relied too heavily on repetition of favorite models, and that he lacked Landseer's sympathy with his subjects. Indeed, sometimes the dogs in his paintings seem an afterthought (for example, in "Shooting", above). However, this is not always the case, as can be seen in "Stricken Sheep" and "Gleneagles", above.
In 1861, Ansdell built a large house and studio outside of Lytham, and he must have seen sheep being grazed on the dunes there.
In viewing this website, it is easy to get the impression that Richard Ansdell painted only pastoral scenes in the Highlands of Scotland. This is certainly not the case, as "The Lytham Sandhills" shows. This is a Border Collie site, and as such, we are mostly concerned with an artist's depiction of the shepherd's dog. However, Ansdell was extremely prolific and painted on many different topics, including hunting and sporting scenes, other breeds of dogs, and a variety of animals.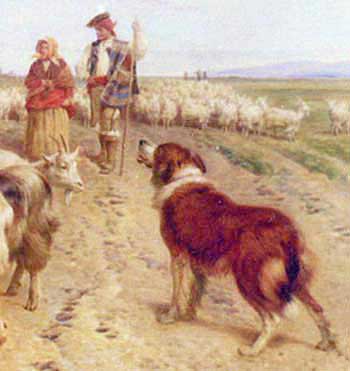 Ansdell travelled in Spain, as well as in the Highlands, and found subjects there to paint as well, but the subjects of his Spanish paintings seem to have been very similar to his Highland ones. In the painting above, at a distance, the shepherd appears to be a Scot in kilt and bonnet, but if you come closer you see that he is wearing Spanish atire. The dog, however, is definitely a tri-colored collie, which is unlikely to have been used in Spain at that time.

Ansdell is certainly best known for his representation of fast disappearing rural life in the Highlands of Scotland, for which we are infinitely grateful. It is a shame that he is so little-known today.
[Thanks once more to Sarah Kellam, Richard Ansdell's great-great-granddaughter, for sending many of these pictures to us. Thanks also to Lytham Online for the history of Lytham, and a variety of art-related websites for additional biographical information and images.]
---


Back to the main article on Richard Ansdell
---
THE OTHER WEB PAGES WE MAINTAIN


---
These web pages are copyright ©2013 and maintained by webmeistress Carole Presberg
with technical help from webwizard David Presberg
ALL RIGHTS RESERVED
If you are interested in using ANY material on this website, you MUST first ask for permission.
You may email us at carole@woolgather.org.
---
Last modified: July 13, 2013 carole@woolgather.org