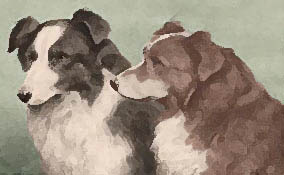 BORDER COLLIE COUSINS
THE AUSTRALIAN STUMPY TAIL CATTLE DOG
---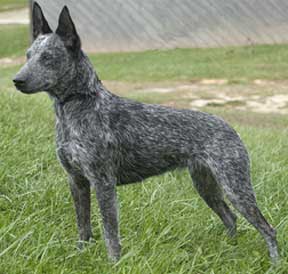 An Australian Stumpy Tail Cattle Dog
(Photo by Wendy Hodges, from Wikipedia Commons)
A close cousin of the Australian Cattle Dog is the Australian Stumpy Tail Cattle Dog (a.k.a., "Stumpy"). Originally, it was just a bob-tailed variety of the ACD. It is still often mistaken for the ACD but is today considered a separate breed. Aside from its short tail, with which it is said to be born, not docked, it has a more square and stocky build than the ACD, and a more wedge-shaped head. It was bred during the 19th century as a drover's dog, for traits of stamina, resilience and tenacity. According to the Australian Stumpy Tail Cattle Dog Club of New South Wales, "[as] a result of decentralised breeding, the Hall's Heeler seems to have developed two strains: those bred...in northern New South Wales and Queensland, and those bred...further south. It would appear that the incidence of stumpy-tailed Hall's Heelers was greater in the northern strain than in the southern strain."
Like with most modern breeds, various stories abound about the origin of the Stumpy Tail Cattle Dog. The one above is the most commonly accepted, but another "history" puts the breed as descended from Smithfield Cattle Dogs from England, brought to Australia in the early 19th century and crossed with the dingo. One such account "is that a drover named Timmins from Bathurst, New South Wales, crossed the Smithfield dogs with the dingo, producing a type of working dog called Timmin's Biters. In order to mute their dingo characteristics and make the dogs easier to handle, further crosses were made with Scottish smooth collies, producing speckled red and blue dogs that were often born tailless." It's possible that both histories contributed to the development of the breed. To confuse matters, the Stumpy is sometimes referred to as the "Smithfield" or the "Queensland Heeler" (see the ACD and the Smithfield).
Without the need for long cattle drives, the breed was declining, but the Australian National Kennel Council initiated a "Stumpy Tail Cattle Dog Redevelopment Scheme" and an "Upgrade Program", reviving interest in the breed, but as a bench dog. It is unknown if there are any Stumpies currently working livestock in Australia. The breed is recognized by the FCI, the ANKC, the NZKC, and in the USA by the United Kennel Club (UKC).
---
Resources:
Australian Stumpy Tail Cattle Dog Club of New South Wales
Wikipedia: "Australian Stumpy Tail Cattle Dog"
Copyright © 2013 by Carole L. Presberg
---
Return to



BORDER COLLIE COUSINS
---
THE OTHER WEB PAGES WE MAINTAIN


---
These web pages are copyright ©2013 and maintained by webmeistress Carole Presberg
with technical help from webwizard David Presberg
ALL RIGHTS RESERVED
If you are interested in using ANY material on this website, you MUST first ask for permission.
You may email us at carole@woolgather.org.
---
Last modified: August 9, 2013 carole@woolgather.org