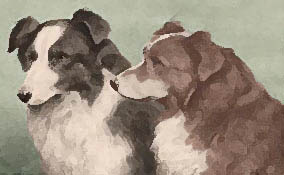 BORDER COLLIE COUSINS
THE OLD TIME FARM SHEPHERD
---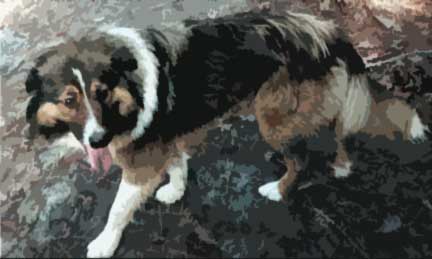 J. Richard McDuffie's Dunrovin's Ole Shep
from whom many owners of Old Time Farm Shepherds trace their dogs
(From a photograph courtesy of Linda Rorem)
A cousin of the English Shepherd that was first mentioned on the page for the Rough and Smooth Collie, is the Old Time Farm Shepherd. What is it? The definition depends on with whom you are speaking. I prefer the term old working collie, which Gina Bisco calls a "landrace". A landrace is a variety of domestic animal which has developed by adaptation to the natural and cultural environment in which it lives. It differs from a formal breed which has been bred purposely to conform to a particular type. Landraces are commonly more genetically and physically diverse than formal breeds. In America, with regard to the collie breeds, this means the old working collies brought here from Britain from which the American collie breeds described on these web pages are descended.
The Old Time Farm Shepherd Club of America considers their dogs direct descendents of the old working collies, that developed on their own, without benefit of a breed registry, and have remained true to the traits (including diversity) of their ancestors. This organization considers these dogs to constitute a breed. If the Welsh Sheep Dog can be considered a breed, then the OTFS might also be a breed. They trace their dogs to a progenitor, J. Richard McDuffie's Dunrovin's Ole Shep (who is also considered by some to be the progenitor of the English Shepherd). The ORTFS Club of America is a registry, and they have a "breed standard", but it is exceedingly broad. Their advocates use the term "old Scotch Collie-type of dog" by which they seem to mean the early Rough Collies, which looked very much like the old working collies and like the English Shepherd does today, or perhaps they mean simply the old working collie itself. It is confusing with so many appellations and types. So, in essence, Old Time Farm Shepherds are descendents of old working collies brought to America that do not conform to the more narrow standards of the other American collie breeds today, that is, the English Shepherd, the Australian Shepherd, and the McNab, and they are likely to constitute a landrace. Whether we accept the OTFS as a breed or not is moot. We must applaud any group or individual that advocates diversity in the shepherd's dog. As those who raise rare breeds of any domestic animal know, diversity is a hedge against extinction.
---
Resources:
Friends of the Old Farm Collie
Old-Time Scotch Collie Association
Copyright © 2013 by Carole L. Presberg

---
Return to



BORDER COLLIE COUSINS
---
THE OTHER WEB PAGES WE MAINTAIN


---
These web pages are copyright ©2013 and maintained by webmeistress Carole Presberg
with technical help from webwizard David Presberg
ALL RIGHTS RESERVED
If you are interested in using ANY material on this website, you MUST first ask for permission.
You may email us at carole@woolgather.org.
---
Last modified: August 9, 2013 carole@woolgather.org