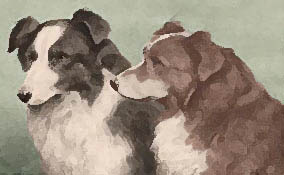 BORDER COLLIE COUSINS
THE PASTOR MANTIQUEIRA
---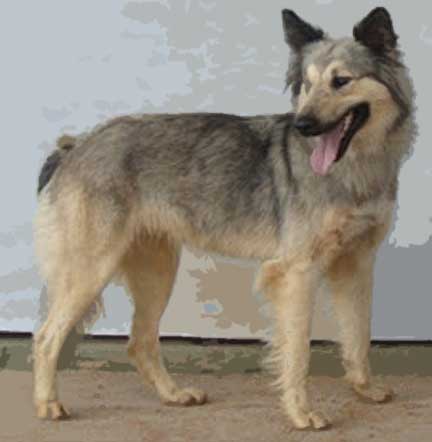 A Pastor Mantiqueira.
(Photos in this article adapted from
http://racasbrasileiras.blogspot.com.)
The Pastor Mantiqueira or Mantiqueira Sheepdog originated in immigrant Europeans who settled the area of the Mantiqueira Mountains in southeastern Brazil, northwest of Rio de Janeiro in 1819-1823. These Swiss and German immigrants were rural laborers who sometimes brought their dogs with them, various German shepherds, white Swiss shepherd dogs, Belgian shepherds, and others. Likely these dogs bred with dogs that were already resident in the area, like the Ovelheiro Gaucho that descended from imports of British working collies.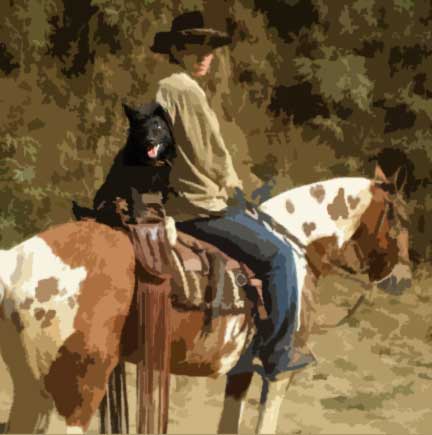 A Pastor Mantiqueira behind his owner on horseback.
The Mantiqueira developed in a mountainous setting, relatively remote despite being close to urban areas, where they had to lead the flocks through narrow cliff paths and to protect the livestock from theives and preditors, a much different environment than the other South American herding dogs encountered on the grassy plains. The Pastor Mantiquiera also was required to protect mule trains and their goods, and dogs that performed this task often rode behind their masters on the horses. Therefore, the dogs have a very strong bond with their owners, and will wait for hours, lying beside the horses, for their owners to return.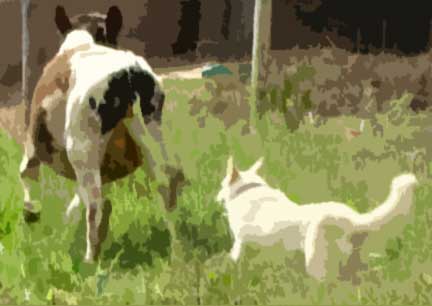 A Pastor Mantiqueira herding cattle.
These dogs are upright workers that can work any kind of livestock. The most common colors are sable or saddle sable with or without a mask, solid black or black with a silver undercoat, or cream-color (recessive yellow). Their coats are double and the types are moderately long or smooth.
Changes in the econimic base of the area, the incursion of tourists, and the decline in livestock production has put the Pastor Mantiqueira on the road toward extinction. The Association of Mantiquiera Breeders is working to preserve the genetic heritage of this breed.
---
Resources:
Copyright © 2013 by Carole L. Presberg
---
Return to



BORDER COLLIE COUSINS
---

e

THE OTHER WEB PAGES WE MAINTAIN


---
These web pages are copyright ©2013 and maintained by webmeistress Carole Presberg
with technical help from webwizard David Presberg
ALL RIGHTS RESERVED
If you are interested in using ANY material on this website, you MUST first ask for permission.
You may email us at carole@woolgather.org.
---
Last modified: August 9, 2013 carole@woolgather.org