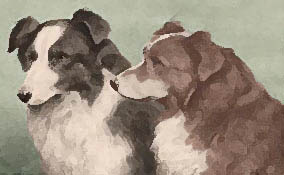 BARBARA CARPENTER
1921 - 2013
---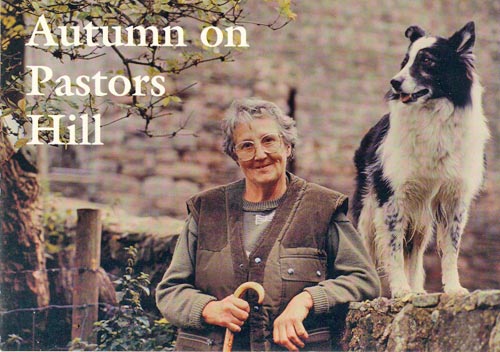 Barbara Carpenter and Chip pose for the program, "Autumn on Pastors Hill"
which aired on British television in April of 1992
(Photo courtesy of Barbara Carpenter)


Monday April 22, 2013. I learned this afternoon that Barbara Carpenter passed away on Saturday, less than two months before her 92nd birthday. I don't know if many people in the United States knew Barbara outside of her books, but I am positive that she had many, many friends in the UK and elsewhere, even though it has been years since she trialed a dog. I feel privileged to have been among those that knew Barbara personally, which is why I feel so sad today.
I remember the first time I met Barbara. It was in September of 1989. I had been publishing a small magazing called The Shepherd's Dogge. I was travelling to Britain to do some research for the magazine and wanted to interview Barbara. She was kind enough to invite me to visit her. I found an unassuming woman who had a great passion for the Border Collie breed, and was willing to share that passion. Since I had a similar passion, we got along really well, and I think I may even say we became friends. Thereafter, she wrote an occasional column for me called "Musings from Pastor's Hill". They ran the gamut from profiles of sheepdog men and women, to extinct breeds, to classic sheepdog trial venues, and more. She held a great deal in her memory.
We wrote to each other from time to time, and often she sent me clippings and photographs. I admired the scrapbooks she kept and began to keep my own. What a fount of sheepdog knowledge Barbara was and what a loss her death brings to the world of Border Collie history. But more than that, she was a compassionate soul. She loved her dogs, her pony, yes, even her sheep, and would sadly report on each one's passing. I think that's what I liked best about her. She will be greatly missed.
Barbara's sister Ruth Hirst survives her.
---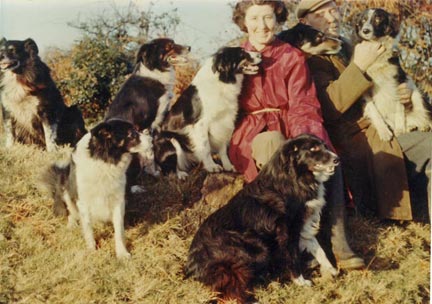 Above, Barbara and Will Carpenter with (l. to r.) Ben (sire), Lassie (dam), Meg, Fan, Mac,
and (in the foreground) Kay, and Moss, the first to third generations of the Brocken family of Border Collies.
(Photo courtesy of Barbara Carpenter)
AN EXTRAORDINARY WOMAN'S LOVE
FOR AN EXTRAORDINARY BREED
[Parts of this article first appeared in The Shepherd's Dogge magazine, Volume II, Number 3, Fall 1989, shortly after I visited with Barbara Carpenter for the first time. Subsequently, I wrote about her several other times and visited with her again in September 2006 when my husband and I were in Britain. Those other articles and more have been added to bring the article up to date. In the final issue (Winter 2001/2002) of The Shepherd's Dogge, Barbara wrote an article on the Forest of Dean, which follows this one. Please note: if you are looking for books by Mrs. Carpenter, she published under the name of "E. B. Carpenter".]
I'm sure that Barbara Carpenter would laugh at being called "extraordinary" as I believe she thought of herself as quite an ordinary person. She lived all her life in the Forest of Dean in Gloucestershire, England. The area, across the River Wye from South Wales and separated from the rest of Gloucestershire by the Severn River, consists of steep ravines. It reminds one of parts of Pennsylvania and West Virginia. Like Pennsylvania and West Virginia, it has been an area of coal mining, an industry that is now largely defunct.
Barbara's husband, Will Carpenter, was a coal miner. Coal miners in the Forest often kept a few sheep which grazed on the commons or open areas between the trees. The word "dean", Barbara said, refers to the steep, narrow valleys in the area. She said the trees in those days were all large oaks. Grass grew between them and you could see for miles through the Forest. The people were very isolated in the old days, kept to themselves, and spoke a distinct dialect. Will, Barbara said, spoke with a "strong Forest accent" all his life. Barbara herself had a soft and distinctive accent, especially around the "Rs".
Everything that had to be done to the sheep, including shearing, was done out on the commons by driving the sheep against a fenced corner. Will had one or two dogs to help him, and after a while, Barbara thought that she ought to get a dog of her own, and her first Border Collie, Brock, was acquired. In 1945, Barbara went to a sheepdog trial and became hooked on the sport. When asked if Will was as taken with trialling as she was, she grinned impishly and said "I corrupted him!" At the time of his death in 1978, Will Carpenter was well known on the trialling circuit in the West Midlands and Wales and had trained many excellent dogs.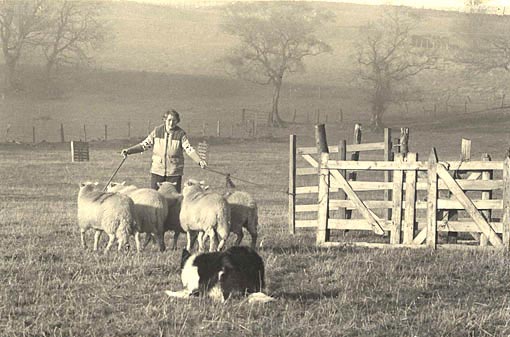 Above, Barbara and Chip try for the pen at a trial, ca. 1989.
(Photo courtesy of Barbara Carpenter.)
After Brock, Barbara acquired a nearly all-black dog called Ben. She said of Ben that if she knew then what she knows now about Border Collies, Ben might have amounted to a really terrific trials dog. But neither she nor Will knew much about them in those days. When she brought Ben to show the dog to Will, he told her to send the untrained dog out into the Forest to gather sheep that neither she nor Will could see. She said that if she saw someone doing that today, she would think them "daft!" But Ben ran out and shortly returned with the sheep, such was his natural ability.
Although she began trialling in 1953, Barbara's big break came with the birth of her famous dog, Brocken Robbie (ISDS 24636), who was the son of Worthington's Hemp (ISDS 13132) and Will Carpenter's Brocken Meg (ISDS 13025). Sheila Grew, in her Key Dogs From The Border Collie Family (Payne Essex Printers Ltd., 1984) described Robbie as an
intelligent and sensitive dog, of a gentle, happy temperament. He seemed to instill confidence in sheep; they seldom resented his control, and the stubbornest sheep just 'melted' away from his firm, steady approach....Robbie is well known for his breeding potential, passing on the finest herding qualities of the great dogs of the past, these same qualities continuing in his descendants, and the most successful...lines.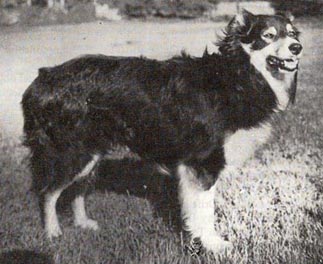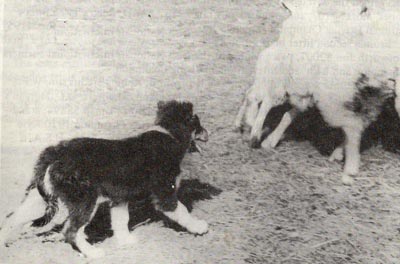 Above, left, Brocken Robbie; above, right, Brocken Robbie at 11 weeks old! (Photos from Key Dogs From The Border Collie Family by Sheila Grew.)
I visited Barbara Carpenter first in early September, 1989, at her beautiful old stone farmhouse, Pastors Hill, overlooking the village of Bream[*]. At that time she raised Badger-Faced Welsh Mountain sheep, and her constant companions were nine Border Collies: Toss, a nearly 11-year-old tricolored dog and the oldest; 9 1/2-year-old black and white Tag who was shy of strangers; 8-year-old Jenny, a diminutive white-headed bitch; Bob, a very large 8-year-old tricolored dog who doubled as the guard dog; Pippen, a sweet little 8-year-old bitch; 5-year-old Don who Barbara affectionately called "Donald"; 4-year-old prick-eared Chip who was Barbara's trial dog at the time; 4-year-old Natasha (or "Tash"); and Gael, a 3-year-old bitch whose soft, lovely coat made her popular with visitors. All but Don, Chip, and Gael were of Barbara's breeding or went back to her Brocken line.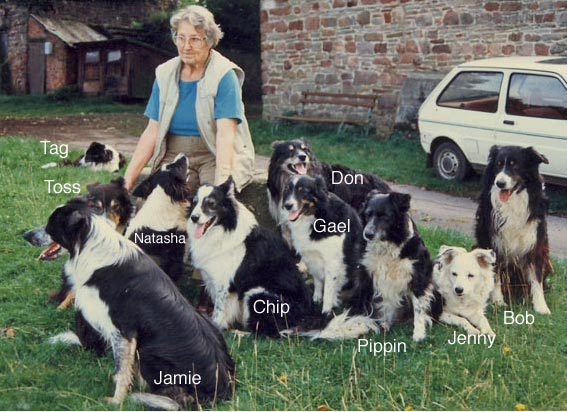 Left, Barbara Carpenter with her ten Border Collie, ca. 1990. (Jamie, the tenth dog, in the foreground, had not been acquired yet when I was there.) (Photo ŠJuliet Mockford, courtesy of Barbara Carpenter.)
At that time, Barbara no longer traveled very far to trials. She was in her late 60s and suffered from severe arthritis. After the death of Will in 1978, Barbara took over all the farm chores, spending many long hours on the tractor, flinging bales of hay, and wrestling with sheep, which would take its toll. However, Barbara was still actively trialling in the West Midlands, and each year she ran the very popular Ladies Trial at her Pastors Hill Farm. In 1982, she had written a small training book called The Border Collie--Basic Training for Sheepwork (self published). But her real contribution to the breed was yet to come.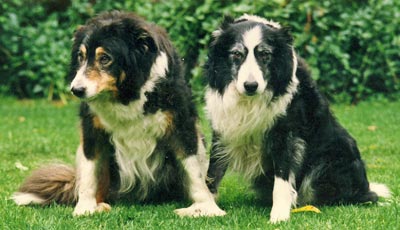 Right, the brothers Brocken Toss (left, at 16 years old) and Brocken Tag (at almost 15).
They both died at the end of 1994. Barbara also lost her little white-headed bitch, Jenny,
the same year. (Photo courtesy of Barbara Carpenter.)
Barbara owned perhaps the world's largest collection of Border Collie "paraphernalia", consisting of newspaper clippings, photographs, letters, greeting cards, figurines, old prints, ISDS badges, souvenirs from sheepdog trials, etc. These filled the house and many large scrap books. To fill out this huge collection, Barbara did years of research, exchanged letters and photographs with many of the biggest names in the Border Collie world, and in 1989 her seminal work, The Blue Riband of the Heather: The Supreme Champions 1906-1988 was published by Farming Press (Ipswich, UK). This was followed in 1994 by National Sheepdog Champions of Britain and Ireland 1922-1993. The second edition of The Blue Riband came out in 1996, extending the history through 1995.
When National Sheepdog Champions came out, I wrote this review in the Spring 1995 issue of The Shepherd's Dogge:
Barbara Carpenter's long awaited book on the National Champions is finally out, and has been well worth the wait. It is a fitting companion to her earlier volume, the Blue Riband of the Heather, now out of print. One hopes the publisher has the foresight to bring the earlier book out again in a second edition, for both books were not only a labor of love for a woman who has herself had a good deal of influence on the breed [through her Brocken line], but a monumental task, and are destined to be consulted for many years by Border Collie enthusiasts.

The present volume not only includes pedigrees and photos of all the National Champions, who are, at least in the USA, less well known than the Supreme Champions, but is peppered throughout with articles and photographs of great handlers and dogs. Many of the photos, some of which are from Mrs. Carpenter's own collection, some from the collection of the ISDS or from private collections, or from the families of various handlers, are part of the historic record of the breed, and may never have been seen by many of us if Mrs. Carpenter had not shared them with us. You'll want this book, and, if you haven't seen the earlier one, pester the publisher!
When the second edition of the Blue Riband of the Heather finally came out in 1996, I wrote this review in the Fall 1996 issue of The Shepherd's Dogge:
In my Spring 1995 review of Barbara Carpenter's book, The National Sheepdog Champions, I mentioned my hope that the publishers would again bring out her earlier volume on the Supreme Champions, which was out of print at the time. That they have done...What can one say about a book that is the culmination of one woman's lifetime of collecting the history of the breed she loves? It was an immense undertaking that has given us a volume destined to be pored over by generations of Border Collie enthusiasts. It has brought under one cover photographs of all the greatest and most successful dogs and handlers in Britain and Ireland, handlers that are legendary and dogs that have left their legacy to our own dogs. You will want this book!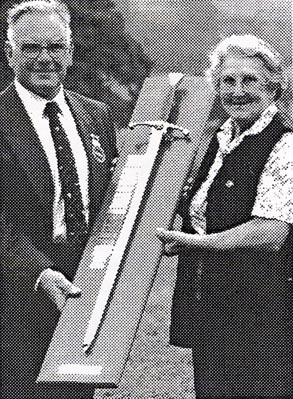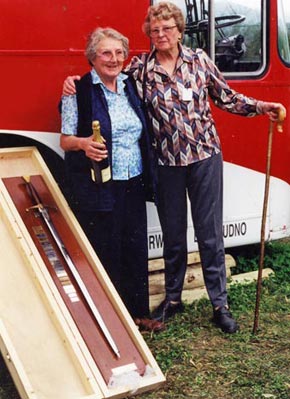 At the 1999 International Sheep Dog Trials, Barbara Carpenter finally received the accolade she deserved when she was awarded the Wilkinson Sword Trophy by the International Sheep Dog Society for her outstanding contribution to the breed.

Far left, Barbara receiving the Wilkinson Sword Trophy. Left, Barbara with her good friend and fellow author, Iris Combe, posing with the award. (Both photos courtesy of Barbara Carpenter.)
And in 2008 there was a third book out, if not written by Barbara herself, at least inspired by her. International Sheepdog Brace Champions 1926 - 2006 was published by Working Sheepdog News to supplement Barbara Carpenter's book, The Blue Riband of the Heather. It was compiled and edited by Pauline and Andrew Hall with archived material from Barbara.
In April 1992, a program about Barbara was aired on British television. Produced by Forum Television, Bristol, England, it was part of a series they were doing on disappearing British culture. It was very well done, with little or no narration or explanation. The camera simply followed Barbara through her routine, and the microphone picked up what she was saying. The Shepherd's Dogge (Winter 1992/93 issue) was granted the privilege of printing portions of the transcript, and we have it here as well, because it gives an idea of what kind of a person Barbara was and what her relationship with her dogs had always been. Without the visuals, it might be a bit obscure, but we chose portions that gave a glimpse into Barbara's life and her musing upon it. Text in italics indicates she is speaking to her dogs. In the first instance of this, it should be evident that she is working Chip on sheep. In the second, she is feeding the dogs, calling them affectionately by pet names. Dogs mentioned were Chip, Tag, Toss, Jamie, Taff, Don, and Pippen.
I've always lived in the forest of Dean. I'm a Forester born and bred, and proud of it. We used to live at the other side of the village, and when grandfather died, father came here to Pastors Hill to live. So of course we had to come. I didn't want to come, although I'd always played here all my life. I didn't want to come and live here, but now I wouldn't like to go anywhere else.

Chip, come on, come on. Come in. Steady now. Here, come bye. Steady now. Come on, come on. Come bye, come bye. Come on.

Well, there's 80 odd acres on the farm altogether, but 33 acres of woodland. So it's only just over 50 acres of grassland. But I'd hate to see it sold and built over. It's a lovely little place...

I had been training for dairy work prior to the war. Then I joined the land army and father had to have help here, so they allowed me to work at home and I stayed at home all through the war. I think father knew that I wanted to work with animals and he did all he could to encourage me. He didn't quite agree with me going to sheep dog trials. Thought that was a load of baloney. Unfortunately, when we won our first lot of cups and had our first success, he died the year before. So he missed that and I would have loved to have told and let him see that it wasn't quite as stupid as he thought it was.

Before we got married, Will and I used to keep sheep out on the forest together. He gave me my first sheep and that was when I got interested in dogs. Sheepdogs. Because he always had a good dog. [Will was] a real rough diamond. Real Forester, out of the Forest of Dean. One of the old characters. He would hate anyone to think that he had a soft heart and he always pretended to be very cross with his dogs if they didn't do as they were told, but he never hit a dog in his life. Mind you, his voice used to put the fear of the lord in them...

Well, it was pretty hard [after Will died], but there was so much work to do, you didn't have much time to sit down and worry about it. It was lonely, but I had dogs and the animals to see to, [so] it was alright...The evenings were the worst, when I used to come down from feeding the cattle...and there was nobody there.

Here you are, Chip. Come on Taggy-dog, and old Tossy. Eat it up, boys. Come on Jamie. Taff. Good girl. Come on Donald. Here's our little Pippy. Come on, come on, little Pipper, there's a good girl...

Well, I've got arthritis in my hip and it's gradually getting worse and worse, especially when I do any heavy work...I just had to cut down...and I've let 25 acres to some friends, Christine and David. They are going to run the sheep here. Christine and David both have full time jobs and I presume that's what a lot of people have to do these days, to do farming as a side line. It's very difficult. Especially for the small farmer, it's more or less subsistence only. I took some of my nice ewes to Builth Wells to go in the sale and prices were absolutely disastrous. It would have been better to have kept them at home, actually. No one's making money out of any farming things at the moment. Certainly not with sheep. Prices are at rock bottom. But we've had some very good years, so we've got to put up with the bad ones now...Now that Christine and David have got their sheep here, they are very kind about giving me a hand with the heaviest of the work...

I've got to get rid of a lot of my sheep now that I'm letting out half the ground. I shall sell some privately, and shall send some to Monmouth market. Hopefully not so many animals to look after, I'll be able to spend more time training my dogs, and I've got a puppy to look forward to...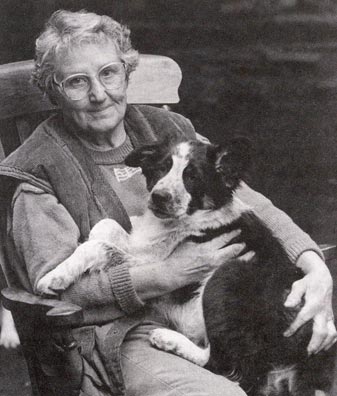 Left, Barbara Carpenter with puppy Jamie, in 1992. (Photo courtesy of Barbara Carpenter.)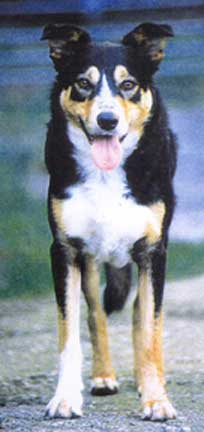 Right, Barbara Carpenter's Roy
In 2006, my husband and I were finally able to return to Britain after a 13 year hiatus, and we used the opportunity to visit with Barbara. She was in her mid-80s then and no longer kept any sheep. Her sister, Ruth Hirst, lived with her at Pastors Hill. She still had Border Collies, and though they no longer had any work to do, they were comfortably retired. I feel privileged to have been one of the people with whom she shared her love of Border Collies, her warm hospitality, and her absolute genuineness. She was truly an extraordinary person.
---
FOOTNOTE:
[*] For those interested in the history of the area where Barbara lived, there is a fascinating article in British History Online, which gives the history of the Parish of Newland (in which the Village of Bream is situated) from the early Middle Ages until the present time, mentioning Barbara Carpenter and her house, Pastors Hill, by name.
---
, Winter 2001/2002 (the final issue). It is indicative of Barbara's personality, her sense of history, and her deep compassion for all creatures on earth. The photos that accompany this article were taken in the Forest in 2006 by David and Carole Presberg.]
---
SHEPHERDS' DOGS IN THE ROYAL FOREST OF DEAN
by Mrs. E.B. (Barbara) Carpenter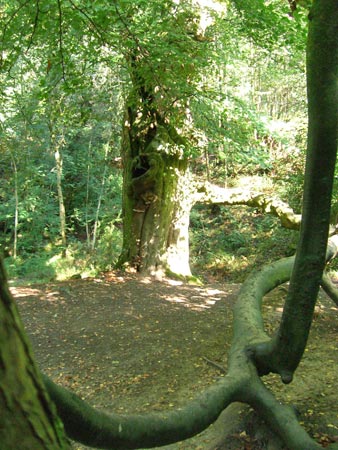 The Royal Forest of Dean is a land of wooded hill and deep valleys, twixt the rivers Severn and Wye. It is also a land of past mining industry, and until recently, was isolated, mysterious, and unknown to all but those who lived here. Its people were independent and insular, spoke their own dialect, and unique rights and customs were theirs from tme immemorial.
From the time of the Norman conquest in the eleventh century, the Forest was a valued hunting ground for the various sovereigns and their favourites, to whom the wild oar and deer were more important than the local peasants. These lowly peasants were not allowed to keep large dogs unless they had three toes cut off a foot or knee tendons cut--to prevent them from hunting deer. Severe penalties were in force against any infringements of Forest laws. Cur dogs kept to control cattle and sheep were allowed to shepherd these "commonable" animals if their tails were docked, and they were not taxed.
The grazing of free-roaming sheep on unfenced Forest areas has been a "right of custom", granted in times long past, but in modern times, this has been a very controversial subject. Open areas of sweet close-cropped grass have been built over, reducing the grazing land and forcing many sheep on to road verges in search of food. This has been especially true around the villages, where building has incereased, and it has been a normal sight to see sheep wandering in the streets. These animals have wonderful traffic sense and teach their lambs to take the same care, but with the tremendous increase of traffic and uncaring drivers, fatalities have occurred, and the sheep are considered a dangerous nuisance.
The dogs that shepherd these sheep in woodland and bracken-infested ground have to work very much on their own initiative, finding and returning sheep to the handler--it is not much use commanding a dog working in thick undergrowth if you have no idea where it is or what it is doing. Dogs have to be capable of keeping together the clevoer old ewes who know every place on their patch where they can slip away and quietly evade the dog. The dogs have to hold bunches of sheep in the open for the shepherd to catch and attend to any specific sheep, and now in modern times they have to load sheep into vans and pick-up trucks, parked against a fence or wall.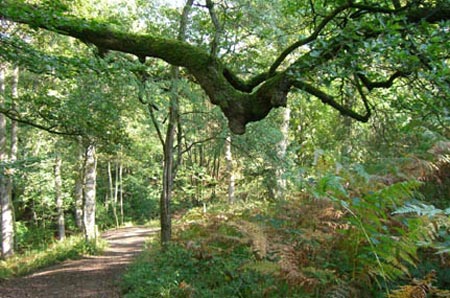 The loose-eyed, fast-moving Welsh Sheep Dog was ideal for this type of shepherding, and they would also bark to move stubborn sheep into the open; but, as in Wales, the advent of the stylish Border Collie gradually ousted the old Welsh Sheep Dog. Through the 1920s-30s sheep dog trials became popula in the Forest of Dean, handlers still using their Welsh Sheep Dogs; but once they saw the Border Collies performing, the Welsh dog's role was soon usurped.
About this time, the well-known Yorkshire trial man, Mark Hayton, visited the Forest, giving demonstrations at local shows with his famous winning collies. This encouraged the local men to order pedigree pups, and since then there have been very well-bred sheep dogs in the Forest. Some of the men competed in the local trials, only one of which--Ruardean--is still in existence, having, in 1945, taken over from the previous Cinderford trial. Unfortunately, the majority of local handlers have ceased to compete, though some still have dogs to work their flocks.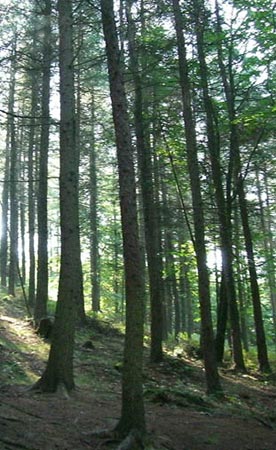 Although little is known about the local dogs of the early days, I can remember several Welsh-type sheep dogs, often of the blue merle colour. One man had a sheep dog cross Alsatian (as German Shepherd Dogs were known then) that was an excellent worker and very handsome, too. A neighbour had an Old English Sheepdog that was sheared each year with the sheep. Another I recall was similar in build and markings to the old Welsh Black-and-Tan. In the 1940s a farmer bought a very clever little Welsh Grey, and our old butcher had one of these, too.
My first dog, in 1942, was a beautiful black-and-white Welsh Sheep Dog bought in Wales. He was never trained, because I knew not how to train him! On his own initiative, he drove trespassing sheep off the fields, and fetched the mild cows in, always leaving any young stock in the field. As he matured and I became the proud owner of a few sheep that ran on the Forest, he learned to gather and hold them for me to attend to. In fact, he is the only dog I have ever had that would draw out a specific sheep pointed out to him, and catch and hold it--sometimes by sitting on it!--until I could get there. He never marked a lamb or ewe with his teeth, and was invaluable at finding and catching sheep that were flystruck and hding in the dense bracken.
In later years, I learned that these traits were especially attributable to the Welsh Sheep Dog, as too was his guarding of me, though he was never aggressive. It is pleasing to know that this ancient breed has been saved from extinction, and is thriving once more in its rightful land, and that these particular gifts of the breed will continue in the care of the Welsh shepherds.
Sadly, the Forest will never be quite the same since an outbreak of Foot-and-Mouth disease occurred at a farm on the outskirts of the Dean in March of this year [2001]. In case of contact with diseased sheep having been made by any of the free roaming sheep in the Forest, the edict wnet forth that all Forest sheep wee to be slaughtered, and also those on farms where contact could have occurred with sheep grazing the roadsides.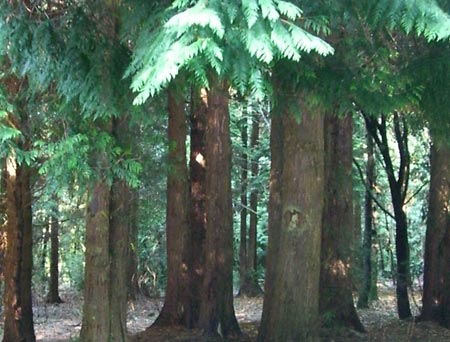 On April 1st the heart-breaking gathering began. four thousand to five thousand sheep, pregnant ewes and lambs--every one was killed. It was especially tragic to see baby lambs, some only hours old, taken and slaughtered without mercy. A blanket of almost tangible unbelieving despair hung over the whole area. It was a tragic, silent spring.
These lost sheep will be difficult to replace, for they had been hefted to their own particular areas for many generations, and were traffic wary, too.
The commoners, locally known as "sheep-badgers", are fighting to retain their ancient rights, for the company that manages Dean Forest will be welcoming this opportunity to enforce new regulations to control the grazing sites and numbers of free-roaming sheep.
The old days have gone, but the Commoners Association will fight hard for its members' rights, and sheep will graze again beneath the oak woods and on the village greens. The sheep dogs too will be glad to be working again--no doubt they will have plenty to do to "haunt" strange sheep on their specific grazing areas. Hopefully we will hear the sheep bleating and see lambs playing when spring comes again to the Royal Forest of Dean.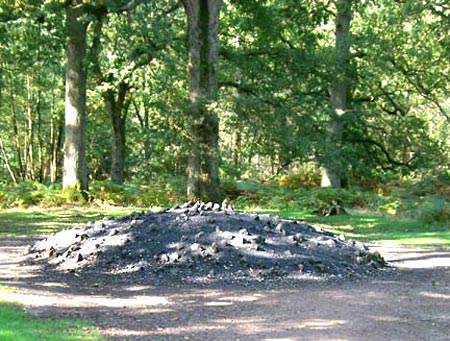 [In the Forest of Dean, today (2008), keeping sheep, keeping pigs, and "freemining" is still a Forester's right. Since 1984, The Forest of Dean Scultpure Trust has commissioned artists to "celebrate the life in the forest". The sculptures are interspersed along a 4.5 mile long trail, and are inspired by the forest, its trees, wildlife, and industrial past. They are also constructed mostly from natural materials from the Forest of Dean: wood, stone, and iron. The above photograph is of one such sculpture, which represents the charcoal burning trade in the Forest. --ed.]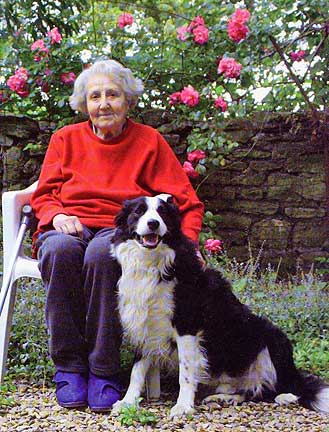 Barbara Carpenter on her 90th birthday, June 2, 2011, with Glen
[Photo by Austin Bennett for his
"A Tribute to Barbara Carpenter on ther 90th Birthday"
in International Shepdog News, July/August 2011.
(reprinted here with kind permission).]
---
THE OTHER WEB PAGES WE MAINTAIN


---
These web pages are copyright ©2013 and maintained by webmeistress Carole Presberg
with technical help from webwizard David Presberg
ALL RIGHTS RESERVED
If you are interested in using ANY material on this website, you MUST first ask for permission.
You may email us at carole@woolgather.org.
---
Last modified: July 15, 2013 carole@woolgather.org