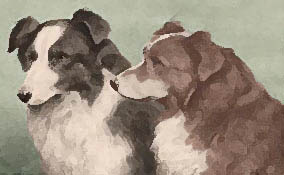 IRIS COMBE
1914-2009
---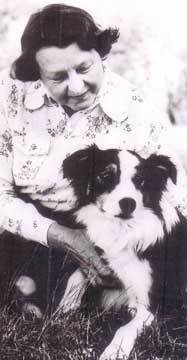 Above, Iris Combe and Brocken Sweep of Tilehouse, ca. 1970s.
(Photo courtesy of Barbara Carpenter, Austin Bennett, and Andrew Hall)
Iris Frances Mary Combe passed away peacefully in her sleep at Rose Cottage Retirement Home, Huntingdon [Cambridgeshire, England] on 3rd February 2009. She was in her ninety-fifth year.

--Pat Hutchinson
Karibuni Collies
Iris Combe's long-time friend and co-author
[I would like to thank Andrew Hall, Austin Bennett, and Pat Hutchinson for their kind assistance on this article, and as always, Barbara Carpenter. Where I quote them, it is because I cannot say it as eloquently as they have.--Ed.]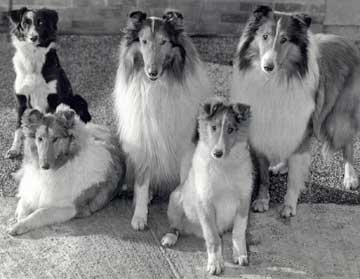 Right, a group of Iris Combe's dogs from the 1960s.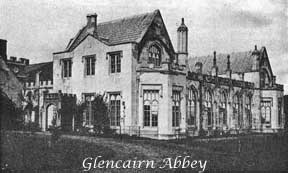 Iris Combe was born Iris Power in Ireland on June 23, 1914. Her family owned a large estate at Glencairn Abbey, Lismore, Co. Waterford. They were members of the "Ginthry class", as Austin Bennett puts it in the obituary he wrote for the March/April issue of International Sheepdog News. I take that to mean "the Gentry" or landed class of people that were, as Bennett says, "families able to trace their lineage back centuries to the Kings and Earls" of Ireland.
Glencairn Abbey itself has an interesting history. It was originally (1695) called Ballygarron Castle, which changed it's name to Castlerichard when it passed into the hands of Richard Gumbleton of Kent. When the castle fell into ruins in the early 18th century, the Gumbletons moved into the manor house. Richard's great grandson renamed the property Glencairn Abbey and was the last Gumbleton to reside there. On his death, the house passed to his eldest sister and her husband, a Bushe. Where the Power family came in is unclear, but in 1926 Glencairn Abbey was bought as a convent for Cistercian nuns (or Trappists), and it remains in their hands today.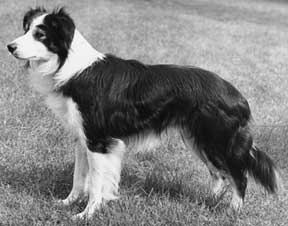 Right, Iris' first Border Collie show dog, Brocken Sweep of Tilehouse, bred by Barbara Carpenter, ca. 1976 (photo courtesy of Pat Hutchinson).
Iris' early education was in Ireland where she had the opportunity to "indulge her early interest in country matters and her fondness for animals, and she went on to become an accomplished horsewoman" (Bennett). After her parents separated and with the financial collapse of the estate, Iris went to live with relatives, where she was "allowed to accompany her host on shoots and to help inspect and bed down the spaniels once they'd performed their duties" (Bennett). At the age of sixteen, Iris moved to London with her mother. There she took various jobs and positions, including that of a "dressmaker's mannequin" (we would call them models today), "modelling court dresses and ball gowns for the debutants" (Hutchinson).
During the second world war, Iris worked in catering management and it was during this time that she became interested in collies. After the war she married Tom Combe, a captain in the Grenadier Guards, and they began running a small farm and market garden near Colchester. Iris also became involved with the local dog obedience club, and she appears to have had "working collies" at this time (Border Collies). Her interest in working collies could be traced to the time she lived with relatives.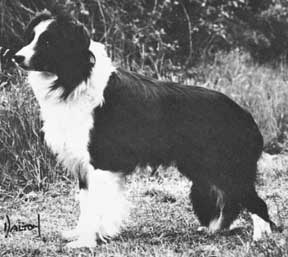 Right, Show Champion Tilehouse Cassius of Beagold, bred by Iris Combe and owned by Joyce Cosme.
When Iris' working collies became too old to compete in obedience trials, Iris fell in love with a Rough Collie bitch and thus began her successful career showing Rough Collies under her kennel prefix "Tilehouse". Thereafter, more successes followed with Smooth Collies, and, "with five Tilehouse Champions in two breeds, Iris looked back to her first love, the Border Collie" (Hutchinson), as the breed had just been recognized by the Kennel Club in 1978.
Iris began to search for the right Border Collie to present in the show ring. As Austin Bennett says:
It was to Iris Combe's great credit that, successful show [competitor] that she was, she eschewed any suggestions that the breed standard should deviate in any way from the characteristics for which it was so justly famed. With her interest in, and understanding of, the requirements and methods of shepherding collies, she determined to start challenging in the show ring with Border Collies of pure working strain. After much searching, she was "allowed" to buy Brocken Sweep from the well known breeder and worker of collies, Mrs. Barbara Carpenter.

Mrs. Carpenter was also fearful of what the show fraternity might do to the breed, but she had to concur with Iris that, since the practice was now irreversible, attempts should be made to see that the genuine breed was properly represented. The two ladies, both erudite researchers into the working dogs they loved, found much to talk about and they remained firm friends...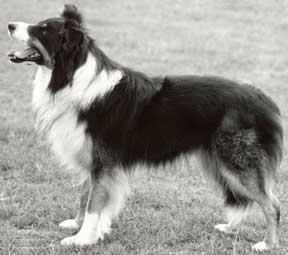 Right, Show Champion Tilehouse Topper.
Brocken Sweep of Tilehouse became a successful show dog. His son, Tilehouse Cassius of Beagold was the UK's first ever Border Collie Show Champion. There were other Border Collie show champions under the Tilehouse prefix, including Tilehouse Tommy, Fly of Tilehouse, Tilehouse Tip, and Tilehouse Topper. Unlike many show breeders, Iris seemed to have given her dogs sensible kennel names that could also be used and were used as call names (the everyday names that owners use for their dogs).
At this time, Iris' husband's health was failing, and they moved to Cambridgeshire. Iris gave up breeding and showing. As Pat Hutchinson says:
Needing a further challenge, Iris then turned to her large collection of books, pictures, photographs, newspaper cuttings and other mementoes connected with herding dogs and began researching material for her first book.
The first book (Collies Yesterday and Today, 1972) was followed by twelve more, including Border Collies (1978 Faber & Faber), Shepherds, Sheep & Sheepdog (1983 Dalesman), Herding Dogs-Their Origins & Development in Britain (1987 Faber & Faber), and Border Collies-An Owner's Companion (1993 Crowood Press). Herding Dogs is by far Iris' pièce de résistance. Of it, Austin Bennett says: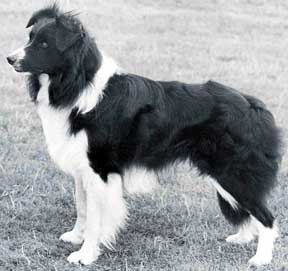 Right, Show Champion Tilehouse Tip, a brother of Cassius.
In it, the history and characteristics of more than a dozen different breeds are meticulously recorded, from cattle dogs like Lancashire Heelers and Corgis, through the great flock workers of today, such as [K]elpies and Border Collies, to those that have for long only earned their keep on the show bench, like Rough and Smooth Collies and Old English Sheepdogs. As well as individual breed studies, the book contains a wealth of information, background and discussion on all aspects of shepherding, a subject Iris had covered in more specific terms in her little 1983 paperback book, Shepherds, Sheep and Sheepdogs.
Iris continued to write even into her nineties, when, with co-authors Pat Hutchinson and Dareen Bridge, she published Rough Collies of Distinction in 2001, a magnificent, large-format book filled with many, many photos.
In an article submitted to The Shepherd's Dogge magazine in 1992, Iris defended a person's right to choose whether they had a working Border Collie or a show Border Collie. This was on the cusp of the Border Collie being admitted to the American Kennel Club (AKC). In it she said:
Few would dispute the fact that judging a dog on its working abilities and judging a dog purely on its conformation call for different evaluations. It is bound to split a working breed into two types with few dogs measuring up to the qualities required in both arenas, but this does not give anyone the right to say showing ruins a breed. The fact that it splits a breed into working or show types gives owners a freedom of choice...I would certainly agree that from a study of old prints or photographs, the conformation [of the Border Collie] has altered, but so do tastes and fashions.
At the same time, she berated the AKC for their unwillingness to comply with an agreement with the World Congress of Kennel Clubs to use standards of the country of origin of the breed, any breed, including the Border Collie. Still, Iris longed for the time when "an International Sheep Dog Society Supreme Champion or a National Champion comes in from the field to win its third Kennel Club challenge certificate."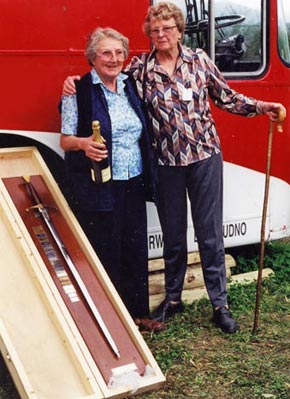 Left (on the right), Iris at the 1999 International Sheep Dog Trials with her good friend, Barbara Carpenter, who received the Wilkinson Sword Trophy that day. (Photo courtesy of Barbara Carpenter.)

Besides writing, showing and breeding, Iris was well known as an eminent show judge in all three of her chosen breeds. She judged Rough and Smooth Collies at Crufts, and she has judged shows in Europe, Australia, New Zealand, and the United States. Iris was a member of numerous collie clubs, the president or vice president of some, and was a founding member of the East Anglian Collie and Border Collie Clubs. She will be missed by the many friends she made both in the UK and abroad, in both showing and herding circles. There are not too many people in the world that can have said they bridged that particular gap.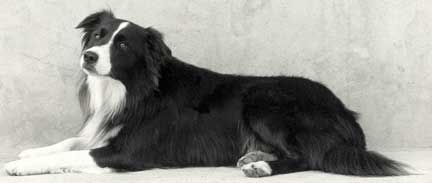 Above, International Show Champion Tilehouse Tommy, born 18 August 1984,
a Belgian, French, Dutch and Swiss champion.
Copyright 2009 by Carole L. Presberg
---
THE OTHER WEB PAGES WE MAINTAIN


---
These web pages are copyright ©2013 and maintained by webmeistress Carole Presberg
with technical help from webwizard David Presberg
ALL RIGHTS RESERVED
If you are interested in using ANY material on this website, you MUST first ask for permission.
You may email us at carole@woolgather.org.
---
Last modified: July 15, 2013 carole@woolgather.org