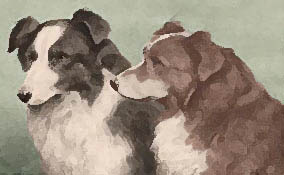 RANDOLPH CALDECOTT
1846-1886
---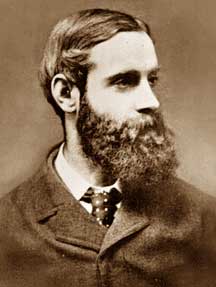 Above, Randolph Caldecott
[This article first appeared in The Shepherd's Dogge, Summer 1995]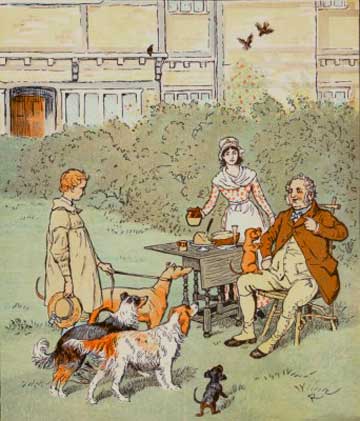 American children may be familiar with the artists Beatrix Potter (Peter Rabbit), E. H. Shepard (Winnie-the-Pooh), or Sir John Tenniel (Alice in Wonderland), but they may not be as familiar with Randolph Caldecott. The children's books he illustrated are as much classics as Peter, Pooh, and Alice, but some of the rhymes are more old-fashioned and wed to their country of origin (Great Britain), thus lacking a sophistication that would make them universal.
Randolph Caldecott was born in 1846 in the walled village of Chester in the north of England. From the age of six he was painting. At fifteen he became a clerk in Shropshire and lived in an old farmhouse outside the village of Whitchurch, where he wandered the countryside in his free time, sketching and experiencing the rural environment that was to make an appearance in many of his illustrations later on. The first of Caldecott's illustrations to be published appeared in the Illustrated London News while in his first year at Whitchurch.
In 1867 at the age of twenty-one, Caldecott took a job as clerk in a bank in Manchester, which was a wealthy city at the time. He became an evening student at the Manchester School of Art. Wandering the bustling streets of the city or seated at his desk in the bank, he was continually busy sketching everyone and everything he saw. He also began to enter into Manchester's artistic circles and joined the Brasenose Club, a businessmen's club which was also a major center of artistic life. Caldecott's artistic career began to grow, and his illustrations began to appear regularly in newspapers and magazines. He also exhibited his first work in Manchester, at the Royal Manchester Institution in 1869.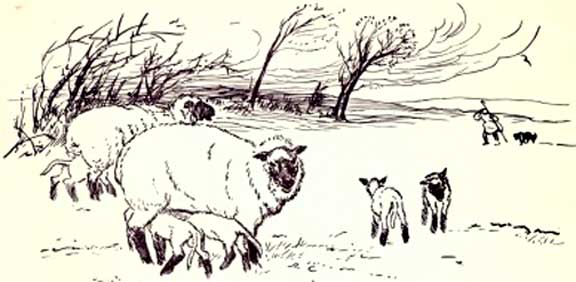 Caldecott was attracted to London where the opportunities for a young illustrator were more numberous than in Manchester, and in 1870 he visited there, meeting some of the editors of the day and launching his career as an illustrator for London periodicals. One of the magazines that published Caldecott's work was London Society, a popular Victorian periodical edited by Henry Blackburn. Blackburn was impressed by Caldecott's illustrations, and played an important role in the life and career of the young artist. In a872, at the age of twenty-six, Caldecott left his job in Manchester and moved to London to pursue his career as an artist. He attended the Slade School, a prominent art school, and began making friends with many of the artists of the day.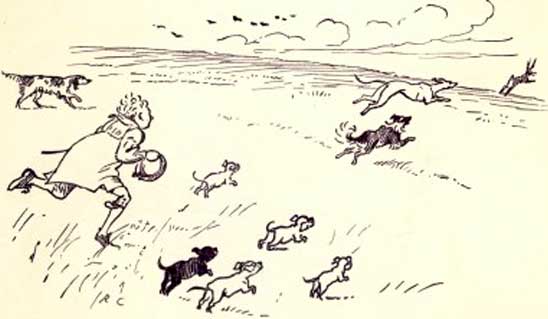 Caldecott's first commissioned book illustrations were for Harry Blackburn's The Harz Mountains: A Tour in the Toy Country (1873). Following the publication, Blackburn took a scrapbook of Caldecott's work with him to New York, where 22 of the drawings were published in Harper's New Monthly Magazine (June 1873). In 1874 Caldecott was asked by the engraver, J. D. Cooper, to illustrate a selection from The Sketch Book of Geoffrey Crayon, Washington Irving's observations in England from 1805-1815. The version extracted five chapters of Irving's original book and the result, Old Christmas (1876) used 120 of Caldecott's illustrations, published by Macmillan.
Plagued with poor health all his life, Caldecott moved from London to the French Riviera in 1877 to try to ease his health. He continued to produce illustrations for periodicals and books, including more collaborations with J. D. Cooper and Henry Blackburn. Caldecott's style was based on his ability to define the gesture of a person or animal with the flick of a pen. Caldecott's sketches are enhanced by his subtle use of brown outlines and pastel colors. Children's books, particularly the sixteen volume Picture Books, are undoubtedly his major contribution to English illustrations.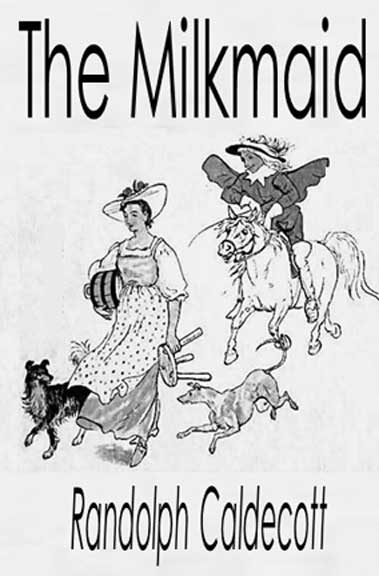 The Picture Books were based on English nursery rhymes and children's folk songs. They were engraved by Edmund Evans and published by George Routledge & Sons from 1878 through 1885. Many of Caldecott's illustrations for them draw upon his continued connection to the English countryside. The one that interests us the most, however, is The Farmer's Boy, published in 1881. It is a cumulative rhyme in the "Old MacDonald" tradition:
...When I was a farmer, a Farmer's Boy,
I used to keep my master's lambs,
With a baa-baa here, and a baa-baa there,
Here a baa, and there a baa, and everywhere a baa;
With a gee-wo here, and a gee-wo there,...(etc.)
Sheepdogs are featured in four of the illustrations for this volume, and they are all pictured above. Sheepdogs appear in others of the Picture Books, including The Milkmaid, left.
Caldecott moved several more times in his short life, to Kent in 1879, to Florence in 1881, and to Surrey in 1882. In the autumn of 1885 he moved to Florida with the hopes that the climate would ease his ever worsening health, but the trip was difficult and he died in February 1886 at just forty years old.
For more information on Randolph Caldecott
visit the Randolph Caldecott Society in the UK
or the Randolph Caldecott Society of America
Copyright 2014 by Carole L. Presberg
---
THE OTHER WEB PAGES WE MAINTAIN


---
These web pages are copyright ©2014 and maintained by webmeistress Carole Presberg
with technical help from webwizard David Presberg
ALL RIGHTS RESERVED
If you are interested in using ANY material on this website, you MUST first ask for permission.
You may email us at carole@woolgather.org.
---
Last modified: October 25, 2014 carole@woolgather.org