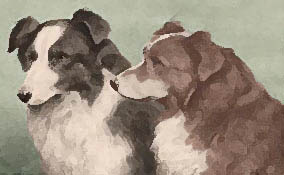 CARL BRADFORD
1907 - 1997
---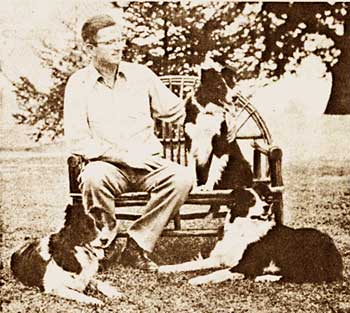 Abovet, Carl Bradford when he was a young man
with three of his Border Collies.
[This article, written by Nancy Keller, first appeared in two parts in The Shepherd's Dogge magazine, Volume II, Numbers 1 and 2, Spring and Summer 1989. It has been edited into a single article. It was orginally written in the present tense because Carl Bradford was still alive when it was written, but has been edited to read in the past tense here. Carl died shortly after this article came out. Thanks to Father John C. Jorden, Vicar of Holy Trinity Anglican Church in Milan, Ohio, and an old friend of Carl Bradford, for coming up with Carl's birth and death dates. ]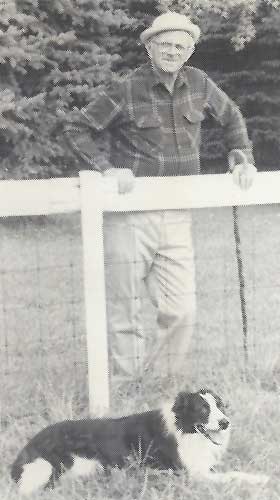 Left, Carl Bradford of Ashland, Ohio and Roy 117704, one of his team of working Border Collies (photo by Nancy Keller)

The quality of American sheep dog trial competitions began to inprove in the '60s, '70s, and '80s, with many fine dogs and their competent handlers participating in the sport. Yet the majority of Border Collie people most likely took the status of trials of that era for granted; in this day of clinics, training videos, trial circuits, and TV trials, it may be difficult to realize how far we have actually come.
Carl Bradford had the unique privilege of both observing and participating in the development of the Border Collie for over fifty years. Thoughout his adult life, Carl contributed to the Border Collie as a breeder, trial judge, and through his herding exhibitions. In all areas he exerted a lasting influence upon the breed's history and development in America.
Herding exhibitions were very significant in the development of the Border Collie in the United States after World War I. At that time the skill of using a Border Collie to work sheep was known to very few in this country, mostly hired shepherds or sheep breeders. Sheepdog trials were almost nonexistent, so the only exposure the majority of the public had to the Border Collie during that period was through herding demonstrations given at fairs and livestock exhibitions.
The best known of the early Border Collie exhibitors during the twenties was Sam Stoddart, who had imported Spot 308 after the dog had won the 1923 International Sheep Dog Trials in Britain. Mr. Stoddart gave a deomonstration at the Ohio State Fair one year during the twenties, and Carl Bradford, accompanying his father (who was a Dorset sheep breeder) to the fair, saw Border Collies work stock for the first time. He decided then that one day he would own one.
Carl bought his first Border Collie in 1936 shortly before he went to work in sheep research at the Ohio Agricultural Research and Development Center in Wooster, Ohio, which is now part of Ohio State University. As his position involved field research with sheep, he found the use of Border Collies to be of great help.
His supervisor at the Center was Don Bell, who was also deeply involved with Border Collies. Mr. Bess was one of the founders and the first secretary of the North American Sheep Dog Society (NASDS), a position he held until approximately 1952. He also bred and imported fine Border Collies. In addition, Mr. Bess wrote a number of articles about the breed for several publications.
Training the dogs posed some difficulty for Carl, for there was little opportunity for outside help in learning how to train a sheepdog. It should be remembered that at the time there were very few trials, and written material was virtually nil. Carl said he learned to train mainly by trial and error. He also felt demonstrations helped and he learned a lot by watching Sam Stoddard and Reginald Bolt, another well-known exhibitor at the time, work their dogs. According to Richard Karrasch, writing in the Southern Stockdog Journal in July/August 1988:
Carl kept several dogs in the kennels at his home on the station grounds. Some specialized as gathering dogs while others were trained specially for close inside work. Inside dogs would keep sheep back at feeding time or go over the backs to bring sheep from a pen or a blocked aisle, and were always better than an extra man with the chores.
Although Carl did run a couple of dogs at the Staunton, Virginia trial, he felt providing his family with a financially sound future was more important than becoming active in a sport. He he put it, he had to "turn time into money". In those days very little money was associated with sport of any kind.

Thus Carl became active in exhibition work beginning in the mid-1940s. He gave deomonstrations at numerous fairs, sports shows, and kennel club dog shows, mainly during his vacation time. His appearance at the 1950 Westminster Kennel Club show was a highlight, since the Westminster was and is the most prestigious of all dog shows in the USA. Carl also gave demonstrations at Cleveland, Boston, St. Louis, Buffalo, and Montreal dog shows. In 1968 Carl even gave a series of exhibitions in Bermuda.
Above, Carl Bradford demonstrating with five dogs at his farm in Ashland, Ohio.
Carl Bradford also contributed to the breed as a trials judge, judging at the old Bluegrass National Open Sheepdog Trial in Lexington, Kentucky. He or his sons judged the trial for all but one of the 25 years that it existed. The trial was held at the Walnut Hall Farm of Mr. & Mrs. H. Willis Nichols, who were prominent breeders of Standardbred horses and Shetland Sheepdogs. The Bluegrass was one of the outstanding trials in the country, and was a very successful event that had to be discontinued after 1983 for a number of reason.
As a result of the exhibitions, Carl and his dogs were featured in the media, most notably in the National Geographic series "Dogs Work for Man" and in the "Purina Farm Dog Book". A few of his dog also became movie stars.
Doubtless many people have had their first exposure to the Border Collie through Carl Bradford's demonstrations, and there is no way of knowing how many became Border Collie owners as a result of watching Carl put his dogs through their paces. Although Carl made a very positive contribution to the breed in terms of publicity, his role as a breeder of fine Border Collies may have had equal favorable impact.
Carl Bradford owned a number of dogs that contributed significantly to the development of the American bred Border Collie. Some of these dogs have been featured prominently in some outstanding lines. A number were registered under Carl's "Heathermoor" prefix. For a time Carl owned Reed 2717, who was a popular American sire prior to World War II. Reed was registered with the ISDS, which handled American registrations until World War II forced the formation of an American registry to take over in the event Britain was lost to the Germans. Reed was a full brother to two of Carl's other favorites, Sweep and Scotty. Carl remembered Sweep as being an especially fine exhibition dog, and her line continued through the Karrasch Mississinewa Prince Val.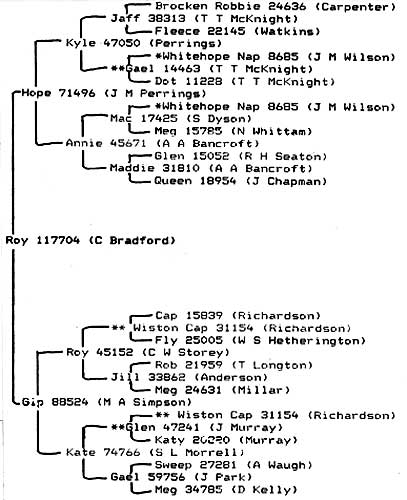 All of Carl's dogs were American bred until 1942, when he obtained Tot 3512 from Great Britain. Although Tot had to make her journey across wartime Atlantic, she arrived safely. However, the list of her commands was lost in tranition, so Carl had to train her over again. Carl also owned Towser 5324, a granson of J.M. Wilson's Cap 3036. Towser was a striking black and white dog whom Carl remembered as being calm and easy-going. He also owned Tess 7561, a daughter of William J. Hislop's excellent sire, Sweep 3834. Towser and Tess were the paternal great-grandparents of Dick and Ada Karrash's Mississinewa Prince Val UDT, who also carried a line to Tot.
Val was the first significant American Border Collie obedience winner. Prince Val was a dual-purpose Border Collie; in addition to his obedience career he was a fine herding dog who was used in a number of exhibitions. Although Prince Val was shown only sparingly in obedience trials by the Karrasch's then teenage son, Rick, he achieved a number of top honors, including two High in Trials a Chicago's International Kennel Club show. As a sire, Prince Val was nothing short of spectacular; he was the foundation sire of the Scherry Star, Wondereye, Dreamalot, Brightmoor, and Vikay obedience lines, producing many of the most outstanding obedience dogs in the country at the time.
Roy 11464 was imported by Carl in 1956, and he carried on through a number of lines. Roy was the sire of Lewis Pence's Rick NA10113, who won the Bluegrass trial in 1966. His daughter, Brightmoor's Lisa was the first AKC obedience trial champion of any breed to become the dam of another obedience trial champion (Brightmoor's Laurie). Rick's sister Penny was also trialled by Mr. Pence, and she was reserve champion in the 1966 North American Supreme. Dewey Jontz's Hemp Jr., a grandson of Roy, sired a number of excellent working dogs in the Midwest.
Above, the pedigree of Carl Bradford's last stud, Roy 117704, which shows lines back to Barbara Carpenter's Brocken Robbie 24636, J.M. Wilson's Whitehope Nap 8685, and John Richardson's Wiston Cap 31154

Spot 21963 was another outstanding sire owned by Carl Bradford. Spot was full brother to Tot Longton's "wise old" Rob 21959, who carried on through a number of prominent lines in the UK. Spot was a half brother to John Gilchrist's famous Spot 24981, as both Spots were sons of Gilchrist's Bob 12864. The dam of Spot 21963 R. S. Fraser's outstanding producer, Mindrum Nell 11106.
Bradford's Spot may best be known for his role in the Disney movie "Mountin Born". Spot was the canine star of this "Wonderful World of Disney" episode which aired in 1972, although three dogs were seen in the final footage. The moving involved the adventures of a young boy who assumed responsibility for the family flock when the elderly shepherd became incapacitated, and in the end Spot made a dramitic rescue when he went home for help when the boy was injured. In the movie, Spot had the opportunity to demonstrate his style and power, and there were several very good scenes of Border Collie working ability.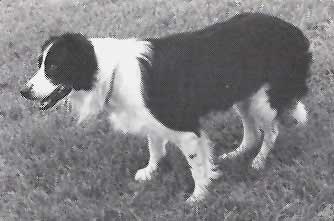 Carl retired from his position at the Research Center in the mid-80s and maintained a flock of Dorset sheep at his farm in Ashland, Ohio. His last stud dog was Roy 117704, who was also part of his demonstration team. Carl Bradford led a very unique life, and contributed much to the American Border Collie. He helped a lot of Border Collie people over the years and his contribution deserves appreciation and recognition. His efforts made it possible for American Border Collie people to progress and reach a high level of achievement.
Right, Carl Bradfors's Roy 117704 (photo by Nancy Keller).
[From an obituary sent by Father John Jorden comes this information about Carl: "Mr. Bradford was a contributing author to Hanry P. Davis' Book of Dogs, and his dogs were featured in the Encyclopedia Americana, National Geographic and many other magazines and periodicals." --ed.]
[Nancy Keller, from Corydon, Indiana, has been involved with Border Collies for a long time and wrote regularly for The Shepherd's Dog.]
Copyrighted 2008 by Carole L. Presberg
---
THE OTHER WEB PAGES WE MAINTAIN


---
These web pages are copyright ©2013 and maintained by webmeistress Carole Presberg
with technical help from webwizard David Presberg
ALL RIGHTS RESERVED
If you are interested in using ANY material on this website, you MUST first ask for permission.
You may email us at carole@woolgather.org.
---
Last modified: July 15, 2013 carole@woolgather.org