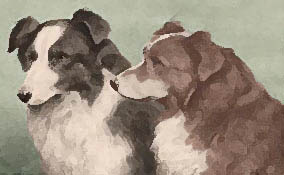 FOREVER FAITHFUL
MEMORIALS TO SHEPHERDS' DOGS
---
MY COLLIE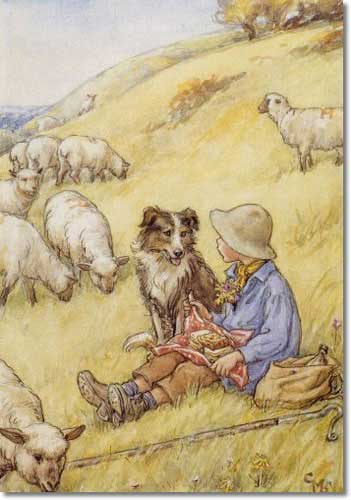 Above, an illustration from Simon The Swan
by Cicely Mary Barker (1895-1973)
I found this poem in a book attributed to E. J. Banfield (1852-1923. Banfield was born in Liverpool and emigrated to Australia with his father when he was a boy. He became a journalist and a naturalist. He is best known for his books on Dunk Island, a remote tropical island off the northeast coast of Queensland, Australia, where he and his wife lived for more than 25 years, and where he died and is buried.) However, the poem is most often attributed (in a longer form called "The Curate Thinks You Have No Soul") to St. John Lucas (1879-1934, an English poet known for his anthologies of verse) and sometimes even to "Anonymous". Whoever wrote it, it is a lovely memorial poem for a dog, full of Classical imagery.
I will not think those good brown eyes
Have spent their light of truth so soon,
But in some Canine Paradise
Your wraith, I know, rebukes the moon,
And quarters every plain and hill
Seeking its master--As for me--
This prayer at least the gods fulfill:
That when I pass the Flood, and see
Old Charon of the Stygian Coast
Take toll of all the Shades who land,
Your little, faithful barking ghost
May leap to lick my phantom hand.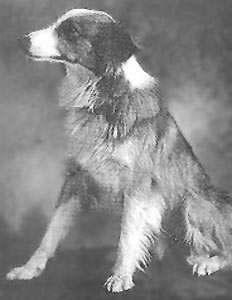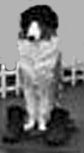 BOBBIE, THE WONDER DOG

Far left, a photo of Bobbie, and left, his memorial in the town of Silverton, Oregon.

One of the more famous dogs that has a rather mediocre memorial, is Bobbie, the Wonder Dog (also known as Silverton Bobbie, for the town of Silverton, Oregon, from where he came). Bobbie was reputed to be a "Scotch collie-English shepherd mix". Like Scotch, above, Bobbie was called a "natural heeler" by his owner, Frank Brazier, who claimed that he herded anything that moved from the time he was two months old. Bobbie had three accidents when he was young which left scars that helped identify him later. In 1923, when Bobbie was two years old, his family took him with them when they went to visit Indiana. While they were filliing their car with gas, Bob got into a fight with 3 or 4 local dogs, and they chased him off. The family searched for him, but couldn't find him. They spent three weeks in Indiana, and then, heartbroken, had to go home without their beloved dog.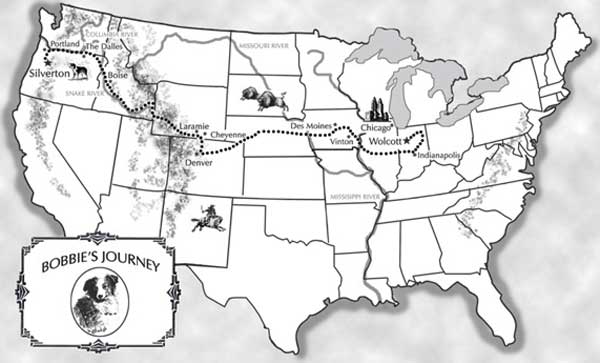 Six months to the day after Bobbie disappeared, he returned to Silverton, Oregon. The journey was almost 3,000 miles. He was mangy, thin, and his nails and pads showed he made the journey all the way on foot, crossing plains, desert, and mountains in winter to return home. After he returned, his family received letters from people who saw him, housed him, and fed him. People told the owners that he came home with them, accepted food and a nights lodging, and left in the morning before breakfast. They were told he was always in a hurry, and always looking for someone. Thereafter Bobbie received several honors, and presents came for him every day. People came to see him and had to have their picture taken with him. His story appeared in newspapers across the country.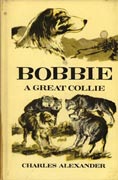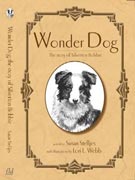 Bobbie may not have a grand monument (though we think he should), but his story has captivated many hearts, and one might say that the numerous books that have been written about him, including the two at left, are monuments to the heart of a dog. Every year on February 15th, the day that Bobbie returned to Silverton, Silverton honors this faithful dog with "Bobbie Day". Bobbie died in 1927 and was buried at the Oregon Humane Society's pet cemetary.
For more on Silverton Bobbie, go to Silverton Bobbie - The Wonder Dog at the Silverton, Oregon website.
---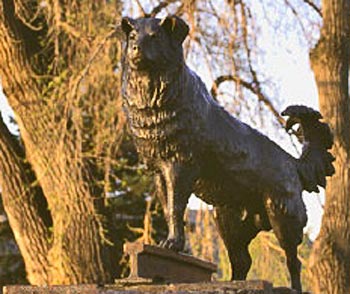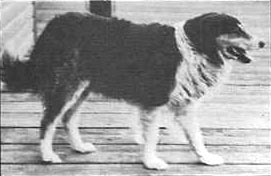 OLD SHEP

Far right, the memorial to Old Shep in Fort Benton, Montana; and right is a photo of Shep.
Old Shep is perhaps the most famous American faithful dog hero. He belonged to a sheep herder near Fort Benton, Montana. When his owner became ill in August 1936 he went into Fort Benton for treatment, and brought his sheepdog with him. A few days later he died, and his relatives back east sent for his body. Shep followed his casket to the railroad station and watched while it was loaded on board and taken away. For the next five and a half years, Shep greeted every train that arrived each day, expecting his master to return.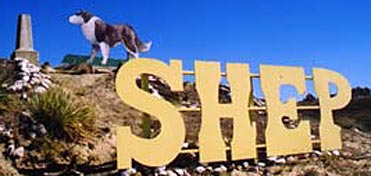 Left, this was the second Old Shep momument, on top of a "lonely bluff" overlooking the railroad.

Shep was featured in Ripley's Believe It or Not and became an instant folk hero. He began getting fan mail and gifts, similar to what Bobbie got. Travellers took detours just to meet him. In January 1942, Shep, now old and deaf, failed to hear the train and was killed. His funeral was attended by hundreds of people, and he had an honor guard and pall bearers. His eulogy was read by the town minister, and Shep was buried on a "lonely bluff" overlooking the railroad. The railroad company put up an obilisk with a painted wooden cutout of Shep, and in white stones spelled out his name. But eventually the passenger line stopped coming through Fort Benton, and the grave fell into disrepair.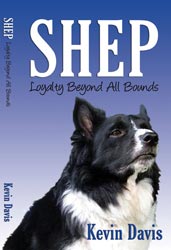 In 1988, interest in Shep was rekindled, the grave was repaired, and a new painted steel cutout of Shep put up. In 1994, Fort Benton put up a handsome new bronze statue of Shep standing on a rail. Old Shep shares their historic levee with the Lewis & Clark Memorial. There is also a new book out about him (right), and this faithful old dog is finally getting the respect he deserves.
For more information about Shep, go to The Story of Shep at the official website for the Community of Fort Benton, Montana. We are grateful to this website for the phrase "Forever Faithful". No matter how we tried we could not come up with a better one. We hope they don't mind that we borrowed it.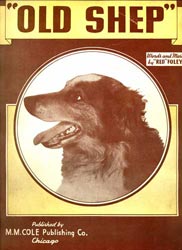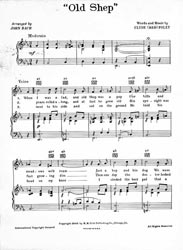 [A note on the song, Old Shep: This song was written by Red Foley and made famous by a number of "country" singers, most notably, Elvis Presley. It was copyright 1940, just after Shep became famous and just before his death, but, aside from its name, it shares nothing in common with Old Shep of Fort Benton. The words have nothing to do with this Old Shep. It is about a boy and a pup growing up together, eventually the dog growing old, and the heartwrenching decision to put him down. It's a great old song and a tear-jerker, but about some other faithful Old Shep. ]
---
SHEP STILL REMEMBERED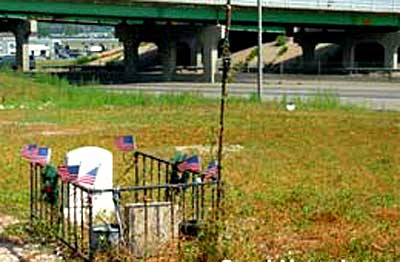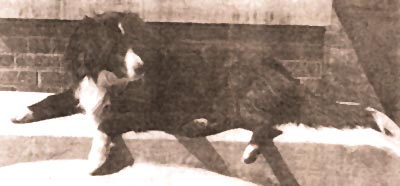 Here is another Shep, this one from Broomfield, Colorado.

Shep was described as a "black-and-white mongrel", but the photo of him (above) reveals a classically-marked Border Collie-type dog. He first appeared as a puppy to Coloradp State Department of Highways construction workers in 1950. They were building the Denver-Boulder Turnpike which would open for business in 1952. He is described as "a shy, unkempt puppy", but a former toll collector said that he began to come closer every day. Then on a particularly cold night, the dog let himself be enticed into a toll booth, where he slept on a blanket that night. Thereafter, "he remained a regular sight in and near the Broomfield tollhouse, both to highway workers and to the millions of travelers who cruised by for the next 12 years."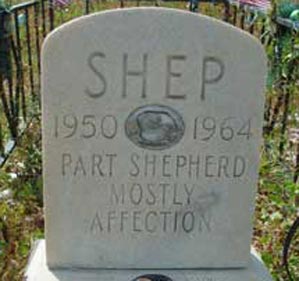 Shep became the turnpike mascot, so much so that his photograph was used on the state's financial statements for the turnpike in 1954 and 1955. The former mayor of Broomfield, Clyde Brunner, was also a veterinarian, and he patched Shep up when he got into trouble. Once Shep tangled with coyotes. One day they found him lying in the grass, having been shot in the leg for messing with a nearby farmer's animals. The tollhouse was his home, but he wandered the countryside, and liked to ride in the workers trucks or the highway patrol cars. Like Shep of Benton, Montana, or Silverton Bobbie, he got gifts and letters, and money from turnpike travelers, enough so that a checking account was opened in the local bank for him. Once a dog food salesman dropped off a case of food and said that when Shep ran out he'd bring some more.
Eventually, age crept up on him, with all it's attendant infirmities, and eventually the toll collectors had to have him put to sleep. Even after his death, his bank account continued to swell with generous motorists' donations, so that Shep's grave, on a hillside along the highway where he lived, was able to be provided with two gravestones and a wrought iron fence. One gravestone reads "Shep, 1950-1964, Our Pal" and the other is inscribed, "Shep, 1950-1964, Partly Shepherd, Mostly Affection. A painting by an artist is still displayed in the Colorado Department of Transportation offices. These are Shep's memorials.
Thanks to the Broomfield Enterprise, November 16, 1995 for the information used in writing this article.
---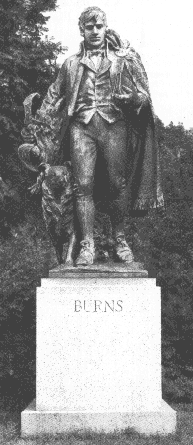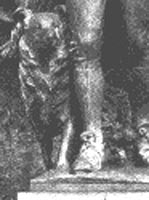 ROBERT BURN'S LUATH

Robert Burns, considered the greatest of Scottish poets, had a sheepdog called Luath, who he immortalized in his poen, "The Twa Dogs". According to Gilbert Burns, the bard's brother:
Robert had a dog, which he called Luath [after Cucullin's dog in Ossian's Fingal--Luath means swift or fleet in Gaelic], that was a great favourite. The dog had been killed by the wanton cruelty of some person [and] Robert said to me that he should like to confer such immortality as he could bestow on his old friend Luath...
Further fame was conferred upon Luath when Landseer painted "The Twa Dogs."

Because of his celebrated master's devotion for his dog, Luath gained renoun, and was included in two statues of Burns: Left, a photo of the statue of Robert Burns and his sheepdog Luath by sculptor Henry H. Kitson. The bronze statue was erected in 1920 on the Fenway in Boston, Massachusetts by the Burns Memorial Association of Boston in honor of the poet laureate of Scotland. The statue shows Burns tramping through the countryside, with Luath walking at his side. Another statue of Burns and Luath (right, in front of Greyfriers Church in Dumfries, Scotland) was erected in 1882. In that one, Burns is seated with Luath reclining at his feet, his head on his master's right foot.
---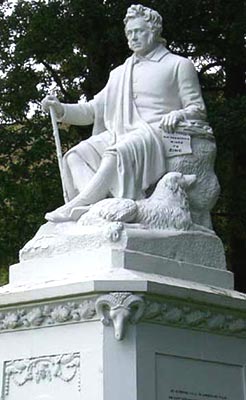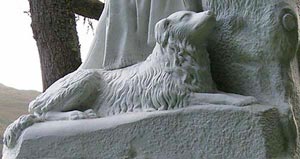 JAMES HOGG'S HECTOR

Another shepherd's dog that received acclaim due to a devoted owner, was Hector, who belonged to James Hogg, the Ettrick Shepherd. Hogg immortalized Hector in his poem, "The Author's Address to his Auld Dog Hector". Hogg had several sheepdogs in his lifetime, but Hector may have been his favorite. He also wrote about another dog, Sirrah, but in prose not poetry, so perhaps that's why Sirrah is less known, and it is Hector who shares the pedestal with his esteemed master. This monument to James Hogg and his dog Hector can be found at St. Mary's Loch, southwest of Selkirk in the Borders of Scotland.
---
We wish to thank RoadsideAmerica.com
for some of the information and photos on these two pages.
They are "Your Online Guide to Offbeat Tourist Attractions".

Copyright 2008 by Carole L. Presberg
---
Go to



MORE MEMORIALS TO SHEPHERD'S DOGS

Return to the BORDER COLLIE MUSEUM TOP PAGE
---
THE OTHER WEB PAGES WE MAINTAIN


---
These web pages are copyright ©2013 and maintained by webmeistress Carole Presberg
with technical help from webwizard David Presberg
ALL RIGHTS RESERVED
If you are interested in using ANY material on this website, you MUST first ask for permission.
You may email us at carole@woolgather.org.
---
Last modified: July 17, 2013 carole@woolgather.org