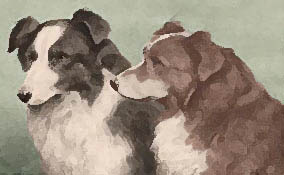 FOREVER FAITHFUL
MORE MEMORIALS TO SHEPHERD'S DOGS
---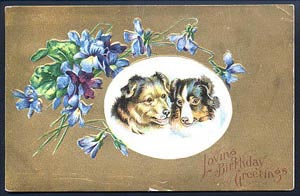 THE RAINBOW BRIDGE
"The Rainbow Bridge is a place often referred to by people whose pets have died. It is the theme of a work of poetic prose written some time between 1980 and 1992, which has gained wide popularity amongst animal lovers who have lost a pet...Although no major religion specifically refers to such a place for pets, the belief shows similarities with the Bifrost bridge of Norse Mythology...In Norse mythology Bifrost is a bridge connecting Midgard (the realm of mortals), to Asgard (the realm of the gods). The bridge is a rainbow and its guardian is the god Heimdallr. It was built by the Aesir." (wikipedia.org)
Just this side of heaven is a place called Rainbow Bridge.

When a pet dies (s)he goes to Rainbow Bridge. There are meadows and hills where they can run and play together. There is food and water and sunshine, and our friends are warm and comfortable. All those who had been ill and old are restored to health and vigor; those who were hurt or maimed are made whole and strong again, just as we remember them in our dreams.

The animals are happy and content, except for one small thing: they each miss someone very special who has been left behind.

Then, a day comes when one suddenly stops and looks into the distance. His bright eyes are intent; his eager body quivers. Suddenly he breaks away from the group, flying over the green grass. YOU have been spotted. When you and your friend are reunited, you cling together in joy, never to be parted again. The happy kisses rain upon your face; your hands again caress the beloved head, and you look once more into the trusting eyes of your pet, so long gone from your life but never absent from your heart. (anonymous)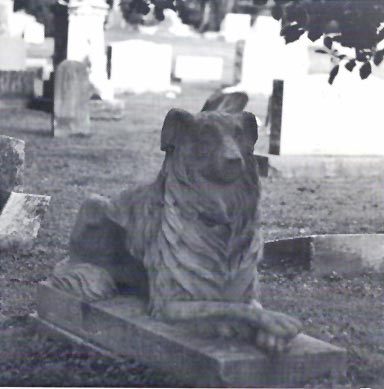 RAGLAND'S LOT

Left, Ragland's Lot (photo by Kathy Kemper)

Some sheepdogs are famous but have never had momuments erected to them. Old Hemp or Wiston Cap come to mind. Others, like Robert Burns' Luath or James Hogg's Hector, have been put forth by their masters' words, and share their eminent masters' commemoratives. Then there are those faithful dogs whose great loyalty have earned them fame and monuments of their own. Outstanding among those is Old Shep, the "Railroad Dog" from Fort Benton, Montana. Lastly come dogs whose deeds we know nothing about but who were important enough for someone to erect a public memorial in their honor.
On a trip across country in 1991, Kathy Kemper, a then Border Collie person from Texas, found a touching memorial to a Border Collie in the Frankfort, Kentucky, cemetery. The dog, Colby B. Ragland's Lot, guards the Ragland family plot in this cemetery, and the statue of him is dated 1919. Colby Ragland had two sons, Miles and Ashley, both killed in World War I, and there is a monument to them as well. The Raglands honored their loved ones, and obviously counted Lot among them. The Frankfort Cemetery is 50 miles east of Louisville and 25 miles west of Lexington. If you are in the neighborhood, go and see Lot. Make him famous by your visit.
In a bizarre twist on this story, I heard from Kathy Kemper recently, and she tells me that the dog that we called "Ragland's Lot" was not a dog named Lot at all, but an un-named dog, guarding Ragland's burial lot or plot. Still, we hope that the dog represented by this statue was indeed a beloved collie, sent to guard his master or mistress in the afterlife.
---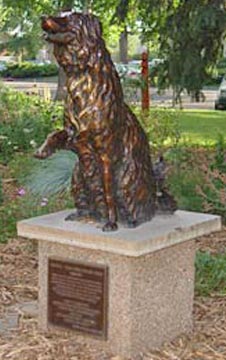 ANNIE, THE RAILROAD DOG

Left, a bronze statue of Annie

Annie, also known as "Annie, The Railroad Dog", died in Fort Collins, Colorado in 1948. A collie mix, Annie had been adopted by railroad men in 1934 when they rescued her, sick and pregnant, from a blacksmith shop. They nursed her back to health and she became a local celebrity and unofficial ambassador to Fort Collins. Visitors to Fort Collins were greeted as they disembarked from the train by Annie. It seems that no back story about her is known, but when she died her grave was marked and became an attraction. There is also a statue of her by local sculptor Dawn Weiner in front of the Ft. Collins Library which marks the start of an annual Friends of the Library Annie Dog Walk to benefit the library.
---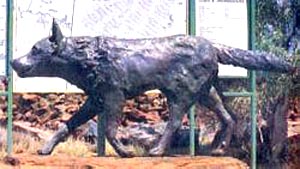 RED DOG, THE PILBARA WANDERER

Right, the statue of Red Dog
Red Dog (called "The Pilbara Wanderer") was a Kelpie- Australian Cattle Dog mix. He came to Dampier, Western Australia, in 1971 with his owners, but left them of his own accord to wander free. He soon made friends with John Stazzonelli, a truck driver for an iron ore company in the region and the two would be seen together all the time, as John's job allowed him to bring the dog along. When John died in 1975 a motorcycle accident, Red Dog began to wander again, sometimes taking a ride on the train. Locals insisted that he was looking for John. Many people fed him and gave him shelter. Red Dog died in 1979 after eating strychnine-laced bait left for dingoes and is buried in an unmarked grave, but a statue has been erected for him in Dampier. There have also been three books written about him: Red Dog by Nancy Gillespie (1983); Red Dog - The Pilbara Wanderer by Beverly Duckett (1993); and Red Dog by Louis de Bernieres (2001).
---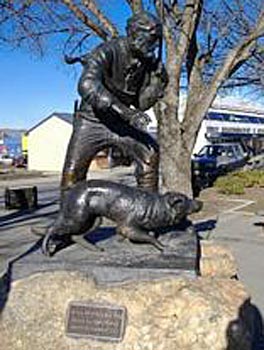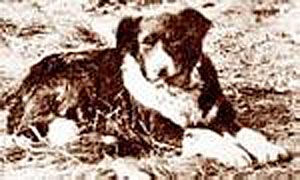 JAMES MACKENZIE'S FRIDAY

Far left, the bronze memorial to James Mackenzie and Friday; and left a photo of Friday.

This story has a bit of a twist. James Mackenzie was born in Scotland and immigrated to Australia in the mid-1840s, then went to New Zealand. He and Friday stayed on farms where sheep were kept in large flocks usually by only two men. During the night, Friday would gather the sheep, drive them away, and Mackenzie would then sell them for a good price (I'd say the other dogs were not doing their jobs). Unfortunately, though the scheme worked for many years, both Mackenzie and Friday were captured in 1855. Mackenzie escaped, but was recaptured a few days later when he returned to rescue his dog. Mackenzie was pardoned and deported, and though no one really knows what happened to Friday, it is said that she was given to someone else of possibly better moral character. Nevertheless, in this case both man and dog proved loyal to each other, because Mackenzie escaped not just the once, but several times, and each time was recaptured because he tried to rescue Friday. True to the old saw that everybody loves the underdog, the people of Fairlie, New Zealand erected a statue to Mackenzie and Friday. There is also a pass, a region, and a stream named after Mackenzie in New Zealand. To read more about James Mackenzie and Friday go to "JAMES MACKENZIE: A Story of One Man and his Dog".
---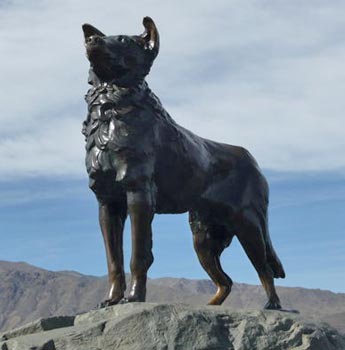 THE LAKE TEKAPO SHEEPDOG MEMORIAL

Right, the sheepdog memorial at Lake Tekapo, Mackenzie, South Island, New Zealand.
This statue, in the region of Mackenzie, is not to commemorate James Mackenzie and Friday, but to pay tribute to the role of the collie in working the high sheep runs of the area. Scottish shepherds came to New Zealand in the 19th century, bringing their collies with them, and they could not have successfully farmed this area without the help of those dogs.
---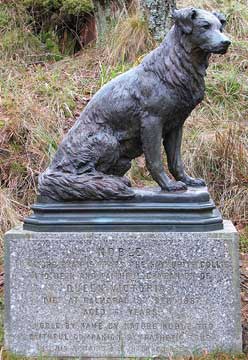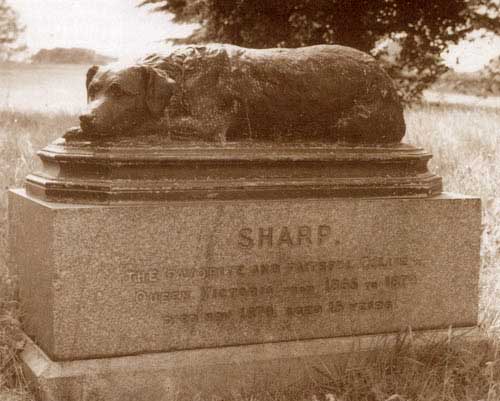 QUEEN VICTORIA'S SHARP AND NOBLE

Right, a memorial to "Sharp, the favorite and faithful Collie of Queen Victoria from 1866 to 1879." at Windsor. And left, the statue to Noble, another of Queen Victoria's favorite collies, at Balmoral. (This photo is copyrighted by Deeside Images and reprinted here with kind permission. For those of you who are interested in Scotland, you will want to visit the Deeside Images website. There are many gorgeous photographs of Deeside, Scotland, including a magnificent one of Queen Victoria's (now Queen Elizabeth's) Balmoral.) See our web page on Queen Victoria to read more about these and other collies belonging to the queen.


---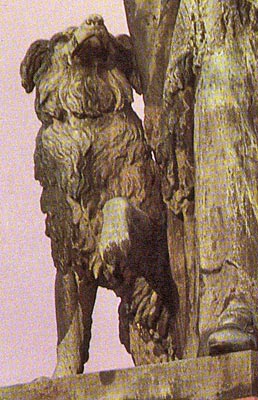 MEMORIAL TO FLORA MACDONALD

Left, the memorial to Flora MacDonald in Inverness, Scotland

The plaque on Flora MacDonald's statue has a quote from Samual Johnson. It says, "The Preserver of Prince Charles Edward Stuart will be menioned in History and if Courage and Fidelity be Virtues, mentioned with Honour". Flora, as you know, helped Bonnie Prince Charlie escape from Skye to France by taking him on board a ship in disguise, dressed as her maid. On her statue, she is seen gazing out across the sea (presumably to France) accompanied by a collie. As far as I know, Flora did not have a collie (well, she could have, but it isn't mentioned anywhere). The collie is likely there to represent "courage and fidelity".
---

ENOS MILLS' SCOTCH

Right, the memorial to Enos Mills and his collie Scotch in Estes Park, Colorado; and below, a photograph of Scotch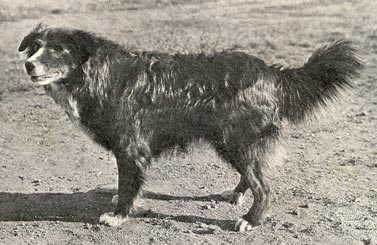 (This review of The Story of Scotch first appeared in The Shepherd's Dogge, Winter 1993/1994.)

Enos Mills was a naturalist who did most of his work in the Rocky Mountain Range. He obtained Scotch as a puppy from a farmer/acquaintence of his, and thereafter until Scotch's death at 8 years old from a freak accident, the two lived together in Mills' cabin at Long's Peak. Scotch accompanied Mills on his many treks through the Rockies in all weather. Mills describes Scotch as "an old-fashioned collie [with] a face that was exceptionally expressive and pleasing. He was shortnosed, and his fine eyes were set far apart [and he] was surprisingly agile and powerful for his size. His coat was a shaggy, silky black, with feet, tip of tail, and breast of pure white." He in fact, looked much like a Border Collie or English Shepherd.
Numerous tales are related by Mills in his book, The Story of Scotch (1909), which illustrate how clever Scotch was. He saved his master's life on a number of occasions and other people's as well. He was "efficiant in driving cattle, horses, and burros," said Mills, and "instinctively he was a heeler, and with swift heel nips quickly awakened and gave directions to lazy or unwilling critters." He would not do ordinary tricks like rolling over or shaking hads, but he loved games of "pretend" and liked to play soccer with his master.
My favorite story in this book is one in which he outwits a troupe of coyotes that had been hanging around the cabin and making nuisances of themselves. The incident showed a high degree of intelligence and the ability to work out a plan--the knack of "thinking for oneself" that we associate with a true working collie.
Enos Mills has been called "the father of Rocky Mountain National Park" and is something of a local hero. A statue of him and Scotch (above, far right), created by local sculptor, Bonnie Fulford, was erected in Estes Park, Colorado. There is a movement afoot to place one in the State House Sculpture Garden as well. For more information on this remarkable man, visit The Enos Mills Cabin Museum & Gallery. Mills wrote numerous books and you can read some of his stories there, including the one about Scotch and the coyotes, mentioned above.
Thanks to Randy Kurtz of Colorado Springs, Colorado, for pointing me at this memorial.
---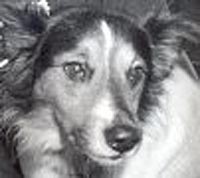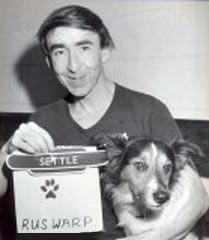 RUSWARP (pronounced 'Russup')
Left, Ruswarp, and right, Graham Nuttall and Ruswarp.

Many of these stories take place in the distant past, but this one shows that dogs, and we'd like to think particularly sheepdogs, show their courage and loyalty even in today's cynical and overpopulated world. Ruswarp was a Border Collie. From the photo, he appears to be either a saddle-patterned or a sable dog. The Settle-Carlisle railroad goes through the Yorkshire Dales and skirts the Lake District to reach Carlisle in the northwest of England. The Settle and Carlisle Railway Trust is restoring historic architecture and structures along the line.
[Much of the article excerpted from the Settle-Carlisle Partnership with permission.]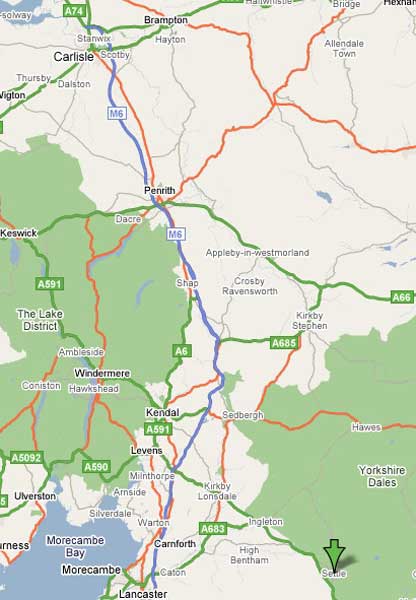 In the 1980's Britain's most scenic railway line, the Settle to Carlisle, was under threat of almost certain closure. Among the people who formed the group that was to save the Settle - Carlisle railway line was Graham Nuttall a very modest Lancashire man who shared with a growing number of people a sense of outrage that the S&C seemed condemned. He became the first Secretary of the Friends of the Settle - Carlisle Line.
Graham and his faithful Border Collie dog Ruswarp were inseparable. Ruswarp's paw print had the distinction of being the only canine signature of objection to the line's closure. He was deemed to be a 'fare paying passenger' about to suffer 'hardship' should the line close.
On 20th January 1990 Graham went missing. He and Ruswarp bought day return tickets from Burnley to Llandrindod Wells (in Wales), there to go walking in the Welsh Mountains. But Graham never returned. Neighbours raised the alarm. Searches by police and mountain rescue teams in the Elan Valley and Rhayader found nothing. Then on 7th April 1990, a lone walker found Graham's body, by a mountain stream. Nearby was Ruswarp, so weak that the 14 year old dog had to be carried off the mountain. He had stayed with his master's body for eleven winter weeks.
Ruswarp was cared for by a local vet--fees paid by the RSPCA, who quickly decided to award Ruswarp their Animal Medallion and collar for 'vigilance' and their Animal Plaque for 'intelligence and courage'. Ruswarp lived just long enough to attend Graham's funeral. An eye-witness at the funeral gives this account:
The elderly couple who had Ruswarp in their care sat at the front and, as ever on public occasions, Ruswarp sat patiently and slilently throughout the service, but as the curtains closed on the coffin there was a long low muffled howl. It was uncanny, Ruswarp's farewell. I shall never forget this... (from The Westmorland Gazette, April 25, 2008, courtesy of Francis Pritchard, Hon. Treasurer, Friends of the Settle-Carlisle Line)
Ruswarp doesn't have a memorial statue yet, but the Friends of the Settle-Carlisle Line have decided to commission a life size bronze statue of Ruswarp, to be placed at the refurbished Garsdale Station, under the watchful eye of the signaller. They have launched an appeal to pay for the sculpture, which will cost around £8,000 (approximately $16,000).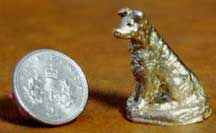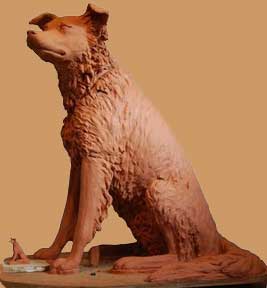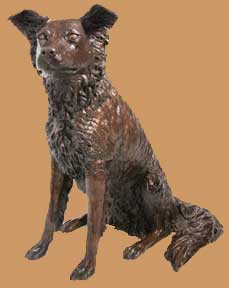 If you would like to contribute to The Ruswarp Memorial Fund you may go to the Friends of the Settle-Carlisle Line website.
UPDATE: March 30, 2009--Ruswarp now has his memorial statue, sculpted by The Sculptress JOEL, who specializes in bronze animal sculptures. It will be in place and unveiled on Saturday, April 11, 2009. There will also be a tiny brass Ruswarp trinket for sale as a memento. The full story of the production of the statue can be seen on the blog, Ruswarp, The Story and Sculpture. You may still contribute to the Ruswarp Memorial Fund.
Above, left, the mini-Ruswarp brass trinket with a UK 5p coin for size. Above, right, the bronze statue of Ruswarp, and far right, the clay sculpture from which it was cast with the mini-Ruswarp clay statue from which the memento was cast.
---
We wish to thank RoadsideAmerica.com for some of the information and photos on these two pages.
They are "Your Online Guide to Offbeat Tourist Attractions".

Copyright ©2008 by Carole L. Presberg
---
ONE MORE MEMORIAL UPCOMING: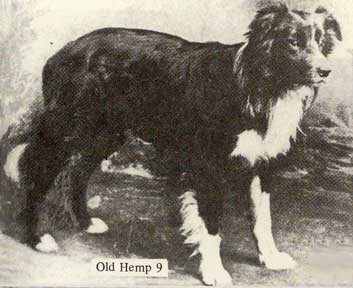 Recognition for the Border Collie's Heritage

There is a Campaign abroad, spearheaded by Simon Falla and Lyndsey Lowe,
to obtain a permanent symbol of recognition, respect, and thanks
for the contribution made by Adam Telfer and Old Hemp to the legacy of Border Collie
in the form of a plaque or similar memorial
in the village of Cambo, Northumberland, the birthplace of Old Hemp.

If you would like to contribute to this Campaign or simply leave a word of support
visit Recognition for the Border Collie's Heritage on Facebook

The Campaigne also now has a website: www.adamandhemp.co.uk
---
Return to



MEMORIALS TO SHEPHERD'S DOGS

Return to the BORDER COLLIE MUSEUM TOP PAGE
---
THE OTHER WEB PAGES WE MAINTAIN


---
These web pages are copyright ©2013 and maintained by webmeistress Carole Presberg
with technical help from webwizard David Presberg
ALL RIGHTS RESERVED
If you are interested in using ANY material on this website, you MUST first ask for permission.
You may email us at carole@woolgather.org.
---
Last modified: July 17, 2013 carole@woolgather.org