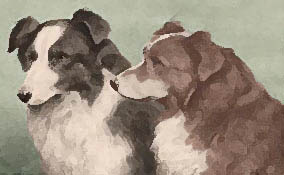 ---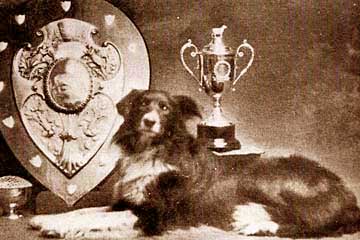 SPOT 308
Born 1920
INTERNATIONAL SHEPHERDS' CHAMPION 1922
SCOTTISH NATIONAL CHAMPION 1923
SUPREME INTERNATIONAL CHAMPION 1923

---
Many Border Collies deserve a page of their own, and they have it in Barbara Carpenter's two important books, The Blue Riband of the Heather: Supreme Champions 1906-1995 (Farming Press, 1995 and 1996) and National Sheepdog Champions of Britain and Ireland 1922-1993 (Farming Press, 1994). But here, where space is limited, we have chosen to pay tribute to Spot 308.
Border Collies have always been both imported into the USA, and bred here, starting with an imported dog or dogs. Both practices are still going on today, and dogs whose influence could once have affected all the dogs in a population (like Wiston Cap, for example, who appeared in almost every Border Collie's pedigree in the USA in the 1960s and '70s) have less of an effect today when there are so many Border Collies being bred from a much larger gene pool. Furthermore, the dogs who had an influence on the early Border Collies are so far back in the pedigrees that their genes have been diluted for generations and have little or no effect on the breed today.
Spot 308 is considered the progenitor of the Border Collie in the United States and was entered into the stud book of the North American Sheepdog Society (NASDS) posthumously as Number 1. Due to his many achievements and the influence he and his two respective and respected owners had on the early Border Collies and their handlers in Great Britain and Ireland, in Australia, and in the United States, we feel that Spot 308 deserves his own web page here. Whether his genes have influence anymore is a moot point. We don't honor George Washington because his blood flows in our veins.
G. P. BROWN and SPOT 308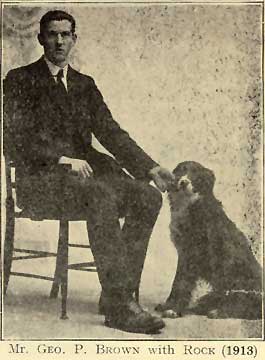 Left, G. P. Brown with Rock in a 1913 photograph from a newsletter, possibly an ISDS newsletter, not dated (thanks to Barbara Carpenter).

George P. Brown was the youngest of three brothers who were well-known shepherds and sheepdog handlers from the Borders of Scotland. According to Barbara Carpenter (National Sheepdog Champions), he was "a kindly man who thought much of his dogs". To illustrate this trait, she tells this story: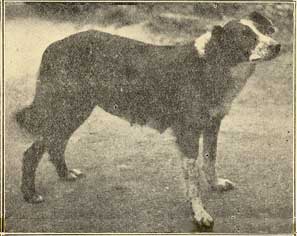 [He] sold a promising bitch, Tess, to a butcher in Perth. Eight weeks later he heard scratching at the door. Opening it he was amazed to see Tess, weary and thin, her paws raw and bleeding, but gently waving her bedraggled tail. She had travelled around two hundred miles over strange country and had either to swim the Firth of Forth or to creep across the railway bridge, which allows little room between the rails and the parapet if a train passes. One can only wonder how she found her way and overcame the many obstacles that must have faced her. Needless to say, the butcher had his money returned, and Tess remained with the gentle man she loved so dearly.
Right, Old Nell 305, the subject of the story below.
Another story about Mr. Brown and his dogs is from the newsletter mentioned above, and is told by his older brother, Andrew Brown of Riggsyde, Lauder. Here is an excerpt:
...An agricultural show and collie trial was to take place at Duns, now the county town of Berwickshire. To get to Duns my two brothers and I had to secure a pony and trap...to Earlson...where we would get a train to...Duns. We arrived at Earlston a short time before the train was due, and we adjourned to a hotel to pass the time.

Tom and I had four dogs. Being young dogs, we had them on leads, but Nell, the dog my younger brother George had, being an old dog, was allowed to run loose. We went into the hotel by the front door, but Nell instead of following us slipped away...When we came out, where was Nell?...The whistling and shouting went on for a short time, but alas! Nell never turned up and we had to go for the train very down-hearted.

...The train was a short distance away from the station when, looking out of the window, I saw a dog bringing sheep quietly down a field. I saw at once it was Nell...I pulled the communication cord, let down the window, and shouted Nell. She heard my voice and came running for the train. She reached the train before it came to a standstill, and I will never forget watching her speeding along the side of the train. I thought every minute she would be cut to pieces with the wheels for she made frantic efforts to jump up at me. Eventually the train stopped, the door opened, and in popped Nell.

...When the time came for George and Nell to take the field, Nell, seemingly nothing the worse of her escapade...was awarded the first prize....
Nell (305) was Spot's great granddam.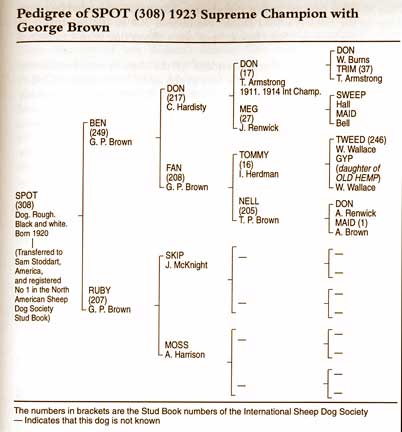 Pedigree from Sheepdogs, My Faithful Friends by Eric Halsall.
George Brown greatly admired Isaac Herdman's Tommy (16), and, says Sheila Grew ( Key Dogs from the Border Collie Family, 1984, Payn Essex Ltd.) he was "impressed with his working style":
Tommy was bred in 1903 by William Wallace of Otterburn, Northumberland, a great sheepdog breeder and handler and sold to Isaac Herdman of Wark-on-Tyne, Northumberland...He had a nice nature, but was a very keen and powerful worker and somewhat difficult to control...Tommy (16) is probably the most important "Key dog" in the Border Collie family. Of the four main breeding lines starting from Old Hemp (9), the originator of the present day breed of Border Collie, three lines go through Tommy.
George Brown's own successful breeding line started with Nell (205), who was a daughter of Brown's Old Maid, number 1 in the ISDS stud book, bred to Herdman's Tommy. A daughter of that breeding, Fan (208) was the granddam of Spot 308.
According to Sheila Grew,
Spot (308)...had a kind nature and got on well with people and children. George Brown trained him himself and found him an easy dog to train. He used to train all his young dogs on ducks before taking them to sheep.

[Spot] had a fine natural outrun and was good at singling and holding sheep. He worked cattle as well as he did sheep and was a useful dog at lambing time...

His trial successes started early in his life. He was born in 1920 and in 1921 he wond a 1st and a 3rd at Kingussie Sheepdog Trials...He also won the Open and confined classes after a 20 mile run to the trial field at St. Boswells. In 1922 he won the International Shepherd's Cup for George Brown and in 1923 he won the Supreme International and the Scottish National Championships. He was still only 3 years old, and up to this time he had not been used as a stud dog. He was sold to Mr. Sam S. Stoddart when about 3 1/2 years old and exported by this renowned shepherd to the USA, where for many years he featured in the blood lines of many of their famous dogs.

In the few months before he left this country he was bred to 25 bitches, and from these matings came some outstanding progeny.

...Spot 308 was an exceptional dog, a true Border Collie of the original type. It was sad that he had to leave [Britain] when so young.
George Brown was the first shepherd to win the Supreme Championship.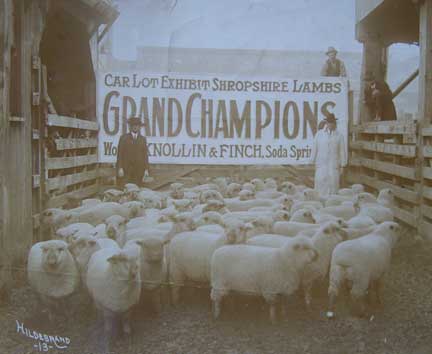 Above, Sam Stoddart (at the top of the picture) at the sheep championships
at A. J. Knollings, Pocatello Idaho, where he worked in the 1920's.
According letters he wrote home, Sam was being paid $100/month to be a shepherd then.
(I am very grateful to to Jim Stoddart of KIlbarchan, Scotland,
a great grand nephew of Sam Stoddart, for information and photos for this article.)
SAM STODDART and SPOT 308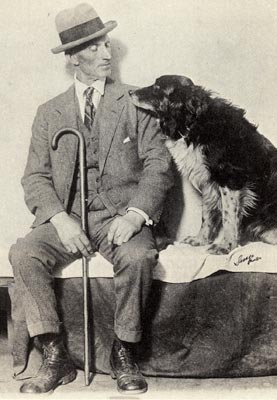 Left, Sam Stoddart and Spot 308. (Photo from A Lifetime With the Working Collie by Arthur Allen, self published 1979.)

Registered Border Collie (though they were still called sheepdogs) began being imported into the United States soon after the International Sheep Dog Society (ISDS) was formed in 1906, but the dog considered to be the first significant import was Spot 308. As we have seen, Spot was bred by G.P. Brown of Berwickshire, England, and was born in 1920. He won his first trial in 1921, the International Shepherd's Cup in 1922, and became International Supreme Champion in 1923. He had a tremendous influence on the breed in Britain, Australia and the United States. In 1923, when he was three years old, he was sold to Sam Stoddart, a Scottish shepherd living and working in the United States.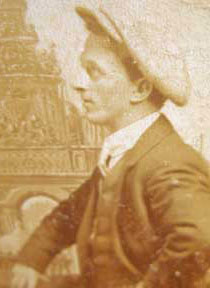 Right, a detail of a photo of Sam Stoddart when he first arrived in the United States. (Thanks to Jim Stoddart.)
According to Jim Stoddart, Sam's great grand nephew, "Samuel Secombe Stoddart was born on May 3, 1874 at Bassendean Hill (a large family estate in the Scottish Border near Berwick-upon-Tweed). He was one of ten children born to George and Christina Stoddart." At least three of the brothers came out to work on stock ranches in Idaho, including Sam, William, and James, Jim Stoddart's father. James and William returned to Scotland to look after their father prior to his death in 1940. Sam married in Idaho and settled in New Hampshire, where he passed away in 1963 at the age of 89.
Sam Stoddart became one of the leading breeders of registered Border Collies in America in the 1920s and '30s. He gave sheepdog deomonstrations at agricultural fairs, and many of the early sheepdog handlers were introduced to the breed by seeing him there. Sam is considered by many to be the founder of the North American Sheep Dog Society (NASDS), and Spot 308 became North American #1 posthumously.
Eric Halsall, in his book Sheepdogs My Faithful Friends (Farming Press, 1980, 1996), sums up the effect Spot 308 had on the fledgling American sheepdog trials scene:
Right, Sam Stoddart with a flock of sheep in Idaho. (Thanks to Jim Stoddart.)
Old Hemp spread his influence to America as to Australia through George Brown's Spot, the 1923 International champion and great-grandson of Herdman's Tommy, who went out in 1923 to Sam Stoddart, a Scottish shepherd who had emigrated to Brandford in New Hampshire. Sam Stoddart imported many other quality dogs from his homeland...

...Spot could be classed as a canine genius. He was brainy and quick to learn his craft so that he allied experience with intelligence. His eyes were gentle, yet commanding, and he was lithe and faster than any sheep that tried to outwit him. He was medium coated and feathered and typical of the Scottish dogs of his age. On his mother's side were ten collie generations of the Browns of Oxton...

...[A] report states that "1500 people from all over New England gathered at Fillmore Farms in old historic Bennington, Vermont, on 16 August 1928 to witness the first sheepdog trials ever held in the United States", in which seven dogs competed. The winner was Preston J. Davenport of Colrain Massachusetts with Spottie, a son of Sam Stoddart's Spot. Spot himself was fourth on that occasion.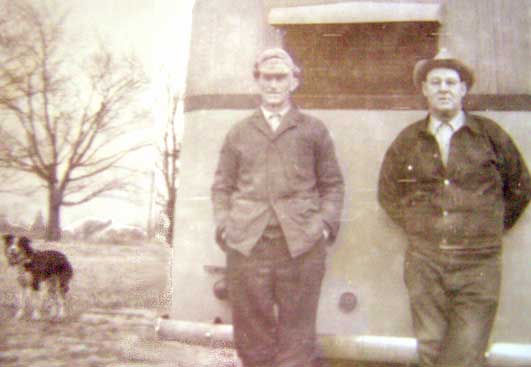 Left, a photo of Sam Stoddart (center) with George Jones and Nell, ca. 1946, Weiser, Idaho. Jim Stoddart says the photograph "states that Sam worked for Jones the whole season of 46/47."

A number of prominent breeders of the time began to perpetuate Spot's influence by breeding his progeny. There followed in the wake of Stoddart and Spot a great deal of interest in sheepdog trialling among sheepmen and agriculturalists in the United States.
Don Bell, the first secretary of NASDS, believed Spot 308 had a considerable impact on the American Border Collie:
Descendants of the renowned Spot symbolize the influence 'Old Spot' had on the quality of the good registerd dogs in North America. It is significant that one rarely finds an outstanding American-bred registered dog which does not carry some of the 'blood' of Old Spot. What Britain gave up, we gained, and it is proper to pay tribute to the founding sire of the registered Border Collies in North America." (The Sheepman, February 1945.)
Copyright ©2009 by Carole L. Presberg
---
THE OTHER WEB PAGES WE MAINTAIN


---
These web pages are copyright ©2013 and maintained by webmeistress Carole Presberg
with technical help from webwizard David Presberg
ALL RIGHTS RESERVED
If you are interested in using ANY material on this website, you MUST first ask for permission.
You may email us at carole@woolgather.org.
---
Last modified: July 14, 2013 carole@woolgather.org