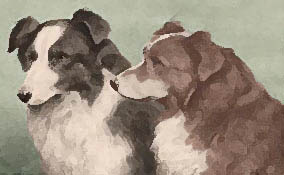 GOURLAY STEELL, RSA
1819 - 1894
---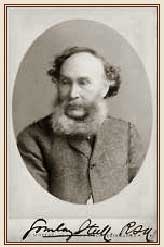 ---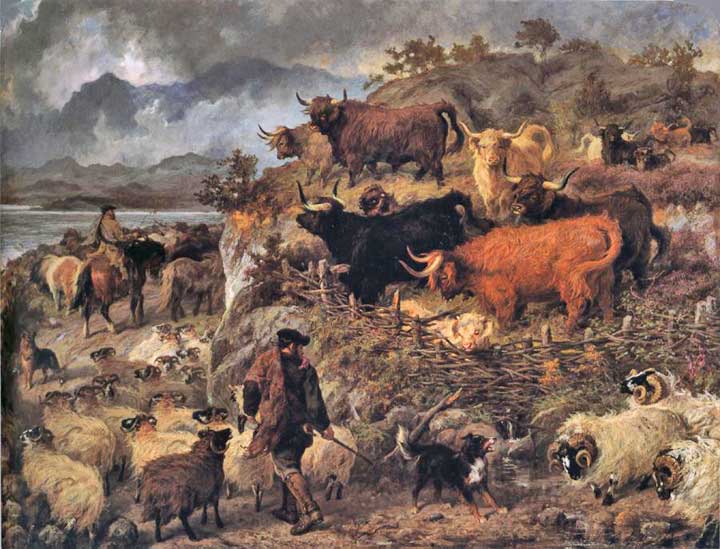 Above, "A Highland Parting" by Gourlay Steell, R.S.A. Compare this painting with "Flood in the Highlands" by Landseer.
Though the weather is different, the two paintings have a similar feeling of controlled chaos. This one shows drovers
and their dogs leaving with animals that are being taken either to market, or possibly to the sheilings for the summer grazing.
Ponies are included, perhaps for the drovers' use later on, or perhaps for sale as well. Others animals are being left behind.
Highland cattle are held behind a not very secure-looking wattle fence and appear ready to leap from the hill and join the drove,
and one of the shepherd's dogs, a handsome tricolor, is dispatched to turn back the rams. There are two dogs
in this painting, the tricolor, and what appears to be a sable or saddle-patterned sable, further along the road.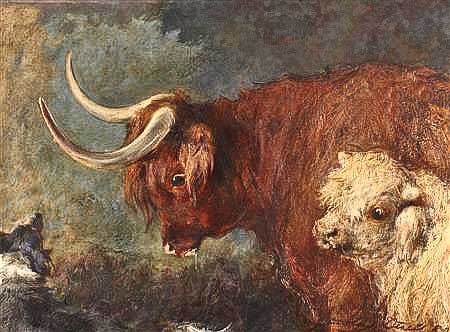 Right, a study for "A Highland Parting" (above) in which Steell has the Highland cow and her calf facing one of the collies (in the lower lefthand corner). Compare the cow in this picture with the one in the completed painting, and also compare the lovely portrait of the calf in this one. (Thanks to Penny Tose for sending this one to me.)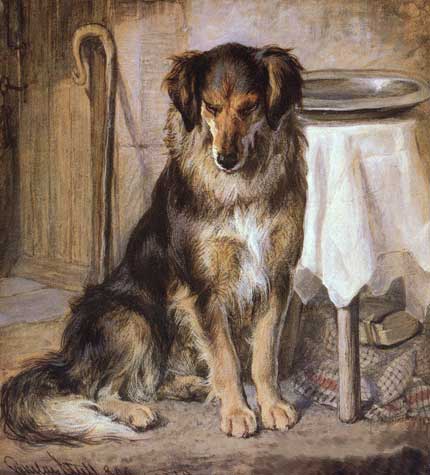 Left, a lovely painting of a collie, called "Patient Vigil", reminds one of some of the work of Edwin Douglas. Also see the painting below, right, called "the Elder's Collie". Seems to be the same collie in a slightly different and expanded view.



Gourlay Steell was born in Edinburgh into an artistic family. His father, John Steell was a wood carver and engraver, and his brother the well-known sculptor, Sir John Steell. Steell taught modelling classes early in his career, and sculpted models of animals that were reproduced by silversmiths, but his passion was painting. He was accepted into the Trustees' Academy School of Art in Edinburgh where he studied with Robert Scott Lauder (1803-1869) who was the acknowledged influence on many of the most successful Scottish artists of the Victorian era.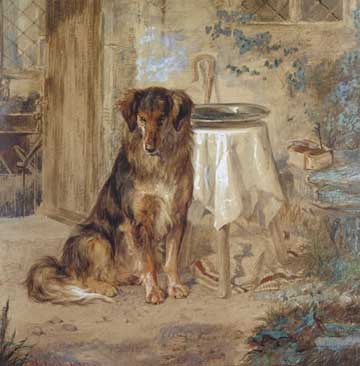 Right, "The Elder's Collie"
When he was just thirteen years old, Steell began exhibiting at the Royal Scottish Academy and in his early years was often employed as a woodcut illustrator for books. At twenty-seven Steell was elected an Associate of the Academy. In 1859 Steell became an Academician (Member of the Royal Scottish Academy) and the official painter of the Highland Agricultural Society. He succeeded Landseer as Animal Painter for Scotland, a position appointed by Queen Victoria and one he held until his death. He also became the Curator of the National Gallery of Scotland in 1882, a position which he also held until his death.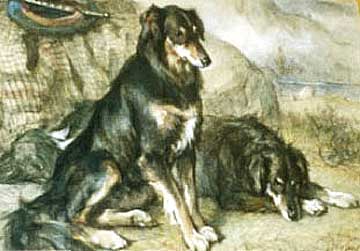 Left, "Young Noble and Bess" a painting made for Queen Victoria showing two of her best loved collies shown in a shepherding setting (created by the tam and plaid on the rock behind them) and held in the Royal Collection.

Steell became very well-known as an animal painter and monopolized animal painting in Scotland, so much so that he became known as the "Scottish Landseer". Many of his paintings remain in the Royal Collection today. William Secord, in his 1992 book, Dog Painting 1840-1940: A Social History of the Dog in Art says of Steell "his work includes some of the best dog portraits completed in the Victorian period".
Below, this one is called "Deer Stalking in Jura". The dog is not one usually associated with deer stalking,
as it is a black-and-tan collie However, working sheepdogs were often used for a variety of purposes, even hunting.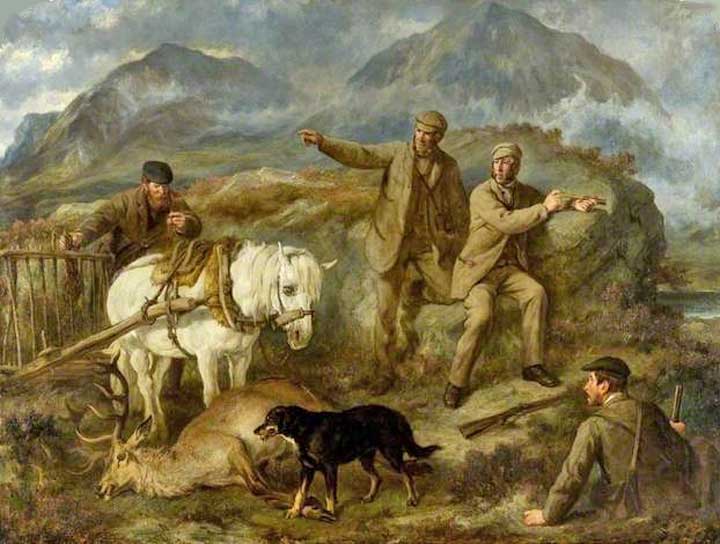 (Thanks to Linda Rorem for calling my attention to these magnificent paintings.
The Highlands of Scotland were terribly alluring to Victorian artists, and for that we are sincerely grateful.)
---
THE OTHER WEB PAGES WE MAINTAIN


---
These web pages are copyright ©2014 and maintained by webmeistress Carole Presberg
with technical help from webwizard David Presberg
ALL RIGHTS RESERVED
If you are interested in using ANY material on this website, you MUST first ask for permission.
You may email us at carole@woolgather.org.
---
Last modified: July 31, 2014 carole@woolgather.org