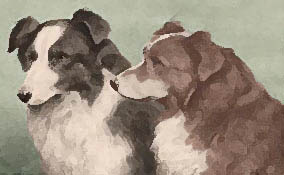 WALTER HUNT
1861-1941
---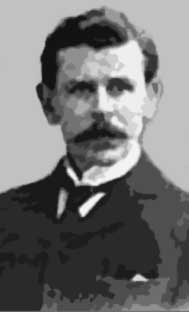 Above, a photograph of Walter Hunt.
Walter Hunt was born into a family of painters. His father, Charles, was a genre artist (a painter of everyday scenes) and his brother Edgar was well-known for his paintings of animals. So, too, was Walter Hunt an animal painter, best known for his paintings of farmyard scenes. He began painting when he was thirteen years old.
Hunt lived in the Wandsworth district of South West London. He exhibited his works at the Royal Academy beginning in 1881 when he was twenty years old (though some biographers put it at 1885). As can be seen on this page, his collies were magnificent; however, they were mostly early show types even when they were shown in working situations, with a somewhat larger body, a slightly longer nose, a bigger coat, and a longer, arched neck.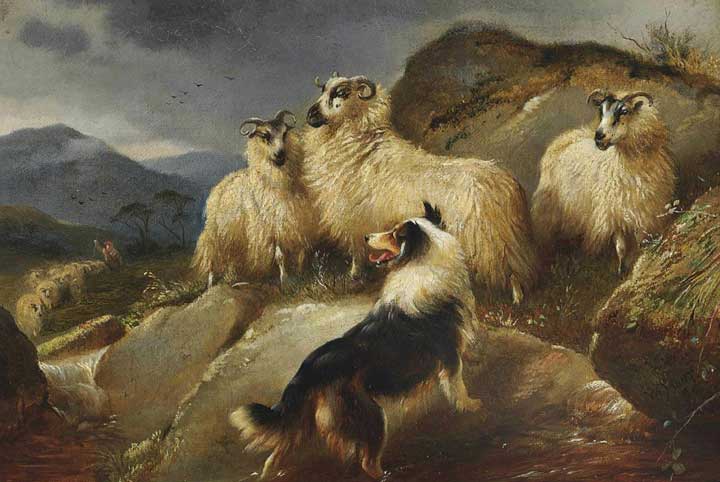 This superb painting is called "The Lost Sheep". Compare it to the paintings of Richard Ansdell. It is very like many of Ansdell's paintings, although the "actors" in Ansdell's "plays" (which include the features of the landscape) stand out sharply, whereas, in Hunt's they are more rounded and soft. You don't feel urgency in this painting like you would in a similar one by Ansdell. If you make the comparison you will immediately see the difference between the working type and the early show type of collies.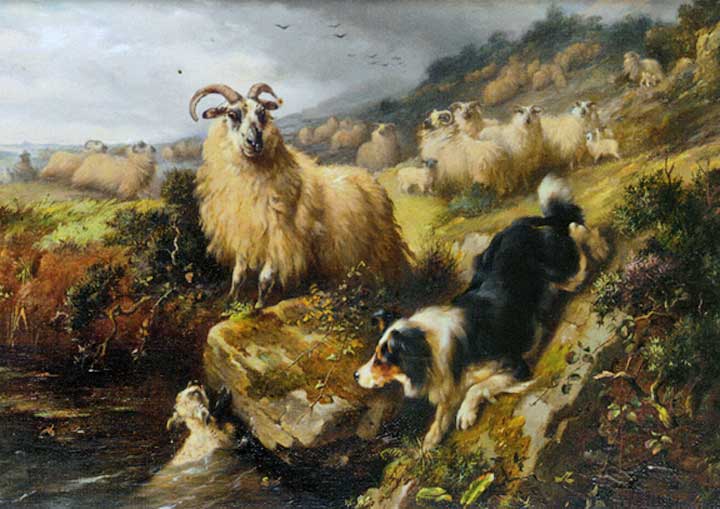 This one is called "The Rescue". Here we see a young lamb that fell into the river and can't get out. The dog will save it. There is more emotion in this painting than in the previous one, for a group of ewes with lambs in the background also appear agitated by the scene being played out in the foreground. This dog is gorgeous, but he is huge! In both paintings there is a shepherd if you look closely. They seem incidental.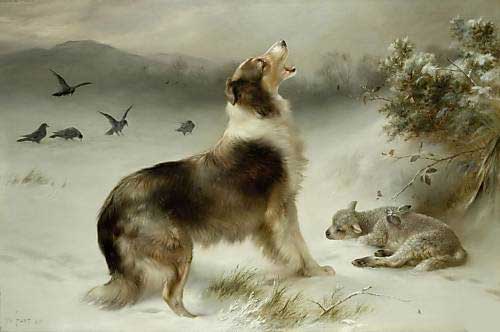 This painting has been attributed to Albrecht Schenck, but current thinking has it attributed to Hunt. On my Schenck page I express the opinion that I believe it to be a Schenck rather than a Hunt, but I have recently begun to doubt, which is why I have included it here. Readers can make up their own minds. It is called "Found" or "Found by a Friend".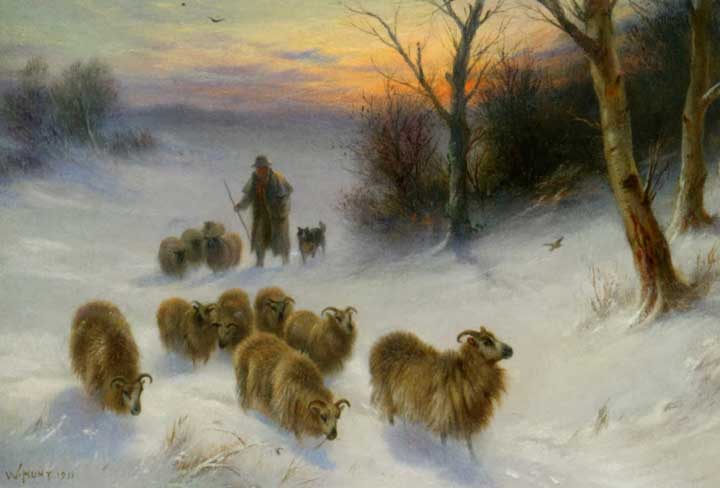 When I first saw this painting, I thought it was by Joseph Farquharson. It is so very like many of the paintings of Farquharson. However, Hunt's signature is clearly in the lower left-hand corner with a date of 1911. It is called "Gathering Strays". Make the comparison and see what you think. It is most likely that Hunt was influenced by Farquharson, who was 15 years his senior.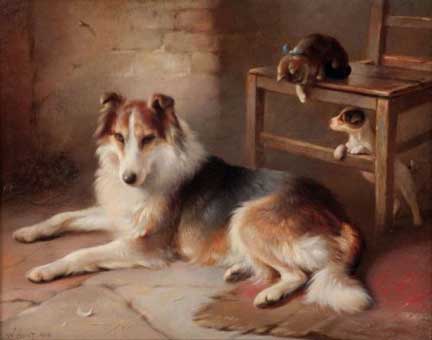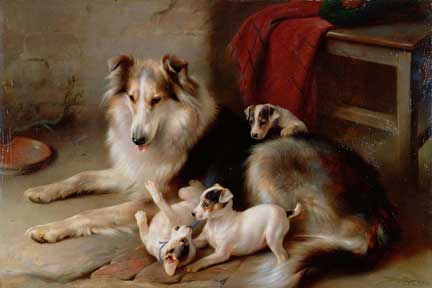 In these two paintings, Hunt drops all pretense of portraying working collies and shows two show-type collies, though in a humble stone cottage setting. The one on the left is called "Collie" and is perhaps the earlier of the two. The one on the right is called "Collie with Fox Terrier Pups", and while the setting is the same, I think it is the better of the two. Of both of these, but particularly in the first one, I think I can safely say there is an Edwin Douglas influence.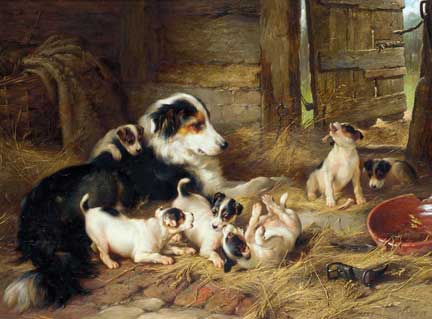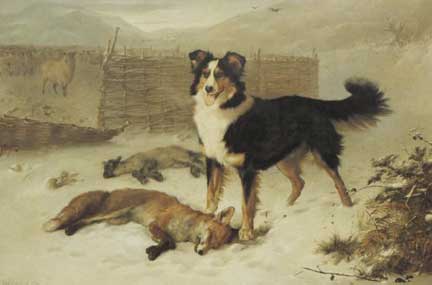 The painting on the left is called "The Foster Mother and shows a collie, more of a working type, with Fox Terrier pups, a favorite theme of Hunt's. On the right is another one in which the collie is more of a show type. It is called "Retribution" and I think it speaks for itself.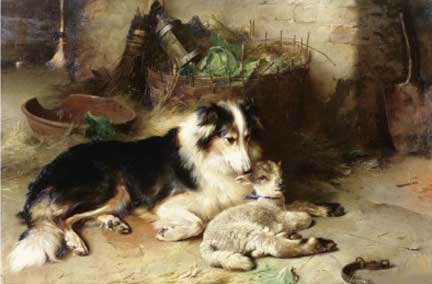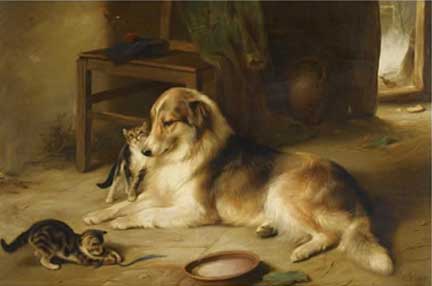 Finally, I have saved my two favorite Walter Hunt paintings for last. On the left is "Motherless", often called "The Shepherd's Pet" (by which I believe the lamb is meant). This lovely tricolored dog could be a show type collie, but given her size in comparison to the lamb, she looks more like a Sheltie to me. The picture is full of little hints to the setting: the broom in the corner, the broken pottery dish which is probably the vessel for feeding the dog, a basket full of cabbages, a lantern, a shovel, and a dog collar. This is definitely the stone cottage of a shepherd, though Hunt does not include the shepherd's plaid and tam as in the painting at the right.

The painting on the right is called "Highland Hearth" or sometimes "Friends". This I, believe is Hunt's most successful portrayal of a working type collie, and the shepherd's tam is on the chair to prove it.
Copyright 2014 by Carole L. Presberg
---
THE OTHER WEB PAGES WE MAINTAIN


---
These web pages are copyright ©2014 and maintained by webmeistress Carole Presberg
with technical help from webwizard David Presberg
ALL RIGHTS RESERVED
If you are interested in using ANY material on this website, you MUST first ask for permission.
You may email us at carole@woolgather.org.
---
Last modified: April 13, 2014 carole@woolgather.org