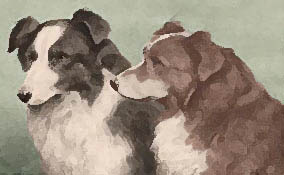 ---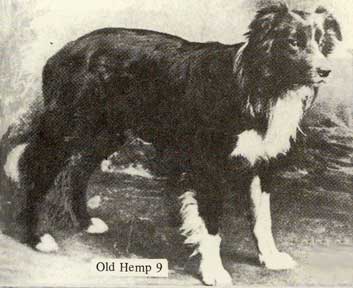 OLD HEMP
1893-1903
THE PROGENITOR OF THE BORDER COLLIE BREED
He flashed like a meteor across the sheepdog horizon.
There never was such an outstanding personality.

— Eric Halsall quoting Adam Telfer,
Sheepdogs--My Faithfulful Friends,
---
Recognition for the Border Collie's Heritage

There is a Campaign abroad, spearheaded by Simon Falla and Lyndsey Lowe,
to obtain a permanent symbol of recognition, respect, and thanks
for the contribution made by Adam Telfer and Old Hemp to the legacy of Border Collie
in the form of a plaque or similar memorial
in the village of Cambo, Northumberland, the birthplace of Old Hemp.

If you would like to contribute to this Campaign or simply leave a word of support
visit Recognition for the Border Collie's Heritage on Facebook

The Campaigne also now has a website: www.adamandhemp.co.uk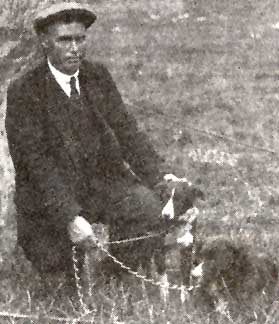 Left, Adam Telfer shown at the "post-war" (WWI) International.
(Photo from Key Dogs From the Border Collie Family, Volume II.)

Sheila Grew, in her book Key Dogs From the Border Collie Family Volume II (1985 Payne Essex, Ltd.), says
A century ago many of the [working collies] were hard, powerful rather unfriendly dogs, difficult to control and rough with the stock, but their keen handling instinct, their concentration and great power over the sheep or cattle were such useful assets that it seemed worth trying to find a milder natured type of working collie to cross with these hard dogs.

One shepherd who took a keen interest in breeding and training sheepdogs was the Northumbrian, Adam Telfer, and he succeeded in finding the right blend of the two types of dog. The result was a canine genius called Hemp...who died in 1903 having sired over 200 puppies and founded the modern breed of Border Collie.
Old Hemp is considered the progenitor of the Border Collie breed. The reason he isn't number 1 in the stud book of the International Sheep Dog Society is that he was added after the book began and early numbers were already given out. Grew goes on to say that Adam Telfer "was not just a great breeder, he was also an expert trainer and handler, and seemed to have a great understanding of his dogs and their behavior." Telfer won the International Championship twice, once with Sweep (21), a grandson of Old Hemp, who himself won the International twice, in 1910 with Telfer and 1912 with Thomas Armstrong. In fact, Grew tells us, "Of the first 29 winners of the International Championships after 1906, all, with only one or two exceptions, carried the blood of Hemp on one or both sides of [their] breeding."
The Telfer family were all involved in sheepdogs and sheepdog trialling. Walter, Adam's father, won the first sheepdog trial held in England in 1876. Adam was born in 1859 in Redesdale, Northumberland and was a hired shepherd and later a farmer. His sons, Adam, Walter, and Jack were also shepherds or farmers, and Adam Telfer, Jr. was also a sheepdog triallist.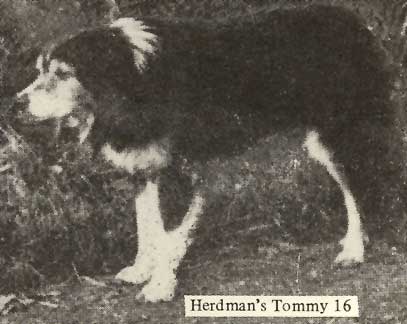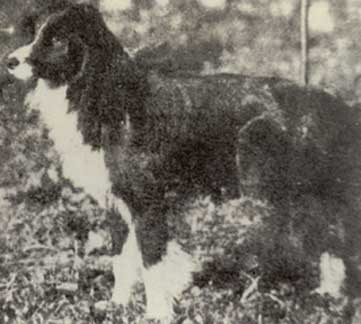 Left, Herdman's Tommy (16) a grandson of Old Hemp. Photo from Key Dogs of the Border Collie Family.

Right, Sweep (21) a grandson of Old Hemp. Photo from Blue Riband of the Heather.
Nothing is said about a trialling career for Hemp, though Telfer must have trialed with him, for where else might other handlers have seen him and admired his herding skills? Halsall says:
None who saw him [work] ever forgot him...Almost faultless in [his] work...he was born with such knowledge of his craft that he never required training and went to his work naturally. He ambled after sheep when only six weeks old...
Hemp obviously came too soon for the Nationals and International, as the ISDS was not formed until 1906, three years after Hemp's death; but much is said about his working capability and his ability to pass it on to his descentants.
Halsall calls Hemp a "sheepdog genius" who became the premiere stud dog in the Borders, but he goes on to say that without Telfer, a man dedicated to the improvement of the working collie and one who knew how to go about it, there would have been no Hemp and consequently none of his progeny. It was Hemp's progeny that went on to affect the breed for generations in Britain as well as abroad, through his grandsons, Sweep (21) and Herdman's Tommy (16).
Although the generations have diluted the effect of Old Hemp's genes on the much larger population of Border Collies being born today, Old Hemp, a shining example of the breed, will always be remembered as the father of the Border Collie breed.
To learn more about these "key dogs of the Border Collie family" and their legacy, I recommend the following books:
Barbara Carpenter, The Blue Riband of the Heather--The Supreme Champions 1906-1995, Farming Press, 1989 and 1996.

Barbara Carpenter, National Sheepdog Champions of Britain and Ireland 1922-1993, Farming Press, 1994.

Sheila Grew, Key Dogs of the Border Collie Family, Volumes I & II, Payn Essex Ltd., 1981 & 1985.

Eric Halsall, Sheepdogs--My Faithful Friends, Farming Press, 1996.

Eric Halsall, Sheepdog Trials, Patrick Stevens, 1982.

John Herries McCulloch, Sheep Dogs and Their Masters, The Moray Press, 1938, and in a new edition by Toft East Publishing, 1994.

John Herries McCulloch, Border Collie Studies, WSN, originally 1951
---
Copyright ©2009 by Carole L. Presberg
---
THE OTHER WEB PAGES WE MAINTAIN


---
These web pages are copyright ©2013 and maintained by webmeistress Carole Presberg
with technical help from webwizard David Presberg
ALL RIGHTS RESERVED
If you are interested in using ANY material on this website, you MUST first ask for permission.
You may email us at carole@woogather.org.
---
Last modified: July 15, 2013 carole@woogather.org