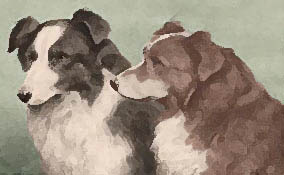 ---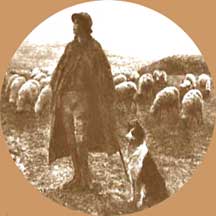 BLACK-AND-WHITE BORDER COLLIES
[Please read our policy on accepting photos of dogs]
---
CLASSIC BLACK & WHITE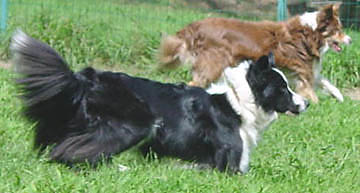 Left, the editor's classically marked Kate. Classic markings on a Border Collie consist of a black body with a white blaze on the face, white collar and chest, white socks (of any length), and a white tip on the tail. These all come in different widths, from very narrow to very wide. Notice, I said "classic", I did not say "standard". In working dogs, there are no rules for how a dog should look, and the wide range of colors and markings in Border Collies make them very interesting.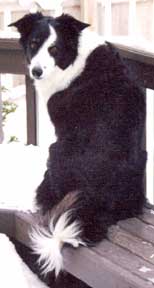 Right, classically marked with an
interesting blaze, Kallie belonged to
Elaine Wood from Batavia, Illinois.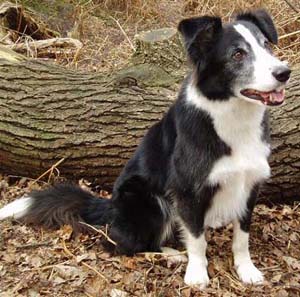 Another classically marked Border Collie, Sam, left, whose owner Lisa Locke lives in Stafford, England, and felt he was "going grey" prematurely at 5 years old. But Border Collies seem to begin getting white hairs mixed in with the black on the face at different ages, some more quickly than others, Just like some humans will go grey young.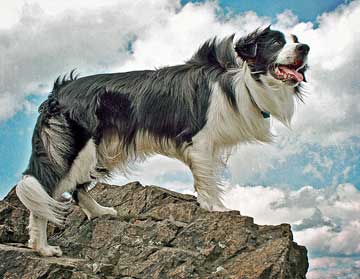 Barney, left, belongs to Megan Price, of Yorkshire, England. He is not only classic, but very old-fashioned-looking, with his tag ears and large size. Megan says he weighs 55 lbs and is 23 inches at the shoulder. Here, he looks on top of the world.
---
WHITE FACTORING
I'm using the term "white factoring" to indicate a dog with more than the "normal" amount of white than is indicative of "classic collie markings" that I mention above. White collie markings are usually referred to as "Irish spotting". White factored dogs might be better classified with patterned white dogs, for, as Dr. Sheila M. Schmutz, professor of Animal Science at the University of Saskatchewan, says on her website, invoking Øjvind Winge,* "Winge does not attempt to assign multiple alleles to the Spotting locus but simply suggests that a recessive allele controls 'white-mottling' in dogs and when it is homoygous [from both parents] the dog has a considerable amount of white." Or perhaps patterned white dogs should not have a category of their own.

[* Winge, Øjvind. (1950) Inheritance in dogs: with special reference to hunting breeds. Ithaca, New York. Winge was a Danish biologist whose work was of critical importance to the basic formation of early genetic engineering. (Wikipedia.com)]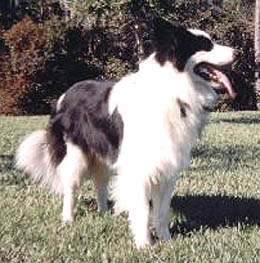 Chili, left, belonging to Stephen Jones of Port Orange, Florida has a beautiful full wide white collar. That, and the white spot on his flank is an indication of white factoring.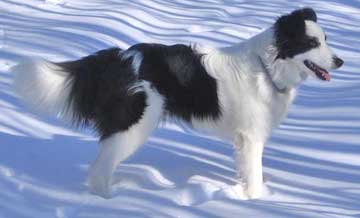 Jade, right, is also white factored. Dogs with white factoring often have white stripes across the shoulders (a very wide collar might just run into this stripe so that there is no separation between the collar and stripe) and/or a stripe across the hips (or just a large spot, as in Chili, left). Jade belongs to Lisa Dyer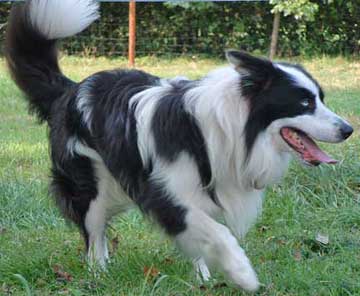 Here's another white-factored black and white dog with more evident striping across his shoulders and hips. I've unfortunately lost his owner's email. I think he is Joep belonging to Mike Bassion. If you notice this, Mike, please send me an email so that I may correct this if necessary.
---
ETC.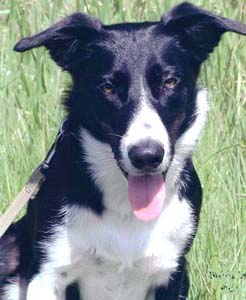 Of course, black and white dogs come in all coat types, and at left, is Jordy, a smooth-coated Border Collie, who lives in Floral City, Florida, with owner Judy Hoy. Jordy has interesting "fly away" ears, and almost no blaze, and his collar does not go all around his neck.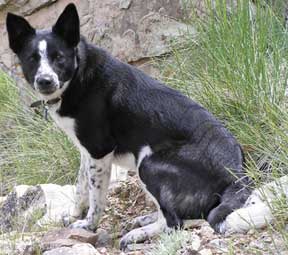 Another smooth-coated black and white Border Collie is Mica, right. He belongs to Paula Gunther-Gloss of Wyoming. Mica has a full blaze, but he is heavily ticked on his white areas, and he has a narrow collar.
---
[Please click on the pictures to get to a page.]

BLACK-AND-WHITE

BLUE

BRINDLE

LILAC

MERLE

PATTERNED WHITE &
COLOR-HEADED WHITE

RED
(CHOCOLATE /BROWN)

SABLE

SADDLE
PATTERNED

SPLIT FACE
(HALF-WHITE FACE)
& ALL-WHITE FACE

TAN
(AUSTRALIAN RED)

TICKED

TRICOLOR
& BLACK-AND-TAN

COAT TYPE

EYE COLOR

EARS

FOCUS
---
THE OTHER WEB PAGES WE MAINTAIN


---
These web pages are copyright ©2013 and maintained by webmeistress Carole Presberg
with technical help from webwizard David Presberg
ALL RIGHTS RESERVED
If you are interested in using ANY material on this website, you MUST first ask for permission.
You may email us at carole@woolgather.org.
---
Last modified: July 19, 2013 carole@woolgather.org