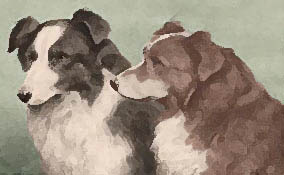 ---


"Highland Shepherd" by Richard Ansdell, RA

PATTERNED WHITE
AND COLOR-HEADED WHITE
BORDER COLLIES
[Please read our policy on accepting photos of dogs]
---
A dog with more than the "normal" amount of white than is indicative of "classic collie markings" of white collar, blaze, feet and tip of tail, may be described as being "white factored" or "patterned white" or "piebald. White collie markings are usually referred to as "Irish spotting". Dr. Sheila M. Schmutz, professor of Animal Science at the University of Saskatchewan, says on her website, invoking Øjvind Winge,* "Winge does not attempt to assign multiple alleles to the Spotting locus but simply suggests that a recessive allele controls 'white-mottling' in dogs and when it is homoygous [from both parents] the dog has a considerable amount of white." One person called this kind of coat a "splash coat" and that is a very apt description.
[* Winge, Øjvind. (1950) Inheritance in dogs: with special reference to hunting breeds. Ithaca, New York. Winge was a Danish biologist whose work was of critical importance to the basic formation of early genetic engineering. (Wikipedia.com)]
---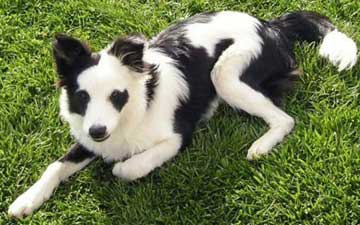 Left, is Zeenah, a patterned white dog belonging to Tori Cimorelli.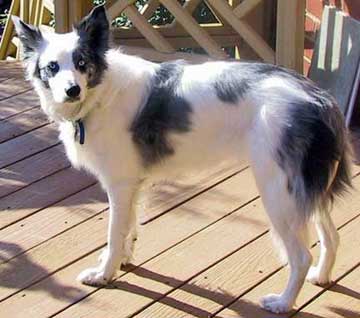 This girl, right, is a patterned white blue merle. Her name is Meg and she belongs to Fran Wingardner.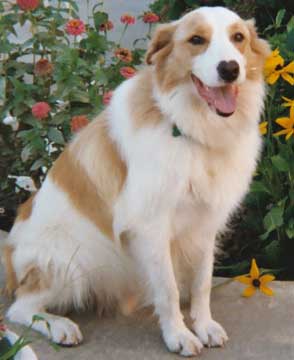 Bandit, left, is a patterned white tan or Australian red. He belongs to Gina Taylor of Tyler Texas.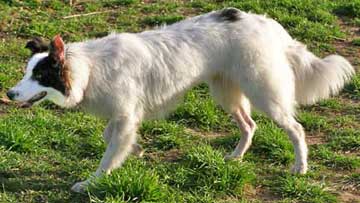 Right, Chianna, a mostly white with only black ears and a black spot on her rump, belongs to Fred Carter from Sacramento, California. He says that while his black and white male overheats easily, white Chianna does well in the California heat.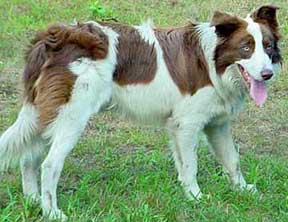 This is Flynn, left, a New England Border Collie Rescue dog and red patterned white.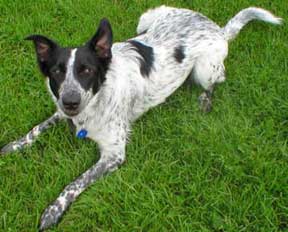 Fosta, right, belongs to Julie Malane of the UK. He is patterned white and heavily ticked.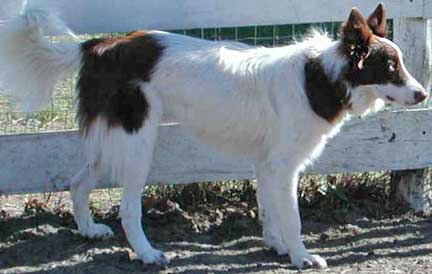 Haggis, left, a red patterned white, has interesting markings. He appears to have a red collar. He belongs to Susan Burke.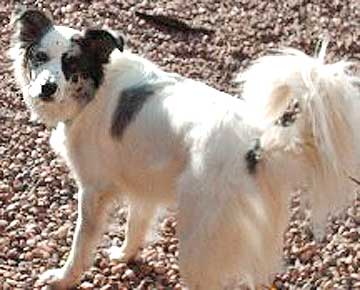 Another patterned white blue merle, Harvey is also tricolored and ticked. He belongs to Steph Scarnall of Leicester, England.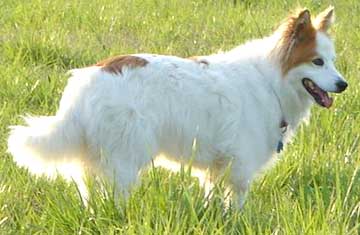 This handsome tan and patterned white dog was Lenny, who belonged to Carol in Raleigh, North Carolina (sorry, we don't have her last name). Lenny died in August 2008.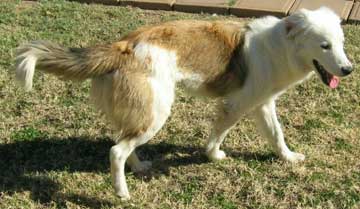 Pamina, right, is a very interesting patterned white. She is sable. Pamina lives with Dasha Hlavenka, and several other dogs and cats with equally operatic names, in Phoenix, Arizona.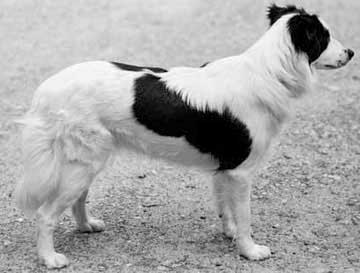 This is Shy, left (Not A Bit Shy is her full name) who belongs to Linda Kasparek. What a beautiful creature she is, black and white with very unusual markings.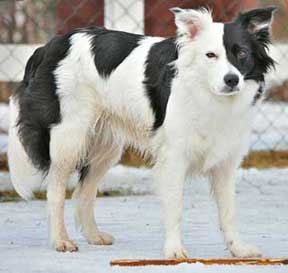 And here's another lovely black and white, with a beautiful split face. She is Thea, and she belongs to Lisa Bjons from Mora, Sweden.
---
[Please click on the pictures to get to a page.]

BLACK-AND-WHITE

BLUE

BRINDLE

LILAC

MERLE

PATTERNED WHITE &
COLOR-HEADED WHITE

RED
(CHOCOLATE /BROWN)

SABLE

SADDLE
PATTERNED

SPLIT FACE
(HALF-WHITE FACE)
& ALL-WHITE FACE

TAN
(AUSTRALIAN RED)

TICKED

TRICOLOR
& BLACK-AND-TAN

COAT TYPE

EYE COLOR

EARS

FOCUS
---
THE OTHER WEB PAGES WE MAINTAIN


---
These web pages are copyright ©2013 and maintained by webmeistress Carole Presberg
with technical help from webwizard David Presberg
ALL RIGHTS RESERVED
If you are interested in using ANY material on this website, you MUST first ask for permission.
You may email us at carole@woolgather.org.
---
Last modified: July 20, 2013 carole@woolgather.org