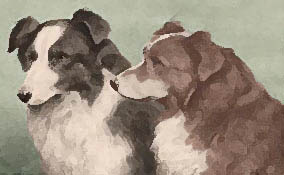 ---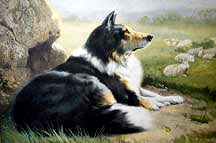 "Efficient Guardian", artist unknown.

TRICOLORED
BORDER COLLIES
[Please read our policy on accepting photos of dogs]
---
Along with black-and-white, tricolor (black, white and tan) is the most common Border Collie color. Tricolor dogs also come in every other color (red, blue, lilac, merle, etc.) as long as there is also white and tan. Tricolor is sometimes called "tanpoint", indicating tan eyespots, tan cheek spots, and tan on the legs. Not all tricolored dogs have these tan points, though. At one time, however, true black-and-tans were also common, but today you hardly see a black-and-tan Border Collie without at least some white, usually some white on the chest and legs, and therefore they are really tricolored. However, it's possible that in black-and-tan dogs there is a modifying gene that limits the amount of white. We have given the black-and-tan dogs a page of their own. English Shepherds and Welsh Sheep Dogs still come in this truly old-fashioned color. Saddle-patterned dogs are also considered tricolored by some, and they are, but we have given them a page of their own because a different gene is involved in the development of the saddle pattern.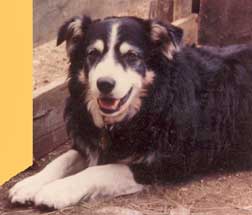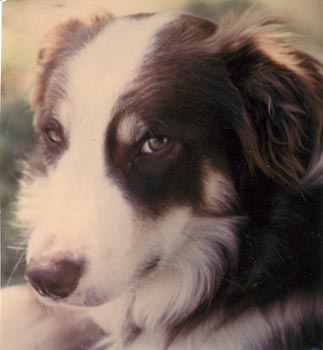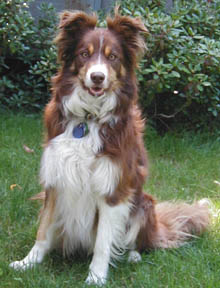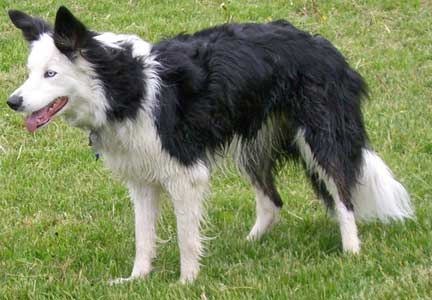 The editor of this website has had four tricolored dogs (above) l. to r., Willy, Moss, a red-tri; Bess; and Flash, also a red-tri. Notice the difference in intensity of the tan on each of these four dogs. Willy's tan was almost white and his eyes were very dark brown. Once a little girl came up to me at a sheepdog trial and asked if my dog was blind. I was a bit taken aback and asked why she thought that. She replied "Because his eyes are all white." She had mistaken his eye-spots for his eyes! Sage, left, who also belongs to the editor of this website, is also genetically tricolored. If you look closely at her back legs, you can see a small amount of tan, although she appears mostly black-and-white.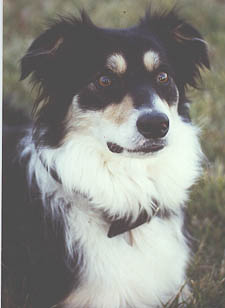 This cutie is Tess of Windy Top, who belonged to Cynthia and Pat Kean of Lockport, New York. (Photo by Kevin Myers.)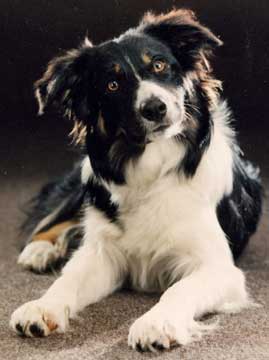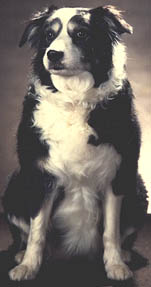 Two tricolored females, right, owned by Pat Stewart and Tony Esposito of Bethany, Connecticut, were Blossom, on the right, and Katie. Blossom was an example of the type of tricolored Border Collie that has very pale tan markings (note her pale tan eyespots). (Photos by Tony Esposito.)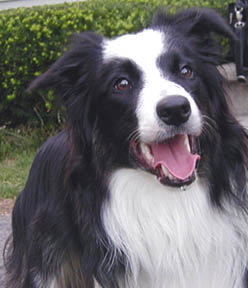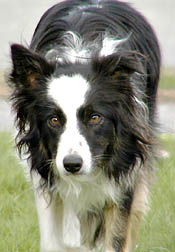 This pretty girl, left, is Faith, who belongs to Bruce Klink of Nashua, New Hampshire. On first glance, Faith looks black and white, but she is really a tricolored dog. She has a small amount of tan on her front legs and behind her back ones.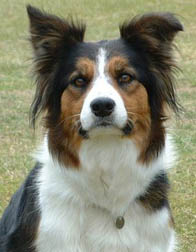 Here is an interesting tricolored dog, right, with very symmetrical markings and lots of tan on her face. She is Zappa, belonging to Wendy Oliver of Denston, near Newmarket, Suffolk, England. (Thanks to Sharon Webley for this photo.)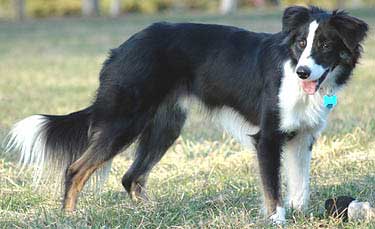 This beautiful dog is Scout, belonging to Andy Cummings of Elysian, Minnesota. Scout is the perfect example of a classically marked Border Collie that would probably be registered as black-and-white as a puppy, and the tan would not be noticed until he is older, as he only has some tan on his legs.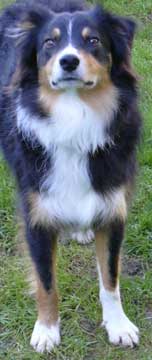 Although you can't tell from the photo, Claire Adams from the UK says her dog Bracken, right, has a very curly coat. He's also a classically marked tricolor with tan in all the right places.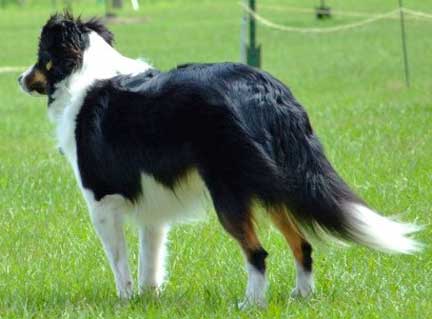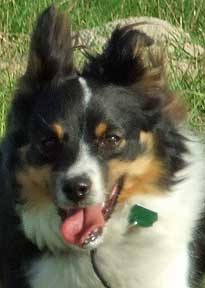 Cody, left, is also classically marked on his face, though I've included a photo of his back so that you can see he has tan on his back legs, but none on his front legs and none on his tail. He belongs to Kelly Johnson.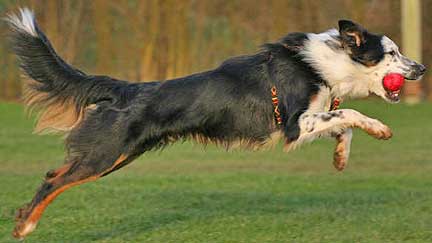 Handsome Guide, right, has plenty of tan under his tail and a very deep mahogony tan on his back legs. He lives in the Netherlands with his owner Thamara Tax.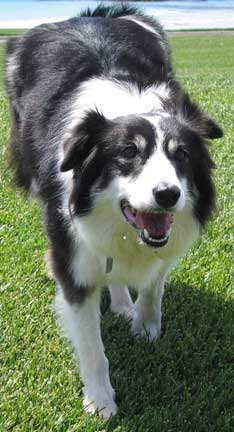 Beautiful Lucky, left, is employed on the Pebble Beach Golf Links in California as a goose dog. She belongs to Jack Holt.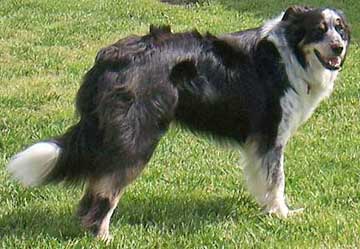 Marley, right, belongs to Gail McCratic from Marion Illinois. The classic tricolor pattern with ticked face is, I think, my favorite combination.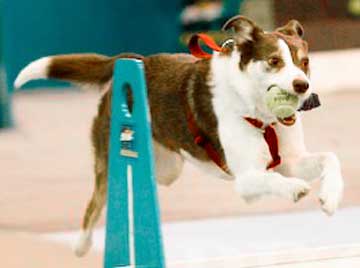 Tricolored Meg, left, belongs to Judy Hinnerichs of Rockville, Maryland. Her full name is Bide-A-Wee Margaret Rose. She was neglected by her breeder because she wouldn't herd, but with Judy she has earned her CD, NA, NJWW, and her Onyx in Flyball (I don't pretend to know what all of those titles are, but I am impressed with the Onyx in Flyball). She isn't exactly a split face, but her blaze is split down the middle in a straight line, with white on one side and red on the other, and her tan is also altered by the split. She has a large eyespot on the left side, but only the hint of one on the right.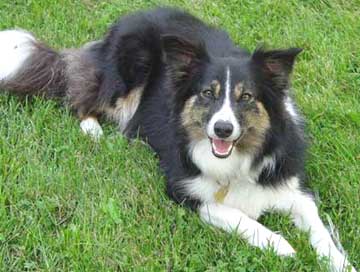 Bill and Loretta (I don't have their last name) from Minnesota lost their beautiful girl, Midge, right, to anaplasmosis, a tick-borne disease, in March of 2008. It's not unusual for tricolored dogs to have "salt and pepper" tan, and Midge was a lovely example of it, with lots of tan on her face.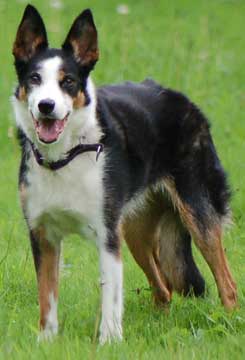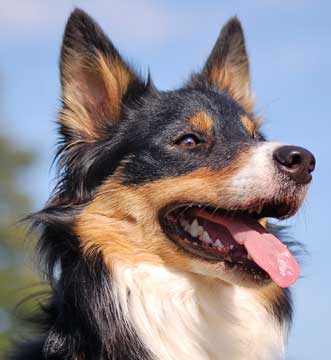 These are Molly (I think) and Quiche, left, belonging to Andrea Russ from the UK. They are both well endowed with tan, and Molly is the smooth-coat with gigantic ears.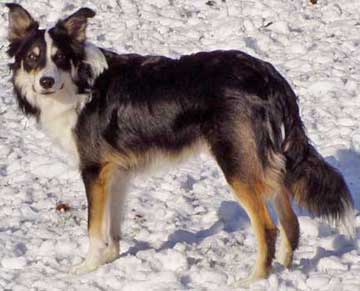 This is Revy, right, another classicly marked tricolored dog. His owner, Amy Gibel from Mentor, Ohio, says he has striated hairs on his head and elsewhere. This does not make him sable as some people seem to think. Many tricolors develop some banded hairs occasionally as they age. Perhaps it's a breaking down of the pigment in some of the hair follicles that does this. Amy says that the Australian Shepherd people told her that Revy had "running copper". I don't know what that means, but it isn't a term used for the Border Collie.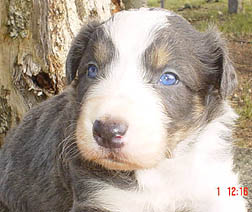 Here's a blue tricolored pup named El Blue, left. He belongs to Andre Camozzato from Porto Alegre, Brazil.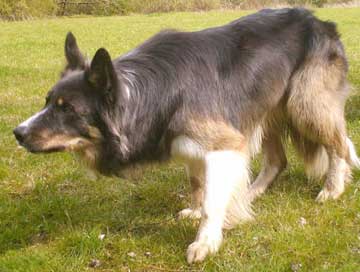 A lilac tricolored female, Ban, right, belongs to Gaelle Danse of Belgium.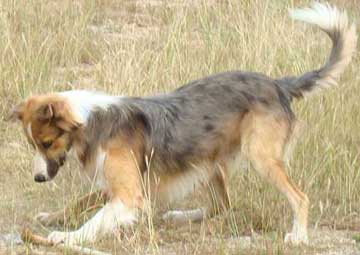 This is Concho, left, a blue merle Border Collie belonging to Tamara Minter of West Texas. Concho has a large amount of tan.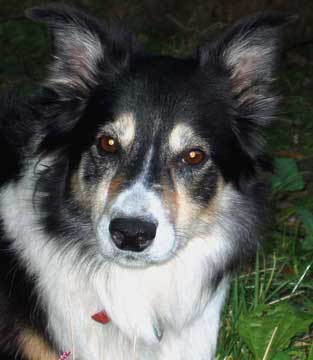 And finally, I'd like to complete this page with the photo of a friend of mine who recently went to the Rainbow Bridge. Her name was Katie (left) and she belonged to two friends and fellow Border Collie rescue colleagues, the late Pat Sides, and Viv Ramos, both from New York City. Katie was classic-looking and petit.
---
[Please click on the pictures to get to a page.]

BLACK-AND-TAN

BLACK-AND-WHITE

BLUE

BRINDLE

LILAC

MERLE

PATTERNED WHITE &
COLOR-HEADED WHITE

RED
(CHOCOLATE /BROWN)

SABLE

SADDLE
PATTERNED

SPLIT FACE
(HALF-WHITE FACE)
& ALL-WHITE FACE

TAN
(AUSTRALIAN RED)

TICKED

TRICOLOR
& BLACK-AND-TAN

COAT TYPE

EYE COLOR

EARS

FOCUS
---
THE OTHER WEB PAGES WE MAINTAIN


---
These web pages are copyright ©2014 and maintained by webmeistress Carole Presberg
with technical help from webwizard David Presberg
ALL RIGHTS RESERVED
If you are interested in using ANY material on this website, you MUST first ask for permission.
You may email us at carole@woolgather.org.
---
Last modified: June 22, 2014 carole@woolgather.org