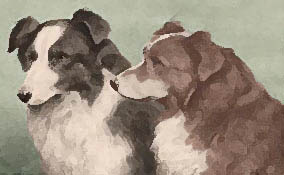 ---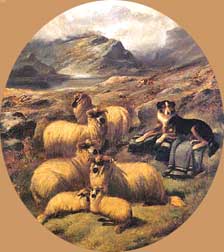 COAT TYPE
[Please read our policy on accepting photos of dogs]
---
It is generally said that the Border Collie comes in two coat types, the rough and the smooth. However, it can be seen from the photos on these pages that this is a simplistic point of view. What can be said, is that the Border Collie comes in rough-coat, smooth-coat, and everything in between, and we have tried to show on this page, the wide variety of coat types and diversity in the breed.
---
ROUGH-COAT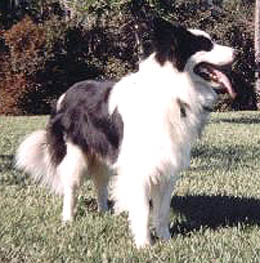 This is Chili, belonging to Stephen Jones of Port Orange, Florida. He has a beautiful rough coat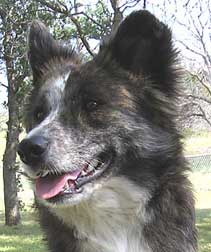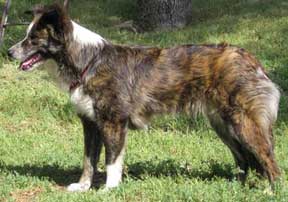 Brindle Annie, who belongs to Robert Mitchell, has a "moderate rough coat".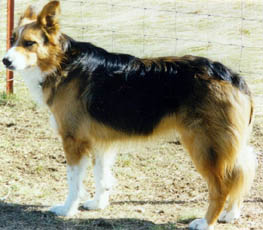 The one thing you may notice with a Border Collie is that most often, even with a rough coat, the hair on the belly is not long. For a working dog, this would be an advantage. This is Dan ("Hemp 'n Fly's Danny Boy"), an imported Welsh saddle-patterned dog belonging to Mary Ann Lindsay of Haden Lake, Idaho.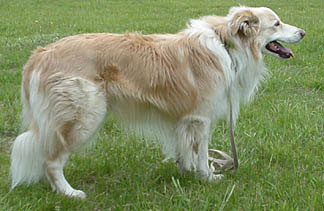 Nick shows long stomach hair and an ample rough coat. He is a tan or "clear sable" (recessive yellow) dog belonging to Sherry Detrich of Pownal, Maine.
---
SMOOTH-COAT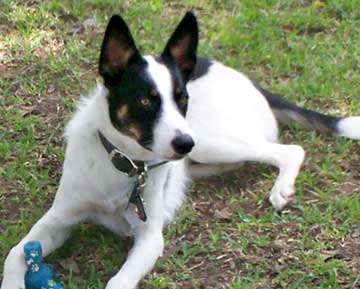 Left, is Hank belonging to someone named Lee, from Texas. Hank is female, and if her owner is watching, please contact me with your last name. Hank is a very classic-looking patterned-white tricolor smoothcoat.

Right, three handsome "smoothies", l. to r., Nitro (the tricolor), Griff, and Drake, belonging to Robin Kilbury of Inver Grove Heights, Minnesots.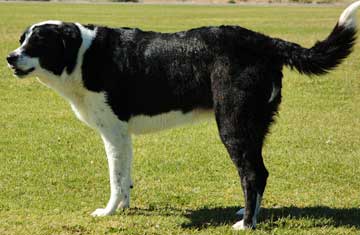 This smoothcoat is Sadie, who belongs to John Bryant from Colorado (maybe, as he was looking for a new home the last time he wrote). As you can see, Sadie's coat is quite different from the other smooth-coats on this page, and she has a more solid build.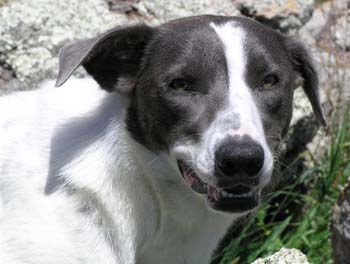 This gorgeous blue, patterned-white, smooth-coated Border Collie is Mac, who belongs to Jana Trask from New Zealand.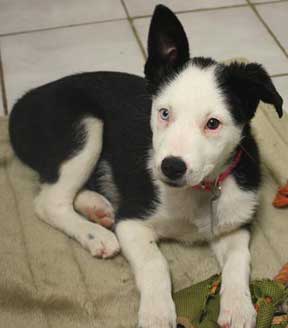 This cutie, left, with a white face, one blue eye and enormous black ears is Quinn, who belongs to Maggie Scarvell. In this photo she is 2 1/2 months old, but she is all grown up now, and both her ears are up and still enormous. I think a smooth coat tends to emphasize the ears.
---
EVERYTHING IN BETWEEN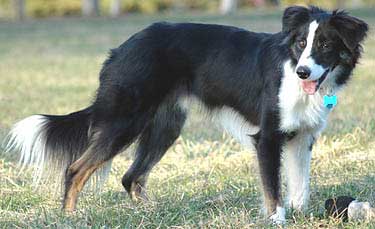 Scout is probably considered a rough coat, given the length of hair on his tail, his ear feathering, and rough hair around his head, but his body hair is short, almost smooth, and he has little if any feathering on his legs. He belongs to Andy Cummings of Elysian, Minnesota.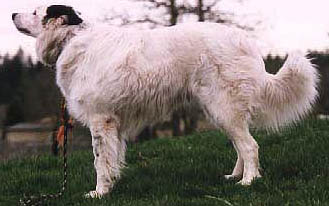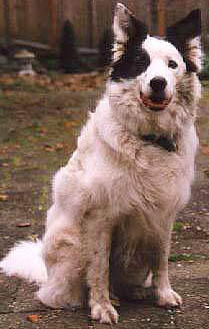 Shiro's coat is interesting because it is rough, but even all over like a smooth-coated dog, and very thick. It's an unusual coat for a Border Collie. She is patterned-white dog belonging to Diane Pagel of Bellevue, Washington.
---
CURLY COATED BORDER COLLIES
And now, the piece de resistance of this page, curly-coated Phoebe, who belongs to Pauline Burden of Devon, England. Pauline tells us that Phoebe had a "normal-looking" coat as a pup, but her coat started to get wavy as her adult coat started to come in, and was still just wavy at three-years-old, but the curls developed as she got older. Phoebe is now eleven-years-old (2008) and the curl has crept up towards her head in the last two years. Pauline says it is a difficult coat to groom. It probably can be considered a rough coat, but it clearly shows how the terms "rough" and "smooth" are inadequate to describe the breed. In the future, we hope to be able to show more unusual coats, and we are hoping to find a "bearded variety" of a purebred Border Collie--if you own one, please send photos! We think it's possible.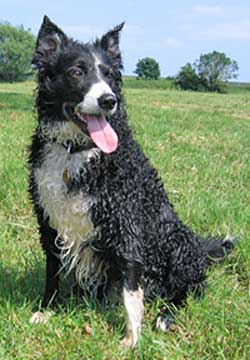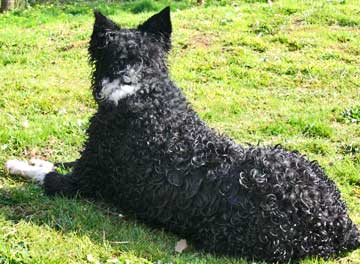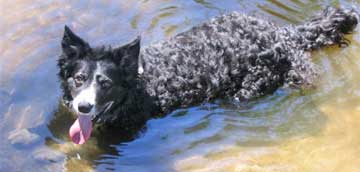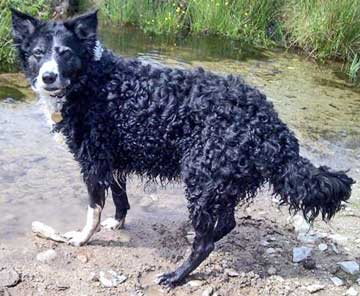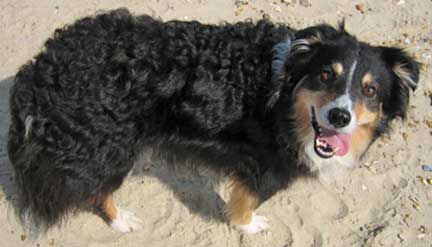 This is Bracken, right, another curly-coated dog. Bracken, a handsome tricolor, belongs to Claire Adams from England. He is not all-over curly like Phoebe, but the curly hair is mostly on his back and rear. Claire says it's harder to maintain the curly coat.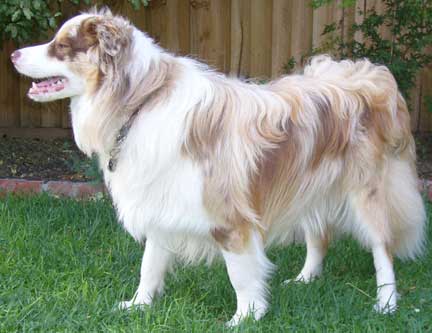 Max, left, belonging to Kiyoko Harris also does not have an overall curly coat. His long blue merle coat is wavy across his back, but curls over his rump.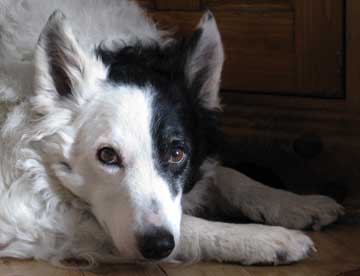 Right, this is Conner, who belongs to Jay and Barbara Koelzer of Loveland, Colorado. Conner is an interesting dog visually. He is a "color-headed white" with a split face, and his all-white coat is curly. In this photo you can just see it on the shoulders and across the back of his neck. His owners say that it is difficult to deal with, but "worth it".
---
BEARDED BORDER COLLIES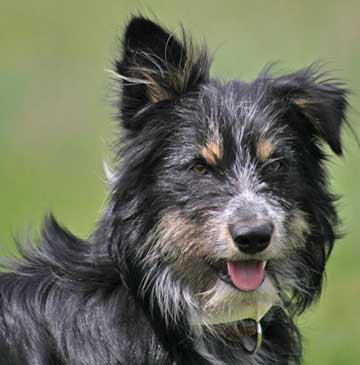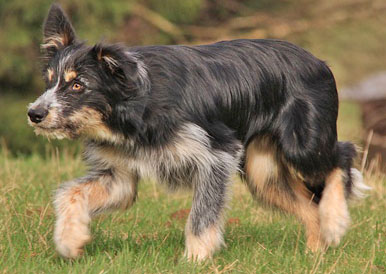 In response to my request for photos of a "bearded variety of purebred Border Collie" (above), Christine Reiner from Germany sent me these photos of her beautiful Border Collie, Lone (left), and her littermate, Kyp (below). Both dogs are tricolored, bearded, purebred, and registered with the ISDS. Their parents were both purebred, registered Border Collies. Lone, as you can see, inherited her Border Collie parents' crouch when herding.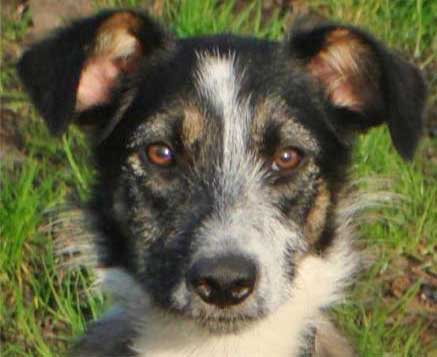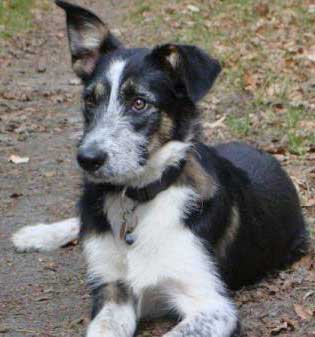 How is this possible, you ask. Isn't the Bearded Collie a separate breed? Well, it is and it isn't. Like the difference between the Collie and the collie (one spelled with an uppercase "C", and the other with a lowercase "c"), the Bearded Collie is a separate breed now, but bearding in the Border Collie is a coat type. You can see in the photos that Lone is more bearded than Kyp. Kyp looks like a "normal" smooth-coated Border Collie, except for a slight beard and mustache. It is true that Lone and Kyp have beardies in their ancestry, but these were working beardies registered with ISDS. It is a fact that most if not all Border Collies have beardies in their ancestry, as in the early days of the ISDS stud book, all that was important was that dogs worked, not how they worked or what they looked like or what type of coat they had, and these descriptions were not put in their records. Sometimes this trait will "come out in spectacular fashion", as Andrew Hall said, as in Lone; or perhaps there was a mutation, as is probably the case with curly-coated Phoebe, above. These diversities make the Border Collie that much more interesting.
---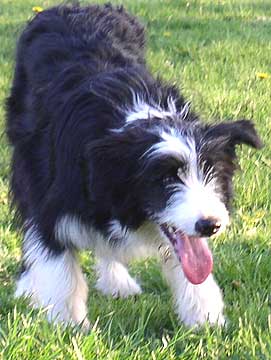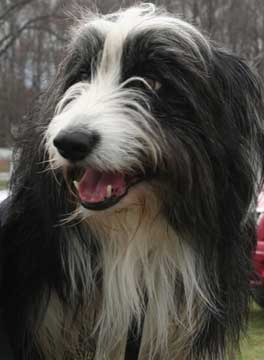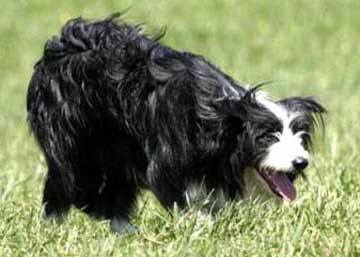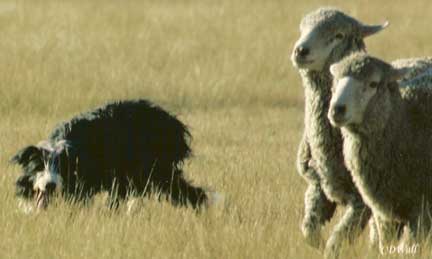 Even "more bearded" than Lone is James, a working Border Collie. James (Oldfield James) is a descendent of Turnbull's Blue (registered on merit with the ISDS), also likely a bearded Border Collie, because, as his name implies, he was grey, and it is common for beardies to be grey. James belongs to Barbara Starkey of Galena, Maryland, and Sarah Ruckelshaus of Chesterton, Maryland, but lives and works in Bethesda, Maryland with Polly Matzinger. He is registered with the ABCA. Polly says he has run in two national finals and is the best farm dog she's ever had. In the photo above left, James is a puppy, and you can see that his full bearded coat has not yet come in. The photo, right, was taken of James by C.D. Wall at the USBCC National Nursery Finals at Sturgis, South Dakota when James was three years old. The photo above, right, was taken at the USBCC Finals in Pennsylvania in 2007. And the photo above, center, was taken at the Longshot Trial spring 2010.
Polly says that James' mother, Nell, was bearded, and his grandfather, Ben, was also bearded. In James' litter (bearded mother, rough-coated father), there were three bearded pups out of five. James has sired two litters: one with a smooth bitch, Lily, in which there were three bearded pups out of four (one a smooth beardie with just whiskers around his mouth!); and one with a rough-coated bitch, in which there were three bearded pups out of six.
Generally, I don't put in much about the actual genetics because I am on shaky ground with genetics, but Polly has ventured a guess. She says she thinks that the gene for bearded coats is dominant, completely dominant over rough coats, but "almost" recessive to smooth. Dr. D. Phillip Sponenberg, a professor of genetics at the Virginia-Maryland Regional College of Veterinary Medicine, whom I have quoted before says that, in general, bearded is dominant, but, the homozygotes (those with two copies of the same gene, for example, both dominant or both recessive) would be much more obvious than the heterozygotes (those with two different copies, one dominant and one recessive). This would mean that there may be other bearded Border Collies out there, with little mustaches that nobody has noticed, and that beardedness is more common than we think.
Polly has also noticed that there seems to be a link between the bearded coat and a "greying factor". James is grey, his bearded son, Sirius, is grey, as is Kane, the smooth beardie, at least around his whiskers. Phil agrees but can't tell us why.
---
[Please click on the pictures to get to a page.]

BLACK-AND-WHITE

BLUE

BRINDLE

LILAC

MERLE

PATTERNED WHITE &
COLOR-HEADED WHITE

RED
(CHOCOLATE /BROWN)

SABLE

SADDLE
PATTERNED

SPLIT FACE
(HALF-WHITE FACE)
& ALL-WHITE FACE

TAN
(AUSTRALIAN RED)

TICKED

TRICOLOR
& BLACK-AND-TAN

COAT TYPE

EYE COLOR

EARS

FOCUS
---
THE OTHER WEB PAGES WE MAINTAIN


---
These web pages are copyright ©2013 and maintained by webmeistress Carole Presberg
with technical help from webwizard David Presberg
ALL RIGHTS RESERVED
If you are interested in using ANY material on this website, you MUST first ask for permission.
You may email us at carole@woolgather.org.
---
Last modified: July 22, 2013 carole@woolgather.org