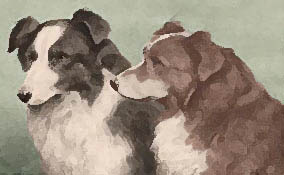 ---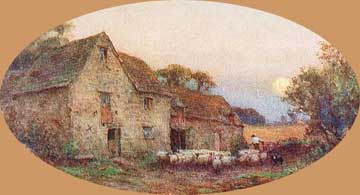 Farmyard scene by E. A. Waterlow

LILAC BORDER COLLIES
[Please read our policy on accepting photos of dogs]
---
First, let's define this most interesting color.
Liisa Sarakontu of Finland says that lilac is "'bb dd' [or] double dilute. It is brown and blue at the same time. That color is called 'silver' in Weimer[aners], 'isabella' or 'fawn' in Dobermans, ['fawn' in kelpies], 'blue bark' in Finnish Lapphunds, and 'lilac' in most other animal species (cats, rabbits, mice etc.)."
Linda Rorem, of Pacifica, California, says, "My understanding of lilac is that it is a dog who has the 'b' gene on the B locus from both parents (which dilutes or changes black pigment to chocolate), and also has the 'd' gene on the D locus from both parents (which dilutes or changes black pigment to blue (maltese), but acting on a dog that is chocolate produces 'lilac' (Weimaraner color)). Because these genes are on different loci, a dog can have both of them, rather than having to have one or the other. So the lilac dog is [genetically] bbdd and this causes a further dilution of the red (chocolate or bb) to that rather flat brownish/greyish color called lilac by some. Thus, it could be said to be both 'dilute red' (bb - chocolate) and 'dilute blue' (dd - blue)...A dog could also be a saddle-pattern and have a lilac saddle, just as it could have a chocolate saddle or blue saddle; or a sable and have chocolate-, blue-, or lilac-tipped hairs (that wouldn't be too noticeable on a lightly shaded sable); or be a chocolate, blue, or lilac tanpoint [tricolor]."
---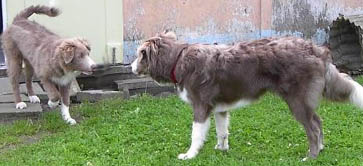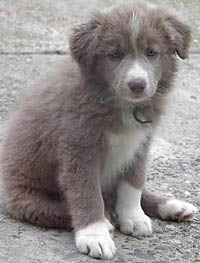 These two lilacs, Antje (a 4 month old bitch pup) and Bayko (an 8 month old male) belong to Lieven Ruysschaert of Krubeke, Belgium. Lieven says they are the first two lilac pups ever to be born in Belgium.
---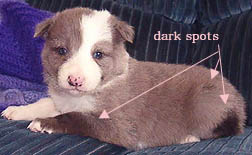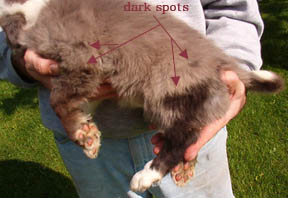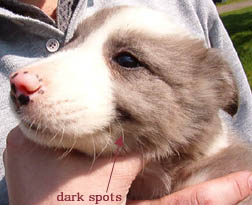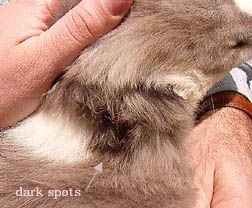 This is Grace, a lilac pup who belongs to Kim Baumgart of Gentle Shepherd Farms in New York State. Note the dark red spots on her coat. She may be a lilac merle or just a red merle. The jury is out. Her sire is Platinum, a blue and white Border Collie. Her dam is Pepper, below, also possibly a lilac tri, a lilac merle or just a red merle. Kim says that Pepper is registered as a blue (gray and white) but her coat color is very "washed out looking". Note that Pepper also has dark patches of red, and one of her eyes is partially blue, which Linda Rorem says is indicative of merling.
---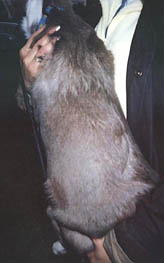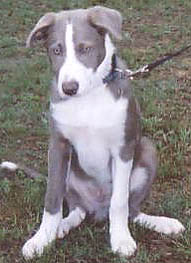 This is Sagehill's Never Another ("Rowdy"), pictured at 4 months old. He is a smooth coated lilac and white Border Collie bred by Paulena Renee Hope of West Virginia. Rowdy's dam was Silversage's Ever So Clever ("Never"), a red merle and the sire was a red and white. Rowdy is owned by one of Paulena Hope's students, Robin S. of Maryland. (Thanks to Ann Marie Hill of New York State for sending these photos.)
---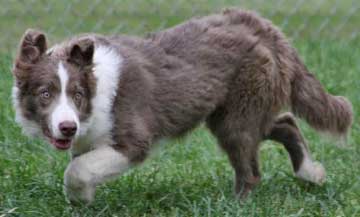 This is Ted, a lilac dog belonging to Wendy Frevert, of Plum Ridge Training Center in Williamsport, Indiana.
---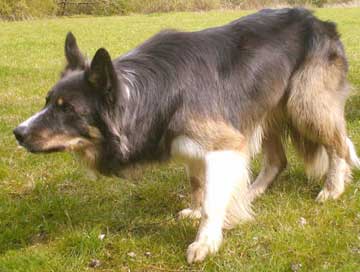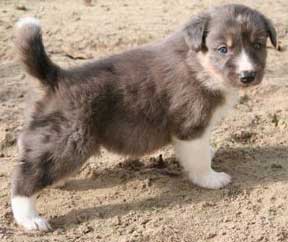 This is Ban, a lilac tricolor belonging to Gaelle Danse of Belgium, as a pup and then all grown up. You can see on Ban's side that she also has darker spots like Grace, above, so until told otherwise, this is just something that happens in lilac pups, perhaps just the "red coming through".
---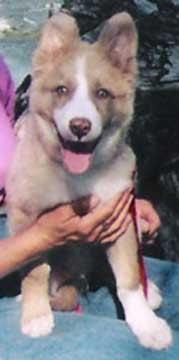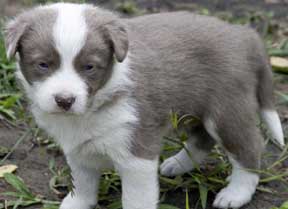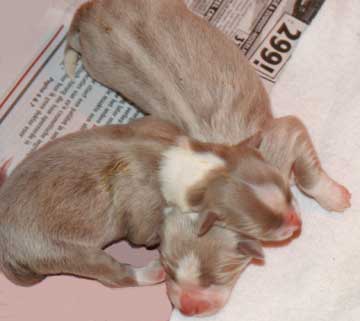 More lilac puppies! At left is Claudia Wheeler's Bosque; in the middle is Melissa Knee's little guy Max; and at the right are two newborn lilac pups from Monique Grendel of the Netherlands.
---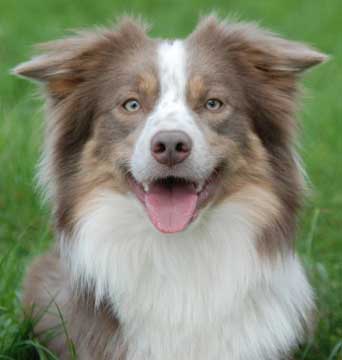 This very handsome lilac tricolor is Hoyden, who belongs to Michael Van Waegeveld of Belgium.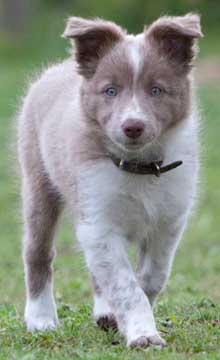 At left is Star, a lilac pup belonging to Debbie Crease. Star is a daughter of Debbie's blue bitch, Skye, who may be seen on our Blue page. Star looks very much like her mother and is also heavily ticked.
---
[Please click on the pictures to get to a page.]

BLACK-AND-WHITE

BLUE

BRINDLE

LILAC

MERLE

PATTERNED WHITE &
COLOR-HEADED WHITE

RED
(CHOCOLATE /BROWN)

SABLE

SADDLE
PATTERNED

SPLIT FACE
(HALF-WHITE FACE)
& ALL-WHITE FACE

TAN
(AUSTRALIAN RED)

TICKED

TRICOLOR
& BLACK-AND-TAN

COAT TYPE

EYE COLOR

EARS

FOCUS
---
THE OTHER WEB PAGES WE MAINTAIN


---
These web pages are copyright ©2013 and maintained by webmeistress Carole Presberg
with technical help from webwizard David Presberg
ALL RIGHTS RESERVED
If you are interested in using ANY material on this website, you MUST first ask for permission.
You may email us at carole@woolgather.org.
---
Last modified: July 19, 2013 carole@woolgather.org