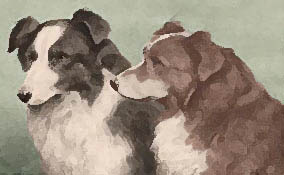 ---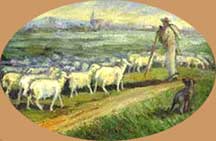 BRINDLE BORDER COLLIES
[Please read our policy on accepting photos of dogs]
We've been recently told that the brindle color is not inherited in the Border Collie. This is apparantly not true, to which the dogs on this page attest.
---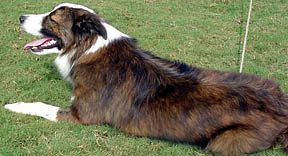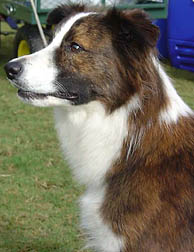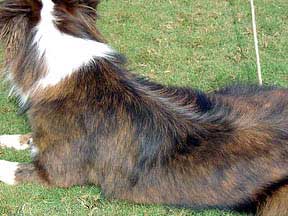 For all those doubting Thomases who notice that all the dogs on this web page are rescues and say that since we don't know their background, they could be crosses and that doesn't prove that Border Collies can come in brindle, let me present Jesse. Isn't he magnificent? He is a purebred brindle and white Border Collie with registration papers. Jesse belongs to Mike Pawich of Alpharetta, Georgia. Jesse's sire was red (chocolate) and white, and his dam was black and white. Out of a litter of 7, 4 were red and white, and 2 were black and white, and Jesse was the only brindle. Mike says he came from a breeder in Tennessee. Thanks to Shelley Blom for sending Jesse's photos.
---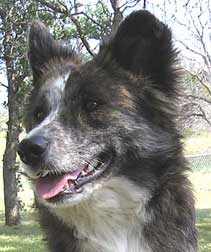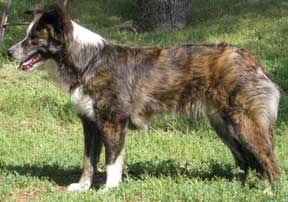 This is Annie ("Little Orphan Annie"--great name), also a rescue dog, belonging to Robert Mitchell. He says "turning out (with a boatload of patience, to be the best dog I've ever had."
---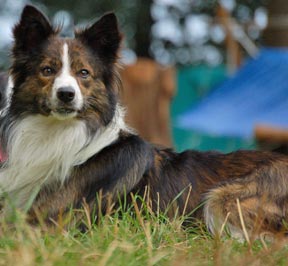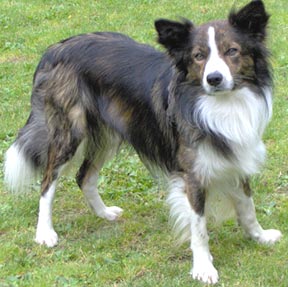 This extraordinarily beautiful dog is Wolf. Wolf belongs to Hilde Sabbe from Belgium who adopted him in 2007 as a rescue dog. He had been given up because he jumped fences, but obedience training, agility, and sheep herding has cured Wolf of his wanderlust and Hilde says he is a born sheepdog with a very sweet temperament.
---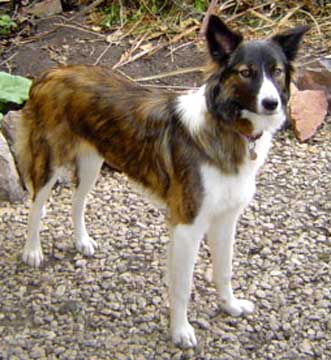 This is Bodi, right, belonging to Tamzin Howard from Bristol, England. She was 9 months old when the photo was taken.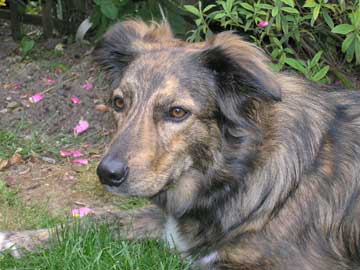 Left, Lulu, belonging to Helen and Henry Stein of London, England, is an overall brindle because she has little white on her body. Dogs that look like this are often called mixes or crosses because people don't know that Border Collies come in Brindle and that's what happened to Lulu until the Stein's adopted her.

Below is Andra Crandell's Maggie, a rescue dog.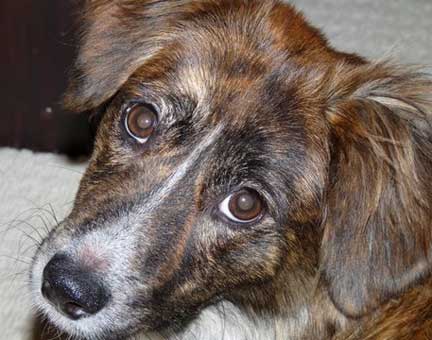 ---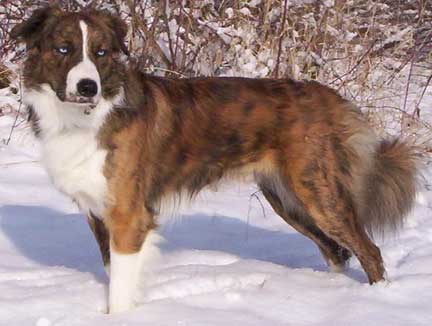 This handsome fellow is Tim Dyer's Frankie, an ABCA registered Border Collie and an agility champion. We used to have Frankie's puppy picture on this site.
---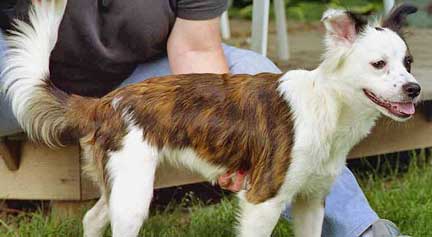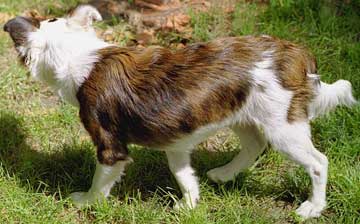 Little Katy, right (who is undoubtedly Big Katy by now) is the opposite of Lulu, above. She has lots of white on her body, and is a white factored brindle (see our explanation of white factored on the Black and White page). Katy belongs to Terry and Kathy Miesse of Tulsa, Oklahoma.
---
BRINDLE-POINTED TRICOLORS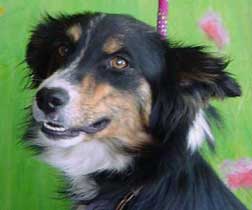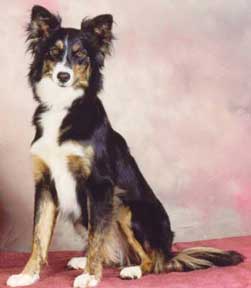 This magnificent Border Collie is Star ("Stardust Memories") belonging to Cliff and Peggy Jencks from Alpine, California. Star almost looks blue in the photos, but photos sometimes lie about color and the owners did not say she was blue. One thing the photo can not lie about is that she is also brindle. Brindle only affects the tan areas. So, dogs that look overall brindle have an overall tan base (i.e., Australian red or recessive yellow). But what would happen if the dog were a "normal" tricolored (black, white, and tan) and they carried brindle? Their black parts would remain black, their white parts would remain white, but their tan parts would become brindle, and that is what has happened to Star. One more thing: since tan (e.g., Australian red or recessive yellow) is pretty uncommon in Border Collies as it is, it stands to reason that all-over brindle would be more rare yet, which seems the likely explanation of why people think that Border Collies "don't come in brindle". The Jenckses thought that the way Star was brindle was "how it is supposed to be in Border Collies". Since tricolors are common in Border Collies, it is more likely that one would see a brindle like Star than one like Jesse, above. And oh, by the way, if Star IS blue, yes, brindle can happen in the tan in combination with any color--blue, red, and even merle (as we heard in the previous dog, Cassidy, who had brindle merle puppies)--since it only affects the tan. A blue dog would have blue brindle stripes, a red dog would have red brindle stripes, and so on.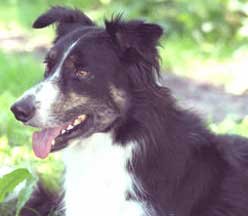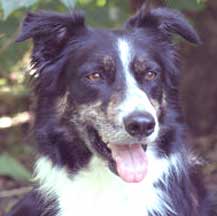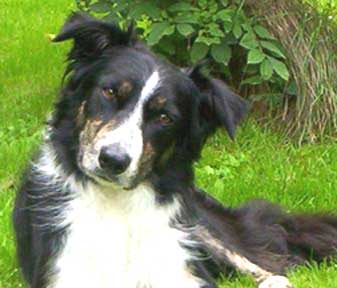 At right is Bob, another brindle-pointed tricolor who belongs to Shanna Sinselmijer of the Netherlands.
---
[Please click on the pictures to get to a page.]

BLACK-AND-WHITE

BLUE

BRINDLE

LILAC

MERLE

PATTERNED WHITE &
COLOR-HEADED WHITE

RED
(CHOCOLATE /BROWN)

SABLE

SADDLE
PATTERNED

SPLIT FACE
(HALF-WHITE FACE)
& ALL-WHITE FACE

TAN
(AUSTRALIAN RED)

TICKED

TRICOLOR
& BLACK-AND-TAN

COAT TYPE

EYE COLOR

EARS

FOCUS
---
THE OTHER WEB PAGES WE MAINTAIN


---
These web pages are copyright ©2013 and maintained by webmeistress Carole Presberg
with technical help from webwizard David Presberg
ALL RIGHTS RESERVED
If you are interested in using ANY material on this website, you MUST first ask for permission.
You may email us at carole@woolgather.org.
---
Last modified: July 18, 2013 carole@woolgather.org