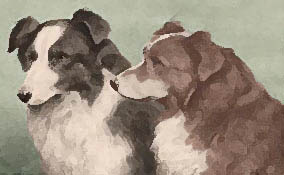 ---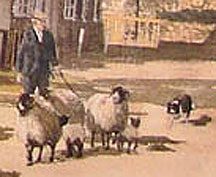 Detail from "A Village Scene"
by Alan Ingham

FOCUS
[Please read our policy on accepting photos of dogs]
---
The Border Collie is a diverse breed. We have seen that it is diverse in looks, color, size, eye-color, types of ears, and so on. The Border Collie can herd a large variety of livestock, so it is not just a sheepdog, not just a cattle dog, not just a goose dog. It can participate successfully in many different dog sports. So what is it that makes a dog a Border Collie? Focus: the Border Collie "eye" in combination with the crouch. Eye is the measure of concentration a dog has on its sheep. If you see a dog that looks like a Border Collie, you might think, "Is that an English Shepherd? Is that a Welsh Sheep Dog? Is that an Australian Shepherd with a tail?" But if you see a Border Collie working, you will have no doubt in your mind that it is a Border Collie. Focus is the essence of the breed. It defines the Border Collie no matter what he looks like, no matter what type of livestock he is herding, no matter what he is doing, whether it is "chasing" geese at the golf course or playing ball with his owner.
Eye and crouch are herding instincts. They are also modified hunting instincts, something you have undoubtedly seen cats do when creeping up on prey. it was present in some working collies at least as far back as the late 18th, early 19th century. James Hogg's (1770-1835) description of his dogs working include what was undoubtedly eye, even though he does not mention it by name. On this page, we will show you photos of Border Collies exhibiting focus, demonstrating eye and crouch.
---


Above, the editor's first Border Collie, Highland's Willy Scott,
herding Buff Orpington ducks at Woolgather Farm in Rocks Village, Massachusetts, ca. 1980.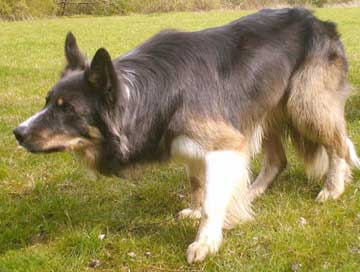 Left, Ban, a Lilac tri, belonging to Gaelle Danse. I think, but I'm not sure, that Gaelle is from Belgium (see note at Easy's photo, below). Gaelle, if you see this, please contact me.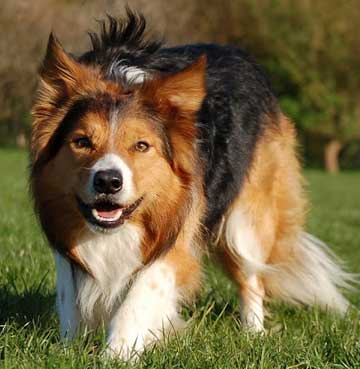 Right, is Easy (Doggone Easy) a saddle-patterned Border Collie that belongs to Viviane Nix of Belgium. For some reason, Easy's picture got mixed up with Ban's, above, and I had him as belonging to Gaelle Danse. Viviane's friend Marie Huybrechts, also from Belgium, set me straight. Apologies to both Gaelle and Viviane, and many thanks to Marie. If you see an error on this site, I do appreciate being notified and I will fix it.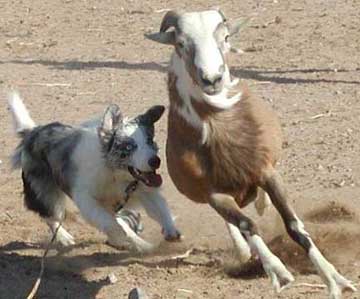 Right, Mocha (nicknamed Monkey), a blue merle beloinging to Heather Seitz of Las Vegas, Nevada, showing eye at a young age. He is also a flyball champion.
Shep, below, left and right, a red merle tri who belongs to Ragnhild Dahle from Norway, showed eye at an early age.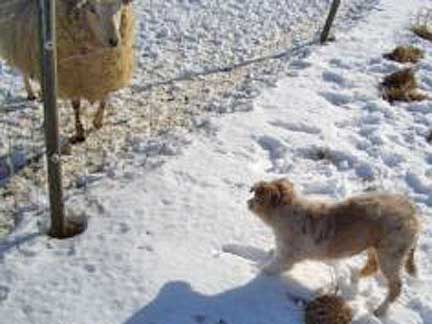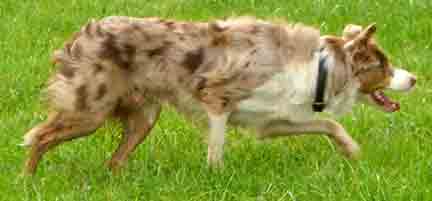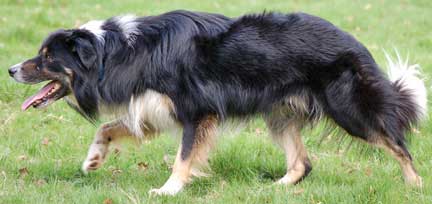 This is Roo, left, a tricolored dog belonging to Andrea Russ from the UK.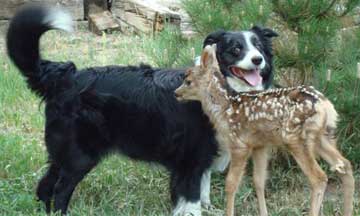 Ron Bynum from Parker, Colorado found this fawn sleeping in the shade in his yard one early morning when he and Jackson, right, went outside. Ron said that Jackson herded it around for about 30 minutes before it wandered off. Look at Jackson's eyes. He isn't crouching, but he isn't taking his eye off the fawn either, and the fawn doesn't seem fazed. Eye is actually calming to livestock.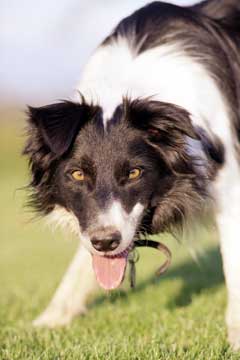 Kasey, left, belongs to Scott Mesic of Seattle, Washington, who says she is "super intense".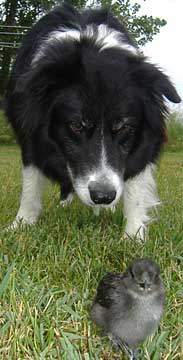 I don't know who owns Maggie, right, but her photos were sent to me by Helga Tacreiter, who runs a retired dairy cow sanctuary in Shiloh, New Jersey. Maggie is seen herding a chick named Junebug.
This is Moel Hemp, a saddle-patterned dog, left, who belongs to Myra Soden who trials successfuly with him. Moel Hemp bears the kennel name of his breeder, Ceri Jones Rundle of Wales.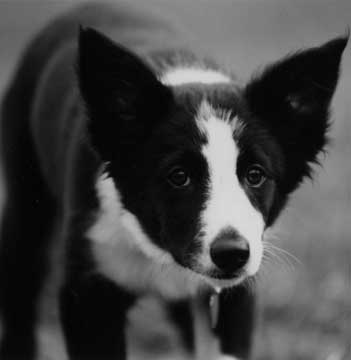 Focus says it all for 14 month old Sadie, right, who belongs to Vince Anido. Sadie was bred from an English sire and an American dam, and she is a smooth-coated dog with amazing ears.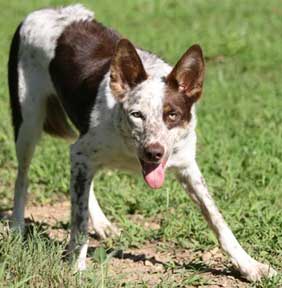 Sikari, left, is a smooth-coated, red, patterned white, ticked Border Collie with prick ears, so she has a lot going for her, including eye. She belongs to Stephanie Stockley.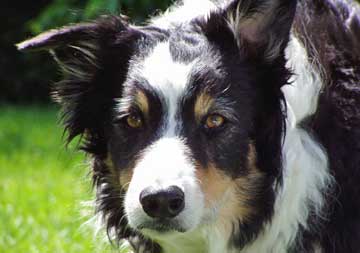 Hunter Hampton owns the handsome, tricolored Tucker, right, and trials with him.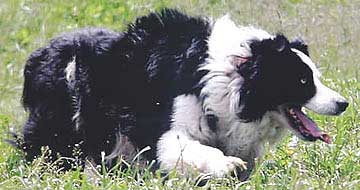 This is Abe, left, belonging to Michelle Harrower from Stewartville, Minnesota. Abe is black-and-white, split-faced, and works both sheep and cattle. Michelle says he is a great farm dog and trial champion.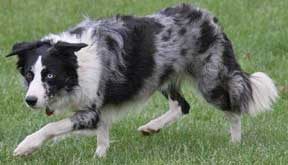 Right, is Mac, a blue merle bred by Wendy Frevert of Williamsport, Indiana.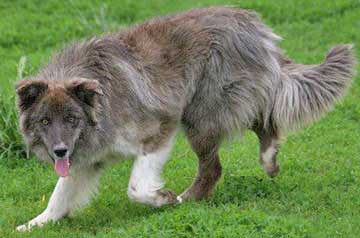 Fog, left, is the above right Mac's son, and he is a slate merle.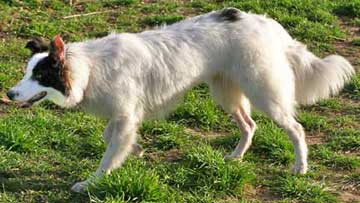 Chianna, right, is a patterned white female belonging to Fred Carter from Sacramento, California.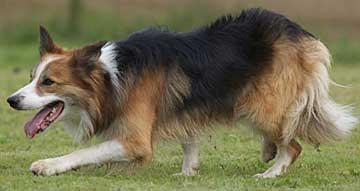 Another Fog, left, named thus because he was quite dark as a puppy and looked almost grey but is a saddle-patterned dog, belongs to Anna Larsson of Sweden. Her husband competes in sheepdog trials with Fog.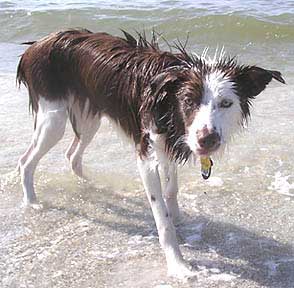 Razzy, right, is a red-and-white split face that belongs to Andrea Davis of St. Petersburg, Florida. She is undoubtedly just playing in the ocean, but still exhibiting eye while doing so.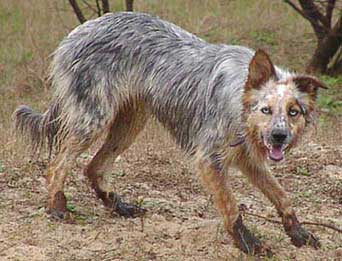 This is Stella, left, who belongs to Betty Gillis of La Vernia, Texas. Stella comes from a line of ticked dogs, including her mother and several siblings.They are all working dogs.
---
[Please click on the pictures to get to a page.]

BLACK-AND-WHITE

BLUE

BRINDLE

LILAC

MERLE

PATTERNED WHITE &
COLOR-HEADED WHITE

RED
(CHOCOLATE /BROWN)

SABLE

SADDLE
PATTERNED

SPLIT FACE
(HALF-WHITE FACE)
& ALL-WHITE FACE

TAN
(AUSTRALIAN RED)

TICKED

TRICOLOR
& BLACK-AND-TAN

COAT TYPE

EYE COLOR

EARS

FOCUS
---
THE OTHER WEB PAGES WE MAINTAIN


---
These web pages are copyright ©2013 and maintained by webmeistress Carole Presberg
with technical help from webwizard David Presberg
ALL RIGHTS RESERVED
If you are interested in using ANY material on this website, you MUST first ask for permission.
You may email us at carole@woolgather.org.
---
Last modified: July 23, 2013 carole@woolgather.org