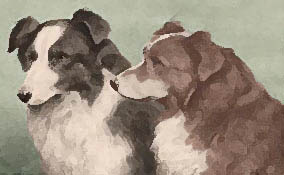 ---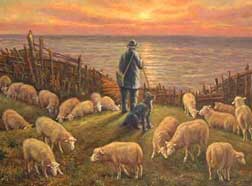 BLUE BORDER COLLIES
[Please read our policy on accepting photos of dogs]
---
Marjorie Quarton of County Tipperary, Ireland, in her article, "Grey, Blue or Gunmetal", in the Shepherd's Dogge, Spring 1989, she talked about dogs of the color blue:
I owned a grey dog called Glen, and his nearest grey ancestor was four generations back. I mated four bitches with Glen, and ony two bred a grey pup by him--one in each litter. However, a black and tan bitch regularly produced one or two grey pups by a brown (red) and white dog. Dogs and bitches which breed greys are as likely as not to be tri-colour or black and tan, with a greyish undercoat.

I have seen perhaps twenty adult greys in Ireland, about half being of my own breeding. These dogs were born pale grey, darkening with age. Some were medium grey when adult, others were dark slate colour, almost black. They were neither very rough nor completely smooth-coated, and, unlike the merles, had no tan markings and no blue or silver eyes. In fact, eye colour was very distinctive, being almost exactly the same grey as the coat. Noses were dark grey, and the skin was dark--never pink. An unusual feature of many grey dogs was the absence of hair on the ears. This was the case in about half the dogs I examined. All the dogs whose ears were hairless were prick-eared.
---
Linda Rorem from Pacifica, California, also wrote a Letter to the Editor in the same issue:
These greys appear to be the recessive dilute blue-grey, sometimes referred to as 'maltese', and distinguished from the other forms of grey (merle and dominant progressive grey) by grey noses and eye rims. There is yet another form of grey, observed in Rough Collies, that appears to be related to the dominant progressive grey. Like the dominant progressive grey, the dog is born dark and gradually 'greys out'--but then the process reverses and by the time the dog is fully grown it usually has returned to the darker birth color.

To complicate things among these genetically different greys, the merle gene can act on the recessive dilute to produce a merle with dark grey nose and eye rims and a coat of patches of dark and light grey; and the progressive dominant grey can act on the rcessive dilute to produce a grey-nosed dog that is born grey and lightens in color as it ages. (Merle and dominant progressive grey can act on any color, turning black to grey but also producing red merles, and progressively lightening red to straw-color, etc.) In the Border Collie, the rarest form of grey appears to be dominant grey.
---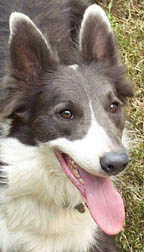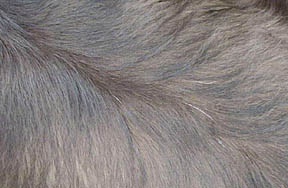 This is True Blue who was a rescue dog from Wisconsin Border Collie Rescue, and now belongs to Ann Marie Hill of Hyde Park, New York. The closeup of his coat shows the brownish-grey undercoat and the darker blue guard hairs.
---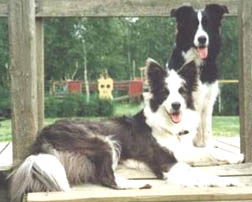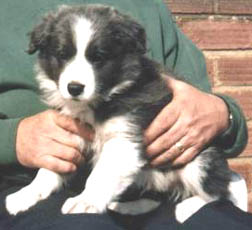 The gorgeous blue bitch, far left in foreground is Hazy (Bluewyle Hazy Shade og Winter) belonging to Emmy Marie Simonsen from Denmark. Hazy is a Danish Obedience Champion and does some agility as well. She is shown with Emmy's black and white dog, Whisper (Bridacre Wisp), so that you can really tell she is blue and white, not black and white. Left is blue and white pup, Robbie (Whenway Decorated Hero), at 9 weeks old, imported from England to Denmark by Emmy.
---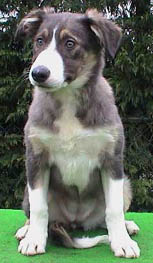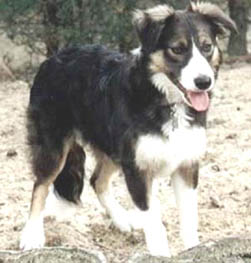 Violet (Detania Violet Elizabeth) is a beautiful blue tri puppy belonging to Hetty van Hessel of the Netherlands. Left, Violet as a young puppy, and right, she is almost grown. See how the blue color deepens with age. Hetty is a trainer and veterinary student who owns a number of Detania Border Collies bred by Angela Gillespie of Suffolk, England. Visit her website at http://www.barkingmaddivas.com. Besides photos of her dogs, she has a lot of other information and interesting links.
---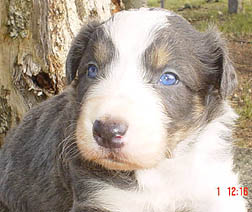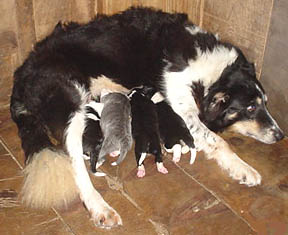 Far left, is El Blue, a blue tri puppy bred by Andre Camozzato from Porto Alegre, Brazil. Andre has been breeding and working Border Collies since 1994 from imported Welsh and USA championship stock. El Blue's sire is tricolored Cap ABC 162919. El Blue's Dam (left with the litter of puppies) is Apinta ABC 83373. Andre is a farmer who also runs trials and clinics, and judges trials in Brazil. He has had 176 pups at his kennel since 1994 and this is the first blue pup he's ever had. All the rest were black and white or black tri. The blue color seems to show up best on pups, who are born light grey.
---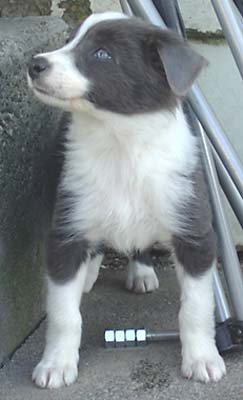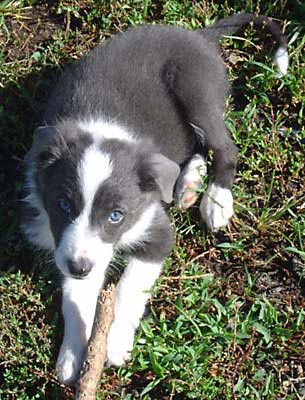 This beautiful pup, left, named Blue, belongs to Lacey Jeppson from Brigham City, Utah. We were very excited to read that this pup has hairless ears, like the blue dogs described at the top of this page by Marjorie Quarton. Below, is Blue all grown up. She has had puppies of her own and seems to always throw blue pups.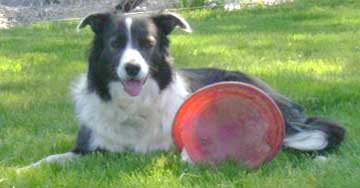 ---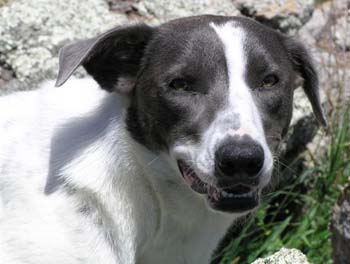 This gorgeous blue, patterned-white, smooth-coated Border Collie is Mac, who belongs to Jana Trask from New Zealand. Never having seen a blue BC before, Jana thought he was blue merle. He was bred by a commercial kennel as a herding or, as they call them in New Zealand, "eye" dog. Jana got him because some farmers think that, with a predominantly white coat, he would not be able to herd sheep. He has the "eye" but is disinterested in sheep, possibly due to a negative experience with them when he was a small pup, and Jana is going to be doing agility with him. She says he has a lovely temperament.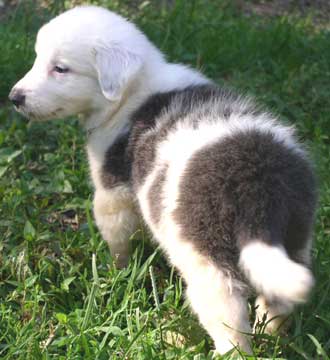 This pup, right, called Nike, is also a patterned white, but her owner, whose name I do not know, calls her a "blue splashcoat", a very nice alternative.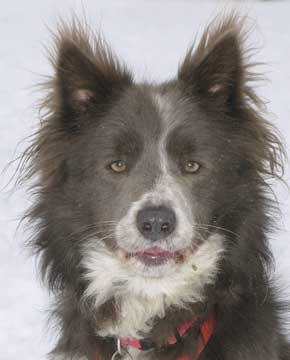 This beauty, left, is Debbie Crease's heavily-ticked, green-eyed, blue bitch Skye.
---
[Please click on the pictures to get to a page.]

BLACK-AND-WHITE

BLUE

BRINDLE

LILAC

MERLE

PATTERNED WHITE &
COLOR-HEADED WHITE

RED
(CHOCOLATE /BROWN)

SABLE

SADDLE
PATTERNED

SPLIT FACE
(HALF-WHITE FACE)
& ALL-WHITE FACE

TAN
(AUSTRALIAN RED)

TICKED

TRICOLOR
& BLACK-AND-TAN

COAT TYPE

EYE COLOR

EARS

FOCUS
---
THE OTHER WEB PAGES WE MAINTAIN


---
These web pages are copyright ©2013 and maintained by webmeistress Carole Presberg
with technical help from webwizard David Presberg
ALL RIGHTS RESERVED
If you are interested in using ANY material on this website, you MUST first ask for permission.
You may email us at carole@woolgather.org.
---
Last modified: July 19, 2013 carole@woolgather.org