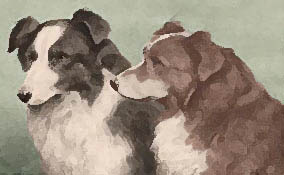 ---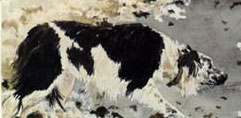 Detail from "Try It" by British artist Grace Gilpin

TICKED, SPECKLED OR MOTTLED BORDER COLLIES
[Please read our policy on accepting photos of dogs]
---
On ticking, Dr. Philip Sponenberg of the Virginia-Maryland Regional College of Veterinary Medicine, in an article on ticking that first appeared in part in the Shepherd's Dogge, Vol. II, No. 4, Winter 1989/90. says:
Speckled dogs may be complicated. Most are probably [the result of] ticking, which is a dominant gene that tends to put tiny spots into the white spotted area of a white spotted dog. This does indeed happen at some weeks to perhaps months after birth...The ticking varies from a little to a lot, and in dogs with just a little would probably be missed altogether...

It seems to me that most dogs should be fairly consistently ticked wherever they have white markings. That is, if it is just a light sprinkling it should be so everywhere, if intense and dark it should be so everywhere [but this isn't necessarily so]. So, the ones with more ticking on the legs and head are interesting, but might still be [genetically] ticked. There are records of some blue ticked dogs that had intense ticking but then also white spots free of ticking. If this is the case then perhaps there are two types of white spotting going on, one being subject to invasion by the ticking and the other resistant to it. This is a hypothesis, and if dogs are found like this, [the theory] needs to be tested.

The ticking grows in the color that...is the background color, so can be black ([which] looks blue blue roan if intense), red, tan, blue (dilute) or anything else. White speckles in dark spots would be entirely different [genetically, and]...the ticking is [also] not related to merle at all.
Linda Rorem explains it simply:
Speckling will be whatever the underlying pattern would be, were there no white there (sort of [as if] a white stocking with a lot of little holes in it was pulled on over a tanpoint or sable leg or black leg). Same with the collar or any other white area, and the face; on a tanpoint (tricolor), the speckling will be tan where tan would be located in a tanpoint face, black where the black would be located.
Many people mistake ticking for merling, and I can't begin to count the number of people that sent me photos of their "blue merle" dog, only to find out that they really had a ticked dog. Especially with heavy ticking, it is a natural mistake for people who have had no experience with either merles or ticked dogs.
We also have dogs that have larger black spots, maybe a quarter inch to a half inch. Can these be considered ticking? If anyone can explain this, please contact me at carole@woolgather.org.
---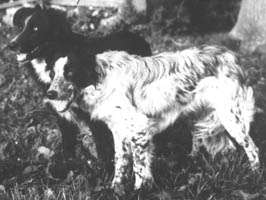 At left, Brocken Glen (left, ISDS 37777) and Brocken Tweed (ISDS 37779), littermates bred by Barbara and Will Carpenter of Gloucestershire, England in 1965. Glen is a black-and-white dog with more black than white, but Tweed is a speckled or ticked dog. Barbara says her litters produced a number of ticked dogs, which were born white and developed the ticking as they got older. (Photo courtesy of Barbara Carpenter.)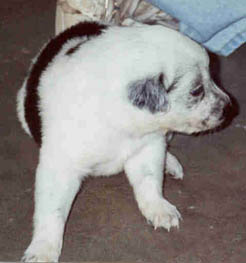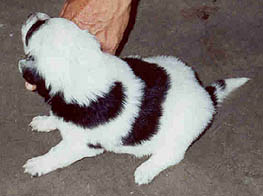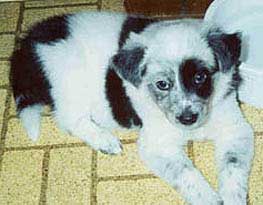 How ticking progresses: This is Skye that belongs to Shana Corbin of Corpus Cristi, Texas. In the 2 photos, far left and center left, we see Skye at 3 weeks. Notice the speckling is only on her face and ears, though perhaps it can be seen very faintly on other parts of her body. At 5 weeks (left) her face, ears and front legs have become heavily speckled. At 12 weeks (below right, on the left) the speckling has heavily filled in on her entire body. And here is Skye, (below right, on the right), at six months old. She is, incidently, also a smooth-coated dog even though as a puppy she looked as if she would be rough-coated, and patterned-white.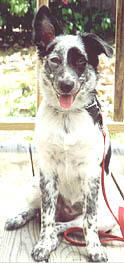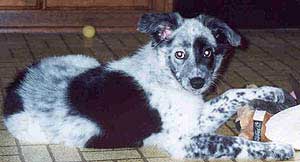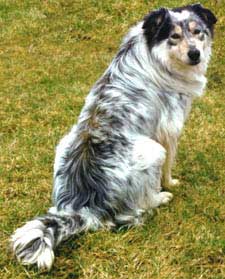 Left is Tick, a blue-ticked tri colored Border Collie belonging to Dawn Sandberg from Rockford, Illinois. Dawn says that "when he was born, he was all white, except for black ears. All the color came later, as he was growing up." Tick is 4 years old. Dawn explains, "Merle and Mottle are two separate genes. Merles are born with all the color. Mottles are not born that way, the freckles develop as they grow up." Both Tick's mom and grandmother were also ticked or mottled.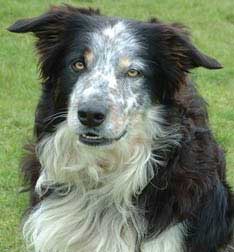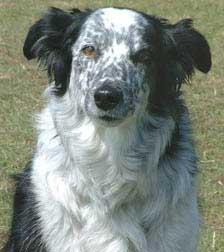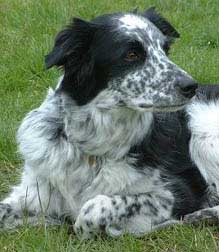 Right, these three gorgeous, heavily ticked dogs are Lacey, Gale and Jonnie. Lacey and Gale are litter sisters both owned by Peter Lubbi of Ashford, Middlesex, England. Jonnie, a tricolored dogowned by Brenda Potiphar of Brighton, Sussex, England. He is a British obedience champion and competes regularly in the Crufts Obedience Championships. Thanks to Sharon Webley for these photographs.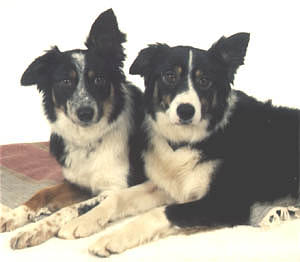 These two girls, left, are sisters Ash and Kate belonging to Suzanne West of Oliver Springs, Tennessee. Both are tricolored, but Ash has a heavy speckling on her face and legs. As you can see from Ash's left front leg, speckling often comes through as tan as well as black.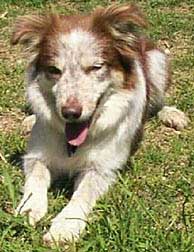 A ticked red and white female, right, is "Bow" (short for "Bow Tie") who belongs to Rachel Koepke of Hill Country, Texas, or, as Rachel puts it, "to Erinn Koepke age 5. Bow allows Erinn to do anything she wants, but is rather stand-offish with most other people. Bow's freckles are much darker than they appear in these photos."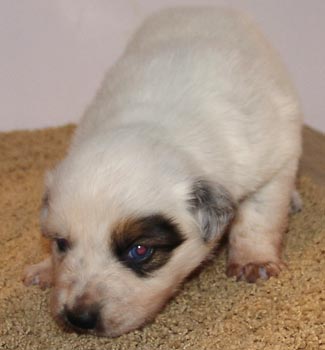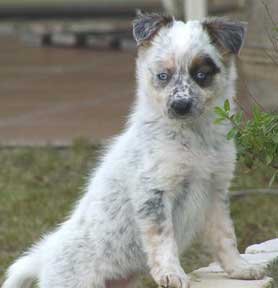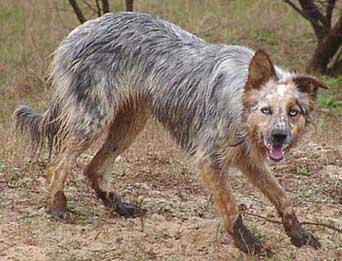 Above is Stella, who belongs to Betty Gillis of La Vernia, Texas. In the three photos, we have Stella at about 3 weeks old and about 2 months old, and then as an adult. You can clearly see that at about 3 weeks she is mostly white, and by the time she is 2 months she is already heavily ticked all over, but nothing like she is as an adult, where the heavy speckling makes her look almost blue. It's also interesting how little tan she has on her as a pup, but how much she does as an adult. Stella's tan areas are ticked as well, and Betty calls them "leopard spots". Stella and her 4 littermates (all males) were bred by Rodney Long of Border Collie Ranch in Center Point, Texas.

Below left is Stella's dam Dot. Her sire, Tyne, is a moderate-rough-coated white-factored black-and-white dog, and probably can be considered patterned white tri, so we do not have his photo on this page. He is not ticked. Dot is a smooth-coated heavily-ticked saddle-patterened dog, so you can see from whom Stella got her spots, and her blue eyes. Dot has the appearance of a German Shepherd Dog, simply because of her coloring and patterning and the fact that we tend to associate this coloring and patterning with the GSD breed. Both parents are working dogs, as is Stella. below right, is one of Stella's littermates, Boss. Look at the way his legs are positioned. Betty refers to him as "the blue dog", but in fact he isn't as heavily ticked or blue looking as Stella. A genetically interesting family from the point of view of color and pattern, and even coat length.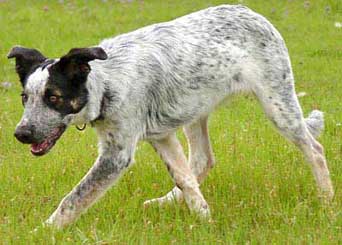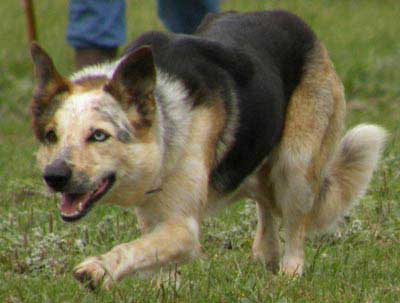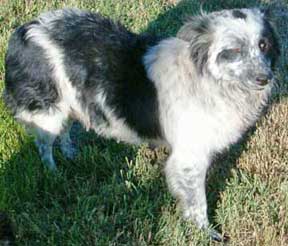 Badger, left, is a blue (dilute) ticked Border Collie whose owner, Anna Thornton from Wyoming, says she is a Blue Heeler X Border Collie, and knows the breeding to prove it. Badger is a working cattle dog and helps Anna's husband manage his feedlot by moving and sorting cattle.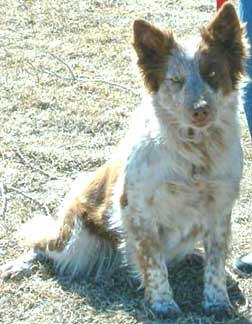 Anna Thornton also owns Shrimp, right, who is Badger's daughter. I believe she is a heavily ticked red and white.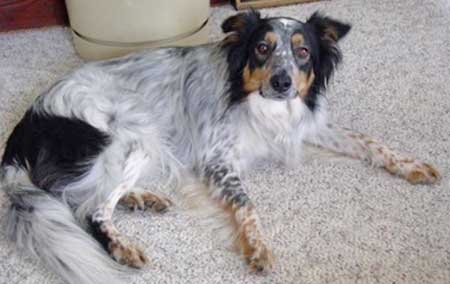 Brenda Demeuse, who owned Boomer, left, thought he was a blue merle, and an Australian Shepherd mix (because of the "merle"). He looks more Border Collie to me, and he is an interesting-looking one at that, being tricolored, patterned white, and ticked.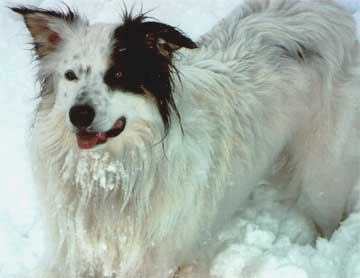 Another dog taken for a merle is ticked Bracken, left. Bracken lives with Pauline Smith, though we aren't sure if they live in Scotland or if Bracken was imported from Scotland. Bracken is also a tricolored dog and he is patterned-white and split-faced.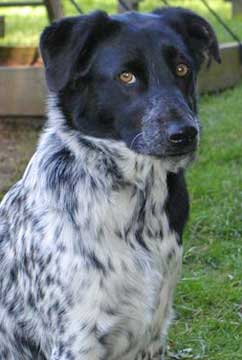 Serious-looking Fancy, right, is a smooth-coated, patterned-white, heavily ticked Border Collie beloning to Diane Allen. Her muzzel is so heavily ticked that it looks almost as black as the rest of her head.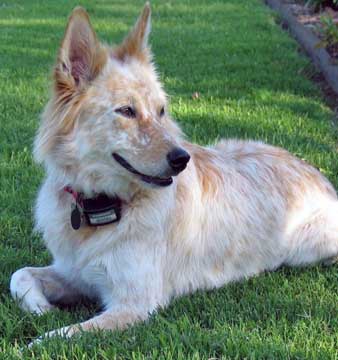 Freckles, left, is a really good example of the ticking pattern on a tan and white dog. Her owner Marylou Milner from Southlake, Texas, says she was white with just a hint of tan speckles on her nose as a pup.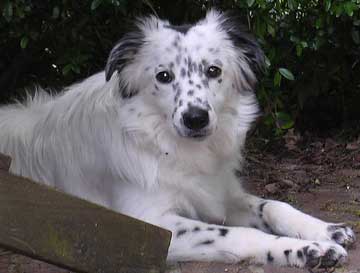 Gumbo, right, is very interesting. He is all white with perhaps some faint ticking on his body, but has black ears, a black spot on the top of his head, and large ticking on the face and muzzle. It is likely to be modifiers that make Gumbo's ticks so large and only deposited on the face. Gumbo belongs to Lindsay Wilkerson of Monroe, Louisiana.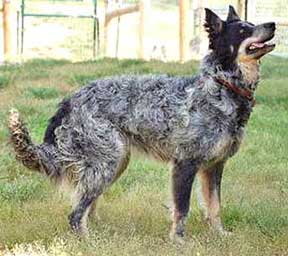 Betty Swenson described her dog Hetty, left, as a white-factored tri-color with very heavy ticking. She is right. Hetty is another dog with such heavy ticking she looks blue. The giveaway is always that: merle affects the black areas, while ticking affects the white areas, and while there are merles whose pattern gives them an overall blue look, there is usually a spot of white in some of the appropriate places, like at the collar or chest, the feet, the tip of the tail, or the muzzle. Dogs like Hetty that are so heavily ticked, show no white at all that isn't ticked.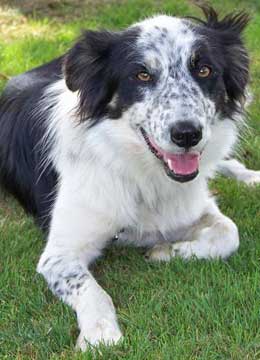 Right, Heidi also has large ticking only on the face, but hers looks like it could be smaller ticking that, being close together look like larger ticking or spots. Otherwise, the lovely Heidi is very classically marked. If you look closely at her, you can see she is a tricolor with faint eyespots and cheek marks. Heidi belongs to Laurena Gagno from British Columbia.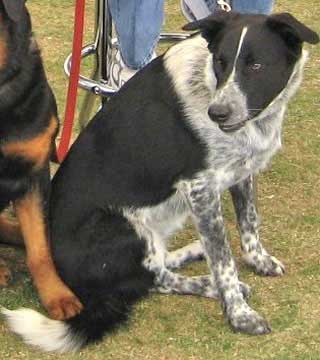 Kaylee, left, is another classically marked Border Collie with heavy ticking in her white, interestingly except for the end of her tail and her narrow blaze. She is a smoothcoat belonging to Christina Tucker of Phoenix, Arizona.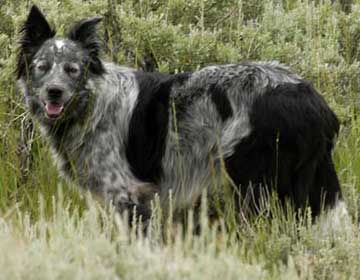 This rough-coated Border Collie is Keswick, right, who belongs to Elizabeth Crone from Montana. Keswick is patterned white and very heavily ticked all over his body, strangely except for a bright white diamond on the top of his head.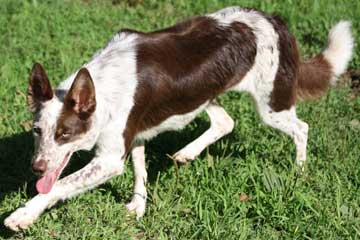 Sikari ("Kari"), left, is patterned white or simply "white factored" (because her base color is not broken into large spots, but the white goes in wide stripes across her shoulders and hips leaving the "saddle" intact), split-faced, heavily ticked, smooth-coated red and white with green eyes and large prick ears. In other words, interesting on more than one level. Her owner, Stephanie Stockley from MIssouri, says that "Sakari" is a Native American word that means "sweet".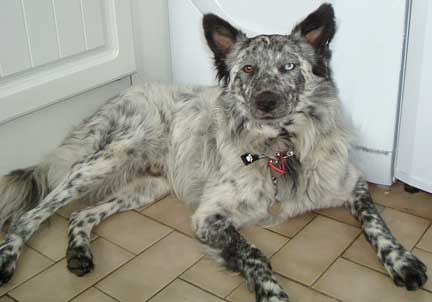 I just love these very interesting dogs. Skye, right, is solid white (or would be if he weren't so heavily ticked) with black prick ears and one blue eye, one brown eye. He has mostly large speckles all through the white, and is more heavily ticked on his face and right foreleg. Skye belongs to Joanne Bowers from the UK.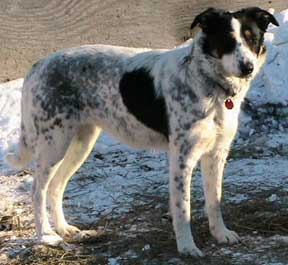 This interesting female is ticked, patterned white, tricolored, and smooth-coated. I don't know her name, but she belongs to Tara Wilson.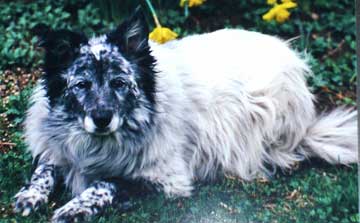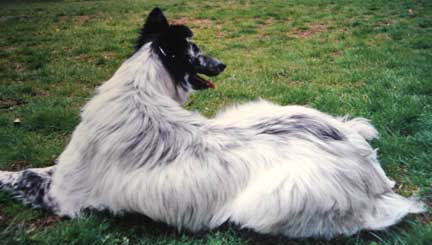 This is Lady Diamond, above. Diamond belonged to Deanna Peer of Booneville, Arkansas. When Deanna sent me the first picture (left) and told me that Diamond had a mostly white body and ticking on the face and front legs, I didn't believe that a dog, so heavily ticked, could possibly not have ticking all over, but it certainly looked like it. So I asked for another photo, and in the second photo (right), you can see that Diamond is heavily ticked everywhere, but her long hair masks the ticking on her body when seen from the front.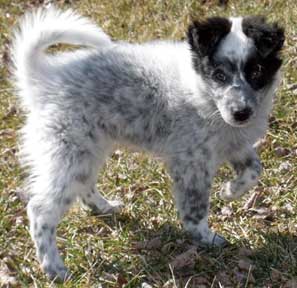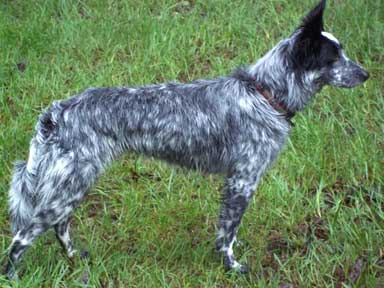 Trip belongs to Mary Greenwell, and his puppy photo shows that he was probably as ticked then as he is now, but his long puppy coat was white and masked the ticking to some extent.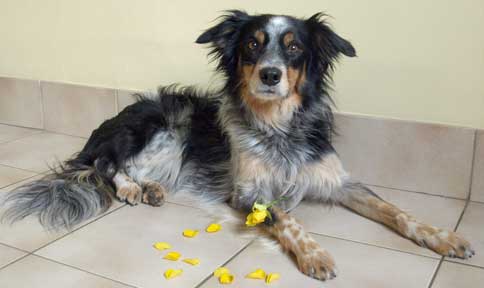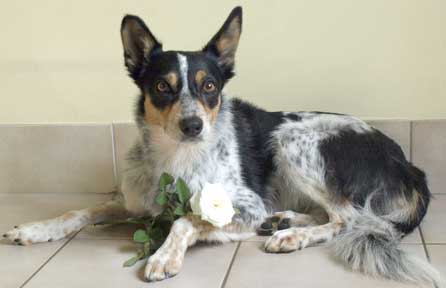 Look at these two pretty girls! They are both tricolored and heavily ticked. Eira, left, is rough-coated with semi-erect ears and she has tan ticking on her front legs. Jess, right, is smooth-coated with erect ears. Both belong to Nathalie Catthoor who lives I'm not sure where.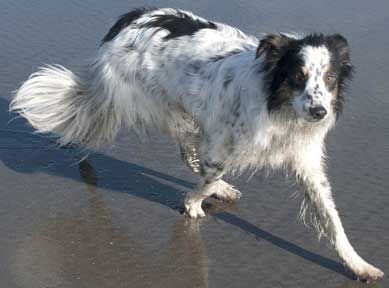 Sam, right, belongs to Tanya Roberson of Wanganui, New Zealand, and, as Tanya points out, he is like Barbara Carpenter's Brocken Glen who appears at the top of this page. Sam is a ticked and piebald (patterned white) tricolor and very handsome, indeed.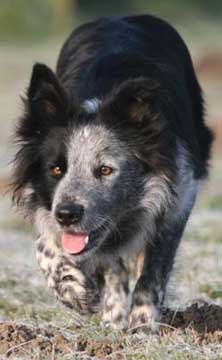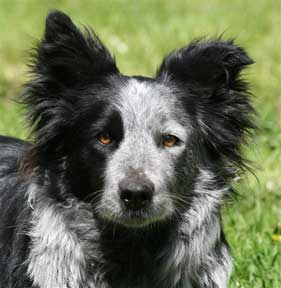 This is Floss, left and far left, who also goes by the kennel name of Rokatisha's Bloss Floss. She belongs to Liesbeth Hoogvliet of The Netherlands. Floss is heavily ticked in all her white markings, but notice how the ticking on her legs is in larger spots rather than the peppering elsewhere. This is quite common with ticked dogs, as you will be able to see if you scroll back and look at the other dogs on this page.
---
[Please click on the pictures to get to a page.]

BLACK-AND-WHITE

BLUE

BRINDLE

LILAC

MERLE

PATTERNED WHITE &
COLOR-HEADED WHITE

RED
(CHOCOLATE /BROWN)

SABLE

SADDLE
PATTERNED

SPLIT FACE
(HALF-WHITE FACE)
& ALL-WHITE FACE

TAN
(AUSTRALIAN RED)

TICKED

TRICOLOR
& BLACK-AND-TAN

COAT TYPE

EYE COLOR

EARS

FOCUS
---
THE OTHER WEB PAGES WE MAINTAIN


---
These web pages are copyright ©2013 and maintained by webmeistress Carole Presberg
with technical help from webwizard David Presberg
ALL RIGHTS RESERVED
If you are interested in using ANY material on this website, you MUST first ask for permission.
You may email us at carole@woolgather.org.
---
Last modified: July 21, 2013 carole@woolgather.org