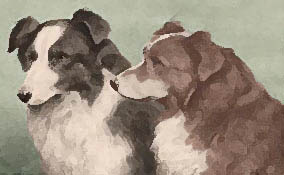 ---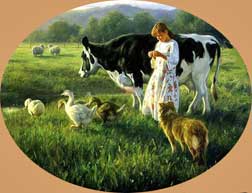 "Out In The Pasture" by Utah Artist Robert Duncan

RED BORDER COLLIES
[Please read our policy on accepting photos of dogs]
---
The color represented on this page ("bb" in genetic terms) is called "red" in Britain and the United States; but in Australia and elsewhere, it is called "chocolate"; and what in the USA and Britain is known as "tan" (or "ee"--recessive yellow) is known as "red" (or "Australian red" or "Oz red") in Australia and elsewhere. This conflicting terminology can be confusing, but, because this is a US-based website, we are sticking to the American/British teminology. Just to reiterate, we are talking about "bb red" or "brown" or "chocolate".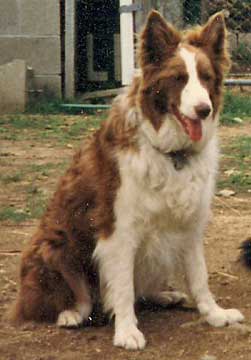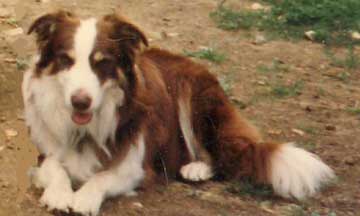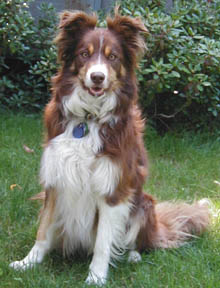 These three dogs all belonged to the editor of this website, Carole Presberg. They are, red and white Watermoon Jute, left, bred by Dennis Moonan of Appleton, Maine (photo by Tony Esposito of Bethany, Connecticut), and her son, red tri Woolgather Moss, middle, bred by the editor in Merrimac, Massachusetts (photo by Tony Esposito); and red tri Flash, right, bred by Francis Raley of Crawford, Texas (photo by David L. Presberg). All are sadly gone now.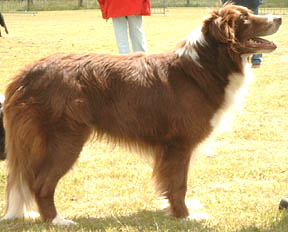 Left is Ginnylands Red Arrow, called Rex, owned by Marnix and Christel van den Steen of Border Collies Of Maranns Home in Belgium.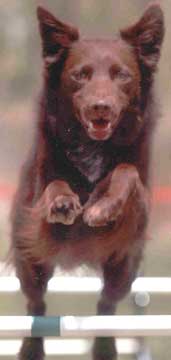 Aidan, right, is an almost solid red dog that originally comes from Border Collie Rescue Texas. He lives with Robert and Lydia Dahl of Lafayette, Colorado, where he hikes, does agility, and herding. (Photo by Ken Gee Photography)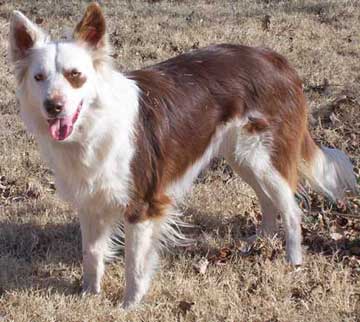 Apache, left, belongs to Katrina Mitchel. He has a white head with an interesting red splash under his left eye.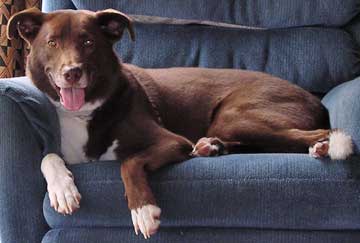 Kathryn Friedman from Washington, DC, got Chester, right, at seven weeks old from an Amish farmer in Southern Maryland. He's a very solid-looking smooth-coated dog with only a small amount of white markings.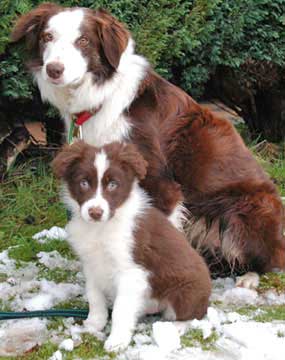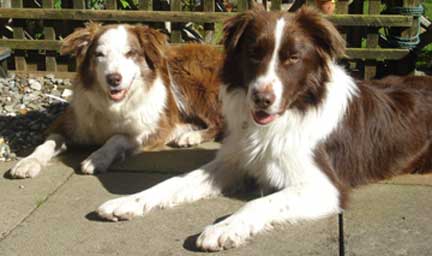 Far left, is Maggie and Moss (puppy--no relation), who belong to Gary Worrall from Dunblane, Scotland. And left, is Maggie with Moss all grown up. I've included this photo because it shows how different reds can be from each other. Both dogs are sitting in the sun, so the sun is not to blame for the difference. Red fades in the sun, but also fades with age. In the first photo Molly is the same color as puppy Moss.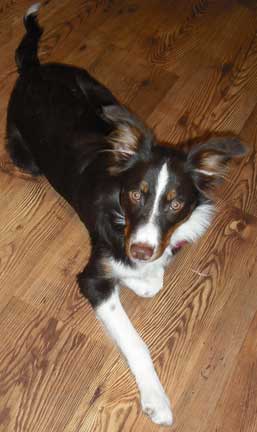 Another smoothie, Molly Malone, right, lives in the Sierra Nevada foothills of California with her owner Rochelle (whose last name I don't know).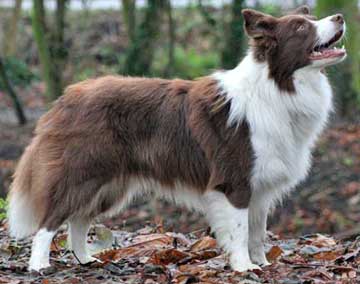 This is Rafe, left, a handsome red and white belonging to Shanna Sinselmijer of the Netherlands.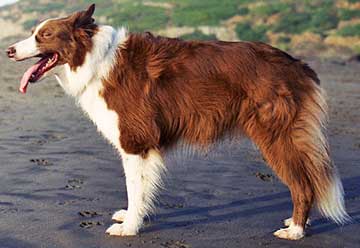 Solo, right, a very classically marked red/white Border Collie, belongs to Melanie Chang.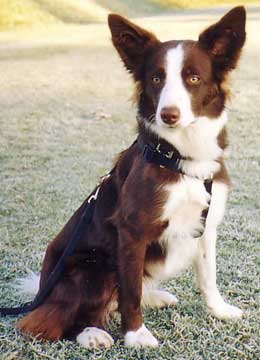 This smooth-coated beauty, left, is Tralee (Delta Bluz Tralee) owned by Donna Rodman from Vancouver, British Columbia. Look at those ears!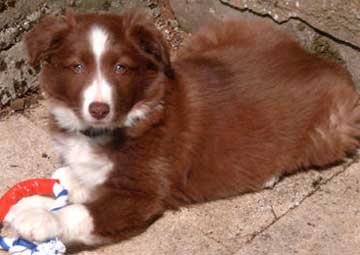 What a cutie! Wispa, right, belongs to Heather Moir from the UK.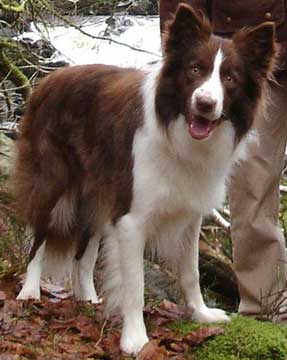 Woody, left, belongs to Fiona Flood from Scotland.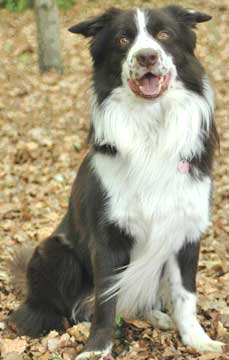 I don't know what there is about this boy, right, but I'm crazy about him! He is a very dark red Border Collie named Yogi Grimhillcottage's and belongs to Esmee Huybrechts of Belgium.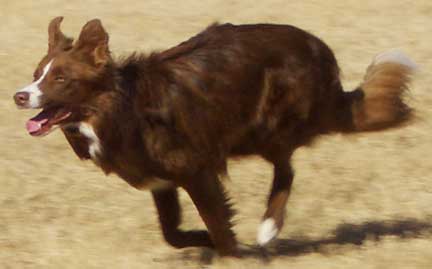 Zero, left, belongs to Perry Liang of Dallas, Texas. He's another with very little white, though he does have a white blaze.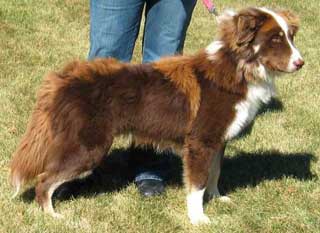 This red dog, right, comes courtesy of Tina Hartley with kind permission from Lisa McDonald (A Field Guide To Coloration of Australian Shepherds). He is probably an Australian Shepherd (despite his tail), but he is a perfect example of how a red coat fades. People have sent me photos of their red dogs with different shades of red in their coats, and have wanted to know if their dog was a merle. Lisa says, "Actually, this dog is bleaching and shedding in the early summer. Reds are especially prone to sunbleaching, and this dog's color lightened during the summer to a marked degree. His true color shows on his hips, shoulders, sides, and foreface where the dead stuff has moulted off. His true color is a rich burnt sienna red, not a pale straw red. Once all the dead stuff fell out he turned out to be a very handsome red tricolor."
---
[Please click on the pictures to get to a page.]

BLACK-AND-WHITE

BLUE

BRINDLE

LILAC

MERLE

PATTERNED WHITE &
COLOR-HEADED WHITE

RED
(CHOCOLATE /BROWN)

SABLE

SADDLE
PATTERNED

SPLIT FACE
(HALF-WHITE FACE)
& ALL-WHITE FACE

TAN
(AUSTRALIAN RED)

TICKED

TRICOLOR
& BLACK-AND-TAN

COAT TYPE

EYE COLOR

EARS

FOCUS
---
THE OTHER WEB PAGES WE MAINTAIN


---
These web pages are copyright ©2013 and maintained by webmeistress Carole Presberg
with technical help from webwizard David Presberg
ALL RIGHTS RESERVED
If you are interested in using ANY material on this website, you MUST first ask for permission.
You may email us at carole@woolgather.org.
---
Last modified: July 20, 2013 carole@woolgather.org