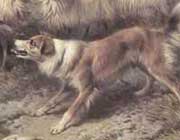 Detail from "Turning the Drove" by Richard Ansdell, RA

SABLE BORDER COLLIES
[Please read our policy on accepting photos of dogs]
---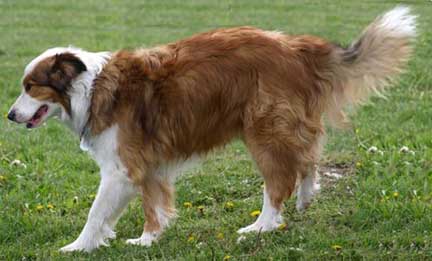 Sable is described as tan with black tips. In reality, most sable dogs only have black tips on the hair on part of their bodies, usually on the head and ears, across the shoulders, and in a large spot on the top of the tail near the base. This would be classic sable markings, like Chance, left, a sable male belonging to the editor of this site.

Although you don't see many sable Border Collies today, this color must have been common in the 19th century, because many artists of the day painted sable working collies, as in the detail from "Turning the Drove" by Richard Ansdell, RA, above.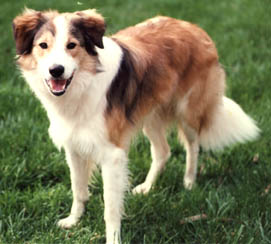 This is Lord Rhimy, right, who belonged to Noreen Parrell when she lived in Rochester, New York. (Photos by Noreen Parrell or Wayne Kokinda.)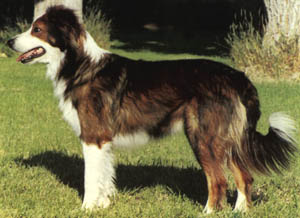 Others may have more black, like Chance, left, and Zip, below. In some breeds this is referred to as "shaded sable".This gorgeous sable dog is Chance, belonging to Sara Bagg, an artist from Tulelake, California. Chance has more black than any of the above dogs, and a black saddle as well. His tan is a very deep reddish-tan. (See an explanation of the saddle pattern and the variations in tans on the "Tricolored Border Collies" page)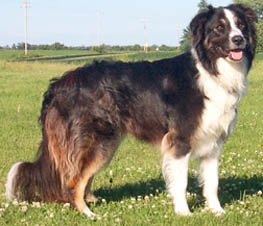 Zip, right, who belonged to A.J. Marhofke. Zip was adopted by A.J. from the Wisconsin Border Collie Rescue, and is trained as the first forensic evidence dog in the state Wisconsin. A.J. does search and recovery with his dogs.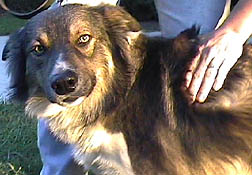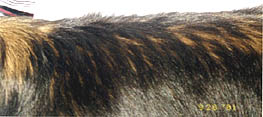 This is Travis, a beautiful sable dog belonging to Stephanie Padgett of Greensboro, North Carolina. He's a registered purebred with a pedigree going back to Wiston Cap on both sides despite having come from a backyard breeder who was "retiring and getting rid of all his dogs". His sire was black and white and his dam was black tricolored. Stephanie was told that this pair had a pup like Travis in every litter.
---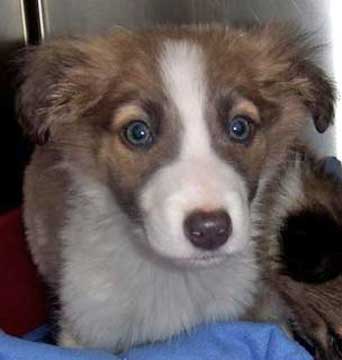 Sable, like other patterns, come in all colors. Right, is Asha, a blue sable belonging to Lindsay Simm.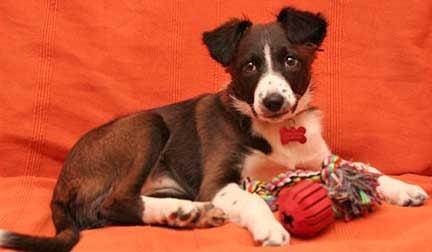 This is Megane, right, a red sable, who belongs to Caroline Penny from England.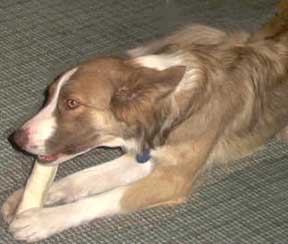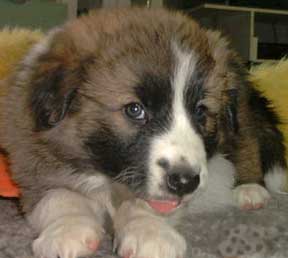 Another red sable, Sara, far left, who belongs to Michelle Williams from Arizona. Most sable Border Collies do not have a face mask, which is more common in the northern breeds. Here is one, left, one of red sable Sara's pups. He's otherwise a "normal" (black) sable Border Collie.
---
Having said that, here are several more sable Border Collies with masks. They are, l. to r. and top to bottom, Caroline Penny's Bijou, Georgina Barnett's Chaz, Sherry Todd's Hanna, Darrell Hopson's Rudy, Kathy Clayton's Teagan, and Muriel Herody's Clymens (from France). Chaz has an interesting coat color. It is very pale tan or fawn, indicating that, besides the mask, he has a gene for dilution.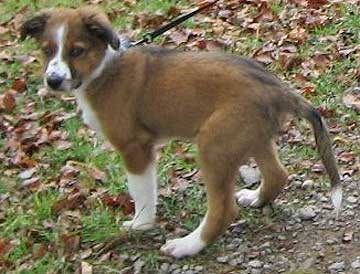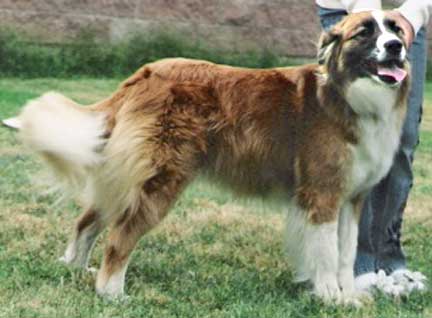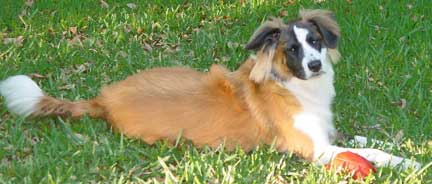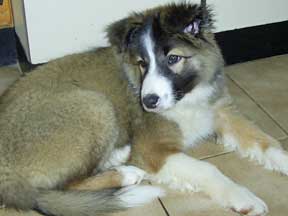 ---
[Please click on the pictures to get to a page.]

BLACK-AND-WHITE

BLUE

BRINDLE

LILAC

MERLE

PATTERNED WHITE &
COLOR-HEADED WHITE

RED
(CHOCOLATE /BROWN)

SABLE

SADDLE
PATTERNED

SPLIT FACE
(HALF-WHITE FACE)
& ALL-WHITE FACE

TAN
(AUSTRALIAN RED)

TICKED

TRICOLOR
& BLACK-AND-TAN

COAT TYPE

EYE COLOR

EARS

FOCUS
---
THE OTHER WEB PAGES WE MAINTAIN


---
These web pages are copyright ©2013 and maintained by webmeistress Carole Presberg
with technical help from webwizard David Presberg
ALL RIGHTS RESERVED
If you are interested in using ANY material on this website, you MUST first ask for permission.
You may email us at carole@woolgather.org.
---
Last modified: July 20, 2013 carole@woolgather.org