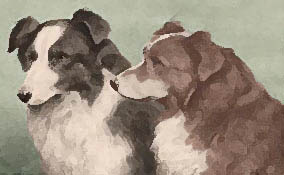 ---


Detail from "The Morning Greeting" by Arthur Elsley (1860-1952)

EYE COLOR IN BORDER COLLIES
[Please read our policy on accepting photos of dogs]
---
In the Border Collie, brown eyes are most common, particularly in black-and-white and tricolored dogs. These can be anywhere from light brown to dark, dark, almost black. There was a time when shepherd's believed that "nice, dark eyes" was preferable over lighter eyes of any color. But dogs of all colors can have eyes of any color. Red-and-white and red-tri dogs often have amber or yellow eyes, and sometimes have green eyes. Blue dogs often have green or amber eyes as well. Dogs of any color can have one eye or both eyes blue. Some people believe that the blue eyes in a Border Collie come from a Husky ancester, but this is patently untrue. Blue has always appeared in the breed. Eyes of two different colors was once considered an asset for a working collie, as it was thought that one of the eyes controlled the sheep inbye or close up, and one controlled the sheep ootbye (outbye) or at a distance. Blue eyes are often called "glass" eyes or "watch" eyes. We will present as many examples of different color eyes here as possible. They will be presented without comment or identification of the dogs for brevity's sake, because we have a lot of pictures for this page. Thank you to all those who have sent in photos for this page.
---
DARK BROWN EYES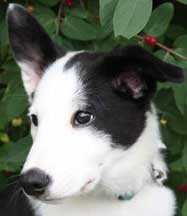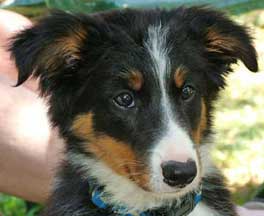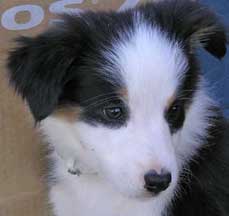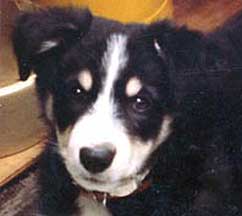 ---
BLUE EYES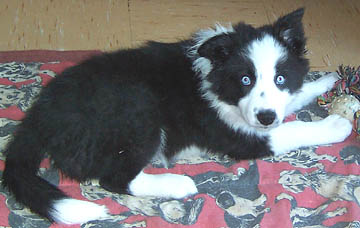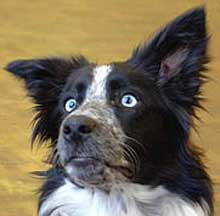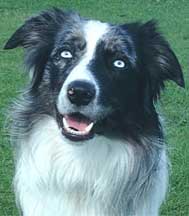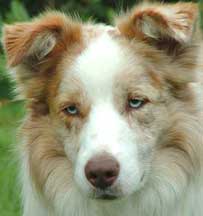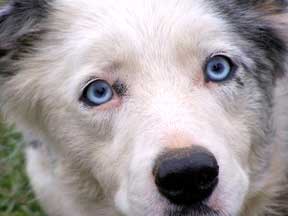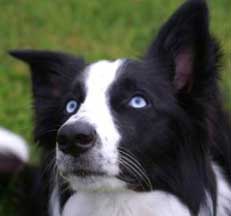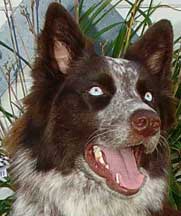 ---
MISS-MATCHED EYES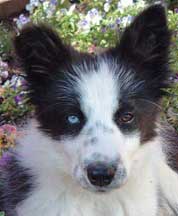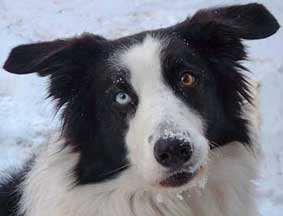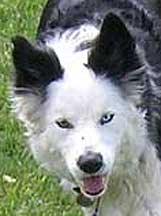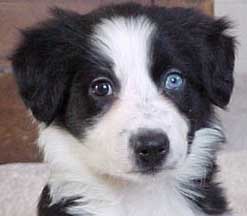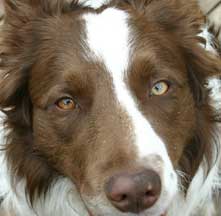 ---
LIGHT BROWN, AMBER, and YELLOW EYES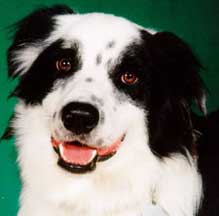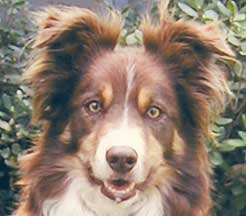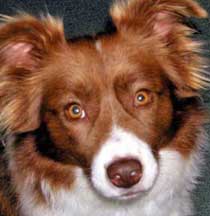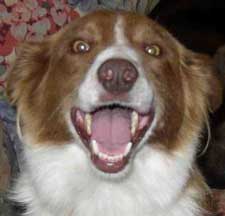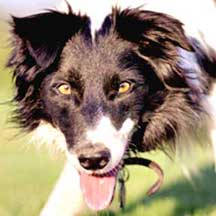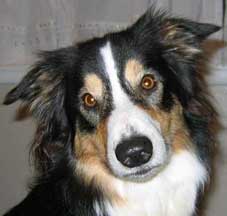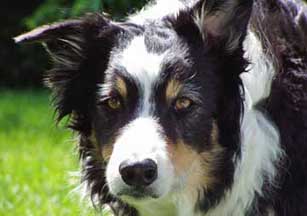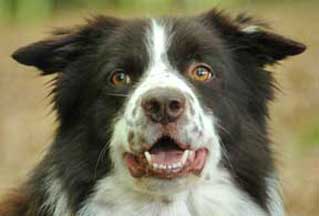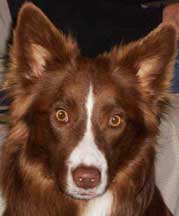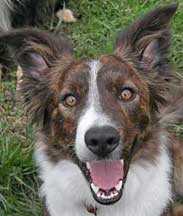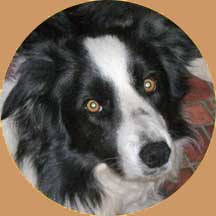 ---
GREEN EYES

These are often hard to distinguish from yellow.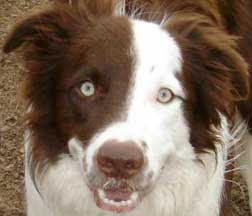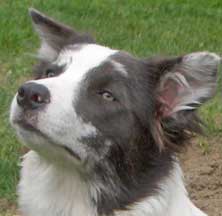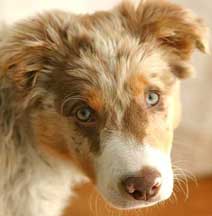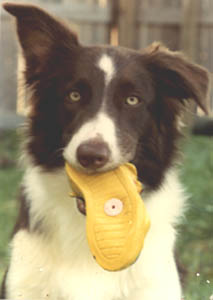 ---
MERLE EYES

This is when eyes have two colors in one or both eyes, usually blue and another color. It is most often seen on merle dogs, but non-merle dogs can have it too. Mike Curran, who's dog Presley is pictured below (second row, second from the left), points out that this "condition" is called sectoral heterochromia. This uncommon condition usually results due to uneven melanin content. In the case where each eye is a different color (as in mismatched eyes, above) it is called complete heterochromia. There are a number of possible causes including genetic or viral infection while in the womb.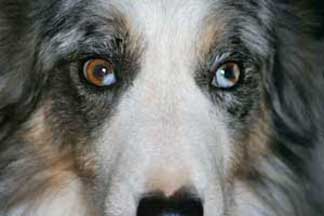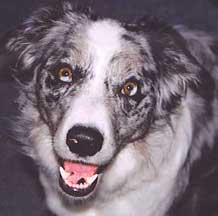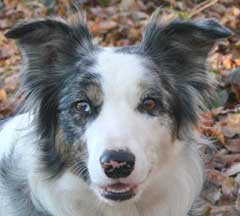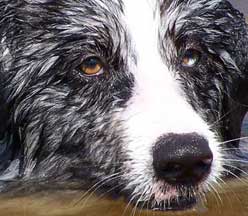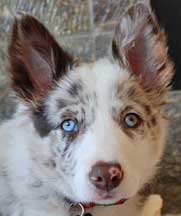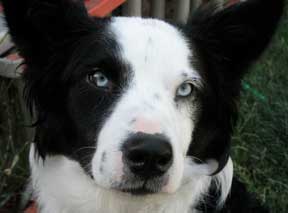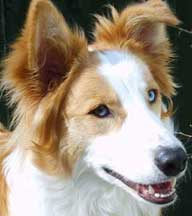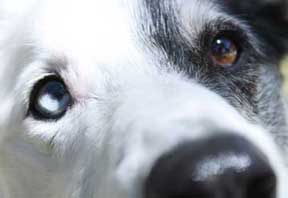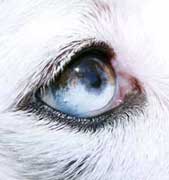 ---
The thumbnails below each link to a page that describes in photos and text a particular color, color pattern, or coat type of the Border Collie.
[Please click on the pictures to get to a page.]

BLACK-AND-WHITE

BLUE

BRINDLE

LILAC

MERLE

PATTERNED WHITE &
COLOR-HEADED WHITE

RED
(CHOCOLATE /BROWN)

SABLE

SADDLE
PATTERNED

SPLIT FACE
(HALF-WHITE FACE)
& ALL-WHITE FACE

TAN
(AUSTRALIAN RED)

TICKED

TRICOLOR
& BLACK-AND-TAN

COAT TYPE

EYE COLOR

EARS

FOCUS
---
THE OTHER WEB PAGES WE MAINTAIN


---
These web pages are copyright ©2013 and maintained by webmeistress Carole Presberg
with technical help from webwizard David Presberg
ALL RIGHTS RESERVED
If you are interested in using ANY material on this website, you MUST first ask for permission.
You may email us at carole@woolgather.org.
---
Last modified: July 22, 2013 carole@woolgather.org