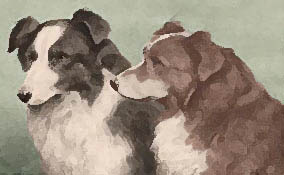 ---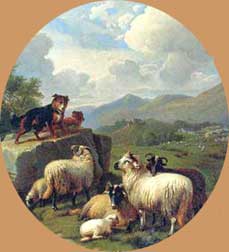 From a painting by Eugene Verboekhoven (Belgian, 1798-1881)

SADDLE-PATTERNED BORDER COLLIES
---
[Please read our policy on accepting photos of dogs]
---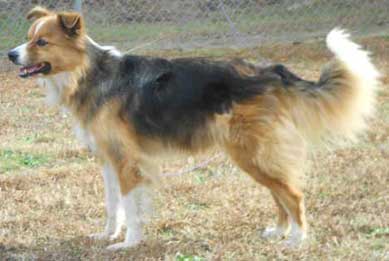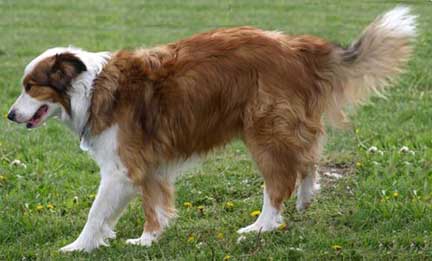 Above, left the curator's saddle-patterned Border Collie, Jack, and right, the curator's sable Border Collie, Chance.
Saddle-patterned dogs are usually considered tricolored dogs if they are Border Collies, or sometimes "saddle sables". However, the term "saddle sable" is rejected by some color-knowledgable people. In December of 2012, I was able to see a saddle coat up close for the first time when I adopted Jack, above. I now believe that this coat is indeed a sable. In "traditional" sables, like Chance, above, the coat is tan except for black in specific places, usually on the face and ears, like a shower across the shoulders and sometimes onto the back, and at the base of the tail. The black hairs have tan at their base.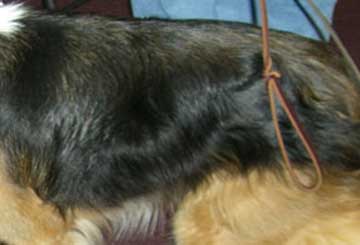 In a saddle-patterned dog, the black covers the back like a saddle. It sometimes, like in Jack, goes up onto the shoulders and even the neck, and down the dorsal of the tail. The black hairs, however, have a tan base, which means they are sable. Sometimes the banding is not noticable, but Linda Rorem mentions that under the microscope this banding becomes evident. In some saddle-patterned dogs, like Jack, the banding is evident without a microscope. Left is a closeup photo of Jack's coat.
If I had to guess at what causes this phenomenon, I would say that the saddle was simply an extention of the traditional black markings in an ordinary sable. However it is unlikely to be that simple given that these dogs, as we will see below, are born dark, or ony have tan points when they are born, and the black receeds with age, so that by the time they are grown, the black is only a saddle. Something else is controlling this process, and it will only be revealed when this pattern is mapped genetically.
In other collie breeds, the English Shepherd for example, saddle-patterned dogs may be called "sable-faced tris" or "saddle-backed sables" and the terms may be used interchangably. Jan Hilborn, who runs the National English Shepherd Rescue (NESR) says,
I've also heard the term 'tri-factored sables' tossed out by Collie and Sheltie people. I have one of this 'mis-named'-colored dogs, he is registered as a tri, but I've always thought of him as a sable since every black hair on his body is really a [tan] hair tipped in black (sometimes the [tan] is only a very tiny percentage of the total hair though)." The fact that different terms are used in different breeds for this same color pattern leads to a lot of confusion, but, suffice it to say that, again in Jan's words, "true saddle patterned dogs are neither tris nor sables but are something else all their own--saddle patterned dogs. [And] yes, they have three colors so they are [also] 'tris' and yes, they have tan roots so you could argue they are heavily shaded sable...but...they are neither--they are saddle patterned dogs. ...Quinn [my saddle-patterned tri]'s tan is much more brilliant and reddish than most sables and as pups, he and all his littermates looked like tris, some with hardly any noticable tan at all making them essentially look black and white. Then, as they matured, the black faded back and the tan was revealed...
Liisa Sarakontu from Finland seems to agree:
Saddle pattern is something between sable and tanpoint [or tricolor]. Not [the] same as either of these, but a pattern, where the back is [a] denser black than on the darkest sable, but the black area is smaller than on the lightest tanpoint. All Airedales and Finnish Hounds and most Bloodhounds, GSDs and Beagles are saddle patterned. The valid genetic explanation behind this pattern is partially unclear yet. Saddle is certainly dominant to tanpoint and recessive to sable, but it is not [clear] if it is an independent A-locus pattern like sable and tanpoint, or it is caused by a gene from another locus, which modifies normal tanpoint pattern.
Linda Rorem, who has been studying herding breeds for a long time, explained the "growing saddle pattern" in this way:
My main experience with [the] saddle pattern is in German Shepherd Dogs, but I'm sure it's genetically the same in English Shepherds and in Border Collies. Many saddle-pattern GSD's are born with very extensive black...But as [they] grow, the black lessened steadily and considerably, creeping up [the] legs to [the] shoulders and then up to [the] withers, leaving [them] with a saddle. This appears to be a common occurrence... The tan background color can vary considerably in any tricolor dog, from bright tan ('copper' in Aussies), through duskier and lighter shades, to very pale tan to 'silver'. In Aussies I have seen this full range of tan possibilities, from bright tan to silver, usually in true tricolor...pattern rather than saddle pattern, though, as saddle pattern seems somewhat rare these days in Aussies (although I have seen it)...In Shelties it is believed that minimally-present tan is a sign of a bi-factored dog (one that can produce black and white without tan), whereas a non-bi-factored dog has a more extensive tan...Most Collies, in which the bi-factored gene has been virtually eradicated, have the extensive type of tan, whereas the extent of the tan in Shelties, where bifactor remains common, varies considerably.

Another interesting thing about tricolor in Shelties and Collies (and I assume other breeds) is that at birth the tan may not be apparent other than as a very slight dusty shade under the tail...Probably...within a couple of days of birth. But the dog being, apparently, a saddle-pattern rather than a true tricolor, the tan kept extending, as it does in GSDs, until he had his present coat pattern. The brightness of [the] tan [varies]...One will see saddle-patterned GSDs with very deep red, others varying all the way to light sandy color. However, GSDs are deliberately bred for the richer color, as it is desired in the show ring, whereas this kind of selection hasn't taken place in the BC (yet!). Aussies likewise have the rich red/tan more frequently now that they are show dogs...So the colors are in the general collie-breeds gene pool, just not seen as much in BC's.
Therefore, we have chosen to give dogs of this pattern a webpage of their own.
---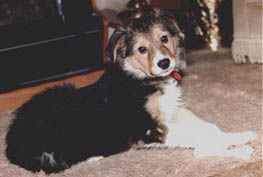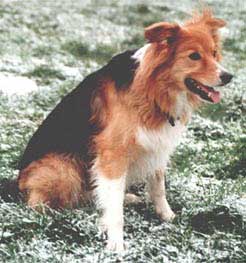 This is Solo, belonging to Sharon Webley of England. Of Solo, Sharon says the following:
The first [photo] shows Solo as a puppy. You will see that he was born very dark, with the black colouring well past his shoulders, and on his head, and his face wasn't golden tan, it was a mucky brown with black on the top of his head. As he grew, the black receded and the mucky brown turned to a lovely golden tan. He was definitely the ugly duckling who turned into a beautiful swan. His dam was a normal tri, but he turned out to be almost identical to his sire. Of the 7 pups in the litter, Solo was the only one who turned out this way, the others were all normal tri collies. His sire was "Sealight Blow", bred by Bing Bellamy of Kent, UK...The Sealight prefix is owned by Bing Bellamy and she breeds 2 types of Border Collies, the ones like ...Solo...and she also breeds darker collies.

Right, are 5 of the Sealight Border Collies bred by and belonging to Bing Bellamy of Kent, England. (Thanks to Sharon Webley for the photo)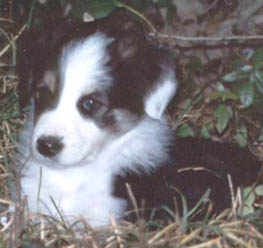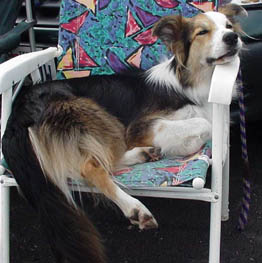 Another saddle-patterned dog is Tristan, left, who belongs to Debbie Spence of Keller, Texas. In the photo where he is a puppy, you can see that he was almost completely black and white with just a little tan on his face and rear legs; but as an adult, the tan has spread to most of his face and onto his front and rear legs.
---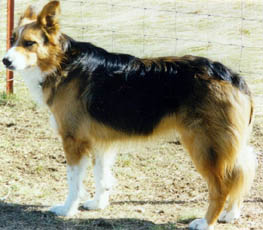 Dan, right, is another saddle patterned dog. Hemp 'n Fly's Danny Boy STDd is a Welsh import rescued from the Humane Society in August of 1998 by Mary Ann Lindsay of Hayden Lake, Idaho. Mary Ann is actually an Australian Shepherd rescue person, and although she intended to place him, she says, "it became obvious very quickly that he and I were going to be the best of buddies, so he came to me [and] he stayed. He helps here with the moving about of our 'weed eaters'. Early on ( 6 days after bailing him) he earned his Started Trial Dog title on ducks. We've not done any competing since but may give it a go one of these days."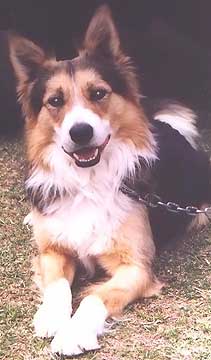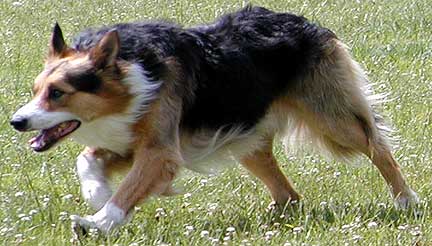 This is Moel Hemp, left, (ABCA 72437 and ISDS 221879, born July 21, 1995), bred by Ceri Jones Rundle, the daughter of the famous Welsh sheepdog handler, Glyn Jones. Hemp was the first of Ceri's well known Moel dogs to be sent to the United States as a pup. Hemp was owned by Myra Soden of Virginia until his death in April 2008. Because of the uncanny resemblance in appearance, personality and working qualities of Hemp and Dan, above, Myra and Mary Ann researched the lines extensively. It seems that Mary Ann's Dan was a full brother of Hemp, sent to Canada as a pup in approximately 1997. Over his herding career, Soden's Moel Hemp earned multiple placements in the USBCHA Ranch class, including Reserve Champion of the Virginia State Fair, in 2002 was the 10th best Ranch dog in Virginia, and Ranch Champion at the Breezy Hill Sheepdog Trial in 2005. He also earned his AHBA HTCh, with three advanced titles, two Reserve HIT and two HIT. Soden's Moel Hemp has sired three litters of pups that have included a Virginia Pro-Novice Champion, a Virginia Ranch Champion, a two-time Virginia State Fair Champion, the Wisconsin State Novice Champion, as well as pups who grew up to earn other top titles in herding, obedience and flyball. Below are photos of three of his working sons, Lindsay's Hemp, left, Soden's Dan, top, and Tagalong Mac, bottom, born in 2005.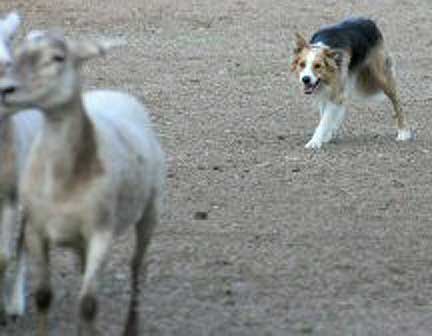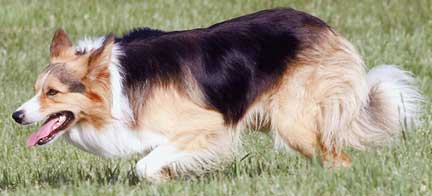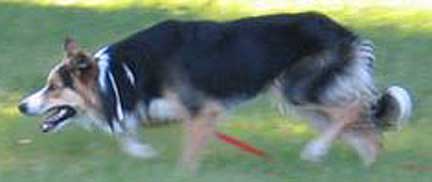 ---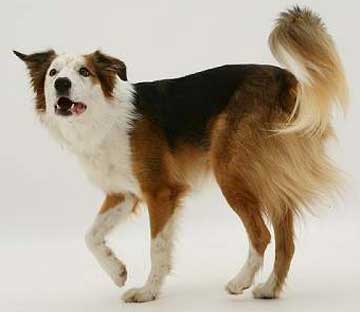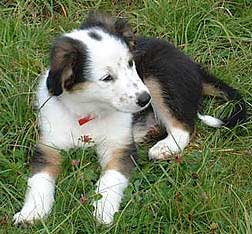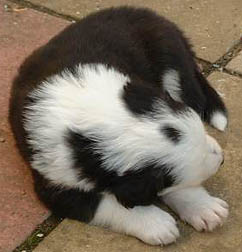 Bovva, right, who belongs to Sharon Webley from England, is a perfect example of the way a "saddle-patterned" dog develops its coloring. Bovva's parents were both black-and-white, and Bovva was black-and-white until he was 5 weeks old, when a tiny patch of tan appeared underneath his tail. You can see in the first photo, where he is 4 weeks old, there is no visible tan on him. By the time he was 9 weeks old, in the second photo, there is quite a bit of visible tan on Bovva, but his ears and legs are still predominately black, and notice the black spot on the top of his head. In the third photo, we see Bovva as a beautiful, fully realized saddle-patterned dog.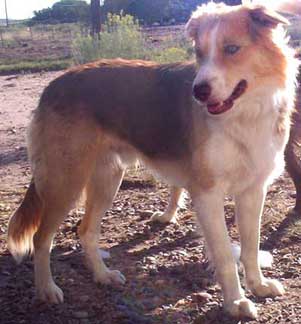 This is exciting! Teddy, left, is a red saddle-patterned Border Collie who belongs to Bobbi Veenendaal of Side Hill Paints n Quarter Horses in Arizona. Teddy's sire is red/white and his dam is blue/white (Bobbi says they have no tan markings at all). Teddy also has a black saddle-patterned littermate.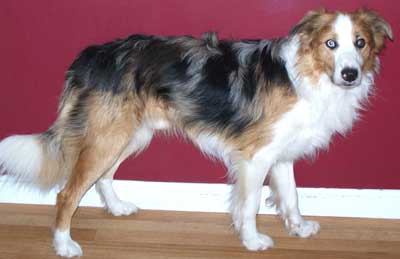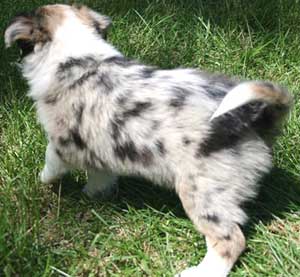 Just when you think you've seen the ultimate color pattern, a dog like Ranger ("Quantum Leap's Blue Ranger"), above, comes along! Ranger is a saddle-patterned blue merle with one blue eye and one "merle eye" (part blue, part brown). He belongs to Gina Cavacas of Wareham, Massachusetts. He's her first Border Collie and he will be a hard act to follow. Notice how much more wide-spread the merle pattern was when he was young. Just like black recedes to a saddle in more usual saddle-patterned dogs, in Ranger the merle receded to form the saddle.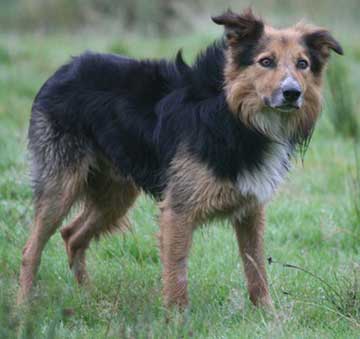 This is Cheviot Jamie, a working dog that belongs to Angie Driscol of Kinloch Sheepdogs in Wales. Angie works a large sheep farm with her husband, Kelvin Broad, trials, and is a fantastic print designer. Jamie won his first trial at 11 months old and has won multiple other trials as well.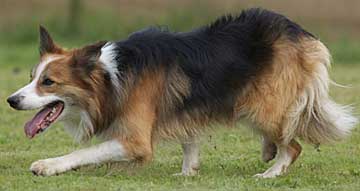 Fog, right, belongs to Anna Larsson of Sweden. She says he is actually her husband's dog, and was quite dark as a puppy and looked almost grey (hence his name, no doubt). Her husband completes in sheepdog trials with Fog in Sweden.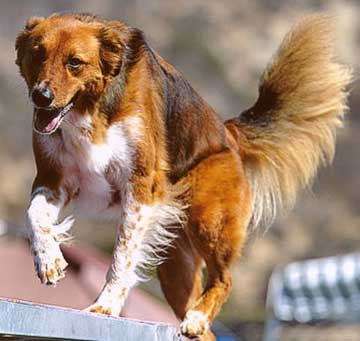 Left, is Sharon Adams Nikita. Nikita appears to be a saddle pattern (though we don't know what she was like as a puppy because she was a rescue dog), though it looks like her right foreleg is black. What's interesting about her is what a deep mahogany-color her tan is.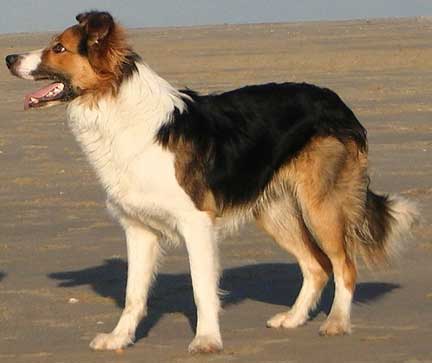 This is Seppe ("Round Robin Highlander"), right, a saddle-patterned dog from working lines. He belongs to Kim Verschueren from Belgium who does agility and herding with him.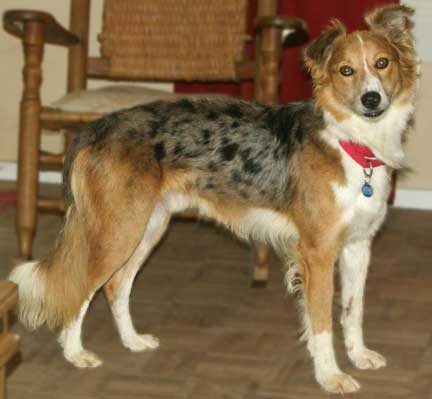 What a looker! This is Waco, a blue merle saddle-patterned Border Collie. Waco is a rescue dog in Texas currenly looking for a home. I don't think he'll be looking long! Karen Bowden runs the rescue organization that has Waco, Twisted Branch Aussie Ranch, www.twistedbranchaussies.com.
---
[Please click on the pictures to get to a page.]

BLACK-AND-WHITE

BLUE

BRINDLE

LILAC

MERLE

PATTERNED WHITE &
COLOR-HEADED WHITE

RED
(CHOCOLATE /BROWN)

SABLE

SADDLE
PATTERNED

SPLIT FACE
(HALF-WHITE FACE)
& ALL-WHITE FACE

TAN
(AUSTRALIAN RED)

TICKED

TRICOLOR
& BLACK-AND-TAN

COAT TYPE

EYE COLOR

EARS

FOCUS
---
THE OTHER WEB PAGES WE MAINTAIN


---
These web pages are copyright ©2013 and maintained by webmeistress Carole Presberg
with technical help from webwizard David Presberg
ALL RIGHTS RESERVED
If you are interested in using ANY material on this website, you MUST first ask for permission.
You may email us at carole@woolgather.org.
---
Last modified: July 20, 2013 carole@woolgather.org