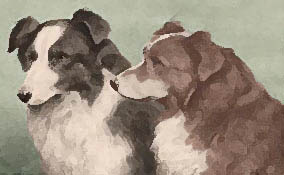 ---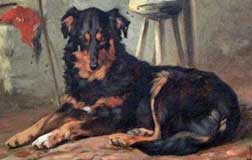 Above, detail from "Resting Collie"
by Arthur Batt (1846-1911)
(Notice how like Edwin Douglas's paintings this is.)

BLACK-AND-TAN BORDER COLLIES
[Please read our policy on accepting photos of dogs]
---
Black-and-tan is a tricky color pattern. Many people consider it tricolored. At one time, however, true black-and-tans (without white) were common, but today you hardly see a black-and-tan Border Collie without at least some white, usually some white on the chest and legs, and tip of the tail, and therefore they are really tricolored. However, it's possible that in black-and-tan dogs there is a modifying gene that limits the amount of white and in some cases eliminates it altogether. They would still be genotypically tricolored, but would be phenotypically black-and-tan. If any geneticists, amateur or professional would like to sign in on this, I would be grateful to hear from you. We have given black-and-tan its own page, which will hopefully bring more photos of black-and-tan dogs and more comments. English Shepherds and Welsh Sheep Dogs still come in this truly old-fashioned color.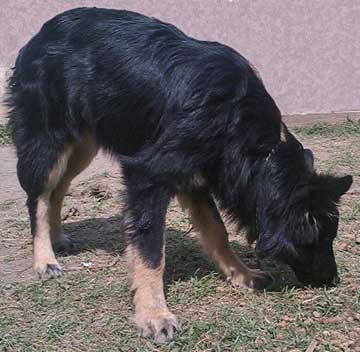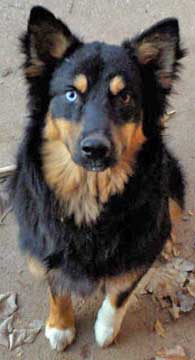 Left, is Taceina Mcquire's black-and-tan Wolf. He seems to have no white at all.

This is Sawyer, at right, a black-and-tan Border Collie belonging to Timothy Farkas. He's very handsome, with his deep, dark black and mahogony tan, one blue eye, and some white on his front feet.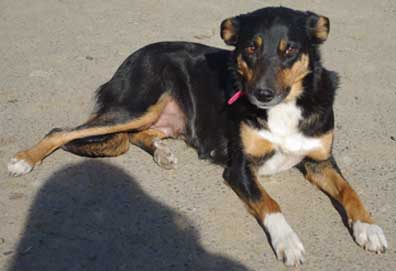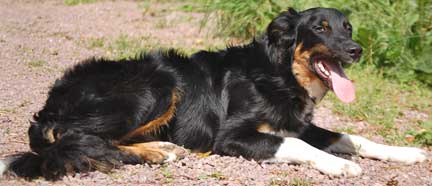 Above left, is a pretty black-and-tan smooth coated female that belongs to Yvonne Rettell. More later on her name and location. She has a small amount of white on her chest and feet, but she also has some white around her mouth, so it's 50-50 whether she should be considered black-and-tan or tricolored.

This gorgeous boy, above right, is Dio, belonging to Martina Bergstrom from Finland. Notice that he is all black-and-tan except for white knee socks on his front legs, a tiny amount of white on his back toes, and a white tail tip.
---
[Please click on the pictures to get to a page.]

BLACK-AND-TAN

BLACK-AND-WHITE

BLUE

BRINDLE

LILAC

MERLE

PATTERNED WHITE &
COLOR-HEADED WHITE

RED
(CHOCOLATE /BROWN)

SABLE

SADDLE
PATTERNED

SPLIT FACE
(HALF-WHITE FACE)
& ALL-WHITE FACE

TAN
(AUSTRALIAN RED)

TICKED

TRICOLOR
& BLACK-AND-TAN

COAT TYPE

EYE COLOR

EARS

FOCUS
---
THE OTHER WEB PAGES WE MAINTAIN


---
These web pages are copyright ©2014 and maintained by webmeistress Carole Presberg
with technical help from webwizard David Presberg
ALL RIGHTS RESERVED
If you are interested in using ANY material on this website, you MUST first ask for permission.
You may email us at carole@woolgather.org.
---
Last modified: June 22, 2014 carole@woolgather.org